Businesses Record 22 Million Cyber Attacks in One Week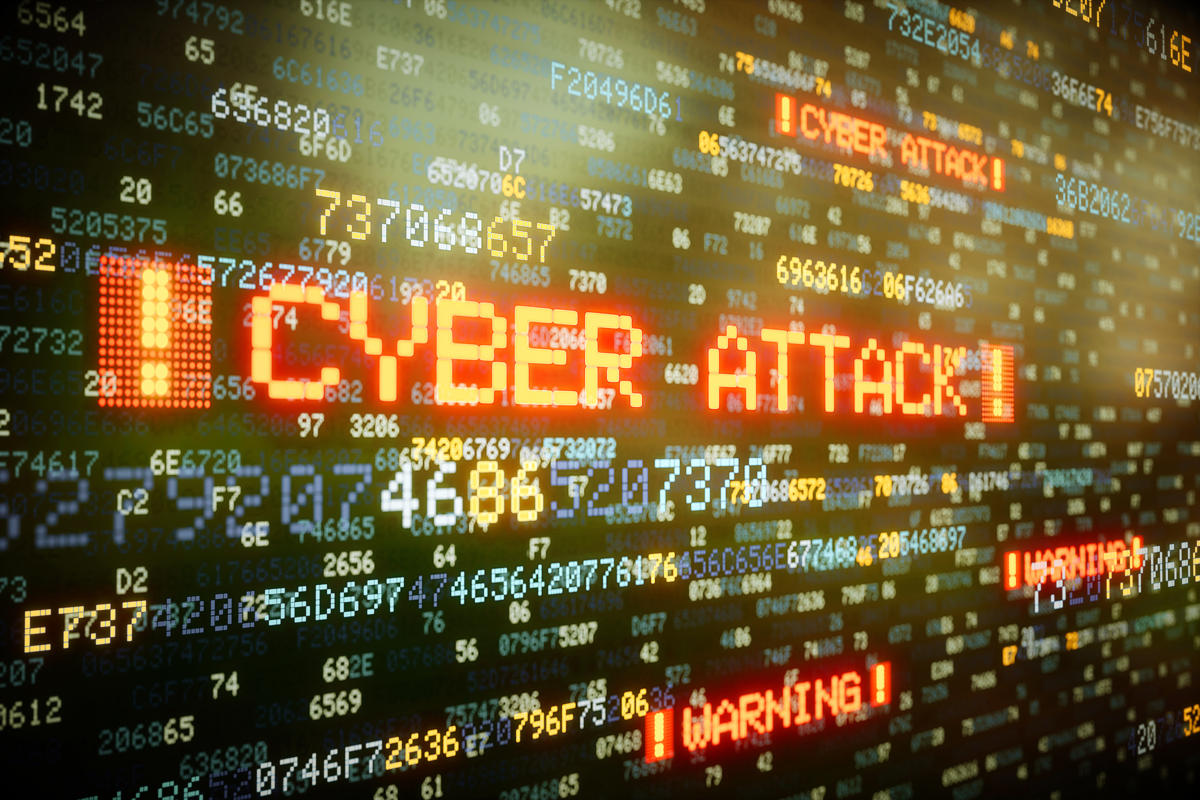 By Adedapo Adesanya
Hackers attacked businesses more than 22 million times last week worldwide, an expert report compiled and analyzed by Atlas Virtual Private Network (VPN), has stated.
Atlas VPN extracted and organized the data acquired from a cybersecurity giant Akamai, a firm that provides real-time data on cyberattacks that their corporate customers are under.
The cybersecurity company catches a significant amount of attacks globally since they are one of the largest distributed computing platforms in the world. They are responsible for serving between 15 to 30 percent of web traffic globally.
It was stated in the report that on average, there were 3.26 million cyberattacks daily throughout last week, out of which hackers carried most cyberattacks on Wednesday, April 15, with a total of over 3.6 million intrusion attempts.
Atlas VPN noted that most of these cyberattacks were malware attacks, which constituted 63 percent (2,070,297 malware attacks per day) of all 22 million attempts made by hackers last week.
Malware attacks steal users' files or encrypt them and render them useless until a password is entered that will decrypt the data. Hackers then demand a ransom in order for users to retrieve the password.
According to the data analysts firm, phishing and Command & Control (C&C) attacks amounted to the remaining 37 percent. Phishing attacks and C&C attacks comprised 11 percent and 26 percent of total attacks, respectively.
Phishing is the fraudulent attempt to obtain sensitive information such as usernames, passwords, and credit card details by pretending to be a trusted figure, such as a bank employee or even your colleague.
A Command & Control (C&C) attack is when hackers attempt to take over control of a system and then steal or delete data. C&C attacks can also be used as a part of a phishing scam or a way to infect the network with malware.
During the weekend on Saturday (April 18) off, there were 12 percent fewer attacks than the average day. As a result of lesser activities during the weekend.
Compared with the previous week, (April 6-12) where the total volume of attacks was 23,807,517, hackers attacked enterprises around 1 million times less last week.
During the last 30 days, Atlas VPN explained that cybercriminals tried to infiltrate corporate networks nearly 100 million times.
This is largely due to the coronavirus pandemic which has resulted in increased internet usage with more people working from home.
It was also stated that this could be a record year for both hacker attacks and the number of records breached so far.
Fake News: WhatsApp Introduces #YouSaid Campaign
By Dipo Olowookere

A campaign aimed to educate users on ways to verify the information they come across before passing it on has been launched by WhatsApp.
This initiative, #YouSaid Campaign, according to the popular messaging platform, will help reduce the spread of false news in Nigeria.
"At WhatsApp, all personal messages are protected with end-to-end encryption because the safety and security of our users and their messages are important to us," WhatsApp Public Policy Lead, Akua Gyekye, stated while commenting on the launch of the campaign.
"While we remain committed to creating a safe space for our users to communicate privately, we encourage everyone to verify any information they receive and confirm whether it is true or false before sharing it with other people.
"Regardless of the person you received the information from, as soon as you share any information, it becomes something people think #YouSaid.
"Our hope is that this campaign will open up a conversation on the importance of verifying information and thinking carefully about what people read, trust and choose to share," Gyekye added.
It was gathered that the campaign offers tips for WhatsApp users to spot false news and take responsibility in minimizing its spread, by encouraging people to think carefully and check authoritative sources before deciding to share any information with their friends and family.
The four easy ways to reduce the spread of false news on WhatsApp include understanding what a 'Forwarded' message means, fact-checking information with other sources, looking out for messages that look different, and reading the message objectively.
WhatsApp explained that any message that has the 'forwarded' label (an arrow or double arrow icon) did not start with the person who sent it as they will also have received it from someone else before passing it on.
A double arrow icon and "Forwarded many times" label will be displayed when a message has been forwarded more than five times since it was originally sent and will restrict sharing to just one chat at a time.
This is because false news can go viral, and photos, audio recordings, and videos can be edited to mislead the reader but when a story is reported in multiple places and from trustworthy sources, it's more likely to be true.
However, users have to look out for messages that look different. When such are received with misspelt words, wrong dates, awkward layouts, unrelated pictures and web addresses (URLs), they are a sign that the information could be false.
In all, users are advised to review the facts before sharing information as stories that seem hard to believe are often untrue.
African Expansion: Equinix Acquires MainOne for $320m
By Adedapo Adesanya
Leading digital infrastructure company, Equinix, has announced its expansion into Africa through the acquisition of MainOne, a leading West African data centre and connectivity solutions provider, with a presence in Nigeria, Ghana and Côte d'Ivoire.
The acquisition is expected to close in Q1 of 2022, subject to the satisfaction of customary closing conditions, including the requisite regulatory approvals.
The transaction has an enterprise value of $320 million and is expected to be AFFO accretive upon close, excluding integration costs, marking the first step in Equinix's long-term strategy to become a leading African carrier neutral digital infrastructure company.
With more than 200 million people, Nigeria is Africa's largest economy and, along with Ghana, has become an established data centre hub. This makes the acquisition a pivotal entry point for Equinix into the continent.
Founded by Ms Funke Opeke in 2010, the company has enabled connectivity for the business community of Nigeria and now has digital infrastructure assets including three operational data centres, with an additional facility under construction expected to open in the first quarter of next year.
When completed, this acquisition will extend Platform Equinix into West Africa, giving organisations based inside and outside of Africa access to one of the world's fastest-growing markets.
Speaking on the deal, Mr Charles Meyers, President and CEO of Equinix said, "The acquisition of MainOne will represent a critical point of entry for Platform Equinix into the expansive and rapidly growing African market. MainOne's leading interconnection position and experienced management team represent critical assets in our aspirations to be the leading neutral provider of digital infrastructure in Africa.
"Growth of data consumption in Africa is amongst the fastest in the world, and our customers are looking for a trusted partner to pursue the opportunities presented by broad mobile adoption and greater connectivity across the region.
"MainOne's infrastructure, customer relationships, partner ecosystem and operating capability will extend the reach of Platform Equinix and bolster opportunities for customers in Africa and throughout the world."
On his part, Mr John Dinsdale, Chief Analyst & Research Director, Synergy Research Group added, "Africa has been the missing piece in the Equinix jigsaw, and this acquisition of MainOne will be a great first step onto the continent. The demand for data centre services in Africa is strong, with Nigeria at the epicentre of exponential economic growth in West Africa.
"Nigeria is Africa's largest country by both population and economy, and its growth drivers include rapid mobile adoption, increased data consumption from its young population, good subsea and terrestrial connectivity, and a strong enterprise market. This is advancing the region toward a more digitalized economy and driving data centre growth and expansion to provide much-needed digital infrastructure."
Speaking Ms Opeke, added that "Equinix will accelerate our long-term vision to grow digital infrastructure investments across Africa. I thank our founding shareholders led by Mr Fola Adeola, MainStreet Technologies, AFC, PAIDF, FBN, Polaris and AfDB for investing in the MainOne vision to bridge the Digital Divide in Africa.
"With similar values and culture to what we have jointly built-in twelve years, Equinix is the preferred partner for our growth journey. The MainOne team is excited about the partnership created through the acquisition, and we look forward to building our next chapter together."
Interswitch Champions ePayments Ecosystem Growth
By Modupe Gbadeyanka
Interswitch has thrown its full weight behind the 2021 Annual Committee of e-Business Industry Heads (CeBIH) retreat as part of its commitment to champion the epayments ecosystem growth.
This is the fifth consecutive year the leading integrated payments and digital commerce company is sponsoring the programme, which is a platform through which the committee examines key innovations in the payment industry over the past year and discuss insights and trend for the coming year.
This year's retreat is slated to hold on December 2 and 3, 2021, in Abeokuta, Ogun State and would be attended by various stakeholders in the sector.
The 2021 Annual CeBIH Retreat tagged Innovative Digital Banking will focus on issues around the growth of digital payments in Nigeria and how technological innovations such as digital currencies, blockchain, 5G network, contactless payments, among others, will dominate the payment industry in the coming years.
Interswitch as a key industry stakeholder will be instrumental in spearheading these discussions, especially with its recent efforts around blockchain technology and other solutions around contactless payments.
The digital payment company has been an ardent supporter of the committee and its objectives, underpinned by a shared objective of enabling further development of the digital payments ecosystem in Nigeria.
This sponsorship highlights its interest in fostering deeper collaboration between banks and fintechs within the industry ecosystem.
Speaking on the forthcoming retreat, Mr Akeem Lawal, Managing Director for Transaction Switching & Payment Processing at Interswitch reiterated the importance of Interswitch's participation in industry events such as the CeBIH Retreat, where critical issues, trends and analysis around the payment ecosystem are discussed.
He described the retreat as a necessity for industry players to assess the current state of things and make calculable projections for the future, with the aim to improve and deepen Nigeria's payment system.
"This retreat remains important for stakeholders in the payment industry and offers an opportunity for Interswitch to be introspective about the steps taken to improve the payment system in Nigeria and in Africa as a whole," Mr Lawal said.
"We at Interswitch remain committed to supporting and participating at platforms that share our vision to drive greater financial inclusion and prosperity across Nigeria and the Africa continent.
"Platforms such as the CeBIH annual retreat provide Interswitch and other industry players the impetus to engage with key stakeholders and collaborators from the banking system with a view towards improving our offerings to our customers viz-a-viz market demands, global trends and insights from the operating environment," he added.
Latest News on Business Post