MultiChoice May Increase DSTV Subscription Fees
By Dipo Olowookere
Nigerians may have to start gearing up to pay more in this harsh economy if they wish to continue accessing television contents from popular PayTV provider, DSTV.
This hint was dropped recently by the General Manager, Sales and Marketing of MultiChoice Nigeria, Mr Martin Maputo.
MultiChoice Nigeria is the parent company of DSTV, which has provided interesting contents to Nigerians for many years, including the English Premier League (EPL).
Checks by Business Post revealed that since the country went into recession, some Nigerians have found it difficult to do some things, including paying for monthly DSTV subscriptions and others.
Prices of goods in the market have skyrocketed especially due to the exchange rate of the Naira against the Dollar, forcing some to cut down on their spending. Jobs have been lost during the period and some companies forced to lay off workers.
Speaking recently, Mr Maputo warned that subscription fees in Nigeria may go up if the foreign exchange (forex) problem facing the country was not addressed by the government.
He said currently, DStv is trying as much as possible to avoid any price increase but instead concentrating on upgrading its contents across all bouquets, but maintained that if government fails to curtail the forex crisis, which has made it more expensive for the company to buy foreign content, especially the EPL, it might be forced to consider price increase.
"Most of the content we buy such as EPL and others from abroad are dominated in Pounds and Dollars.
"So, we are not only operating in the market but also responding to the market. At this stage, we are trying as much as we can to avoid any price increase but if there is nothing done to curtail the forex issues, we might be forced to increase (our subscription fees)," Mr Maputo said in Lagos while unveiling new content upgrade on all DStv bouquets.
Business Post learned that Mr Maputo's warning is coming when MultiChoice has already reduced subscription rates in other African countries.
From November 1, 2016, Kenya, Zimbabwe, Malawi and other countries in Africa started paying reduced monthly subscription fees on DStv and GOtv bouquets.
According to the Nation, his may be a response to the harsh economic realities sweeping across the continent.
For example in Uganda, the company announced about 15 percent cut in subscription fees, in a move to entice more customers amid weak economic realities.
MultiChoice Uganda Public Relations and Communications Manager, Ms Tina Wamala, was quoted to have said, "We are facing hard economic times not just as a company but also our customers," just as its General Manager, Mr Charles Hamya, was also quoted to have explained in a statement that, "This significant price drop, coupled with the major boost in entertainment value across all DStv bouquets demonstrates our commitment to ensuring DStv customers receive the best possible access to great entertainment and outstanding value."
Also in Malawi, MultiChoice announced a drop in DStv subscription rates.
It was reported that under the reduction regime, DStv Premium in Malawi is down to K55,600 from K61,100, Compact Plus is at K35,700 from K42,000, Compact is at K22,300 from K23,800 while Family is reduced to K12,700 from K16,700.
"MultiChoice's priority is to put customers at the heart of our business and that is why the whole of this year, despite the economic challenges the country is facing, we did not increase our subscription prices.
"It's been 20 years that we have been doing business in Malawi and we strive to do business differently and that is why tonight's press briefing is named 'Business Unusual'," its Marketing Manager, Chimwemwe Nyirenda, was quoted by the Nation to have said during a press briefing at Atmosphere Restaurant in Blantyre.
However in South Africa, the home country of the company, there would not be a hike in the subscription fee.
"We review the DStv prices once a year when we do our business planning – our prices for next year will be announced before April 1, 2017.
"When reviewing our packages and pricing in each country, we take into account local dynamics such as inflation, content costs, foreign exchange rates, local taxes and overheads required for each business.
"We've done a lot of research into what pay-TV costs in other parts of the world, and we believe that DStv offers good value for money in the countries in which it operates.
"In South Africa, we've implemented a number of cost-saving options for our customers – those who pay annually receive one month free, and our Price Lock packages enable customers to freeze their package price for two years," MultiChoice South Africa reportedly said.
The Nation also reports that "the firm is alleged to be making an average of about N8 billion from its over 4 million subscribers every month in Nigeria and about N80 billion as turnover per year."
Business Post recalls that in April 2015, Nigerians vehemently kicked against hike in the subscription fees of DSTV.
The matter even went to court and a Federal High Court sitting in Lagos restrained MultiChoice Nigeria Limited from going on with its new rates and increase in tariffs payable by its subscribers across board.
The restraining order was given by Justice C.J. Aneke following a suit filed, with number FHC/L/CS/404/2015, by two Lagos-based lawyers, Mr Osasuyi Adebayo and Oluyinka Oyeniji.
Nigeria's Battle Against Cybercrime: Are You Safe?
Cybercrime is nothing new in Nigeria. Part of youth culture for decades, criminal enterprises have spread across the country.
In 2020, Nigeria ranked 16th highest in the world for international cybercrimes, by the FBI. However, Nigeria ranked 47th on the Global Cybersecurity Index, showing a vast disparity between the volume of cybercrime, and the effectiveness of Nigeria's cybersecurity.
To understand this divide, it's important to understand where cybercrime originated in the country.
Let's investigate…
A brief history of cybercrime in Nigeria
The roots of cybercrime culture in Nigeria date as far back as the 1980s. In those early days, Nigerian youth mainly perpetrated cybercrime through email scams.
Known colloquially as the "yahoo yahoo" business, "yahoo boys" use social engineering tactics to con their victims into sending them money. The fraudsters often use emotional pressure points or promises of high returns.
The Nigerian government took a blow in 2020 when hacker collective Anonymous declared cyberwar against them. They hacked the database of the Central Bank of Nigeria and police websites on behalf of the #ENDSARS movement.
Biggest threats to Nigeria's cybersecurity
The landscape of global cyber threats shifts regularly. However, recent years have shown a rise in the popularity of certain types of cybercrime in Nigeria.
Social engineering tactics
Arguably the oldest cybercrime in Nigeria, social engineering continues to be a favourite of Nigerian cybercriminals. These tactics often include heartfelt backstories, pleas for help, and the promise of love, or return on investment — all via email.
These tactics play on victims' emotions and vulnerabilities. Those who've been successful with these scams live frivolous lifestyles. "Yahoo boys" with fancy cars and clothes have also become role models for young people desiring the same lifestyle.
Phishing websites
Chances are you've ended up on a site like this before. Sometimes they pose as legitimate sites but are almost always just an attempt to collect data, or install viruses. Phishing sites are hugely popular in Nigeria as it goes hand in hand with email scams.
You only need to click on a dangerous link before a fraudster can view your data. This is where using a VPN for PC is essential. Virtual Private Networks (VPN) hide your browsing and location data from malicious phishing websites.
Insider collaboration
A significant area of concern for Nigerian businesses is insider collaboration. This occurs between criminals and employees. Fraudsters have often sent out open requests for anyone willing to cause damage to their employer for payment.
This is quite hard to track too, as hackers use valid credentials to access secure networks. Keeping logs of activities within the network can help to find leaks. This can also help to spot malicious activity in the future.
Cybersecurity vulnerabilities of third parties
One of the biggest concerns for Nigerian businesses is the security of third parties. Even if your business is a fortress, a poorly protected third-party can bring the castle tumbling down.
This is especially troubling to Nigerian businesses operating globally. More third parties mean more vulnerabilities. Only work with trusted clients and expand the scope of your cybersecurity to those you work with.
Deepfake technology
A hot-button issue in Nigeria at the moment, deepfake fraud is more common than ever. Deepfake technology is the life-like reanimation of an individual's face, meaning you can make anyone say anything.
Unfortunately, deep-fake is only getting better. In 2018, Nigerian President Muhammadu Buhari was featured in a deepfake video. The video became so viral that the President was prompted to make a statement dismissing the video as a fake.
How Nigeria is fighting back
Policing against cybercrime in Nigeria has been inadequate for decades. Only recently has the government declared significant steps in its plan to fight the rising issue of cybercrime.
Nigeria introduces the National Cybersecurity Policy and Strategy (NCPS)
In 2021, Nigeria implemented the NCPS, which indicated cybercrime as a leading threat to Nigeria and its economy. The NCPS represents an attempt to safeguard Nigeria's digital economy, by strengthening the country's legal and regulatory framework.
Also ongoing is the development of the National Cybersecurity Coordination Centre (NCCC). The NCCC would ensure clear communication and a well-developed response to cybercrime across Nigeria.
Efforts like these are projected to boost cyber protections and cybersecurity awareness. While work is still ongoing, the future of cybersecurity in Nigeria looks bright.
Conclusion
Although it has been a mainstay for years, cybercrime is now starting to be taken seriously in Nigeria.
Being uncontrolled for so long, cybercrime has been able to grow steadily.
By embracing modern cybersecurity practices, Nigeria might finally rid itself of its unwanted cybercriminal image.
5G Subscriptions to Reach 4.4 billion in 2027—Ericsson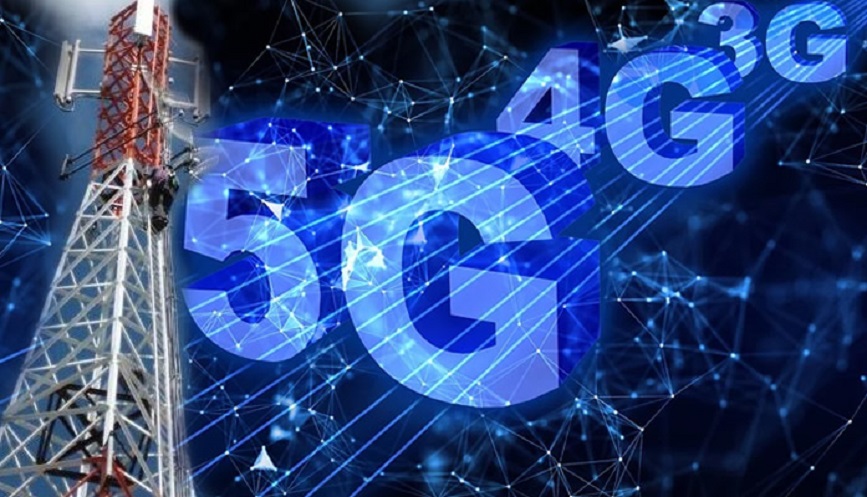 By Aduragbemi Omiyale
The latest edition of the Ericsson Mobility Report has predicted that 5G subscriptions will hit one billion this year and 4.4 billion in 2025, with North America expected to lead in the next five years with 9 of every 10 subscriptions in the region to be 5G by 2027.
The report, which is the 22nd of Ericsson's network traffic insights and forecasts, also revealed that global mobile network data traffic doubled in the past two years, driven by increased smartphone and mobile broadband usage, as well as the digitalization of society and industries.
The recent statistics and forecasts highlight the strong demand for data connectivity and digital services have and are expected to have, despite the global COVID-19 pandemic and geopolitical uncertainties. Several hundred million people are becoming new mobile broadband subscribers every year.
As for the 5G subscriptions, it was stated that by 2027, the fifth-generation network will account for 82 per cent of subscriptions in Western Europe; 80 per cent in the Gulf Cooperation Council region; and 74 per cent in North-East Asia.
In India, where 5G deployments have yet to begin, 5G is expected to account for nearly 40 per cent of all subscriptions by 2027. In global terms, 5G is forecast to account for almost half of all subscriptions by 2027, topping 4.4 billion subscriptions.
According to the survey, 5G is scaling faster than all previous mobile technology generations as about a quarter of the world's population currently has access to 5G coverage.
Some 70 million 5G subscriptions were added during the first quarter of 2022 alone and by 2027, about three-quarters of the world's population will be able to access 5G.
"The latest Ericsson Mobility Report confirms 5G as the fastest growing mobile technology generation ever, and Ericsson is playing a key role in making it happen.
"We work every day with our customers and ecosystem partners around the world to ensure that millions more people, enterprises, industries, and societies enjoy the benefits of 5G connectivity as soon as possible," the Executive Vice President and Head of Networks at Ericsson, Fredrik Jejdling, said.
As for the Executive Editor of Ericsson Mobility Report, Peter Jonsson, "The deployment of 5G standalone (SA) networks is increasing in many regions as communications service providers (CSPs) gear up for innovation to address the business opportunities beyond enhanced mobile broadband.
"A solid digital network infrastructure underpins enterprises' digital transformation plans, and their new capabilities can be turned into new customer services."
MainOne to Host 7th Nerds Unite June 23
By Adedapo Adesanya
An Equinix company, MainOne, a leading provider of wholesale connectivity and data centre services in West Africa, will host the 7th edition of its flagship event, Nerds Unite, on Thursday, June 23, 2022.
The highly engaging annual event themed The Power of Global Interconnection will feature a keynote address on Interconnection and the power of the global Equinix Platform to connect African Businesses and Global/Local Service providers to be delivered by Vice President, Growth and Emerging Markets, Equinix, Mrs Judith Gardiner.
The conference will also feature two-panel sessions on the topics Unlocking Growth through An Interconnected Global Digital Infrastructure and Maximizing Business Efficiency and Minimizing Talent Drain and Rising CAPEX through IT Outsourcing, as industry experts discuss the immense benefits accruable to subscribers through the power of global interconnection and IT Outsourcing.
Confirmed speakers at Nerds Unite 2022 include Mr Martin Atkinson, Senior Manager, Peering & Interconnection EMEA, Equinix; Edge Strategy Manager, SSA, Meta, Mr Ben Ryall; CEO, Tizeti, Kendall Ananyi; CTO, Lagos Free Zone, Mr Nikhil Khandelwal; Country Manager, HPE operated by Selectium, Ms Ifeyinwa Kojo; Head, Technology Infrastructure, Nigeria Inter-Bank Settlement System Plc (NIBSS), Mrs Eunice King.
Others are Group Head, Network Operations, Access Bank, Mr Adebowale Shonekan; CIO, EKO Electricity Distribution Company (EKEDC), Mr J.P. Attueyi; and Partner, Enterprise Technology & Performance Leader, Deloitte, Mr Oluwole Oyeniran.
Speaking on expectations for this edition, the Chief Executive Officer, MainOne, Mrs Funke Opeke, remarked; "It's the first time following MainOne's acquisition that we'd be hosting our annual flagship event, Nerds Unite.
"It is also at a time businesses are just recovering from the COVID-19 pandemic and are faced with new challenges coping with the accelerating rate of digitalization.
"We hope ICT stakeholders find this event very useful, especially with our parent company Equinix billed to share their knowledge of global data interconnection and outsourcing."
Participants will be drawn from a diverse global audience who can register for the event through the link www.nerdsunite.MainOne.net.
With over 4,000 participants since its inception, Nerds Unite has showcased leading technology solutions to MainOne Customers and has hosted major players in the global and local IT industry.
Latest News on Business Post