Phillips Consulting's Guide to Avoiding Security Complexities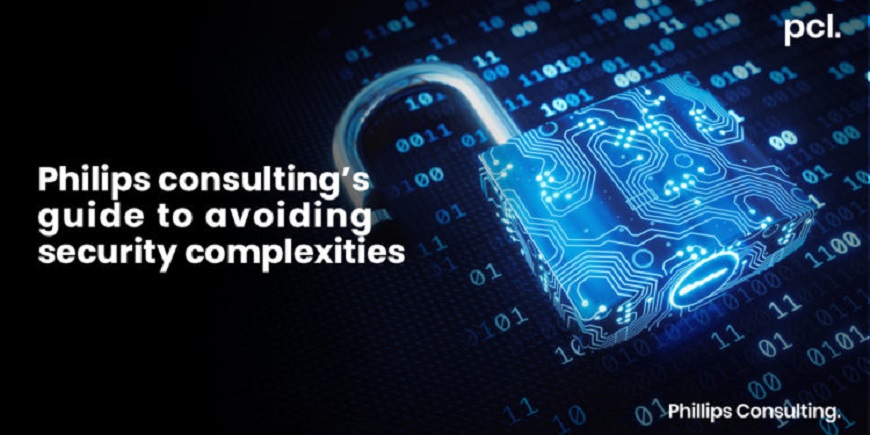 Many years ago, the firewall was everything. Defence-in depth was a concept defined as layered defence with multiple firewalls on the path.
Behind the firewall was a fortress. Organisations designed networks with strong perimeters and demilitarised zones to ensure the crown jewels were well-protected. Attackers had a difficult time trying to break into the firewalls.
On the physical layer, Network Admission Control (NAC) technologies were implemented to prevent intruders from having direct access into the network by preventing them from plugging unauthorised devices into the network. Before a device was admitted, it had to meet a minimum requirement defined by the organisation.
Those years are gone and maybe gone forever. Cloud computing, Bring Your Own Device (BYOD), Artificial Intelligence, Internet of Things (IoT), VPNs and Remote Working Capabilities have dramatically changed the way businesses run.
These technologies have introduced a level of innovation and disruption that were unimaginable only a few years ago. They have resulted in the collapse of the traditional network perimeter, thereby increasing the attack surface for cyber-attacks.
Enterprise networks coverage is today being extended beyond our imagination – outside the traditional datacentres to smartphones, cloud platforms, mobile computers and IoT interfaces without geographical boundaries.
The bad guys now have a plethora of interfaces to launch their attacks on; they do not have to breach the network using traditional social engineering tactics physically.
The recent changes in the work environment occasioned by the COVID-19 have further amplified the extension of network boundaries beyond the traditional datacentres.
Employees work from home with devices and connections into the enterprise networks that were not originally designed for such. Improvised connections were made to allow functionality because the pandemic came without an announcement.
The danger this poses is that some of these end devices were not originally designed with security in mind. Even if security was a consideration, not so much for enterprise data protection. These devices are most of the time not hardened, and their owners may not understand the effects on the overall organisational security posture.
A handful of these devices are installed with default passwords, and most times, these passwords are not changed during or after installation. So, it is easy to guess the password by manual methods or using advanced dictionary or brute force attack methods.
Another risk posed by these endpoints is the lack of security updates and patches. Because they are sometimes not seen to be part of the enterprise network, they are not included in the patch management programme, and their presence introduces high-level vulnerabilities within the enterprise network.
It then becomes easier to utilise malware that could tunnel through the firewall to breach the enterprise network, instead of spending months and years trying to break into the firewall or layers of firewalls.
In recent years, large-scale attacks have been launched using malware by exploiting known vulnerabilities and security gaps on endpoints.
For example, the WannaCry, Petya and another variant of Petya, the NotPetya were employed to launch attacks on enterprise networks through vulnerable endpoints. Another danger with this trend is potential data leakage because these devices are used to either temporarily or permanently store organisational data.
There is also concern about device loss. If these devices are lost, there is a risk of exposing the organisation's data to unauthorised entities, and that could both result in financial and reputational damage.
These dangers are also expanded by the impact of the COVID 19 pandemic, where organisations made ad-hoc improvisions to support businesses while employees work from home.
As commerce resumes, organisations are beginning to discover some capabilities to support their businesses remotely, and they are also rethinking their business continuity strategies.
For some businesses, this is not just a temporal shift, but a change which has permanently altered the operational procedures of the organisation.
Legacy cybersecurity strategies, techniques and investments will not be enough to mitigate the rising cybersecurity concerns introduced by this new way of working. Protection has gone beyond throwing in uncoordinated technical solutions and efforts.
Organisations need to rethink a new approach for the protection of their assets within the ever-growing complexity both to remain afloat and also to derive commensurate Returns On Security Investments (ROSI). A well-crafted strategy will ensure that cybersecurity efforts are coordinated within the enterprise, without duplication of efforts and resources, which will, in turn, drive down the cost of implementing cybersecurity initiatives.
​To improve security posture, organisations must do the following:
Continuously monitor the devices, applications, and processes running on the network.
Automate security monitoring and mitigation.
Implement systems that are capable of automatic detection, isolation and containment of threats within the network.
Ensure that monitoring covers event data, session data, and historical data on endpoint usages, such as past processes, network connections, and other information.
Another measure organisations should take is reducing complexities. The extension of the network boundaries has not stopped organisations from using existing network solutions to protect the enterprise network.
However, in a bid to ensure the protection of the on-premise infrastructure and the ones beyond the organisational traditional network boundaries, organisations combine existing technologies with new solutions and the resultant effect is an increase in complexity.
To effectively manage security, organisations should put measures in place to ensure a reduction in complexity and enhancing visibility. This can be achieved by unifying all efforts and technologies for managing both on-premise and off-premise infrastructure in a single platform. Beyond technical controls, organisations should develop procedures, standards, and policies for acceptable use of organisational resources.
Data Breaches in Nigeria Increase 64% in Q1 2023
By Adedapo Adesanya
Data breaches in Nigeria increased by 64 per cent, as 82,000 leaked accounts were recorded in the first three months of the year when compared with the last quarter of 2022.
This made Nigeria the 32nd most breached country in the world in the first three months of this year, according to the latest data from cybersecurity company, Surfshark, collected through its independent partners from 29,000 publicly available databases and aggregated by email addresses.
Globally, data breaches declined in the first quarter of 2023, with a total of 41.6 million accounts breached. This is almost 50 per cent less than the nearly 81 million seen in Q4'2022.
The increase in Nigeria's data breaches moved the country from the previous position of 41 to 32, with around 50,000 breaches recorded in Q4 2022.
Russia was ranked 1st in the world (6.6 million), followed by the United States (5 million), Taiwan (3.9 million), France (3.2 million), and Spain (3.2 million), making the top five.
Taiwan saw the highest quarter-over-quarter increase (21x), placing its total of 4 million leaked accounts 3rd in Q1'2023. The country had only placed 26th in Q4 2022 with 191,000 breached users.
Globally, data breaches declined, dropping to one user account leaked every second in Q1 2023.
"According to Surfshark's study, data breaches declined globally in the first quarter of 2023 if we compare it to the previous one," says Agneska Sablovskaja, Lead Researcher at Surfshark. "However, the fact that over 40 million accounts were breached in just a few months is still a cause for concern. Those whose data was compromised are at an increased risk of being targeted by cybercriminals as their personal information can be utilized for phishing attacks, fraud, identity theft, and other serious cybercrimes."
Surfshark showed that Europe was the most affected region by breaches in Q1'2023, followed by Asia and North America.
In the period under review, Europe was also the only region with a significant quarter-over-quarter increase in its statistics on data breaches. The number nearly doubled, growing from 9.9 million in Q4 2022 to 17.5 million in the first three months of 2023. To put this into perspective, 2 out of 5 accounts breached in Q1 2023 were of European origin, with 38 per cent of these being Russian. Within the region, the biggest quarter-over-quarter spikes in data breaches were recorded in Czechia (almost 9x), Armenia (around 6x), and Switzerland (6x).
Asia was the second-most vulnerable region, accounting for around a fourth of the quarter's breaches (10.6M). The three countries that saw the highest quarter-over-quarter increase overall were all Asian — Taiwan and Saudi Arabia both had around 20 times more leaked accounts in Q1'2023 than in Q4'2022, while South Korea saw its number increase 12 times.
An additional 13 per cent of the accounts were North American (5.3 million). All other regions comprised less than 5 per cent of the quarter's total. Out of all regions, Africa saw the greatest quarter-over-quarter decrease — a whopping 33 times, bringing its total of 18.6 million leaked accounts in Q4 2022 down to 557,600  in Q1 2023.
Some of the biggest breaches by email count were Sberbank (Russia), with 2.9M accounts leaked, Weee! (United States) with 1.1M, and Zurich Insurance (Switzerland) with 756,700.
The ten most breached countries of Q1'2023, in descending order, are Russia, the U.S., Taiwan, France, Spain, India, Czechia, South Korea, and Italy. The highest growth in user victims was spotted in Taiwan (21x), Saudi Arabia (19x), South Korea (12x), Czechia (9x), and Armenia (7x).
WhatsApp Now Allows Users Edit Messages
By Adedapo Adesanya
The social messaging platform, WhatsApp, has announced that rather than users deleting chats in case of a typo, they can now make simple edits.
The edited messages will have an "edited" tag next to the time stamp to mark the change, and other users won't be able to see the previous versions of edited messages.
The Meta-owned platform, through its chief executive officer, Mr Mark Zuckerberg, first noted the development in a Facebook post, revealing that users can now modify a message within 15 minutes of sending the message.
If users want to do this, they can press and hold on to a message and tap on the edit option to alter the message.
"We're excited that you'll now have more control over your chats, such as correcting misspellings or adding more context to a message. For this, within 15 minutes of sending the message, you have to tap and hold that message for a while and then select the option of 'Edit' from the menu," the company said in a blog post on Monday.
This will be good for users that want to correct a simple misspelling or those that want to add extra context to a message.
"We're excited to bring you more control over your chats. All you need to do is long-press on a sent message and choose 'Edit' from the menu for up to fifteen minutes after," WhatsApp said.
As with all personal messages, media and calls, messages and the edits made are protected by end-to-end encryption.
This feature has started rolling out to users globally and will be available to everyone in the coming weeks.
Rival platform, Telegram, has always allowed for edits and users can do so for a time frame of 48 hours.
Last week, the platform announced that users can now lock and hide conversations as part of privacy measures using biometrics or a special code.
WhatsApp Launches Chat Lock to Hide Conversations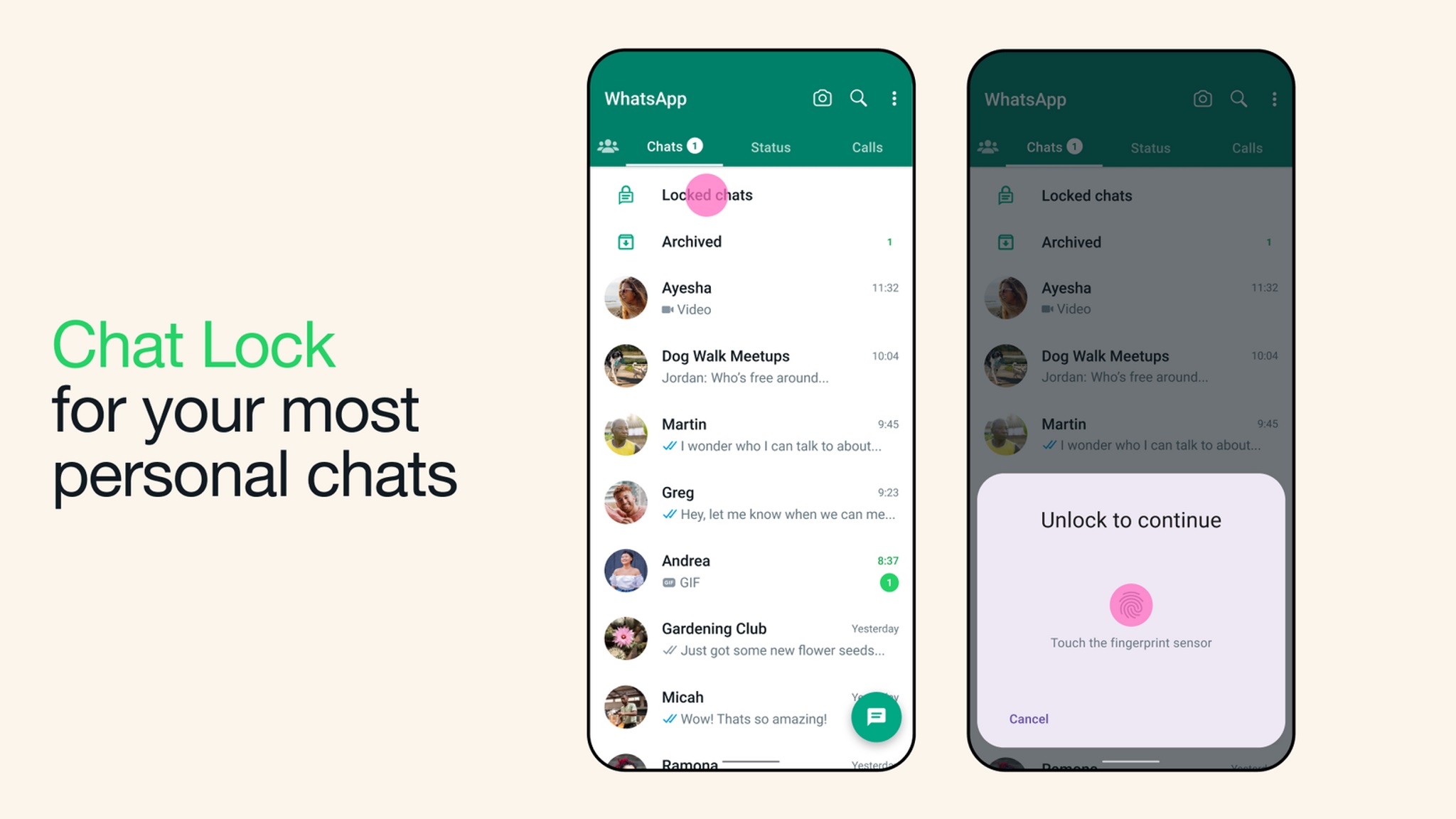 By Adedapo Adesanya
Social conversation platform, WhatsApp, has announced a new feature that will allow users to lock and hide conversations.
The new feature called Chat Lock will remove a chat thread from the app's regular onscreen inbox and place it into a new folder that can only be opened by a password or biometric, such as facial recognition or a fingerprint.
Calling it "one more layer of security", Meta – WhatsApp's parent company – added that Chat Lock would protect "your most intimate conversations" and hide notifications from them.
"Over the next few months, we're going to be adding more options for Chat Lock, including locking for companion devices, creating a custom password for your chats so that you can use a unique password different from your phone's," Meta wrote in a blog post.
"Locking a chat takes that thread out of the inbox and puts it behind its folder that can only be accessed with your device password or biometric, like a fingerprint. It also automatically hides the contents of that chat in notifications, too," the past announced.
Users can lock chat by tapping the name of a one-to-one or group and selecting the lock option. To reveal these chats, users will need to slowly pull down their inbox and enter their phone password or biometric alternative.
"We think this feature will be great for people who have reason to share their phones from time to time with a family member or those moments where someone else is holding your phone at the exact moment an extra special chat arrives," Meta added.
This is the latest feature since it fortified its mobile application with three new security features to protect the personal messages of its users.
Also, it announced that has started allowing in-app payment in Brazil last month.
Latest News on Business Post