Airtel to Deploy Broadband Services, Fibre Network Across Kaduna
By Modupe Gbadeyanka
Airtel Nigeria has entered into a strategic and exclusive partnership with the Kaduna State Government for the deployment of broadband services and fibre network across the state.
The deal allows the leading telecommunications service provider to immediately commence the project with a timeline of upgrading 3G services across the entire state by end of 2022 and also deploying 4G services across key cities in the state specifically in Kaduna, Kafanchan and Zaria. The project scope also includes the deployment of a fibre network across the entire state.
"Today marks an important milestone for all of at Airtel Nigeria. We are not only excited by this partnership with Kaduna State to deploy broadband services across the state but we are inspired as this project aligns with our corporate purpose of connecting people, empowering Nigerians and touching lives.
"With this partnership, Airtel will deploy broadband services in Kaduna and provision 4G services across key cities in the state specifically Kaduna, Kafanchan and Zaria while also upgrading 3G services and providing Internet access and network connectivity across the entire state.
"I believe that broadband is a universal human right that should not be denied to anyone. It bridges the gap between prosperity and poverty. It lifts so many people out of poverty.
"Many studies on how broadband can transform life has been done and some of these studies say that for every one or two per cent increase in broadband penetration, it can actually increase GDP by up to 10 per cent.
"For me, access to broadband is as good as connecting to electricity and water. With this project, many will be lifted out of poverty in Kaduna and I really look forward to this project," the MD/CEO of Airtel Nigeria, Mr Segun Ogunsanya, said.
On his part, the Governor of Kaduna State, Mr Nasir El-Rufai, described the partnership as a significant step in improving the quality of life and boosting productivity in the state as the entire world has gone digital while noting that the government under his leadership is in a hurry to deliver on its electoral promises as well as empowering and transforming lives.
Mr El-Rufai further said the collaboration with Airtel "is a major landmark for us as an administration because since we came into office we have identified about 41 locations in Kaduna State that are black-spots that have no telecom services at all. We have been pursuing the NCC to deploy the Universal Service Provision Fund to fill those gaps without much success."
"Our aspiration is for every part of Kaduna State to have a minimum of 3G coverage. We are very grateful to Airtel for agreeing to be our partners in achieving this aspiration. 3G coverage is the minimum we need in this century for people to pursue quality lives and livelihoods. We believe in that very strongly and we are prepared to work with you to achieve that," he added.
The Kaduna State governor also noted that the agreement will build even higher levels of penetration of digital technologies to every nook and cranny of Kaduna State while commending Airtel for not only providing services that enhance lives and livelihoods but also providing timely interventions through its Corporate Social Responsibility (CSR) initiatives.
Wakanow Unveils Outlet in Lekki to Meet Customers' Travel Needs
By Aduragbemi Omiyale
In order to meet the rising travel needs of its customers, Africa's largest online travel agency, Wakanow, has launched an experience centre in the Lekki area of Lagos State.
The outlet is located in Jubilee Mall on Admiralty Way and it will deliver an unparalleled immersive travel experience in a warm and relaxing atmosphere to customers.
"Wakanow is an online travel agency also with extensive offline presence with over 30 travel centres across Nigeria, Ghana and Dubai.
"We meet our customers' travel needs across multiple touchpoints, wherever they are. We continue to expand our product portfolio& service offering as we aim to be their indispensable and trusted travel companion exciting them with travel deals, packages, and services that are unobtainable elsewhere," the Chief Commercial Officer of Wakanow, Mrs Adenike Macaulay.
In 2020, the COVID-19 pandemic dealt a devastating blow on the travel industry as people were not allowed to move around as they used to. The sector was practically paused.
However, Wakanow was able to scale through the storm due to the hybrid model of being an offline and online agency and this was further solidified by the massive investment it has made in technology over the years, enabling business sustainability through the pandemic.
During this same period, Wakanow was the only travel agency running 24/7 customer service centre operations which enabled it to take care of teeming customers during the upheaval in flight operations.
"Wakanow was able to weather the pandemic storm due to its innovative approach in the development of new complementary products and the unwavering commitment of the staff to the customer which has paid off hugely in customer retention and service uptake in the wake of travel restrictions," the CEO of the firm, Mr Bayo Adedeji, said.
But 2021 has seen the resurgence of interest and demand in travel, with airlines steadily increasing capacity offered to Nigeria and even the launch of new domestic and international airlines.
Wakanow said it's positioned to continue supporting its customers across all channels with their travel needs as travel demand resurges.
Transcorp's Aura Will Help Develop Domestic Tourism—Osinbajo
By Dipo Olowookere
The decision of the management of Transcorp Hotels Plc to design a digital platform called Aura has been applauded by Vice President Yemi Osinbajo.
At the launch of the app on Thursday in Abuja, Mr Osinbajo said the initiative will help revive Nigeria's hospitality industry in general, especially in the aftermath of the COVID-19 global pandemic as it will provide a major avenue for other small businesses in the value chain to grow.
"This is an excellent innovation, a service that leverages smoothly on technology and one that will be a tremendous boost to the hospitality industry as a whole.
"And because I have checked it out myself, I can say that my Aura experience has been quite good," the Vice President said as he eulogised the team led by the Chairman of Transcorp Hotels, Mr Tony Elumelu; the Group CEO of Transcorp, Mrs Owen Omogiafo; and the CEO of Transcorp Hotels, Mrs Dupe Olusola; for designing such digital platform at this time.
Mr Osinbajo noted that the Aura app was designed to connect people to quality accommodation, great food, and awesome experiences in several places.
"Yes, there are a number of digital hospitality platforms already, but I think the unique offering here is that Transcorp, possibly Nigeria's foremost luxury hotel, is putting its huge reputation behind the service of helping customers choose the best accommodation restaurants, and experience tours available in Nigeria. The advantages of this service are varied.
"First, the customer can rely on the experience and judgment of world-class personnel at Transcorp in choosing hotels and restaurants.
"Second, Transcorp helps to build other smaller hospitality businesses, and even those simply offering their apartments simply as short-let apartments, by recommending their accommodation to potential guests.
"A Transcorp recommendation is more or less an accreditation that the accommodation or other hospitality service meets the high standards for which Transcorp is known. This is great all around and will help revive the hospitality industry, especially since the downturn in the aftermath of COVID-19," he said.
The Vice President added that he found the app easy to navigate, with a copious offering of hotels, short-let apartments, experience tours.
"They lure you into it by showing you a photo of an incredibly mouth-watering meal, and I saw a few that almost convinced me to break my fast early.
"So, there was an amazing looking Chicken Cheese Pizza from Barnyard lounge in Asaba, some irresistible chicken meal – a 5-star chicken – from Platino in Lagos, and some 'carry go suya' spice prawns at 355 here in Abuja. So, from the photo of the meal that takes you to the restaurant itself, you have booking options, dine-in, pick up or delivery," he added.
Mr Osinbajo noted that, "I think the feature many especially property owners will find most fascinating is the host feature; as this enables you to put up your own property. And there are terms and conditions you need to meet for your property to be accepted. Same for whatever other entertainment facility you may wish to put out there for letting."
In her remarks, Mrs Olusola agreed with the position of the Vice President on the capability of the initiative to support the development of the domestic tourism industry.
"Aura is a digital hospitality platform that gives the opportunity to all our stakeholders and guests to actually be able to book accommodation and experiences just at their fingertips.
"Aura is an opportunity for us to diversify our economy, an opportunity to create jobs and employment, and to develop domestic tourism and leisure travel," she said.
The launch of Aura was also witnessed by the Speaker of the House of Representatives, Mr Femi Gbajabiamila; the Attorney General of the Federation and Minister of Justice, Mr Abubakar Malami; the Minister of Labour and Employment, Mr Chris Ngige; the Deputy Chief of Staff to the President, Mr Ade Ipaye; among other dignitaries.
The event featured delectable Nigerian cuisine, video presentations and live performances by leading Nigerian artistes and celebrities, including Tiwa Savage.
Business Post reports that since its launch on Thursday, the Aura by Transcorp app has recorded over 1,000 downloads on the Google Playstore.
France to Develop Tourism in Oyo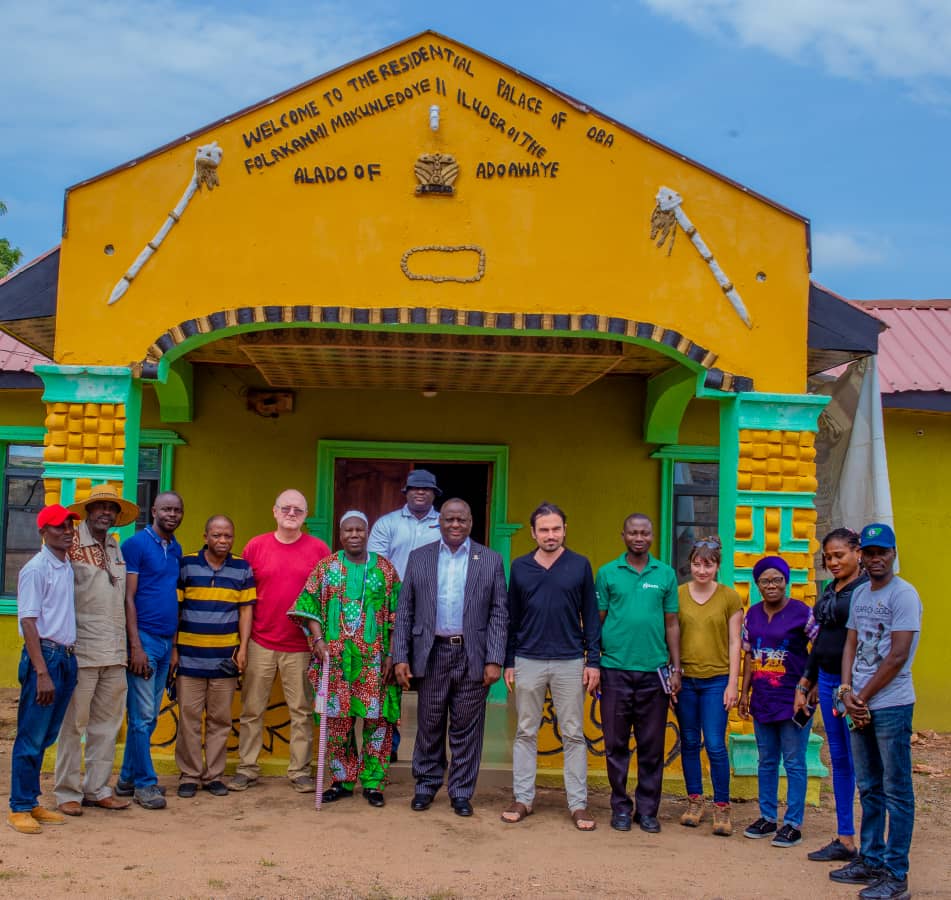 By Aduragbemi Omiyale
The French government is looking to develop tourism in Oyo State and it has already taken a step towards achieving this goal.
Last weekend, the French Embassy was in the South-Western state of Nigeria to have talks with the government on how to go about this.
During a visit to the Ministry of Information, Culture and Tourism in Oyo State, the leader of the French delegation, Dr Vincent Hiribarren, said the country was determined to engage with Oyo State and seek ways to explore its tourism potentials in different archaeological and historical sites.
"Currently, France is seeking to help the Oyo State government to document its tourism potentials. This is the first working visit to the state's tourism sites," he said.
"The field visit to potential archaeological sites in Oyo State would afford us the opportunity to assess them, with the aim of developing an archaeological project," he added.
The state government took the visiting team to a tourist site, Ado-Awaye Hill. They also toured studios and archives of the Ministry of Information, Culture and Tourism with the aim of developing a project on digitalisation of archival materials and training of personnel.
Mr Hiribarren, who was excited, also promised the French government's support to Oyo State in ensuring the full digitisation of its archaeological documents, archival materials and cultural heritage.
The team, thereafter, met the management of the Ministry to deliberate on possible projects to be developed based on the assessments made.
The French delegation added that the relics put up for consideration include Idere Relics, Kunrunmi Relics, Iyake Suspended Lake Ado Awaye & Aso Ofi centre, Iseyin (home of weavers).
"This official visit to the state is marked with a trip to the famous Ado-Awaye hill where we discovered big tourism potentials such as the Iya'ke suspended lake, the Iya'laro lake and an ancient cave," the leader said.
Mr Hiribarren, who heads the French Institute for Research in Africa, promised the French Government's support to ensure Ado-Awaye among other tourist sites in the State are enlisted on the UNESCO recommendation for tourism, which he noted will consummate the state's economic diplomacy upgrade.
"We will ensure this is established as part of UNESCO tourism sites, such that it will influence tourists and improve the rating and cultural heritage of the community," he said, adding that the visit was an attempt to build on the priorities set by the French Government, saying it was also a sign of Paris' "willingness to change the narrative of the relations between the State and France."
"We are working for a new, more sustainable, fairer way to support the tourism potentials in Oyo State. We want to find ways to partner with Oyo State on tourism to create more jobs, and to create more economic growth," he added.
Speaking earlier, the Permanent Secretary, Ministry of Information, Culture and Tourism, Dr 'Bunmi Babalola appreciated the French Government for the visit, which he noted will increase the volume of economic impact on the people of Ado-Awaye.
He also promised the state government's full support to prioritize the tourism sector, which will, in turn, expand the State's economy.
The Alado of Ado-Awaye, Oba Sunday Oladapo Oyediran, said the community has waited long for the realisation of this age-long dream.
Noting that the community hosts the only natural suspended lake in the African continent, the Monarch added that the development will not only enhance tourism potentials in the state but curb criminality and other vices.
The French Embassy Mission included Professor Gerard Chouin (Williams & Mary USA), Dr Vincent Hiribarren (Director IFRA Nigeria), Ms Lea ROTH (Université Paris 1 Panthéon-Sorbonne), Prof. R. A. Alabi (Head of Department of Archaeology UI), Joseph Ayodokun (Department of Archaeology UI and Field officer of IFRA Nigeria's Archaeological Projects) and Patrick Babalola (Archivist, IFRA Nigeria).
Latest News on Business Post