Interswitch Sponsors Hotel Expo Nigeria 2022
Stakeholders in the Nigerian hospitality and tourism industry convened at the Hotel Expo Nigeria 2022, with Africa's leading integrated payments and digital commerce company, Interswitch, as one of its sponsors, to discuss the way forward for the sector that faced unprecedented challenges occasioned by the COVID-19 pandemic.
The event, which was held recently at the Landmark Centre, drew players from the various corners of the sector, including manufacturers, hoteliers, tourism and booking agents, and top executives, among others, to give insights into the hospitality business.
With the disruption caused by the pandemic in hindsight, the two-day event focused on conversations around developing innovative solutions that will boost the recovery and growth of business operations. The expo also served as a common ground where ideas were shared and a community formed.
As a leader in Nigeria's technology and innovation ecosystem, Interswitch is poised to provide bespoke robust business solutions to players in the hospitality industry to support their business growth aspirations.
Representatives of Interswitch who spoke at the event as members of the panellists were the Group Head, Engineering, Interswitch, Abdul-Hafiz Ibrahim and Business Manager, Interswitch, Olatunji Lasisi, delivering insights into the role technology can play in boosting the hospitality business. Also on the panel at the event was the Head of DSTV Business, Abayomi Famakinwa.
During the panel session, Ibrahim noted that as the hospitality business emerges from the economic downturn occasioned by the COVID-19 pandemic, there is a need to leverage efficient technological solutions that aligned with the changing market trends. He also added that it was important for businesses to take note of the dynamic consumer needs, as this will help them stay ahead of the competition.
He said, "The hospitality sector has undergone unprecedented challenges in recent times, and there is a need to have conversations around business solutions that will revitalize the sector and improve efficiency. The Hotel Expo Nigeria 2022 is a relevant platform in this regard as it brings together critical stakeholders to drive the conversation.
"As a cross-sector player, Interswitch's cutting-edge products such as the Quickteller Business Smart PoS and the Payment Gateway help organisations drive efficiency and boost service delivery."
Lasisi, on his part, identified the Quickteller Business Smart PoS and Payment Gateway as innovations from Interswitch that have helped businesses make quick recoveries from the harsh economic realities brought about by the COVID-19 pandemic.
Lasisi said that the Quickteller Business Smart PoS, by design, was developed to aid businesses in accepting and processing payments from all major local and international cards, availing customers with multiple payment options such as transfers that provide immediate payment confirmation right on the PoS terminals to USSD, QR and Verve Paycode, pre-authorization, completion and refund features, providing real-time business performance reporting, among other features. At the same time, the Payment Gateway service will enable businesses to Accept payments easily on their websites from international and local customers alongside other multiple payment options. Integration of the Payment Gateway is 100 per cent free and easy.
FG Permits Nigeria Air to Lease Aircraft to Start Operations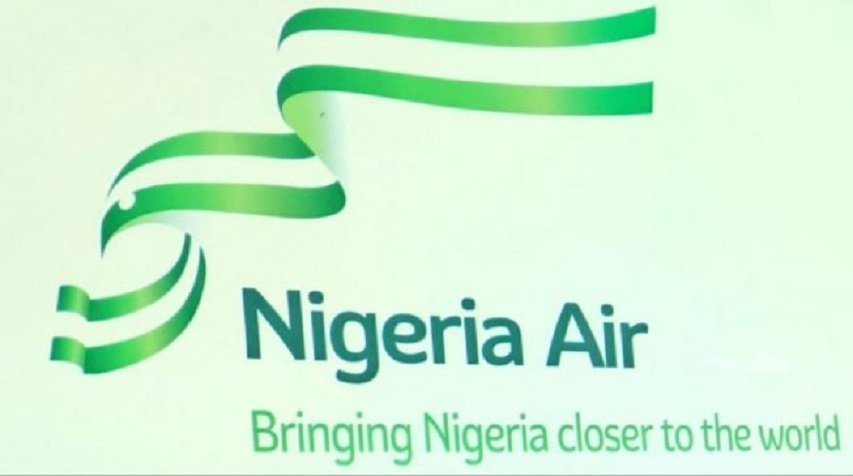 By Adedapo Adesanya
The Federal Executive Council (FEC) has given approval to Nigeria Air to lease aircraft to start operations.
The Minister of Aviation, Mr Hadi Sirika, made this announcement while briefing State House correspondents after the council meeting chaired by President Muhammadu Buhari at the Presidential Villa in Abuja on Wednesday.
The Minister, who didn't disclose when the national carrier would start its operations, said the company would begin with three aircraft, adding that Nigeria Air is open to investment from any of the country's airline companies.
This is coming after it got the Air Transport License (ATL) which certifies the kinds of operations a carrier will embark on scheduled, non-scheduled, cargo air services within and outside Nigeria, from the Nigerian Civil Airport Authority (NCAA), for a period of five (5)years from June 3rd, 2022 to June 2nd, 2027.
The new national airline is expected to provide scheduled and non-scheduled services after four years since the federal government on July 18, 2018, announced the name of the national carrier and unveiled the logo and provided the blueprint for operations in the United Kingdom.
However, much dispute has delayed the full launching of the carrier but with the recent developments, Nigerians will be awaiting the operation of the airline service.
In March, the federal government opened a bid for private investors to join the national air carrier to promote economic growth and develop public-private partnerships.
The private sector partners were expected to comprise – Nigerian Financial and Institutional Investors (minimum of 46 per cent shares) so that the total Nigerien shareholding will hold a minimum of 51 per cent of the shares of Nigeria Air (including the 5 per cent non-interactive FGN share), as required by international laws for a national carrier.
Inflation, FX Scarcity Force Aero Contractors to Suspend Operations
By Dipo Olowookere

One of the leading airline operators in Nigeria, Aero Contractors, has announced the indefinite suspension of its operations, citing the rising cost of maintenance, inflation and foreign exchange (FX) scarcity, amongst others as the reason for its action.
In a statement issued on Monday, the company, which is the oldest airline in the country, said the suspension of its flight operations will become effective Wednesday, July 20, 2022.
The firm said in the past months, it has been struggling to remain in business despite "the high cost of maintenance, skyrocketing fuel prices, inflation, and forex scarcity" and that after a careful analysis of the situation, it felt it was in the interest of its customers and others to halt its operations pending when it would be fully ready to "offer a seamless and efficient service to our esteemed customers."
Aero Contractors said during this period of the suspension, it would make efforts to put its aeroplanes in good shape with a view to bringing them "back to service in the next few weeks so we can continue to offer our passengers the safe, efficient, and reliable services that Aero Contractors is known for, which is the hallmark of Aero Contractors Company of Nig. Ltd."
However, it emphasised that this suspension "does not in any way affect the maintenance activities of the Approved Maintenance Organisation (AMO) otherwise known as AeroMRO, the Approved Training Organisation (ATO) also known as Aero Training School, the Helicopter and Charter Services operations."
"As members of Spring Alliance (a commercial alliance with member airlines providing mutual support in the area of operations), we are liaising with our partner airlines to minimise the impact on our esteemed customers.
"Our customer service team will be working to help affected esteemed customers reach their destinations," the company assured and apologised "for any inconvenience caused to our esteemed customers."
"In the meantime, we are working assiduously to return to service as quickly as possible, and do assure our esteemed customers and stakeholders of our determination, that our short absence will not create any major void in the market, as we are coordinating with our business partners to ensure minimum discomfort to ticket holders," the statement said.
Air Passengers Vote Emirates as Best in In-Flight WiFi, Food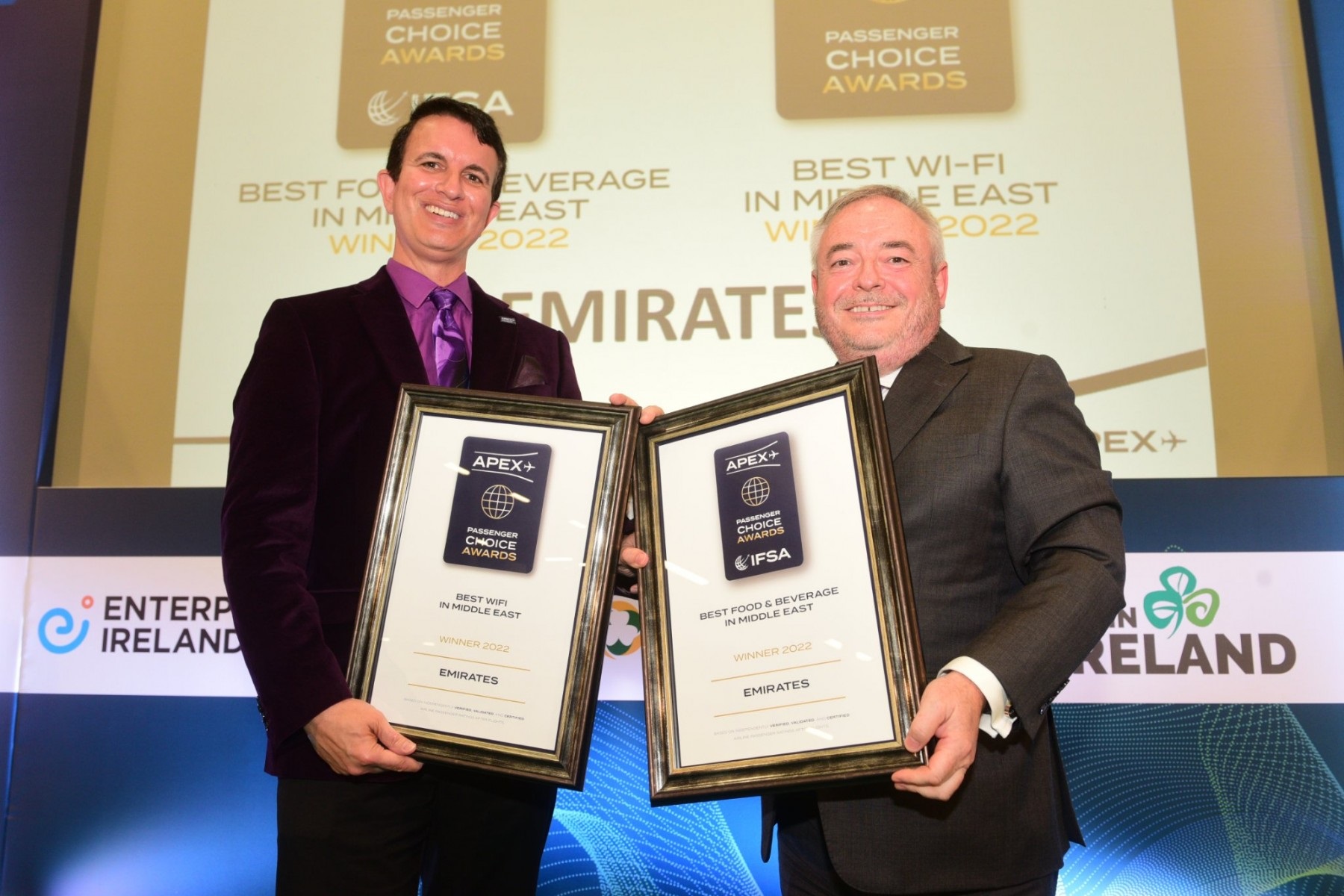 By Modupe Gbadeyanka
The decision of the management of Emirates to give its customers quality value-added services has finally paid off as air passengers across the world have voted the airline operator as the best in in-flight WiFi and food.
At the 2022 APEX Regional Passenger Choice Awards® ceremony held in Dublin, Ireland held recently, Emirates was announced as the winner of the Best Wi-Fi and Best Food & Beverage awards in the Middle East.
The organisers received votes from verified passengers flying on over one million flights on nearly 600 airlines from around the world. They were asked to rate their airline experiences in five subcategories: seat comfort, cabin service, food and beverage, entertainment, and Wi-Fi.
The two awards crown Emirates' continual efforts to deliver the best possible customer experiences on board and take the total count of APEX awards presented to Emirates, to 30, since the awards' launch in 2010.
The Best Food & Beverage award recognises Emirates' consistently high-quality, regionally inspired cuisine and extensive drinks menu. The airline's attention to detail ensures a clockwork operation where over 110 meals from close to 4,600 recipes that cater to every palate are loaded onto its flights each year.
Emirates also pays special attention to its beverage offering which ranges from fresh mocktails and vitality boost drinks, to a wide selection of hand-picked teas and coffee, alongside the very best champagnes and special vintages of wines and spirits that any sommelier would envy.
Staying connected is an everyday essential on the ground and also in the skies. Emirates was the first airline to equip its entire fleet with mobile phone connectivity, in 2007, and now every aircraft is equipped with Wi-Fi services.
Free connectivity options are available to all Business and First-Class passengers, and Skywards Platinum and above. Great value plans are available for full flight internet or chat. Last year, Emirates replaced MB limited plans with unlimited plans or timed plans – simplifying the options available as few users understood the MB consumption on a session.
In total, Emirates' award-winning ice inflight entertainment system, with over 5,000 channels, including up to 150 channels dedicated to family and children, presents an unmatched breadth of content in 40 languages to cater to its global customer base.
It also offers more than 4,000 hours of movies and TV, and close to 3,500 hours of music and podcasts to choose from, along with 5 channels of live TV including major sports events for sports lovers. New, exciting and exclusive content will be available onboard ice with something for everyone travelling this summer and beyond.
The APEX Passenger Choice Awards® recognize excellence in seat comfort, cabin service, food and beverage, entertainment and Wi-Fi. Partnering with TripIt® from Concur®, the world's highest-rated travel-organizing app, anonymous passenger feedback is gathered based on neutral, third-party passenger feedback and insights.
Latest News on Business Post