China, United States Battle for Influence in African Infrastructure Lending
New research from global law firm Baker McKenzie with data provider, IJGlobal, shows that development finance lending from state-backed institutions is the most important component of infrastructure funding in sub-Saharan Africa.
The battle for influence on the continent between Development Finance Institutions (DFIs) and Export Credit Agencies (ECAs) from China and the United States is set to heat up over the next decade in a fierce competition that could help the continent bridge its vast infrastructure gap more quickly than expected.
The report shows that survey respondents attribute the significance of DFI-lending in sub-Saharan Africa to the growing demand for infrastructure development (39%) and to the lack of availability of commercial funding for projects in the region, due to the perceived high risks associated with these investments (34%).  The report further  notes that China put US$8.7 billion in sub-Saharan Africa infrastructure projects in 2017 alone, while the US recently set up a new US$60 billion agency to invest in developing countries.
The report, 'A Changing World: New trends in emerging market infrastructure, surveyed 434 executives from Export Credit Agencies (ECAs), Development Finance Institutions (DFIs), commercial banks and sponsors.
Wildu du Plessis, Head of Africa at Baker McKenzie in Johannesburg, notes that the infrastructure investment landscape in sub-Saharan Africa has changed beyond recognition in the past decade.
"The continent still suffers from massive under investment. According to African Development Bank (AfDB), poor infrastructure has cost the continent a cumulative 25% in growth in the last two decades. The World Bank estimates that the continent needs more than US$90 million per year to begin bridging the infrastructure gap. However, in many African countries governance has improved, which has accelerated growth and will make investment easier. Africa's GDP is expected to grow to 3.7 per cent in 2019 and countries such as Ethiopia and Ghana, for example, have enjoyed some of the world's fastest growth recently."
The report shows how China has targeted sub-Saharan Africa in recent years, both in the context of its need for natural resources and as part of the Belt and Road Initiative (BRI). Chinese policy banks loaned $19 billion to energy and infrastructure projects in the region from 2014-2017, almost half of which was in 2017. China Exim Bank was the largest policy lender in Africa in the period 2008 – 2017 and China Development Bank was the second largest bilateral investor in this period, lending nearly as much as World Bank-linked multilateral agency International Finance Corporation.
"Against a background of a global geopolitical shift in trade relations, China has noted that it is looking to work with African countries in a participative and inclusive way. Chinese president Xi Jinping's tour of Africa earlier this year is proof of the increasing interdependence of the maturing but still fast growing Chinese economy and developing economies in Africa. The relationship is seen to be mutually beneficial, China needs natural resources and new markets for its exports, and Africa needs funding for infrastructure investment which China is providing," notes du Plessis.
Despite the prominence of Chinese investment, the US is also seen as a major player in infrastructure investment in Africa. Some 32 % of survey respondents said that they expected US-based DFIs and Export Credit Agencies (ECAs) to be the most active lenders into African power projects – a critical part of infrastructure activity –  in the next ten years, while 29% of respondents said that they expected that China based DFIs and ECAs would be the most active in Africa in the next decade.
The US Power Africa programme reported recently that since its inception five years ago it has funded 80 transactions valued at more than US$14.5 billion that are now either online, under construction, or have reached final close. The programme remains fully funded.
Still, IJGlobal data shows that out of all DFI investment flowing into African power projects in the past ten years, Chinese lenders provided more than half of it (53%), followed by multilateral development finance institutions (22%). US-based DFIs only contributed 3% of the funding.
The report notes that the decision by the US in October to turn the Overseas Private Investment Corporation (OPIC) into the International Development Finance Corporation and double its lending ceiling to $60 billion could significantly accelerate the race in Africa.
Du Plessis explains the reason for growing US lending in Africa, "The move is widely seen as a counter to Chinese largesse in Africa and other emerging markets."
The report shows that the US is reportedly concerned about the security implications of China gaining control of strategic assets as a result of unsustainable borrowing by some developing countries. By increasing the flow of finance to Africa – and bolstering competition among DFIs – the new agency is likely to provide a boost to infrastructure activity in the region.
Yet despite the torrent of development finance lending from China, the US and others, sub-Saharan Africa's infrastructure gap remains vast.
Jen Stolp, Global Head of Project Finance at Baker McKenzie highlights three priorities which are key to reducing the financing gap:  "First, a move away from traditional funding, and recognition that alternative structures and new financial instruments are needed; second, increased focus on project preparation funding and the creation of credible and predictable regulatory environments; and third, increased support for private equity investment."
The report outlines how both global and regional DFIs are becoming more innovative as they seek to bridge the infrastructure gap. Recently the AfDB bought insurance on a $1 billion loan portfolio from hedge funds, reducing the amount of capital it holds against loans and freeing up lending capacity. Meanwhile, Afreximbank has introduced an African fund for export development to attract more private equity, and a project preparation facility (PPF) to address project development-related constraints.
"The way in which DFIs, ECAs and commercial banks interact is also changing, with a growing emphasis on partnerships, especially on larger projects," says Stolp.
The survey shows that greater cooperation between DFIs/ECAs and commercial banks leads to more projects being financed and that 60% of survey respondents think there is room for even more collaboration on infrastructure financings. A further 24% note cooperation allows commercial banks to participate in deals too risky to do alone.
"Deals may be fronted by –  or may have tranches provided by –  DFIs,  thereby giving further support to commercial lenders," agrees Baker McKenzie's Global Head of Banking and Finance, Michael Foundethakis. "It's important to remember that DFIs are able to go where commercial banks may fear to tread."
Cote d'Ivoire Abandons Import Substitution Policy, Goes For Russian Grains, Others
By Kestér Kenn Klomegâh
The Republic of Côte d'Ivoire has abandoned its import substitution policy and other economic measures, including the budgetary allocation for modernizing local agriculture and support for boosting domestic agricultural production. It, however, boasts around 64.8 per cent of arable and agricultural land, which largely remains uncultivated.
Arguably, Côte d'Ivoire, located on the Gulf of Guinea (Atlantic Ocean), could support its fishing industry by spending adequate funds on acquiring simple fishing equipment for local people and even start its own large-scale fish ponds but instead plans to increase fish imports into the country.
It was gathered that the West African country might spend an estimated $100 million on exports of Russian food and agricultural products this second quarter of 2023.
The Russian Agriculture Ministry's Agroexport Center said it was ready to export such products to Côte d'Ivoire as its market is promising for exports, including grain, fish, sunflower and soybean oil, processed grain products and prepared meat products, among others.
Russian exports of agribusiness products to Côte d'Ivoire more than doubled to $41.6 million in 2021 from $18 million a year earlier, the report said. This included 96,100 tonnes of wheat worth $26.2 million, 12,900 tonnes of fish worth $8.7 million, 1,100 tonnes of sunflower oil worth $1.7 million and 400 tonnes of ice cream worth $0.5 million.
Statistics show that imports from the Côte d'Ivoire are far higher and grew to $237.5 million in 2021 from $223.7 million in 2020, although by the volume they dropped to 72,600 tonnes from 74,500 tonnes. These imports included 43,800 tonnes of cocoa beans worth $141.8 million, 18,100 tonnes of cocoa paste worth $69.3 million and 3,400 tonnes of cocoa powder worth $8.5 million.
"The decrease in Russian imports by volume was due to the reduction of purchases of cocoa beans and cocoa powder. At the same time, cocoa paste imports showed significant growth: 27% by volume and 37.2% by value," the report said.
Around 7.5 million people made up the workforce. The workforce took a hit, especially in the private sector, with numerous economic crises since the 2000s. Decreasing job markets posed a huge issue as unemployment rates grew.
With rising unemployment, especially among the youth, experts suggested the government engage in economic diversification, focus on support for improving local production. Therefore, preliminary solutions proposed to decrease unemployment included diversifying the economy and increasing financial support in addressing domestic food security.
With an estimated population of 29 million, the economy of Côte d'Ivoire has grown faster than that of most other African countries since independence. One possible reason for this might be taxes on exported agriculture. It is the world's largest exporter of cocoa beans. In 2021, cocoa-bean farmers earned $2.53 billion for cocoa exports. Generally, it is the fourth-largest exporter of general goods in sub-Saharan Africa (following South Africa, Nigeria, and Angola)
By geographical description, Côte d'Ivoire is a country in western sub-Saharan Africa. It borders Liberia and Guinea in the west, Mali and Burkina Faso in the north, Ghana in the east, and the Gulf of Guinea (Atlantic Ocean).
Cote d'Ivoire Launches Startup Act to Support Ecosystem
By Adedapo Adesanya
Nigeria's West African neighbour, Cote d'Ivoire, may be the latest country in the African continent to get a Startup Act as the Ivorian government unveiled the framework designed to support the country's most talented start-ups.
The journey began in 2018, and after much deliberations, in August 2021, startup ecosystem players gathered in the capital Yamoussoukro to develop a local law fostering startups in the West African country.
Two years later, the bill was approved by the Ivorian Council of Ministers, the country's top executive decision-making body.
The bill, among other things, establishes the terms of financing and support for digital startups under Ivorian law. Its special goal is to support the development and sustainability of these vulnerable enterprises' creative activity until they reach maturity in order to maximise their contribution to the transformation of the national economy and the quality of life of the people.
To give more weight and visibility to young innovative companies, Côte d'Ivoire announced a new legal framework. The Ivorian Startup Act, which is awaiting parliamentary approval, should soon bring a wind of change in the entrepreneurial ecosystem.
Speaking on this recently following a meeting with stakeholders from Tunisia, the first African country to pass a Startup Act,  Florence Tahiri Fadika, who is a technical advisor in charge of innovation and change at the country's Ministry of Communication and the Digital Economy, said, "A meeting with our Tunisian counterparts during a benchmarking study at the end of 2022 accelerated the process. Tunisia is one of the first countries in Africa to have implemented a Startup Act. Their model is inspiring because it is very operational. The benchmarking mission, organized by the NTF V project, enabled us to benefit from Tunisia's experience and to identify good practices."
Following Tunisia's model, the Ivorian Startup Act is driven by a strong political will and intends to bring concrete results.
"While waiting for the law to be officially voted by our assemblies, we are already working to make the Startup Act a tangible reality. The idea is not to copy the Tunisian legislation but to adapt it to the reality of our economy. A mapping study is underway and should enable us to precisely target the needs of our ecosystem," Fadika said.
"At the same time, we are developing construction projects for new technology parks and start-up campuses," she said. "Under the Startup Act, eligible start-ups will be able to benefit from state-of-the-art infrastructure and numerous amenities in order to succeed both regionally and internationally."
The beneficiary start-ups will be able to access new opportunities in terms of training, financing, promotion, and access to public contracts and international markets.
When it becomes a law, the country will join Tunisia (April 2018), Senegal (December 2019), and Nigeria (October 2022) as African countries with startups backing the legislation.
Africa is Against Economic Colonization—Mudenda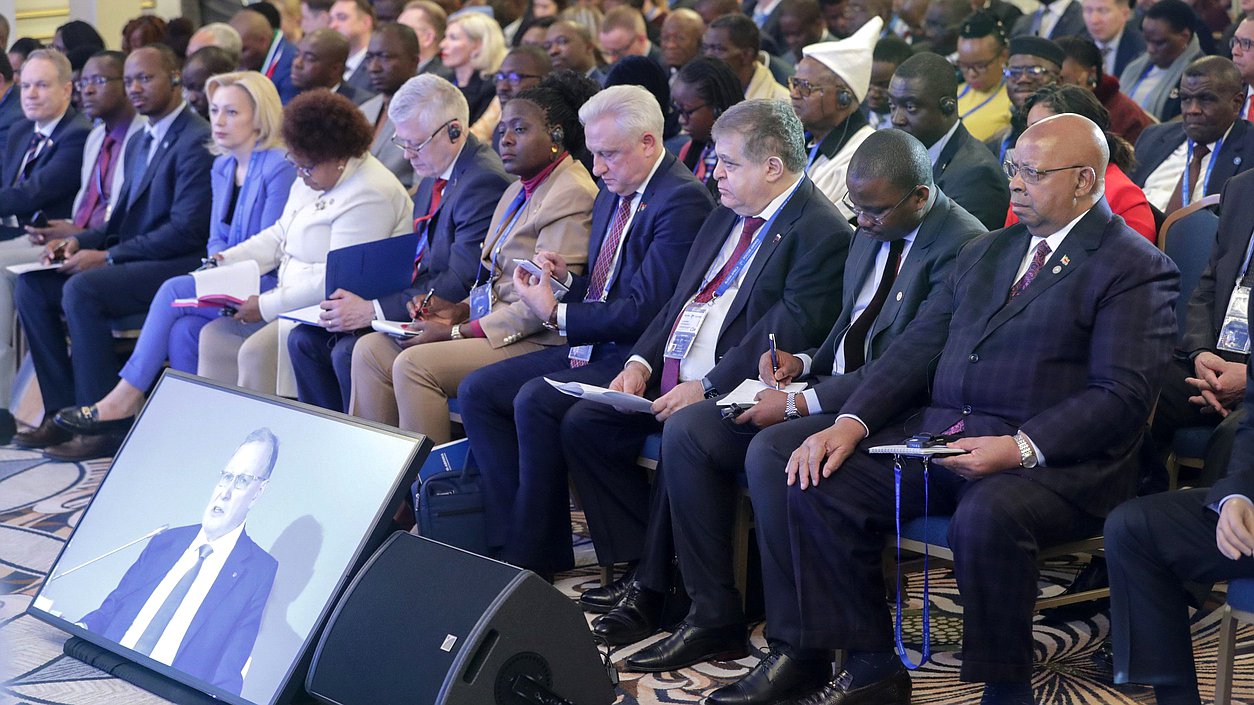 By Kestér Kenn Klomegâh
Parliamentarians from Russia and Africa discussed issues of development of economic cooperation during the first day of their conference March 19 to 20, in Moscow.
The objectives of the conference are to strengthen parliamentary cooperation with African countries in the conditions of formation of a multipolar world, to develop relations and develop common approaches to legal regulation in the economy, science and education and security.
Round table discussions on the topic "Legislative Response to Economic Challenges" was held as part of the International Parliamentary Conference Russia-Africa events.
First Deputy Chairman of the State Duma, Alexander Zhukov, stressed that Africa "is a rapidly developing region with great prospects and that Russia is currently actively working to enhance cooperation with the countries of the African continent."
"Unlike many Western countries, Russia does not have colonial experience, and the contribution of the Soviet Union to the liberation of African countries from colonial dependence is also well known to everyone," he explained.
"An important part of the cooperation should be the exchange of legislative experience with African countries in key areas," he said.
"Our mutual economic interests include investments, cooperation within production chains, cooperation in strategic infrastructure projects, energy, medicine, financial technologies, and that, of course, along with the traditional supply of grain and fertilizers," said the First Deputy Chairman of the State Duma.
Africa stands for an equal partnership
Jacob Mudenda, the Speaker of the National Assembly of the Republic of Zimbabwe, stressed that there should be a "specific approach" to provide a legislative response to economic challenges.
"Africa has resources, including those that cannot be found in other countries, even in developed ones. That is why Africa is the best investment option," he said.
"Africa is against economic colonization; Africa stands for equal partnership," said Jacob Mudenda.
Speaking about legislative issues, he said that the continent needed infrastructure and its development, such as road improvements, rail and air transport.
"If there is no infrastructure, it will be impossible to trade even with developed countries such as Russia and with Africa," said the Speaker of the National Assembly of the Republic of Zimbabwe.
He also noted the necessity to develop the energy sector for industry and sufficient water for agriculture.
Energy cooperation
The Chairman of the State Duma Committee on Energy, Pavel Zavalny, said that signing intergovernmental agreements was an important tool of political support for enhancing energy cooperation between Russia and African countries.
He emphasized that energy was one of the most promising areas of economic cooperation between Russia and African states. Economic growth and energy demand are shifting to Asia and Africa in global economic and geopolitical transformation conditions.
"One of the tools for intensifying economic cooperation is political support. Currently, there have been established economic cooperation with 14 countries of the continent at the state level, there were created high-level bilateral commissions, and signed intergovernmental agreements," stressed Zavalny.
"The development and harmonization of energy legislation can play an important role in enhancing mutually beneficial energy cooperation between Russia and African countries. And that is the work that we should do in the interests of our nations," concluded the Chairman of the State Duma Committee on Energy.
Multipolar world instead of hegemony
Jean-François Buzonni, a deputy spokesman assistant for the Union of the Congolese Nation (Congo) political party, said he was very pleased that Russia had turned its attention to the African continent, "which for many years has been under the yoke of Western countries."
"The world no longer lives under the hegemony of one country. We see the transformation processes of a multipolar world," he stressed.
"I am glad that Russia is seeking to develop equal partnership relations with the countries of the region for the common benefit," added Jean-François Buzonni.
Transition to national systems of settlement
According to Maxim Topilin, the Chairman of the Committee on Economic Policy, the sanctions and pressure that Russia is experiencing just prove that "any situation in which a country maintains its independent position can lead to the destruction of all economic ties."
"That should be a lesson to us," he added.
Topilin said that in relations between Russia and Africa, it is necessary to focus on national systems of settlement. "It is very important not to be based on those standard principles, use those currencies that we used in the framework of joint projects," he said.
Topilin is convinced that for further cooperation between Russia and Africa, it is necessary to create new international organizations. "We should think about new supranational institutions for recognition, certification, and admission to the markets of certain goods. There is a lot of work that should be done," said the Chairman of the Committee on Economic Policy.
Topilin also recalled that a draft law on Islamic banking was being prepared for the second reading, and members of the State Duma plan to adopt it during the spring session. "From the point of view of cooperation with Islamic countries, that definitely will be a very serious breakthrough in the financial strategy," he added.
More than 40 parliamentary delegations from African countries arrived at the conference, which was also attended by members of the State Duma, senators of the Federation Council, and representatives of the educational and business community. The conference was held just a few months before the second Russia-Africa summit, which is planned to be held in July 2023 in Saint Petersburg.
Latest News on Business Post