Ukraine, Africa to Bolster Economic Cooperation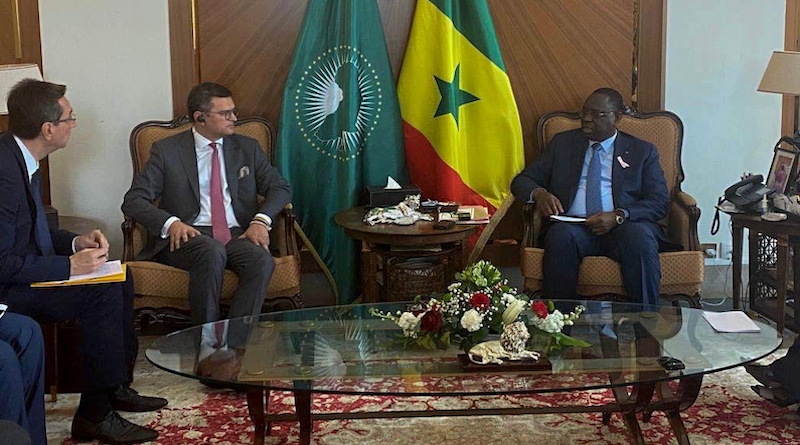 By Kestér Kenn Klomegâh
Despite the former Soviet republic of Ukraine, for almost a year, is experiencing the worst times due to an extensive special military operation from its neighbour Russia, it has simultaneously been stepping up efforts to support Africa. During the past year, it despatched tonnes of fertilizers, wheat, grains and other agricultural products to a number of African countries, most of them located in the Horn and East Africa.
In order to boost its efforts in establishing cordial working relations, especially in the area of economic cooperation, Ukrainian Foreign Ministry Dmitry Kuleba last year visited a number of African countries, held useful conversations with high-powered government officials, and plans to open diplomatic representative offices this year inside Africa. It also plans to boost exports and participate in taking up opportunities for manufacturing offered by the single continental market.
The overarching message in all these is to focus on engaging and expanding the expected long-term partnership and collaboratively establishing trade links. For connecting business interests between Ukraine and Africa, Ukrainians are rapidly studying more possibilities for participating in the African Continental Free Trade Area, which was already agreed on, in the process, with a number of African leaders and the African Union.
In early January, Ukrainian Agrarian Policy and Food Minister Nikolai Solsky visited Senegal, where he signed a memorandum of understanding between the Ukrainian ministry and the relevant Senegalese agency on January 9, the Agrarian Policy and Food Ministry website.
The document envisions the development of bilateral trade in agricultural produce and cooperation on scientific studies, investments, and interrelations between Ukrainian and Senegalese government agencies and private companies. It provides for the possible storage of Ukrainian grain at so-called grain hubs. Ukraine is willing to export not only foodstuffs but also other goods to African countries, which requires the development of logistical infrastructure.
The official document points out that Ukraine is considering the implementation of new logistical projects in Senegal to step up exports of its agricultural produce via the Port of Dakar. The west African republic of Ghana plans to implement new logistics projects, which will help increase agricultural exports from Ukraine. Ukrainian Agrarian Policy and Food Minister Nikolai Solsky and Ghana's Minister of Food and Agriculture, Owusu Afriyie Akot, have thoroughly discussed steps to broaden agricultural cooperation and trade relations.
The parties discussed a potential joint project, a logistics hub that will be able to store food products, including grain, and will help stabilize food prices in the region. Besides Ghana and Senegal, Nigeria has also expressed high interest in setting up such hubs in its territory. The current geopolitical situation should rather have a reliable and diversified transit and transport infrastructure to destinations where it is badly needed, especially naturally disaster-affected regions in Africa.
"There have been meetings in Ghana, Senegal, and Nigeria. These countries regularly take a lot of food products, especially wheat. These are major markets from the standpoint of their populations compared to the European market or many other countries. It doesn't have much purchasing power, but it is big and is developing, and therefore, it needs to be monitored," Ukrainian media quoted Solsky as saying.
Solsky said each country he had visited was interested in developing cooperation with Ukraine and ready to expand the capacity of their ports to increase the volume of Ukrainian grain unloaded and stored there. But, before launching the construction of hubs in Africa to transship Ukrainian grain, Ukraine needs to receive guarantees from the countries concerned, including documenting the guarantees and the principles of operating them either by Ukraine, or whether it will be a state company, and how private traders will be involved in this cooperation.
Solsky said that his ministry would provide more information about infrastructure projects in mid-spring 2023, as in the coming months, it would have to hold additional consultations with the authorities of African countries and businesses interested in Ukrainian grain exports to Africa.
Within the framework of the roadmap, it has launched its development projects, including constructing facilities for the storage of agricultural foodstuffs and for onward distribution throughout some regional markets to offset food shortages in Africa. Ukraine, however, insists that the food and fertilizer trade should not be subjected to sanctions or any restrictions.
According to several reports carefully monitored by this author, President Volodymyr Zelensky held 18 conversations with African leaders in 2022, nine of which were the first instances of bilateral communication between Ukraine and these African countries. Ukrainian Foreign Ministry listed some of them, such as Ghana, Guinea-Bissau, Democratic Republic of Congo, Zambia, Ivory Coast, Malawi, Mozambique, Niger, and Botswana.
President of Guinea-Bissau and Chairperson-in-Office of the Economic Community of West Africa Umaro Embalo visited Ukraine in October 2022. It was the first official visit by a leader of a sub-Saharan African state since 2004, according to the Ukrainian Foreign Ministry.
Ukrainian Foreign Ministry Dmitry Kuleba, for his part, held 35 phone calls and meetings with his counterparts from African countries in 2022, the ministry said. The first-ever African tour by a Ukrainian foreign minister took place in October 2022. The report indicated that Minister Kuleba visited Senegal, Ivory Coast, Ghana, and Kenya.
Ukraine's Special Representative for the Middle East and Africa, Maxim Subkh, appointed in July 2022, also visited five African countries. Within this emerging multipolar world, Ukraine is broadening its geopolitical influence, and of course, it is important for Ukraine to fix its diplomatic presence on the continent to an appreciable level necessary for active interaction, in a continuous and efficient manner, with Africa. It has official representation, an observer status, at the African Union.
Arriving back in Kyiv after his visit to Washington in December, President Volodymyr Zelensky, in a video address, announced that Ukraine would open 10 new embassies in African countries.
"We are rebooting relationships with dozens of countries in Africa. We must strengthen this as we have already determined ten countries where new Ukrainian embassies in Africa will be opened. We have also developed a concept of the Ukraine-Africa Trade House. Its offices will open in the capitals of the most promising countries of the continent," he said.
President Zelenskiy considers Africa as a unique and dynamically developing continent with whom to have relations. In addition, these countries are steadily gaining political weight and achieving significant economic successes, it, therefore, becomes necessary to look for more new partners, eventually targeting African countries.
The Chairman of the African Union and President of Senegal, Macky Sall, together with the Chairperson of the African Union Commission, Moussa Faki Mahamat, visited Moscow and Kyiv in an attempt to mediate the conflict, but without any result in sight.
"We do not want to be aligned on this conflict, very clearly, we want peace. Even though we condemn the invasion, we're working for a de-escalation, we're working for a ceasefire, for dialogue … that is the African position," Senegalese Macky Sall said back in May 2022.
Meanwhile, Africa is still divided over the crisis between Russia and Ukraine, the crisis that has caused global economic instability since February 24, 2022. The African Union (AU) and African leaders understand aspects of the geopolitical complexities, implications and possible solutions to the existing conflict between Russia and Ukraine.
Russia's Military Diplomacy in Africa: High Risk, Low Reward and Limited Impact
By Kestér Kenn Klomegâh
The South African Institute of International Affairs, a Johannesburg-based foreign policy think tank, has released a special report on Russia-Africa relations. According to the report, Russia has signed military-technical agreements with over 20 African countries and has secured lucrative mining and nuclear energy contracts on the continent.
Russia views Africa as an increasingly important vector of its post-Western foreign policy. Its support for authoritarian regimes in Africa is readily noticeable, and its soft power has drastically eroded. As suspicions arise that Russia's growing assertiveness in Africa is a driver of instability, its approach to governance encourages pernicious practices, such as kleptocracy and autocracy in Africa.
Over the years, Russia has fallen short of delivering its pledges and promises, with various bilateral agreements undelivered. Heading into the July 2023 Russia-Africa Summit in St Petersburg (unless the proposed date and venue change, again), Russia looks more like a 'virtual great power' than a genuine challenger to European, American, and Chinese influence.
What is particularly interesting relates to the well-researched report by Ovigwe Eguegu, a Nigerian policy analyst at Development Reimagined, a consultancy headquartered in Beijing, China. His report was based on more than 80 media publications dealing with Russia's military-technical cooperation in Africa. His research focused on the Republic of Mali and the Central African Republic as case studies.
The report, entitled Russia's Private Military Diplomacy in Africa: High Risk, Low Reward, Limited Impact,  argues that a quest for global power status drives Russia's renewed interest in Africa. Few expect Russia's security engagement to bring peace and development to countries with which it has security partnerships.
While Moscow's opportunistic use of private military diplomacy has allowed it to gain a strategic foothold in partner countries successfully, the lack of transparency in interactions, the limited scope of impact, and the high financial and diplomatic costs expose the limitations of the partnership in addressing the peace and development challenges of African host countries, the report says.
Much of the existing literature on Russia's foreign policy stresses that Moscow's desire to regain great power has been pursued largely by exploiting opportunities in weak and fragile African states.
Ovigwe Eguegu's report focuses on the use of private military companies to carry out 'military diplomacy' in African states, and the main research questions were: What impact is Russia's private military diplomacy in Africa having on host countries' peace and development? And: Why has Russia chosen military diplomacy as the preferred means to gain a foothold on the continent?
He interrogates whether fragile African states advance their security, diplomatic, and economic interests through a relationship with Russia. Overcoming the multidimensional problems facing Libya, Sudan, Somali, Mali, and Central African Republic will require comprehensive peace and development strategies that include conflict resolution and peacebuilding, state-building, security sector reform, and profound political reforms to improve governance and the rule of law – not to mention sound economic planning critical for attracting the foreign direct investment needed to spur economic growth.
In the report, Eguegu further looked at the geopolitical dynamics of Russia's new interest in Africa. He asserted that during the Cold War, the interests of the Soviet Union and many African states aligned along pragmatic and ideological lines. After independence, many African countries resumed agitation against colonialism, racism, and capitalism throughout the 1970s and 1980s. The clash between communism and capitalism provided ample opportunity for the Soviets to provide support to African countries both in ideological solidarity and as practical opposition to Western European and US influence in Africa.
Since the Soviet collapse in 1991, Russia has rekindled relationships with African countries for myriad reasons – but these can largely be attributed to pragmatism rather than ideology. More specifically, Russia's interactions with African states have been multi-dimensional ranging from economic and political to security-oriented.
He offered the example of Moscow's relationships with Eritrea and Sudan, which ultimately gave Russia some influence and leeway in the critical Red Sea region and countered the influence of the US and China. But the main feature of Russia's policy is mostly 'elite-based' and tends to lend support to illegitimate or unpopular leaders.
The report also highlighted the myriad socioeconomic and political challenges plaguing a number of African countries. Despite these developments, some have struggled to maintain socioeconomic and political stability. The spread of insecurity has now become more complex across the Sahel region. The crisis is multidimensional, involving political, socioeconomic, regional and climatic dimensions. Good governance challenges play their own role. Moreover, weak political and judicial institutions have contributed to deep-seated corruption.
Conflict resolution has to be tied to the comprehensive improvement of political governance, economic development, and social questions. Some fragile and conflict-ridden African countries are keen on economic diversification and broader economic development. However, progress is limited by inadequate access to finance and the delicate security situation.
According to the International Monetary Fund, these fragile states must diversify their economies and establish connections between the various economic regions and sectors. Poverty caused by years of lacklustre economic performance is one of the root causes of insecurity. As such, economic development and growth would form a key part of the solution to regional security problems.
Analysts, however, suggest that Russia utilizes mercenaries and technical cooperation mechanisms to gain and secure access to politically aligned actors and, by extension, economic benefits like natural resources and trade deals.
Arguably, adherence to a primarily military approach to insecurity challenges is inadequate and not the correct path for attaining peace and development. Furthermore, fragmented, untransparent and unharmonized peace processes will impede considerably sustainable solutions to the existing conflicts in Africa.
Worse is that Russia's strengths expressed through military partnerships fall short of what is needed to address the complexities and scale of the problems facing those African countries. Moscow certainly has not shown enough commitment to comprehensive peacebuilding programs, security sector reforms, state-building, and improvement to governance and the rule of law.
Surely, African countries have to begin to re-evaluate their relationship with Russia. African leaders should not expect anything tangible from meetings, conferences and summits. Since the first Russia-Africa summit held in 2019, very little has been achieved. Nevertheless, not everything is perfect. There is some high optimism that efforts might gain ground. The comprehensive summit declaration, at least, offers a clear strategic roadmap for building relations.
At this point, it is even more improbable that Moscow would commit financial resources to invest in economic sectors, given the stringent sanctions imposed following Putin's invasion of Ukraine. The impact of sanctions and the toll of the war on the Russian economy is likely to see Moscow redirect its practical attention towards ensuring stability within its borders and periphery.
Notwithstanding its aim of working in this emerging new multipolar world with Africa, Russia's influence is still comparatively marginal, and its policy tools are extremely limited relative to other international actors, including China and Western countries such as France, European Union members, and the United States. This article was also published at Geopolitical Monitor.com
Lukashenko Hands Over Agricultural Equipment to Zimbabwe
By Kestér Kenn Klomegâh
On January 30, Belarusian President, Alexander Lukashenko, paid a working visit to hand over in a special ceremony Belarusian agricultural vehicles, tractors and equipment to President Emmerson Mnangagwa in Harare, Zimbabwe.
"First of all, I want to thank the Americans and the entire Western world for having imposed sanctions against us. Otherwise, American and German tractors would have come instead of Belarusian ones to this huge field," Lukashenko said.
The Belarusian leader noted that in Zimbabwe, there are the friends of Belarus, with whom Minsk is building cooperation for the sake of achieving the common good.
After years of negotiations, Zimbabwe finally received its $58 million farm mechanization facility from Belarus, while another deal worth $100 million was signed, according to reports from Zimbabwe's presidency in Harare.
Zimbabwe and Belarus agreed on assembling 3000 tractors. They also agreed to supply Zimbabwe with different kinds of machinery and equipment made in Belarus for the agriculture and timber industry. Both have further agreed to establish a mechanization programme for the farming and timber industries.
It provides for over 800 units of equipment to be delivered in two batches. These include, among others, 60 self-propelled grain harvesters, 210 precision seed drills, 474 tractors of different power capacities, fifth wheel trucks with semi-trailers for transportation of heavy equipment and four dump trucks.
The agreement makes provision for other equipment such as six semi-trailers with hydraulic manipulators for transportation of construction machinery, 10 drop-side trucks, firefighting equipment critical in forest business, cities and other communities and emergency rescue operations. The agricultural equipment also includes 30 motorcycles and a complete set of spare parts for every type of machinery and equipment delivered.
Zimbabwe has been looking for foreign partners from other countries to transfer technology and industrialize its ailing economy. The report said that the government had launched a similar facility from a US company, John Deere, estimated at $50 million, intended to boost agricultural production. Negotiations are also underway with Chinese manufacturers to set up bus assembling plants locally after the government recently procured buses from the Asian country.
Zimbabwe and Belarus officials noted that the unique relationship would help in technical skills transfer and transform the agricultural sector in Zimbabwe.
"The implementation of the project involves an approach that includes not only full responsibility regarding warranty and service support, provision of spare parts, training of local specialists, but also providing advanced technologies, comprehensive decisions and solutions in agriculture for every agricultural period from cultivation, seeding, irrigation, planting to crop harvesting," according to the report from Zimbabwe's Ministry of Agriculture.
In addition to the statement, the Belarus cooperation deal and the commissioned John Deere project for the supply of agriculture mechanization equipment were a culmination of the re-engagement policy of President Emmerson Mnangagwa.
The principle for re-engagement and engagement is open to all countries worldwide. Zimbabwe is ready to cooperate in business with external countries and for the benefit of the people. President Mnangagwa has reiterated that Zimbabwe is open for business.
Mnangagwa's working visits to Minsk have helped to break barriers that have impeded progress in its economic diplomacy and to seek increased business cooperation with Belarus, an ex-Soviet republic and a member of the Eurasian Economic Union. The Eurasian Economic Union members are Armenia, Belarus, Kazakhstan and Russia.
Zimbabwe is a landlocked country in southern Africa. Mineral exports, gold, agriculture, and tourism are the main foreign currency earners of this country. The mining sector remains very lucrative. Its commercial farming sector is traditionally another source of exports and foreign exchange. In the southern African region, it is the biggest trading partner of South Africa. Zimbabwe is one of the members of the Southern African Development Community (SADC).
Interest in Netflix Stocks Jumps 131% After Oscar Nominations
By Aduragbemi Omiyale
Interest in Netflix stocks went up by 131 per cent, with signing-up to the streaming platform increasing by 166 per cent after sweeping 15 nominations across numerous categories at the Academy Awards nomination announcement.
On January 24, 2023, Oscar nominations were released, and an analysis of Google search data by AskGamblers showed that Netflix sign-up exploded over to double the average search volume in one day, an unprecedented increase in movie fans looking to stream some of the most popular titles.
Netflix's most nominated film is All Quiet on the Western Front, a German film set during World War I. The film was nominated nine times in categories such as Best Picture and Best Cinematography. Other feature-length titles from Netflix, such as Blonde, Guillermo Del Toro's Pinocchio and The Sea Beast, also gained nominations, as well as two documentary short films.
"The Academy Awards are the pinnacle of the awards season, with many filmmakers and studios hoping for recognition from the Academy in this latest nomination announcement.
"With 15 nominations given to films produced by Netflix, it will be interesting to see if these searches translate into sign-ups to the platform and if Netflix will receive even more new customers if they win big during the ceremony in March," a spokesperson for AskGamblers commented on the findings.
Latest News on Business Post