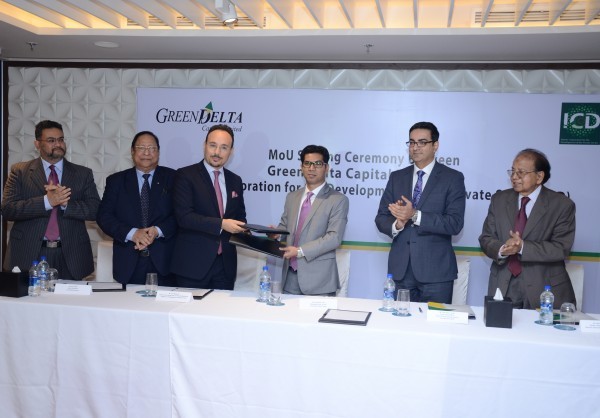 By Modupe Gbadeyanka
The Islamic Corporation for the Development of the Private Sector (ICD), the private sector arm of Islamic Development Bank (IDB) Group, in partnership with Green Delta Capital Limited (GDCL), have signed a memorandum of understanding (MoU).
Under this MOU, both parties will work together regarding sourcing, structuring and implementing various financing transactions in Bangladesh.
Mr Farid Masmoudi, Director, Direct Investments and Financing Department & Member of the Management Committee of ICD, and Mr Rafiqul Islam, Managing Director and CEO of Green Delta Capital signed the MoU on behalf of their respective organizations.
During the MOU signing event, Mr Farid Masmoudi said, "Bangladesh is one of ICD's member countries and since the beginning of ICD operations, we disbursed around USD 153 million in favor of Bangladeshi projects and banks. It is also worth to mention that our future pipeline includes financing proposals of two Power Plants, and one Sugar Refinery. We are also keen to grow ICD involvement with Bangladeshi projects over time."
He said further that, "I am pleased to take a step forward in our strong partnership with ICD and this is another historical moment for GDCL.
"The MOU between GDCL and ICD is a milestone in the country where our strong collaboration and friendship will address the significant financing needs in Bangladesh for the private sector to bring more sustainable business model in line with national goal to be a 'Middle Income Country' by 2021."
The signing ceremony was followed by a press conference where the participants discussed about the newer avenues and more opportunities to be obtained from this MOU.