Plentywaka Delves into Logistics Business
By Adedapo Adesanya
Bus-hailing startup, Plentywaka, has launched a new business-to-consumer delivery service known as Logistics By Plentywaka (LBP), an expansion of the company's bus transportation network in Nigeria.
The Lagos-based service removes the stressful task of transporting packages across the busy city, providing customers with same-day delivery and a range of logistical vehicles from cooling vans, trucks, and bikes, which can be easily selected depending on the requirements, the company said Monday.
The firm also noted that informal businesses, small and medium-sized enterprises, and large organizations will also benefit from the ease and speed of the service, which can be accessed via its mobile application, ensuring continuity of business during this period.
The new service is in response to the city-wide lockdown and restriction of movement as part of efforts to curb the spread of the nationwide coronavirus outbreak.
Speaking on this, Plentywaka co-founder, Mr Johnny Enagwolor, said, "The effects of COVID-19 are being felt everywhere."
"In the midst of all of this (the pandemic), companies like ours have had to look at how we can continue to innovate and support both businesses, and people who need access to goods, by leveraging innovative technology to streamline the processes," he added.
"Plentywaka has worked with a number of partners and many of its own drivers to build out the infrastructure required to deliver a cost-effective and efficient logistics service," the MD said, adding that the coy was also "opening up new opportunities to those who have lost their regular source of income since COVID-19."
Logistics by Plentywaka said it is now looking for trusted partners and vehicle owners who will have the flexibility to earn money on their own schedule from an existing customer base of over 40,000 individuals and access to the technology infrastructure.
According to the company, customers using the app, available on Google Playstore and IOS App store, will choose a vehicle type closest to the pick-up location, with real-time delivery tracking and support.
Launched in 2019, Plentywaka has seen substantial growth since the beginning of this year, reaching a milestone of 100,000 rides in March after just 6 months on the road.
The company also recently launched a Staff Bus Solutions for companies to commute employees to minimize the risk of exposure to the coronavirus and expanded so riders can enjoy a journey from Ikeja to Victoria Island.
Firms Offer Prospective Car Owners Quick Loans
By Sodeinde Temidayo David
Efforts are being made to ensure that prospective car owners in Nigeria have access to quick loans, thanks to the collaborative moves of some companies.
An automotive technology firm, Autochek, is partnering with a fintech software company, Appzone, to allow Nigerians to have access to credit from over 400 microfinance institutions across the country.
In a statement, Autochek said users would be able to access Appzone's proprietary digital core banking service, BankOne, to get a quick digital credit facility to purchase a car of their choice.
In 24 hours, the customers will receive multiple offers and have the option to select their most preferred financial partner.
Appzone transitions all accepted loan applications into BankOne's proprietary credit administration module which automatically enables the account opening, underwriting and final payment. The customer is now able to get a transparent step by step update throughout the whole process.
The Chief Technology Officer at Autochek, Chetan Seth, while commenting on the partnership, stated that, "As much of Sub-Saharan Africa, obtaining access to financing in Nigeria is a tedious process.
"At Autochek, we are committed to providing consumers with seamless access to credit in order for them to own their vehicles.
"With technology, we are able to provide vehicle financing at scale, and this will be accelerated even further by integrating with Appzone's network.
"We are very much customer-focused and we operate in an on-demand economy, we, therefore, recognize the need to efficiently provide a plethora of options for customers to access loans from; our partnership with Appzone will enable us to further increase their options through access to the microfinance banks currently available on their platform."
Also commenting, Mr Mudiaga Umukoro, the CEO of Appzone Core, a subsidiary company of Appzone Group said, "BankOne is our flagship product and Africa's foremost Banking-as-a Platform (BaaP) solution.
"Over the last 10 years, we have focused on digitizing the microfinance sector. We have enabled over 400 microfinance institutions spread across the entire country, with the capability for fully digital banking operations and now through our partnership with Autochek, these Institutions available can now provide quick digital loans to prospective car owners anywhere in Nigeria.
"What this ensures is a win-win approach as MFBs can target more customers as well as increase revenue through loan offerings, whilst customers across the country, either in urban or remote areas, are more easily empowered with business and/or personal vehicles with little hassle."
In Africa, an automobile is worth $45 billion a year, with only a 5 per cent financing penetration rate. Autochek's partnership with Appzone is geared towards upending that figure and giving the power to the customer.
Dangote Cement Buys $150m Trucks to Distribute Products
By Modupe Gbadeyanka
Over 2,000 trucks worth $150 million have been acquired by Dangote Cement Plc to aid the smooth distribution of its products across Nigeria.
The heavy-duty vehicles trucks purchased by the leading cement maker included trailers, bulk tankers, tippers, cargo trucks and bulk cement tankers.
Dangote Cement is optimistic that these assets would address challenges related to the ease of distribution and availability of cement across the country, especially among its value-chain service providers and create employment of over 4,000 people in the country.
In addition, the newly acquired trucks are expected to improve the efficiency and effectiveness of Dangote Cement Logistics network of distribution nationwide, as the company plans to commission its new cement plant in Okpella Edo State in a few weeks.
Besides, Dangote Fertiliser, which recently made a grand entry into the market, has already taken delivery of 500 trucks from Dangote Sinotruk West Africa Limited (a joint venture between Dangote Industries Limited and Sinotruk China) for the distribution of Urea to different States in Nigeria.
"We have acquired the new trucks in line with our new expansion capacity in Obajana, Ibese, Gboko and the new cement plant at Okpella.
"The acquisition is due to the growing needs of the business, especially as regards the increased trucking demands encountered lately, due to the surge in the demand for cement," the Group Executive Director in charge of Logistics and Distribution at Dangote Industries Limited, Mr Abdu Dantata, stated.
"The establishment of our clinker export terminals at Apapa and Onne Port led to the purchase of heavy-duty tippers for haulage of clinker from the plants to the terminals.
"The introduction of these trucks would improve customers' demand, improve on job creation in the country, as well as promote the economic development of Nigeria," he added.
Mr Dantata disclosed that the company takes seriously the issue of safety of truck drivers and road users, which necessitated the collaboration between the Federal Road Safety Corps (FRSC) and the company to attain zero tolerance to road crashes in the country. He said the company has embarked on adequate training on effective driving techniques.
According to him, the collaboration involves recertification of drivers, pre-trip and post-trip inspection, drug test, real-time tracking of vehicles, root cause analysis, convoy movement, checkpoint policy and sanctions among several others.
The locally assembled Sinotruk Howo trucks came in as semi-knocked-down kits (SKD), which were effectively assembled and commissioned for operations.
Mr Dantata, who coordinates the group Logistic and Transport function, assured that the Dangote Sinotruk would continue the importation of semi-knocked-down kits into the assembling plant to support customers' demand and improve on job creation in the country.
Oyo to Restrict Movement of Trailers, Trucks to 9pm to 6am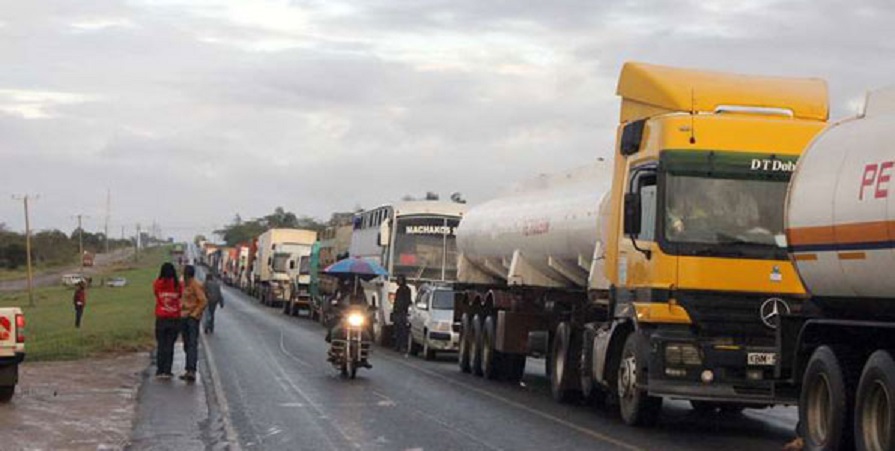 By Modupe Gbadeyanka
There are plans to begin to restrict the movement of trailers, trucks and long vehicles plying certain roads in Oyo State to night only.
This move is to manage smooth commuting, dissipate gridlock and decongest traffic in the state, according to the Special Adviser on Project and Infrastructure, Engr. Seyi Adeleye.
"The decision became necessary so as to curb traffic and fatalities caused by articulated vehicles on roads in the state," the aide said when he addressed newsmen after a meeting of the State Public Works and Transport Infrastructure Development Committee in Ibadan, the state capital.
Mr Adeleye said to protect citizens, the state will start implementing the restriction and may be pegged from 9:00pm to 6:00am.
He said the Oyo State government is set to draft and implement a new transport policy to make transit easier and less clumsy.
The Special Adviser revealed that the committee has begun working on ways to implement restrictions on trucks and long vehicles to nighttime operations and dedicated routes in the state.
"The transport policy will include night sailing plans for trucks and heavy-duty vehicles, journey management, junction improvement among others to decongest roads during rush hours.
"We have to make plans to both solve the existing traffic gridlocks, and make plans for the impending gridlock that could arise from the economic expansion that the inland dry port will bring as there will be the loading of trucks from the port, and they will need to move to their destination," Mr Adeleye said.
"We will also design plans that are applicable to our environment as what works in other climes may not work here, so we will come up with solutions that will directly and positively affect our situation," he added.
Speaking earlier, the Chairman, Oyo State Road Traffic Management Authority, Mr Mogaji Akin Fagbemi, said the Agency will also see to the birth of a post-crash care policy that will enhance first aid while also ensuring quick access to health facilities in case of fatalities.
He applauded the planned implementation of the restriction, saying that such would ease the stress of OYRTMA officials towing vehicles and end the era of unnecessary violence by some of the drivers.
He said the agency will also ensure that traffic is coordinated in internal roads where there is rarely the presence of personnel of the Federal Road Safety Corps (FRSC) in the state.
Mr Fagbemi added that the restriction is part of the government's efforts to curb consistent road crashes attributed to operations of long vehicles on the road.
The committee is made up of stakeholders from all ministries and agencies that are directly involved in road activities, first aid and traffic management.
Latest News on Business Post