Keystone Bank Adds More Features to KeyMobile App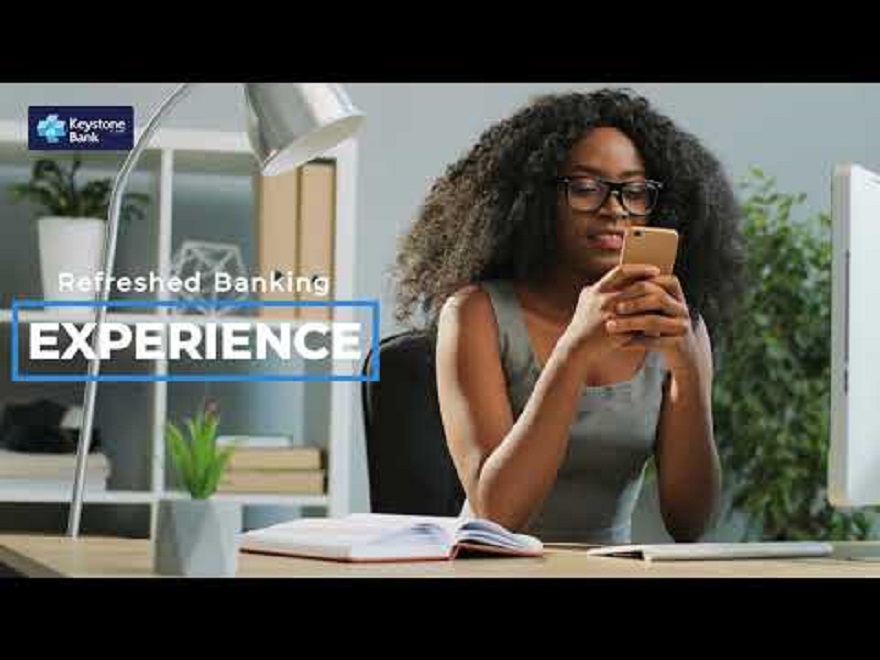 By Modupe Gbadeyanka
Customers of Keystone Bank Limited can now enjoy a smoother experience when carrying out their financial transactions online.
This is because the lender has upgraded its digital banking system with the addition of more features to its truly customer-centric mobile application called KeyMobile.
The branchless banking application comes at a time the government is discouraging large gatherings in the country due to the spread of coronavirus disease (COVID-19).
With KeyMobile, customers can complete any financial transaction from the comfort of their homes and offices at the speed of time. Keystone Bank has always been known to leverage technology to redefine and reframe the customer service delivery and safer banking practices.
"With the new KeyMobile App, customers can now reactivate or upgrade their accounts by uploading the required documents online, they can equally open new accounts within 2minutes and get their debit cards delivered within 48hours.
"Transaction limits can also be increased or set to the customers preferred amount instantly using pin, debit card, token or customer indemnity.
"Apart from allowing customers to withdraw cash from ATMs without the use of cards (careless withdrawals), KeyMobile also provides customers the option to schedule cash withdrawal or deposit requests at their nearest Keystone bank agent/branch locations thereby reducing their travel and wait time to withdraw or deposit cash," a statement from the bank explained.
Commenting further, the lender said, "To help customers manage their investments and expenses, the bank introduced the self-booking and liquidation of fixed deposits, scheduled bills payments, standing orders, cheque deposits and request features in the new app.
"To promote inclusive Banking, customers can now send money to non-account holders through their phone numbers and beneficiary redeems the fund from their nearest Keystone bank branch or agent locations. Money can be sent to multiple beneficiaries with a single click."
To improve the security of its customers' fund, Keystone Bank disclosed that the App can disable cards and accounts, change, or reset their transaction PIN if a compromise is suspected.
"KeyMobile also enables customers to interact online with the bank's service staff for enquiries and complaints, to report dispense errors on ATM, POS, WEB and get real-time resolution.
"The App is not only about seamless and enjoyable customer experience, it also about giving customers instant financial rewards when they refer their friend's/family members to download the app," the statement added.
According to the Group Managing Director/CEO of Keystone Bank, Mr Olaniran Olayinka, "With the upgraded KeyMobile app, it is no longer a question of stepping out to the bank but about the convergence of innovative services, digital technology and Omni-channel platforms coming to us at breakneck speed."
He assured that the bank would continue to invest in technology in its bid to provide cutting-edge, round-the-clock banking services to its teeming customers.
Union Bank's αlpher, Chrystallis Promote Women Empowerment
By Modupe Gbadeyanka
A platform focused on empowering women and promoting gender equality tagged Chrystallis Conversations has been put in place by Chrystallis in partnership with a women-focused proposition of Union Bank of Nigeria Plc, αlpher.
This is part of the financial institution's commitment to sustainable development and enabling success for women.
At an event themed Fear-Less! Pursuing Your Best Life with Courage and Conviction last Thursday in Lagos, both organisations invited experts, social activists and others to speak to women.
The programme commenced with a heartfelt musical performance by Funmi Bucknor, followed by a captivating poetry reading session by prolific writer and poet Wana Udobang (Wana Wana) and ended with engaging one-on-one conversations with filmmaker and women's rights advocate, Ego Boyo; and an entertainer, Olubankole Wellington, otherwise known as Banky W, with creator of Chrystallis, Ms Kemi Ogunleye, moderating.
"Union Bank's αlpher is dedicated to supporting women in their personal and professional journey. Through this partnership, we aim to amplify women's voices, celebrate their achievements, and foster an environment of empowerment and equality.
"We firmly believe that by providing resources and opportunities, we can enable women to thrive and empower them to break barriers and shatter stereotypes," the Chief Brand and Marketing Officer of Union Bank, Ms Olufunmi Aluko, said.
Chrystallis Conversations is a platform for women to share their stories, experiences, and perspectives.
It has gained recognition for facilitating insightful discussions and thought-provoking conversations around women's empowerment.
The partnership with αlpher underscores Union Bank's commitment to championing women's empowerment by supporting them in their journey towards success and fostering a more inclusive society.
Polaris Bank, Union Bank Restate Commitment to Environmental Sustainability
By Adedapo Adesanya
In commemoration of the 2023 World Environment Day, observed yearly on June 5, Polaris Bank, one of Nigeria's leading digital financial institutions, has restated its commitment to environmental sustainability in the country.
The annual event is led by the United Nations Environment Programme (UNEP), which is observed globally to encourage awareness and action for the protection of the environment. This year marks the 50th anniversary of the event.
The theme of the 2023 World Environment Day was Solutions to plastic pollution, with the hashtag #BeatPlasticPollution.
Plastic pollution is a major environmental problem. Every year, millions of tons of plastic waste end up in our oceans, landfills, and waterways. This plastic can harm wildlife, pollute our air and water, and contribute to climate change.
Specifically, and in line with the theme of the 2023 World Environment Day, Polaris Bank said it is taking proactive measures to address challenges of waste management and plastic pollution while supporting the United Nations' Sustainable Development Goals (SDGs), Nigerian Sustainable Banking Principles (NSBPs) and United Nations Environment Programme Finance Initiative (UNEP FI's) Principles of Responsible Banking
Polaris Bank, as part of its environmental sustainability focus, said it has invested in waste management, plastic collection, renewable energy adoption, education, inclusivity, and carbon reduction. The Bank contributes to individuals' needs and societal goals by implementing sustainable practices and guidelines while ensuring a responsible and environmentally conscious business strategy.
"In managing the environmental impact of its activities, Polaris Bank has made significant efforts to reduce carbon emissions and dependence on fossil fuels. Through using solar energy to power security lights, some ATMs and business locations, and implementing automated systems and digital alternatives to paper output, the bank actively mitigates waste generation and reduces its carbon footprint.
"Polaris Bank has streamlined its vehicle fleet to further minimise its carbon footprint, while most meetings and engagement are held virtually. By prioritizing sustainable energy sources and expanding its network of ATMs, including prestigious off-site locations, the bank ensures convenient and eco-friendly access to banking services."
The lender took its commitment a step further by partnering with some organizations to help it provide clean water and sanitation in some communities. Its Corporate Social Responsibility (CSR) projects are clearly spelt out to reflect adherence to environmental sustainability.
"Additionally, through partnerships with organizations like the United Nations Association of Nigeria (UNAN), we contributed to providing clean water and enhanced sanitation to local communities in Lagos state.
"We also partnered with the non-profit organization Evolve to launch the Girl Child Education and the Environment CSR program. This initiative strives to keep the girl child in school and educated, thereby reducing early marriages and population explosion, which impacts the Climate.
"This empowers underprivileged girls through education, providing them with school supplies and personal development tools. By supporting over 3,000 female students from 12 secondary schools nationwide, Polaris Bank fosters individual growth and inspires positive contributions to society.
"Polaris Bank's dedication to environmental sustainability is a key component of its broader vision to create a positive and lasting impact on society. As part of the commemoration of the 2023 World Environment Day, the Bank has established dedicated plastic collection hubs across its branches in Lagos. These hubs serve as convenient drop-off points for responsible disposal of plastic waste for onward recycling while empowering individuals and communities to actively participate in reducing plastic pollution."
On its part, Union Bank of Nigeria partnered with the Nigerian Conservation Foundation (NCF) to celebrate the day.
To create awareness of environmental responsibility and encourage collective action, Union Bank employees, together with the Nigerian Conservation Foundation, volunteered to educate students at Aguda Junior Grammar School, Surulere, Greg Girls Junior High School, Surulere, and Okun Ajah Community Senior Secondary School, Okun Ajah.
The students were educated on the detrimental effects of plastic pollution on the environment, highlighting the importance of reducing plastic consumption, reusing plastic, and practical tips for sustainable recycling.
The bank also donated waste bins to each school to encourage recycling and make it easier for students to do their part in reducing plastic waste.
Speaking on the Bank's activities to mark World Environment Day, Union Bank's Chief Brand and Marketing, Ms Olufunmilola Aluko, said, "At Union Bank, we are resolute in our commitment to being a sustainability champion. This year's focus on tackling the pervasive issue of plastic pollution resonates deeply with our commitment to environmental sustainability.
"We proudly partner with NCF to educate students on solutions to beat plastic pollution. By raising awareness and advocating for responsible plastic waste management, we can collectively and significantly preserve our planet for future generations."
With its focus set on the future, Union Bank said it committed to leading the way in shaping a better, more sustainable future for generations to come.
Stanbic IBTC Strongly Advocates Financial Literacy Among Children
By Modupe Gbadeyanka
A member of Standard Bank Group, Stanbic IBTC Holdings, has strongly backed the promotion of financial literacy among children, emphasising its unwavering commitment to the upliftment and empowerment of the Nigerian child.
The Head of Client Experience at Stanbic IBTC Pensions, Ms Layo Ilori-Olaogun, while speaking recently at the company's Blue Kids event to commemorate the 2023 Children's Day, said that was why the financial institution designed various innovative initiatives for the nation's future leaders.
She said one of these initiatives is the Children Educational Savings Scheme (CHESS) account, a special savings account developed to support parents in meeting the cash flow and timing needs of their children's education.
Available for kids between ages zero (0) and 17 years, CHESS offers a low opening balance, a one per cent interest rate above the average savings account, a MasterCard debit card for easy access to funds, round-the-clock access to the customer care centre via phone, email and social media and full digital banking access – Internet, App and USSD, amongst other benefits.
In 2020, Stanbic IBTC kicked off the Stanbic IBTC Education Trust (SET) scheme, a convenient and flexible investment plan with long-term benefits designed to support parents and guardians striving to provide quality education for their children and wards.
One unique benefit of Stanbic IBTC Education Trust is that payments are effected directly to the institution of learning, ensuring no diversion of funds. Whether it is primary, secondary, tertiary, or post-graduate education, parents and guardians can now contribute to funding their children's and wards' education.
Ms Ilori-Olaogun described Stanbic IBTC's Education Endowment Assurance as another remarkable initiative and a vehicle for saving that secures a child's future education to a targeted amount. It is a policy that guarantees peace of mind on a child's/ward's education and benefits one's dependents in case of death.
Also at the event, the Head of Personal Clients at Stanbic IBTC Bank, Mr Emmanuel Aihevba, expressed his heartfelt wishes to all Nigerian children, emphasising their importance to the nation's progress.
"Children's Day serves as a poignant reminder of the importance of nurturing and safeguarding the younger generation, who represent the future leaders and change-makers of the country.
"Stanbic IBTC recognises its critical role in promoting children's wellbeing and educational development and remains steadfast in its efforts to provide support and resources that contribute to their growth," he said.
At the Blue Kids programme, the participants were engaged in innovative and exciting activities such as a creative class, gaming activities, a financial fitness session and more.
Latest News on Business Post