Wema Bank Sponsors SME Owners to Capacity Building Seminar
By Dipo Olowookere
As a financial institution committed to wealth creation, Wema Bank Plc, pioneer of Africa's first fully digital bank ALAT, has sponsored a number of small and medium scale businesses to a capacity-building training on building sustainable wealth which was organized by PwC in Lagos.
The Nigerian economy is driven significantly by a vast number of SMEs. Research showed that as of October 2017, the country had in excess of 30 million small businesses operating within its borders.
However, in the face of increased competition and heightened economic headwinds, the need to secure the right knowledge and expertise required to speed up growth and guarantee profitability in business is even more critical.
Wema Bank, keen to grow the capacity of small businesses and build lasting relationships that help them grow into profitable ventures, sponsored a number of small and medium scale businesses that cut across the manufacturing, hospitality, renewable energy, retailing, agricultural value chain and education sectors to a training at the prestigious PwC Business School.
Recently, Wema Bank secured a combined $35 million from the African Development Bank (AfDB) and ICD to fund small businesses across the country.
The bank also provides regular training, research on business-building strategies as well as offer tech driven solutions required to boost growth, enhance efficiency and sustain profitability.
It was gathered that the training in Lagos featured experts from key growth sectors as well as business managers and successful entrepreneurs. Discussions and insights were shared and the subject matter experts touched on critical aspects of business building including bookkeeping and accounting to tax efficiency, raising funds for business and much more.
Speaking on the bank's decision to empower small businesses, Head of Retail Banking at Wema Bank, Dotun Ifebogun, explained that the bank believes strongly in the growth potential of small and medium scale businesses and is keen to provide the required financial and non-financial support needed to ensure these businesses realize their potential.
Wema Bank Equip Teenagers With Relevant Digital Skills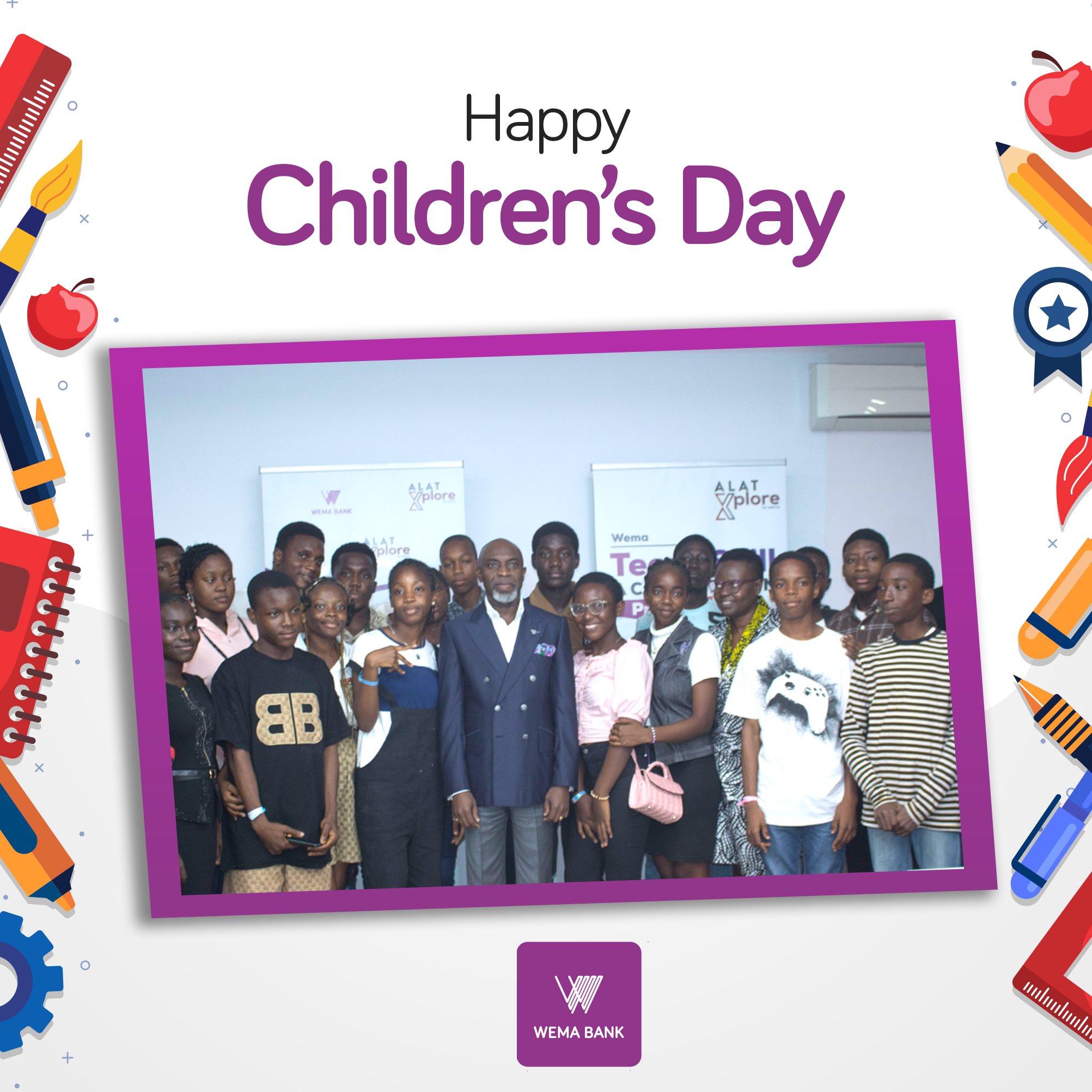 By Modupe Gbadeyanka
To celebrate 2023 Children's Day, Wema Bank Plc held a skill acquisition programme for some teenagers, inviting influencers, experts and others to spice up the workshop.
It was gathered that the participants were taught valuable digital skills in coding, data analysis, graphics design, and much more.
They also had the unique opportunity to learn and engage with industry experts, acquiring practical knowledge and developing their capabilities in coding, data analysis, and graphics design.
Wema Bank came up with this initiative to equip teenagers with essential skills for the future, empowering them to embrace the digital age and thrive in an increasingly technology-driven world.
It invited music superstar, Davido, to give inspiration to the teenagers, who were very excited to see their television idol.
The arrival of Davido, Wema Bank's brand ambassador and a prominent figure in the entertainment industry, turned up the excitement and added inspiration to the participants.
The presence of the music superstar and entrepreneur further underscored Wema Bank's commitment to celebrating and uplifting the younger generation as well as the bank's continuing dedication to nurturing talent and potential through its tailored programs and initiatives.
"At Wema Bank, we believe in investing in the future of our children. Our celebration of Children's Day with the skills acquisition program signifies our commitment to equipping teenagers with relevant digital skills.
"By partnering with experts and influencers like Davido, we aim to inspire and empower the younger generation, enabling them to embrace new opportunities and excel in the digital landscape," the Divisional Head of People, Brand & Culture at Wema Bank, Ms Ololade Ogungbenro, said.
Children's Day serves as a poignant reminder of the importance of nurturing the younger generation and providing them with opportunities to excel.
Wema Bank, which is known for its commitment to innovation and empowerment, took a proactive approach to celebrating this day by organizing a skills acquisition program.
The focus on coding, data analysis, and graphics design reflects the growing importance of digital skills in today's world.
The financial powerhouse's sense of corporate social responsibility and passion for community development is evident in such initiatives as the Children's Day skills acquisition program; and by providing teenagers with practical knowledge and hands-on training in coding, data analysis, and graphics design, the bank aims to bridge the digital divide and create a pathway for their success.
CBN to Review Nigerian Sustainable Banking Principles
By Aduragbemi Omiyale
Steps are already being taken by the Central Bank of Nigeria (CBN) to review the Nigerian Sustainable Banking Principles to incorporate climate risk reporting for the banking sector.
Ms Aisha Mahmood, the Special Adviser to the Governor of the CBN, Mr Godwin Emefiele, on Sustainable Banking, revealed this information.
She disclosed this while delivering her presentation at the Investor Engagement session organised by the Nigerian Exchange (NGX) Limited and the Global Reporting Initiative (GRI) themed Empowering Responsible Investing – ESG Disclosure in Lagos last Wednesday.
At the event, she spoke on the CBN's efforts to enable sustainable banking in the country via regulatory enforcement of ESG disclosures for banks.
On his part, the Divisional Head of Capital Markets at NGX, Mr Jude Chiemeka, posited that sustainable finance could be a transformative tool to shape the Nigerian economy for the better.
He noted that the exchange recognises the power and potential of responsible investing, adding that it firmly believes that sustainable finance is not merely a buzzword but a transformative force that can shape our economy and society for the better.
Mr Chiemeka further added that the NGX has wholeheartedly embraced this vision and has taken concrete steps to contribute to the advancement of responsible investment practices.
"Through their work, they have paved the way for greater accountability and responsible business practices. We laud their dedication and unwavering commitment to building a more sustainable future," he stated.
For his part, the Director of GRI Africa, Mr Douglas Kativu, represented by the Manager for GRI Africa, Ms Tendai Matika, stressed why ESG information mattered to investors, advising companies to prepare their disclosures in line with the GRI standards.
"As a general rule, investors want to understand what the major ESG risks and opportunities facing a business are, including how the firm measures and monitors these factors, among others," Mr Kativu said.
On her part, the Divisional Head of Business Support Services Division and General Counsel of NGX, Mrs Irene Robinson-Ayanwale, reiterated NGX's commitment to fostering responsible investing and sustainable finance by driving conversations, creating innovative products, and developing strategic partnerships which can contribute to building a more sustainable and resilient economy.
She said, "In line with our commitment, NGX is currently working on an ESG Program rollout that will further help companies manage material ESG risks and leverage the opportunities created.
"Additionally, we are developing the NGX Carbon Plus initiative, which will recognize companies that demonstrate their commitment to reducing their carbon emissions with practical and impactful projects.
"Through this initiative, we aim to galvanize sustainable action and contribute to mitigating the challenges posed by climate change."
Business Post reports that GRI partnered with the bourse on the engagement session to further educate the investor community on incorporating ESG data into decision-making.
Afreximbank, Nigeria's Letshego Win at African Banker Awards 2023
By Adedapo Adesanya
The African Banker Awards 2023 Gala Ceremony, the most prestigious event in the African banking calendar, took place last night at the Rixos Hotel in Sharm El Sheikh, Egypt, on the sidelines of the African Development Bank Annual Meetings and saw African Export-Import Bank (Afreximbank) winning two awards.
The ceremony was attended by over 300 of the continent's leading bankers, regulators, and policymakers.
Now in its 17th edition, the African Banker Awards celebrate the achievements of individuals and institutions that have contributed significantly to the growth and development of Africa's banking sector over the past year.
The top highlight of the ceremony was Ms Esther Kariuki becoming the second woman to win the African Banker of the Year Award. The Head of Agriculture Business at the Co-op Bank of Kenya has been a central figure in advancing agriculture as a key asset class for her institution.
She was also responsible for considerably increasing lending to the agriculture sector and oversaw the roll-out of the platform Co-op Bank Soko, a digital marketplace that connects the agriculture value chain and ensures, among other things, that small-holder farmers receive a higher price for their produce.
Afreximbank won two prestigious awards in Sharm El Sheikh in recognition of its growing leadership within Africa's financial services sector. The Cairo-based institution was celebrated as both African Bank of the Year and Development Financial Institution of the Year, making it the sole institution to win more than one award during this year's ceremony.
Mauritius' Mr Harvesh Seegolam wins Central Bank Governor of the Year. The youngest ever serving governor of Mauritius Central Bank was appointed at the onset of the COVID-19 pandemic.
He leveraged Mauritius Investment Corporation (MIC) to provide critical financial support to key sectors of the economy by investing in private sector operators. Its latest returns report demonstrated that the investments made through the MIC have increased in value, despite the challenging economic conditions faced.
South African banks swept many of the Deal of the Year categories. South Africa's Mr Enoch Godongwana won the Minister of Finance of the Year Award. He was recognised for his steadfast management of the economy as finance minister as well as the work he has done to encourage investment to accelerate the energy transition.
Nigeria was also in the spotlight as Letshego Nigeria took the inaugural AFAWA Bank of the Year Award, a category spotlighting financial institutions empowering female entrepreneurs across the continent.
The Affirmative Finance Action for Women in Africa (AFAWA) is a pan-African initiative to bridge the $42 billion financing gap facing women in Africa.
The African Banker Icon was won by veteran dealmaker, Mr Miguel Azevedo, head of investment banking for sub-Saharan Africa, excluding South Africa at Citi. The lifetime achievement award went to another veteran banker, Mr Hisham Ezz Al-Arab, former Managing Director and current Non-executive Chairman of CIB Bank, Egypt's largest private sector bank.
Speaking at the event, Mr said Omar Ben Yedder, Committee Chairman and Group Publisher at IC Publications, publishers of African Banker, said this year's award ceremony is a testament not only to the vibrancy and dynamism of Africa's banking industry but also its increasing diversity.
"The financial services industry continues to demonstrate excellence, innovation and impact in their respective markets and regions.
"FinTech, Climate Finance, and Cross-Border payments are all being shaped by the leaders we are recognising today."
The ceremony is organised by African Banker magazine, with the African Development Bank as its High Patron. This year's AfDB Meetings focused on mobilising private sector finance towards green growth. The 2023 edition was sponsored by the African Guarantee Fund, the Trade and Development Bank (TDB) and Tanzania's CRDB Bank.
Full list of winners:
Banker of the Year
Ms Esther Kariuki, Co-operative Bank of Kenya
Bank of the Year
Afreximbank
African Banker Icon
Mr Miguel Azevedo, Citi
Lifetime Achievement
Mr Hisham Ezz Al-Arab, Commercial International Bank
Central Bank Governor of the Year
Mr Harvesh Seegolam, Bank of Mauritius
Minister of Finance of the Year
Mr Enoch Godongwana, South Africa
Sustainable Bank of the Year
Nedbank, South Africa
DFI of the Year
Afreximbank
Fintech of the Year
MFS Africa
SME Bank of the Year
La Caisse des Dépôts et Consignations – CDC
Deal of the Year – Debt
Harmony Gold Company syndicated multi-tranche, multi-currency, loan facility of $400m and R4bn – Absa & Nedbank
Deal of the Year – Equity
$298m Infinity Energy equity investment and Lekela Power acquisition – Africa Finance Corporation
Deal of the Year – Agriculture
$78m funding facility for the Southern Oil Structured Commodity Finance Transaction – Absa
Deal of the Year – Infrastructure
$900m debt funding facility for Scatec Solar PV plus Battery Storage Project – Standard Bank
Regional Bank of the Year – North
Bank of Africa
Regional Bank of the Year – Southern
Zambia National Commercial Bank (Zanaco)
Regional Bank of the Year – East
CRDB Bank
Regional Bank of the Year – Central
Trust Merchant Bank
Regional Bank of the Year – West
Vista Bank
AFAWA Bank of the Year Award
Letshego, Nigeria
Latest News on Business Post