Learn What Types of Copiers are There and Which One Perfectly Fits Your Needs
Does your office produce a ton of paperwork on a daily basis? If that's the case, then getting a printer alone might not be enough to meet your needs as a business. What you should instead focus on getting is a photocopier which is far more efficient if you process the same documents on a regular basis.
A photocopier is basically a machine that makes copies of a page. It's good for various purposes such as when you're making survey forms or any other form for that matter. Using a standard printer for such a task is both costly and unnecessary as photocopiers can do the same for less.
What you might not actually know is that there are various types of photocopiers and each of them work differently. Knowing each of these types, as well as their benefits will help you find the perfect photocopier for your business.
Desktop Photocopiers
Photocopiers are usually large machines that need to have their own space inside the office. They're heavy-duty devices that have a lot of power at that. However, if you are looking for something compact, efficient, and most importantly cheap, then you might want to get a desktop photocopier.
As the name suggests, a desktop photocopier is small enough to sit on your desktop. Despite this, a desktop photocopier does not lack in any features. Some models are capable of everything that a regular-sized photocopier does. Some offices give these to people who really need to do a lot of paperwork inside the office.
Black And White Photocopiers
As the name suggests, black and white photocopiers are machines that only use one toner color. They are also called mono devices because they can only produce monochrome photocopies. As this is the case, these machines are often best used inside offices where the need to print copies of documents is always there.
These machines come in various sizes. There are low-end low volume copiers and high-speed high volume machines as well. The best mono photocopiers can copy or print at least 100+ pages per minute. If you're looking for cheap but very functional photocopiers, then this is one of the best there is.
These are efficient, cheap, but very functional photocopiers. These are something that you'd definitely want in your office if you are looking for something useful but isn't going to cost too much.
Color Photocopiers
Standing opposite of monochrome copiers are color photocopiers. They are capable of the same amount of work like a regular photocopier but what's great about them is that they can produce other colors as well. This means that it's a very versatile photocopier at that.
These color copiers also have at least a few drums, toner reservoirs, and cartridges. As per Toshiba Copiers, they have 4 primary colors which include Cyan, Yellow, Magenta, and Black. Though a few, these colors can help create all other colors possible thus allowing for a more versatile device for the office.
Office Photocopiers
Business owners looking for something that's more heavy-duty and reliable inside the office, then they should look for an office photocopier. These are floor-standing copiers that are capable of dealing with larger volumes of paper as compared to other photocopiers. What's best is that it can print these at high speeds as well.
Although they are pricier as compared to other photocopiers,  they are a good investment still as it can help get you through mounds of paperwork in a short amount of time. High-end models can do other things such as scanning, copying, stapling, and sorting the papers that you print.
Multifunctional Photocopiers
As the name itself says, these are multifunctional photocopiers that can do more than just make copies of documents or print new ones. They are also called as MFP's or Multifunction Products and even all-in-one printers or devices. In terms of features, these photocopiers are the most generous.
MFP's come with the usual features of a photocopier which include copying, printing, scanning, and even faxing. However, the newest models also come with internet access that allows the photocopiers to connect with other devices in the office network so that it can get the documents needed to be processed.
That being said, multifunctional photocopiers are also called network photocopiers at times because of their capacity to connect with other devices. It's a good option for large office spaces as it lessens the burden of having to move around to get the necessary documents.
Some models of multifunctional photocopiers can also be upgraded with new features through software. As such, you can expand their functionality even further over time. Truly a photocopier that's worth your time and money.
High Volume Photocopiers
Some offices with large workforces need more volume capacity for their photocopiers. Luckily, high volume photocopiers do exist as well. These are highly functional machines which are capable of printing around 50 pages per minute which is one of the highest for photocopiers.
These types of photocopiers are ideal for various office scenarios. These include government agencies, HR departments, and even schools too. High volume photocopiers are very durable as well as compared to other types of copiers so it's a good investment for businesses.
Why Finding The Right Photocopier Is A Good Idea
As you can see, there are various photocopier types out there. Some of these are going to be more functional for your office, while some are fit for residential use. Finding the right photocopier is a must simply because you only want the best for yourself and your company.
By finding the right photocopier, you can ensure that your business is as efficient when it comes to producing documents and paperwork. Of course, the right photocopier makes sure that you get your money's worth as well.
Getting the right kind of photocopier for your company is exactly what you need to ensure that your teams stay as productive as possible. Depending on what you need, we're sure that each of these photocopiers are the right investment for your business. Hopefully, you find one model that suits you soon.
Airtel Employees Donate Routers to Lagos Secondary School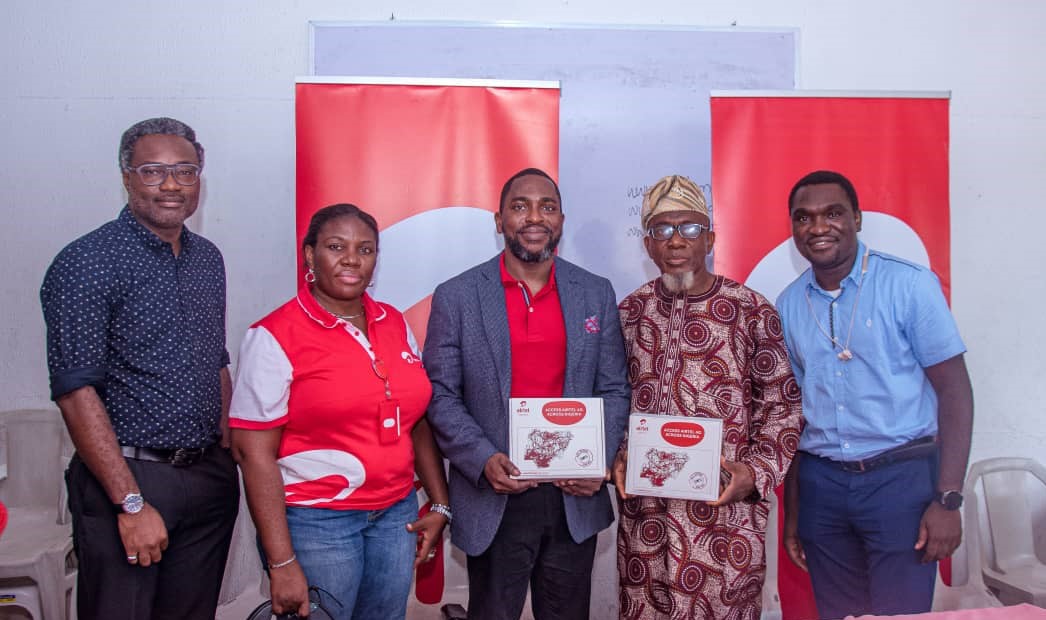 By Aduragbemi Omiyale
Some routers loaded with 100GB of data and a two-month roll-over access fee have been donated to a government-owned secondary school in Lagos, Kuramo College, by employees of Airtel Nigeria.
The items were given to the school by Airtel employees under the company's corporate social responsibility (CSR) initiative, Employee Volunteer Scheme Initiative.
The routers, specifically donated by the Airtel Information and Technology team, are expected to aid digital learning in the school and boost the knowledge of the students.
"Airtel aims to empower young minds by equipping them with the connectivity to imagine and unlock a world of knowledge and opportunities.
"For Airtel, it is no longer about being a smartphone network but giving people a reason to imagine so that people can explore the possibilities powered by technology and connectivity.
"The world is evolving; young Nigerians now have access to unlimited possibilities and can now create their job titles and descriptions, which is why we now have YouTubers, social media Influencers and the likes," the Director of Information and Technology at Airtel Nigeria, Mr Seun Solanke, said.
He encouraged the students to maximize the provision of connectivity to back up their future imaginations with the right information and resources to ensure a bright future.
The activities under the Airtel Nigeria Employee Volunteer Scheme, said Airtel management, aligns with the company's commitment to bridging the digital divide in the country and enabling students to leverage the power of the internet, as the distribution of routers with data plans will ensure that students have uninterrupted access to educational resources, research materials, and online learning platforms, regardless of their socio-economic background.
Zoho Grows User Base to 90 million, Posts 65% Upmarket Growth
By Aduragbemi Omiyale
More and more people are embracing the products of Zoho Corporation, a leading global technology company, as the company now boasts more than 90 million users across more than 600,000 global businesses of all sizes.
Also, the organisation has recorded a three-year CAGR of 65 per cent in mid-market and enterprise segments, representing one-third of the entire business.
This is because of the steady upmarket growth Zoho is recording across the Middle East and Africa region, with its seventh office in Nairobi, Kenya, officially launched.
It was observed that Zoho is witnessing an uptick due to its investments in go-to-market services, new products, platform extensibility, privacy and security to improve the customer experience and enable success.
The Country Manager for Zoho Nigeria, Mr Kehinde Ogundare, said, "With our strong DNA as a technology platform company, we have been able to steadily improve our maturity and readiness for large organisations by investing in adjacent areas."
"Our humble roots in SMB have helped us systematically build powerful software with strong everyday usability.
"Across our products, extensibility, usability, packaging, and go-to-market approach, Zoho aims to be the simplest enterprise software vendor in the market," he added.
Speaking further, he said, "Today's announcement serves as a testament to that goal, helping our customers adopt more of our software, add new capabilities, extend our platform to suit their granular workflows and get ready for the future.
"Whether customers buy our software for one department or the entire organisation, one workflow or a collection of customer journeys, the experience with Zoho will be far simpler than with any other large vendor."
Zoho said it aims to expand EBS across skills, industry depth, and regional presence to help enterprise businesses manage their technology stack better in today's economic climate. EBS provides expertise to large organisations across solutions engineering, account management, and customer success.
The platform accepts payment in over 15 currencies worldwide, facilitating global procurement efforts for enterprise organisations with regional operations through unified multi-currency invoicing.
Airtel Unveils 'A Reason to Imagine' Brand Campaign
By Modupe Gbadeyanka
A new Africa-wide brand campaign focused on building a deeper emotional connection with young people, including Nigeria's globally acclaimed productive generation, has been launched by Airtel Africa Plc.
The leading provider of telecommunications and mobile money services disclosed that the campaign includes a new strapline for Airtel, A Reason to Imagine.
It is driven by the insight that in Africa, imagination is the only qualification that matters and showcases Airtel Africa's role in harnessing this potential by delivering relevant solutions to consumers that enhance digital and financial inclusion.
The A Reason to Imagine campaign highlights the status of Airtel as an enabler of young people's dreams and ambitions, whatever these might be. To this end, the campaign seeks to celebrate the energy, creativity, and innovation of Nigerian youth.
"Africa's young people are now, more than ever, owning their passions boldly, chasing their dreams with all their heart, and living on their terms. At Airtel, we see this growth as a beautiful thing.
"Our new brand purpose represents our commitment to the future. It is about youth, about excitement, about fun, and most of all, about imagination," the chief executive of Airtel Nigeria, Mr Carl Cruz, noted.
On his part, the Group Chief Commercial Officer of Airtel Africa, Mr Anthony Shiner, said, "It's a well-understood fact that youth are central to achieving Africa's potential.
"More than 60 per cent of Africa's population is under 25, and empowering this new generation is transformative for the continent's future.
"Through this campaign, we are reaffirming Airtel Africa's commitment to advancing the progress of Africa's young people by providing the connectivity to turn every situation into an opportunity."
The Reason to Imagine brand campaign is Airtel Africa's most ambitious yet. It comprises a series of television commercials and a combination of market-specific print, online, outdoor, and mobile creative executions.
The current title sponsorship of The Voice Africa is an example of how Airtel Africa is giving the youth a reason to imagine by partnering with The Voice to bring the show to the continent.
The Voice Africa showcases exceptional African musical talent in a show featuring a high-profile panel of coaches and TV hosts.
One of the 100 selected talents will eventually be crowned 'The Voice Africa' in a live show on free-to-air TV stations across the continent and Airtel TV. This is one of the initiatives that Airtel Africa has invested in to promote youthful talents and expertise in the education, sports, and innovation sectors.
Latest News on Business Post