70% of Lagos IGR Comes from Taxes—LIRS Chairman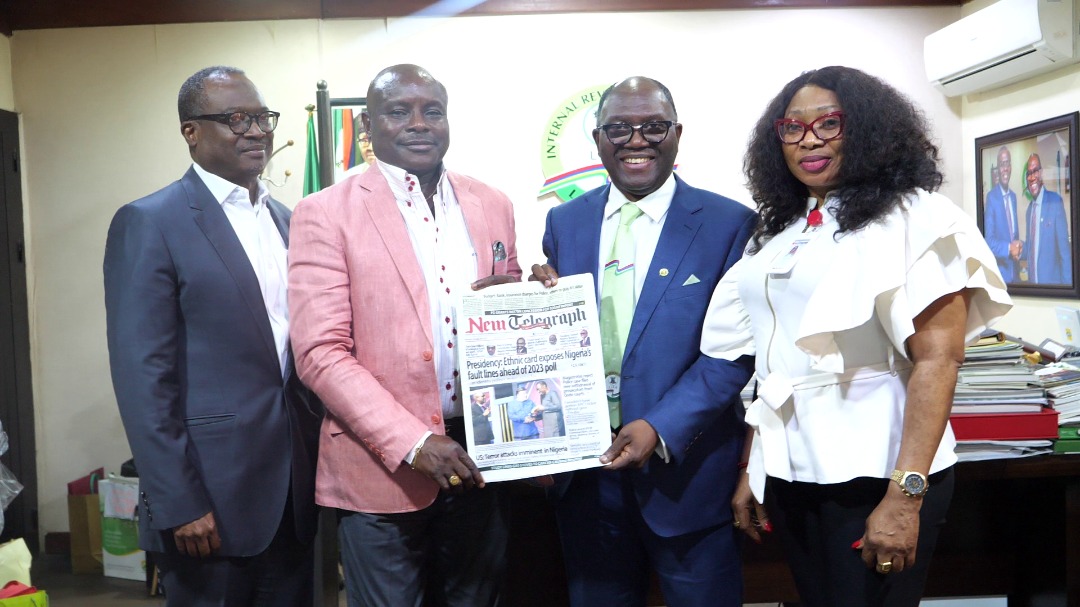 By Dipo Olowookere
The executive chairman of the Lagos State Internal Revenue Service (LIRS), Mr Ayodele Subair, has said about 70 per cent of the state's Internally Generated Revenue (IGR) comes from taxes paid by individuals and organisations doing business in the metropolis.
Mr Subair made this disclosure when he received the Managing Director of New Telegraph Newspapers, Mr Ayodele Aminu, and the Daily Editor of the media platform, Ms Juliet Bumah, in his office in Alausa, recently.
The management of the Daily Telegraph Publishing Company Limited, publishers of New Telegraph Newspapers, visited the LIRS chief to inform him of the decision to honour him with an award of leadership excellence at a ceremony to be held later in the year.
Mr Aminu said the LIRS boss was chosen because of his remarkable contributions to the development of the state and the country, especially in the tax sector.
But Mr Subair attributed the tax revolution in Lagos State to the former Governor of the state and presidential candidate of the All Progressives Congress (APC) in the 2023 general elections, Mr Bola Tinubu, saying he contributed to the significant boost to the Lagos IGR.
"He is the father of this tax revolution in Lagos State. So, we must always give him that credit. Since he made the LIRS board autonomous, the numbers have been leaping in bounds, and we hope to continue on that trajectory because we have to provide the funding for the state.
"The incumbent Governor (Babajide Sanwo-Olu) has been very supportive of our innovations and fresh ideas in tax administration in Lagos State," he said.
The LIRS leader said Mr Tinubu must be commended for having the vision to "create some independent agencies like the LIRS and making the state less reliant on the federal government's allocation."
Speaking on the award, Mr Subair noted, "The joy is when there is a bit of recognition, then you feel justified, you feel happy that you have spent all those long hours burning candles at night and so forth justifiably. I'm very pleased that you have deemed it fit to honour the agency and me. I assure you that management would be well represented at the award ceremony, God's willing."
"It is a moment like this that we feel very glad we have put ourselves at the service of our dear state. We usually don't get any recognition internally or externally; rather, it is you can always do better. But in our world, our numbers speak for themselves.
"In your letter, you said we almost doubled our internal revenue generation since the inception of our tenure, but in fact, it's more than double," he added.
While commending the staff of the LIRS for their dedication and steadfastness, the LIRS boss said, "We are delighted that we have been able to achieve all those things. It's all from dedicated leadership and followership.
"The staff plays a very big role in making our numbers rise. Management directs and formulates the policies and all the various processes that generate such income, but at the same time, we need to commend the foot soldiers; they are the ones out in the field who help us to advocate for taxpayers to try and be tax compliant, to respect the social contracts, and to understand that if they want the state to improve in terms of provision of infrastructure and quality services, they also need to contribute."
Mr Subair advised Nigerians, especially Lagos residents, not to relent in their duties by paying their taxes regularly and diligently as it would help the government provide infrastructure and social amenities as attainable in developed countries.
"Everybody goes to the UK, U.S and they are all marvelled at the level of their infrastructure, good road network, free education, electricity and all other things. All these are made possible because the people are highly tax-compliant in that clime. Nobody is chasing anyone about paying taxes.
"If you don't pay tax, the sanctions are there. People go to jail. There are no two ways about it. But unfortunately, in Africa, extending to Nigeria and Lagos, people don't want to pay taxes.
"Yes, globally, people don't want to pay; if they could avoid it, they would avoid it, So it makes our job very difficult and trickier," he noted.
The LIRS chairman said while tax is the most sustainable revenue, it took the federal government so long to start looking inward as tax is funding the operations of the federal government right now.
"The federal government is not getting much from the oil industry like before. So it is just what FIRS is doing that is helping. Likewise, in Lagos, all the federal receipts have gone down considerably, so it's mostly what we are generating here and some other revenue-generating agencies," he said.
South Korea Pledges Mpox Vaccine Supplies
By Kestér Kenn Klomegâh
Sadly, African health authorities for several months have pursued vaccines for curing mpox and its further spread mostly in vain as worldwide outbreaks were reported during this year. But there is some light at the end of the tunnel as some considerable assistance might come from the Republic of South Korea.
The Africa Centers for Disease Control and Prevention said some few thousand doses being the first consignment of mpox vaccines as a donation, would arrive shortly and be used for health workers and people living with the disease in the hardest-hit areas in Africa.
The continent this year has recorded 202 deaths from mpox, formerly known as monkeypox, with a fatality rate of 19.3% across 13 countries. African health authorities for months have made feverish efforts in search for curbing the disease's spread.
According to the Acting CDC director, Ahmed Ogwell, more than 50 new mpox cases in Congo were recorded this month and said Ghana and Nigeria are the other most affected countries. A surge in mpox infections was particularly reported last May outside West and Central Africa.
"Let us get vaccines onto the continent," CDC Acting Head, Ahmed Ogwell, said in a weekly media briefing pointing to another instance of 1.3 billion people on the continent without access to a vaccine, as in the Covid-19 pandemic.
"The solutions need to be global in nature. If we're not safe, the rest of the world is not safe," he warned.
The World Health Organisation (WHO) has, however, warned against discrimination. "A failure to act will have grave consequences for global health," Lawrence Gostin, Director of the WHO Collaborating Center on National and Global Health Law, said on Twitter.
Health officials have emphasized that mpox can infect anyone in close contact with a patient or their contaminated clothing or bedsheets. Researchers are still exploring to establish how it spreads but believe it's mainly through close, skin-to-skin contact and through contact with bedding and clothing that touched an infected person's rash or body fluids.
It generally causes mild to moderate symptoms, including fever, fatigue and painful skin lesions that resolve within a few weeks.
Reports, however, said that the mpox had been established in parts of Central and West Africa for decades; it was not known to spark large outbreaks beyond the continent or to spread widely among people until May when authorities detected dozens of epidemics in Europe, North America and elsewhere.
In Africa, mpox mainly spreads to people by infected wild animals like rodents in limited outbreaks that typically have not crossed borders. In Europe, North America and elsewhere, the mpox is spreading among people with no links to animals or recent travel to Africa. In the U.S. and Europe, the vast majority of infections occur among men who have sex with men, though health officials have stressed that anyone can contract the virus.
Access Holdings Merges Sigma, FGPL for Formidable PFA Business
By Aduragbemi Omiyale
To create a formidable pension funds administration (PFA) business in Nigeria, Access Holdings Plc has merged its subsidiary, First Guarantee Pension Limited (FGPL), with Sigma Pensions Limited.
The marriage between the two PFAs was made possible after Access Holdings acquired an indirect equity stake in Sigma.
Recall that in October, the company announced that it was buying a stake in Sigma to revolutionise the PFA sector.
On Thursday, a court approved the merger between the firm and FGPL, giving room for the organisations to become one and offer innovative products to customers.
A notice signed by the group company secretary of Access Holdings, Mr Sunday Ekwochi, confirmed the development.
"Sequel to our announcement on October 25, 2022, Access Holdings Plc, trading as Access Corporation, today announces the completion of its acquisition of an indirect equity stake in Sigma and the merger of its subsidiary, FGPL, with Sigma.
"Following the sanction of the scheme of merger between Sigma and FGPL by the Federal High Court on December 1, 2022, FGPL has been dissolved without winding up, leaving Sigma as the surviving entity," a part of the statement dated Friday, December 2, 2022.
"Following the successful completion of the merger, our plan is to leverage the synergies of these entities, as well as the corporation's expansive distribution network, strong risk management culture and best-in-class governance standards to create a formidable pension funds administration business," the group chief executive of Access Holdings, Mr Herbert Wigwe, stated.
FrieslandCampina Buoys Unlisted Securities Market by 1.11%
By Adedapo Adesanya
The NASD Over-the-Counter (OTC) Securities Exchange returned to the positive zone on Friday, December 2, as it appreciated by 1.11 per cent at the close of business.
This was driven by a gain in the stock price of FrieslandCampina Wamco Nigeria Plc. The company appreciated by N5.29 price to close at N66.63 per share versus the previous day's price of N61.34 per share.
This outweighed the 1 Kobo loss recorded by UBN Property Plc during the session as the price of the property investment company went down to 91 Kobo per unit from the preceding session's 92 Kobo.
When the market closed for the day, the total value of the unlisted securities market increased by N10.27 billion to N933.71 billion from N923.44 billion.
In the same vein, the NASD Unlisted Securities Index (NSI) stretched by 7.82 basis points to 710.58 basis points from the 702.76 basis points in the previous session.
During the session, there was a surge in the volume of securities by 140,993.7 per cent as investors exchanged 2.2 million units, in contrast to the previous day's 14,508 units.
Likewise, the value of shares traded at the session ballooned by 1,526.6 per cent to N10.7 million from the N657,534.75 recorded a day earlier, while the number of deals improved by 400 per cent to 20 deals from four deals.
When the market closed for the day, AG Mortgage Bank Plc was the most traded stock by volume (year-to-date) with 2.3 billion units valued at N1.2 billion, Central Securities Clearing System (CSCS) Plc occupied second place with 687.8 million units worth N14.3 billion, while Lighthouse Financials Services Plc was in third place with 224.7 million units valued at N112.3 million.
Also, CSCS Plc ended the day as the most traded stock by value (year-to-date) by trading 687.8 million units worth N14.3 billion, VFD Group Plc was in second place with 29.1 billion units valued at N7.7 billion, and FrieslandCampina WAMCO Plc was in third place after selling 16.8 million units worth N1.9 billion.
Latest News on Business Post