Teachers, Students Honoured by Oyo TESCOM for Excellence
By Modupe Gbadeyanka
No fewer than five teachers and two students have been recognised by the Oyo State Teaching Service Commission (TESCOM) for distinguishing themselves in various competitions.
At a ceremony to honour them in Ibadan, the Chairman of Oyo TESCOM, Mr Akinade Alamu, the recognition was to inspire others to do better.
He applauded the teachers at a solidarity rally for Governor Seyi Makinde, noting that their dedication earned two students from St. Anne's School first and second positions in the recent Commonwealth Essay competition. The students, Mariam Lawal and Deborah Olatunji, were also given awards of recognition by the state government.
The awardees were Mrs Egunjobi Elizabeth Mofolashade, a Principal at St. Anne's School, Molete Ibadan, who received an award for her selfless dedication during the long COVID-19 vacation; Mrs Olatunji Olufinmilayo Ayoade; Mr Olanrewaju Olaiwola Olateju; Miss Adepoju Aminat Adedayo from St. Anne's; and a PhD student who teaches at Bishop Phillips Academy, Ogundiji Olasunkanmi, for winning the National Maltina competition.
"These students and their teachers exhibited outstanding zeal in attaining excellence at various competitions. It took them commitment, responsibility, focus, determination, creativity, innovation, purpose-driven attitude and the fighting spirit to win laurels at local and international competitions," the Oyo TESCOM chief said.
He promised that the state government will give more awards to different recipients and other stakeholders that have been collaborating with the State to advance the education sector.
"We are proud of Oyo state students who are winning laurels in global and national competitions. We have two of our students from St. Anne's that won the Commonwealth Essay Test. It is a global competition and I must say this is a great feat for us in Oyo TESCOM.
"On behalf of Governor Makinde, I am honoured to present them with these awards. This is a token of our appreciation, to let them know that we appreciate what they are doing and we want them to do more," Mr Alamu said.
Speaking also, the Permanent Secretary, TESCOM, Mrs Bisi Oderinde, acknowledged the teachers for their commitment and determination to making the students excel in the global competition, saying that they were the reason the students are being celebrated.
She urged students and teachers in the State not to rest on their oars, adding that more awards await them in future.
"Do not rest on your oars, this is just the beginning, there are more honours awaiting you in the future, globally," she said.
In her welcome speech, the Head of Zone 3, Mrs Ololade Azeez, commended the administration of Mr Makinde for its unrelenting support towards the workforce.
Egbeyinka Elizabeth Shines at 8th Glorious Vision University Convocation
By Modupe Gbadeyanka
A student of the Department of Chemical Science of Glorious Vision University (GVU), Ogwa, Edo State, Miss Egbeyinka Elizabeth, was the cynosure of all eyes at the institution's 8th convocation ceremony held recently.
Miss Egbeyinka emerged as the best graduating student with a 4.82 Cumulative Grade Point Average (CGPA), sweeping several awards and cash gifts at the event.
Business Post gathered that the brilliant student went home with the Vice-Chancellor prize for Overall Best Student, TACN Remo Area prize for Best Graduating TACN Member Student, and Departmental prize for Best Student in the Department of Chemical Sciences.
She also won Professor (Mrs) May Foluso Ogbe prize for Overall Best Graduating Female Student, Professor (Mrs) Olusola Omueti prize for Overall Best Graduating Student in Bio-Chemistry, Deaconess (Dr) P. A. Akpan prize to the Best Graduating Science Student, and Dean, COLBAS prize for Best Student in the College of Humanities.
At the programme, Miss Egbeyemi was commended for her brilliance and charged to continue to be a good ambassador of the institution by imbibing the knowledge she has acquired from the school.
In his speech at the convocation, the Visitor and Chancellor of Glorious Vision University, Pastor Emmanuel Segun Awojide, congratulated the graduating students, saying the accomplishment was worth celebrating.
He also tasked Nigerians to keep praying for the country, especially as the nation prepares for the general elections in 2023, stating that Nigeria, especially the church, is in dire need of the right leaders to steer the ship of the country to the Promised Land.
The cleric, who doubles as the National Vice President and LAWNA Territorial Chairman of The Apostolic Church Nigeria (TACN), emphasised that Nigerians must cry out to God, who he said owns Nigeria.
The man of God, represented by the Vice Chairman of LAWNA Territory, Pastor Okpako Uyeh, also used the occasion to thank members of the church for supporting GVU, which used to be known as Samuel Adegboyega University (SAU).
"Let me thank all sponsors and members of The Apostolic Church Nigeria LAWNA Territory for their overwhelming support to the growth and development of the Glorious Vision University despite the current economic hardship in the country. This sacrifice will not go unrewarded in Jesus' name," Pastor Awojide, who is also the National Chairman of the Christian Pentecostal Fellowship of Nigeria (CPFN), stated.
A total of 100 students graduated with various degrees at the 2022 convocation attended by several persons. The school, established by TACN, awarded diploma degrees to three students, first degrees to 94 students and second degrees to four students.
Adeniran Praises Makinde for Allocating 18.78% of 2023 Budget to Education
By Modupe Gbadeyanka
The Governor of Oyo State, Mr Seyi Makinde, has been applauded by the Chairman of the Oyo State Universal Basic Education Board (Oyo SUBEB), Mr Nureni Aderemi Adeniran, for allocating more funds to education in the 2023 budget.
Speaking recently on a live programme on the Oyo State Broadcasting Corporation (BCOS) in Ibadan, the state capital, the educationist said this was commendable.
According to him, education has the second largest allocation in the proposed 2023 appropriation bill presented to the Oyo State House of Assembly by Mr Makinde.
He said with a budget of N58.2 billion, the government has recorded an unprecedented affection for education.
Mr Adeniran said Governor Makinde had maintained an unbroken record of allocating huge funds for the overhaul of the sector, especially the basic education sub-sector he supervises.
"Governor Makinde's record of allocating funds for education conforms to UNESCO standards of 15-20 per cent of the budget. In fact, this time, education is 18.78 per cent of the total budget proposal," he said.
Speaking further, the Oyo SUBEB chief lauded the current administration for consistently maintaining an 18 per cent to 22 per cent budgetary allocation.
He insisted that this has helped the state in regular payment of the Universal Basic Education Commission (UBEC) counterpart funding and received matching grants, "enabling us to execute numerous projects in the education sector."
"Oyo State Universal Basic Education Board has so far completed over 56 model schools and constructed and renovated over 700 classroom blocks across Oyo State, among other projects," he affirmed.
He, therefore, appealed to residents of the state to re-elect Governor Makinde for a second term, saying his efforts to make Oyo better could be further actualised with continuity.
GOMYCODE Opens New Flagship Hackerspace in Lagos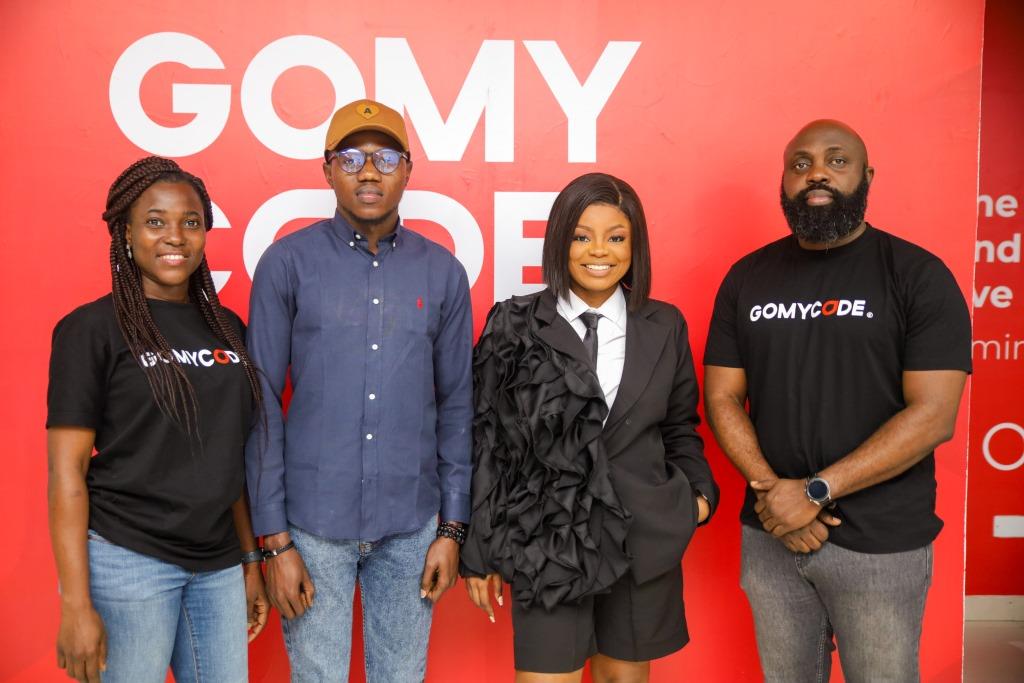 By Modupe Gbadeyanka
Africa's leading edtech platform, GOMYCODE Nigeria, has opened a bigger office space in Lagos at 230 Herbert Macaulay, Alagomeji-Yaba.
Comprising 5 floors, the new GOMYCODE hackerspace has a capacity five times larger than the old one, about 600 students compared with the 120 students the previous hackerspace accommodated.
In a statement, the firm disclosed that the new space is remarkable, with unique colours that stand out from the other buildings around it and can accommodate even more students in a more comfortable environment where they can learn.
GOMYCODE is pushing the limits on students' experience to the next level with 3 floors of classrooms, each dedicated to teaching. The classrooms are equipped with fibre optics and comfortable equipment for the students' success.
The new hackerspace has a rest and relaxation room for students to balance learning and leisure time or simply to continue working on their projects. There is also ample parking space in a dedicated garage for students that ensures easier accessibility to the facility.
The second floor of the hackerspace will be occupied by the educational advisors who now have even more facilities to welcome, inform, guide and support the current and future students.
Lastly, a large conference room, with enough seating for 200 people, allows guests to gather for talks and conferences, giving the setting an even greater range.
"This move signals our intentions for and deep commitment to the Nigerian market. Whilst we provide training online through what we call our online 'hackerspace', we know from research and our own experience that students prefer in-person classes and what we do is to ensure that these classes take place in the best possible spaces", says Babatunde Olaifa, General Manager, GOMYCODE Nigeria.
The move from a 3-room training space to a 5-storey centre in the heart of Yaba underscores our commitment to providing quality, relevant and affordable digital skills education to anyone in Nigeria looking to future-proof their careers. This is just the beginning. We are expanding rapidly, and in a few months, we will open hackerspaces in multiple locations in Lagos and Abuja", adds Olaifa.
Latest News on Business Post