Minimum Wage Gimmicks and Leadership Tailored Challenges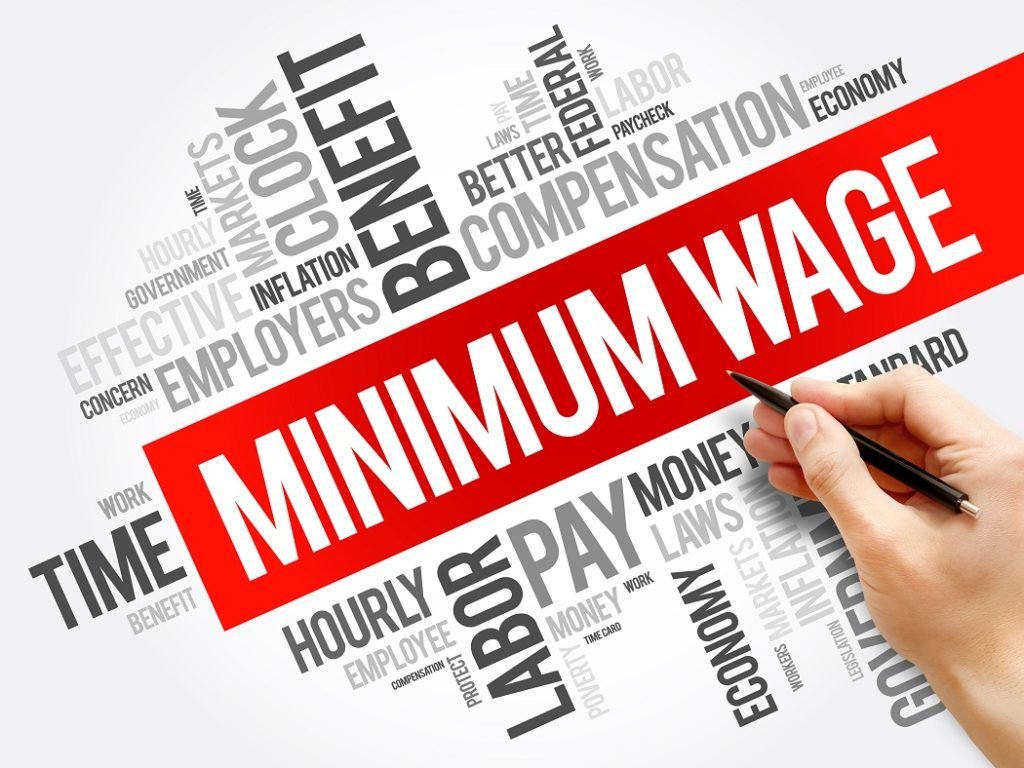 By Jerome-Mario Chijioke Utomi
It may not be characterised as hasty to conclude that the President Muhammadu Buhari-led federal government, after living in denial for a very long time, have finally come to terms with the fact that Nigerian workers have, in the past seven to eight years, faced unprecedented hardship as the government continues to debate minimum wage, and not even living wage, in a country where every commodity has skyrocketed except the monthly take-home of workers.
The above belief flows from a recent statement by the Minister of Labour and Employment, Dr Chris Ngige, who revealed this at the Nigeria Labour Congress (NLC) public presentation titled Contemporary history of working-class struggle in Abuja, where he, among other things, stated that there are plans to increase the N30,000 minimum wage in the light of inflation raving the world.
He said, "The inflation is worldwide; we shall adjust the minimum wage in conformity with what is happening now. The 2019 Minimum Wage Act has a new clause for review. The adjustment has started with the Academic Staff Union of University (ASUU) because the stage they are with their primary employers, the Ministry of Education, is a collective bargaining agreement negotiation. The adjustment had become important to reflect what was happening globally. In the current economic situation, the current minimum wage of N30,000 would not, in the present economic reality, pay workers' transportation fares to work for a month.
While this piece 'celebrates' the federal government's sudden but late realisation that life in Nigeria, quoting Thomas Hobbs, has become nasty, brutish, and short as  Nigerians diminish socially and economically. The privileged political class, on their part, continues to flourish in obscene splendour as they pillage and ravage the resources of our country at will; there is an urgent need for the federal government to go beyond this salary increase gimmick to recognise the fact that presently, no nation on the surface of the earth best typifies a country in dire need of peace and social cohesion among her various sociopolitical groups than Nigeria as myriads of sociopolitical contradictions have conspired directly and indirectly to give the unenviable tag of a country in constant search of social harmony, justice, equity, equality, and peace.
As a nation, Nigerians have never had it so bad.
Take, as an illustration, Nigeria, says a commentator, is a nation soaked with captivating development visions, policies and plans. Still, impoverished leadership and corruption-induced failure of implementation of development projects on the part of the political leaders are responsible for the under-development in the country. Mountains of evidence support how seriously off track the present administration in the country has taken the nation with their deformed policies, ill-conceived reforms and strategies,
Today, the greatest and immediate danger to the survival of the Nigerian state today is the unwarranted, senseless, premeditated, well-organised and orchestrated killings across the country.
Again, under the present administration, the country's economy on its part has shown its inability to sustain any kind of meaningful growth that promotes the social welfare of the people. The result can be seen in the grinding poverty in the land (80 per cent of Nigerians are living on less than $2 per day – according) to the African Development Bank (AfDB) 2018 Nigeria Economic Outlook. Nigeria is ranked among the poorest countries in the world.
Sadly, according to a report from Brookings Institute, Nigeria has already overtaken India as the country with the largest number of extremely poor in early 2018 in the world. At the end of May 2018, Brookings Institute's trajectories suggest that Nigeria had about 87 million people in extreme poverty, compared with India's 73 million. What is more, extreme poverty in Nigeria is growing by six people every minute.
This gory account has since morphed from bad to worse.
In education, for instance, ASUU has been on strike for over six months. In the same vein, 10.5 million children, according to reports, are out of school in Nigeria, the highest in the world.
Our industries continue to bear the brunt of a negative economic environment. As a result, job losses and unemployment continue to skyrocket, creating a serious case of social dislocation for most of our people.
The running of our country's economy continues to go against the provisions of our constitution, which stipulates forcefully that the commanding heights of the economy must not be concentrated in the hands of a few people. The continuous takeover of national assets through dubious (privatisation) programs by politicians and their collaborators are deplorable and clearly against the people of Nigeria. 'The attempt to disengage governance from public sector control of the economy has only played into the hands of private profiteers of goods and services to the detriment of the Nigerian people'.
This malfeasance at all levels of governance has led to the destruction of social infrastructure relevant to a meaningful and acceptable level of social existence for our people. Adequate investment in this area, it has been shown, is not the priority of those in power.
Our hospitals, whether state-owned or federal-owned, have become veritable death centres where people go to die rather than to be healed. The absence of basic items such as hand gloves and masks is indicative of the level of decadence and rot in the country's health national budget recommended by the United Nations.
Regarding the criminal justice system, our people, especially the poor and vulnerable, continue to suffer unprecedented acts of intimidation and violation of rights at the hands of security agencies across the country. As noted elsewhere, extrajudicial killings, lack of scientific-based investigation of crimes and corruption in the judiciary contribute to acts of injustice against the innocent. Our prisons have become places where prisoners are hardened rather than places of reformation of prisoners for reintegration back into society.
As to the solution to these challenges, this piece and, of course, Nigerians with critical minds believe that leadership not only holds the key to unlocking the transformation question in Nigeria but to sustain this drive, leaders must carry certain genes and attributes that are representative of this order.
Thus, as the nation braces up for the 2023 general election, one point Nigerians must not fail to remember is that only a sincere and selfless leader and a politically and economically restructured polity brought about by national consensus can unleash the social and economic forces that can ensure the total transformation of the country and propel her to true greatness.
This, as argued by Nigerians with critical minds, will help ensure that there is the provision of adequate social infrastructures such as genuine poverty alleviation programmes and policies, healthcare, education, job provision, massive industrialisation, and electricity provision, to mention a few. It is critical to jettison this present socio-economic system that has bred corruption, inefficiency, primitive capital accumulation and socially excluded the vast majority of our people.
For me, the only way this can be done is to work to build a new social and political order that can mobilize the people around common interests, with visionary leadership to drive this venture. Only then can we truly resolve some of the socio-economic contradictions afflicting the nation.
But in the interim, the federal government must abandon these minimum wage gimmicks and look for another thing to tell Nigerians.
Utomi Jerome-Mario is the Programme Coordinator (Media and Policy), Social and Economic Justice Advocacy (SEJA), Lagos. He can be reached via jeromeutomi@yahoo.com/08032725374
Schneider Electric: Driving the Digital Transformation of Nigeria with Augmented Reality
The future impact of Augmented Reality (AR) will significantly transform businesses and consumer marketplaces in Nigeria, should its adoption be accelerated across various industries and platforms, says Schneider Electric.
As more breakthroughs in technology continue to take root, the group has remained consistent in sensitizing its partners on the potential of AR, being one of the keys to digital transformation in the industry. Companies must therefore capitalize on AR and pursue the opportunities that can significantly boost operational productivity and enhance efficiency.
Speaking on this innovative technology, Belema Koleoso, Territory Technology Lead, Schneider Electric, says although much progress has been made since 2019 when Schneider Electric's AR technology EcoStruxure Augmented Operator Advisor (EAO) was launched as a global hero offer, which works to enhance data accessibility for quicker and more accurate decision making, there remains a lethargy in the Nigerian market to adopt this technology.
Company campaigns have been run to sensitize clients to understand how EAO uses AR technology to optimize the operation and maintenance of industrial sites and equipment, AR aids effectiveness, helps to optimize human assets, and bridges the prevalent generational skill gaps. In this regard, she specifically highlighted the workforce crises that Schneider Electric foresees in the next 5-6 years, with the aged industrial population as the search for well-trained workers sometimes poses a challenge.
Belema says with AR, companies do not need to lose the experience plants cultivate with the exit of personnel, instead, years of training and experience can be "retained" through iteration of workforce turnover. For example, templates, assets, and manuals can be aggregated into the EOA application, customizable by the client; it puts real-time information at your fingertips, whenever and wherever it is needed, enabling operators to superimpose current data and virtual objects onto a cabinet, machine, or plant. This software combines contextual and local dynamic information for mobile users, enabling them to experience a fusion of the physical, real-life environment with virtual objects. It becomes a mobile work buddy for employees commencing the learning curve and in all reduces operational cost while increasing plant operational efficiency. This ensures that people who are put into the system meet the experience that others who passed through the system left behind.
AR presents completely new ways of executing tasks, with instant diagnosis, contactless maintenance, increased efficiency, and lower cost. Industries, including construction, aviation, consumer packaged goods, energy and chemical, mining and minerals etc., can use EOA to enhance their operations. The cloud-based software rides on any controller to learn activities and aggregates assets, moving past proprietary original equipment manufacturer parent protocols to focus on the tasks.
Schneider Electric believes increased industry leaders across sectors can therefore use EOA to their advantage, where data drives processes and decisions metamorphosizing to "smart decision makers," riding on data to make optimal decisions smarter and faster.
In retrospect, Belema says the pre-covid in Nigeria technologies like AR were seen as typically "nice to have." She says she highly anticipates a time when more people will understand the immense benefit of this innovation and evaluate this technology as a necessity. "Often, the feedback on this is a nice-to-have, after a review of what AR offers. But I will push for people to look at it like this – When you have something that will optimize your processes, it moves from being a nice-to-have to a must-have."
To drive this renewed mindset, the AR expert opines policies, such as the environmental sustainability policy, can bolster digital transformation. Stakeholders would need to advocate an optimized use of energy sustainably. Enforcement of which would naturally drive the adoption of technology across industries quicker.
"When people see that sustainability policies are enforced, for example, you are penalized for not meeting a target, or incentivized for meeting a target; you would see that the case would be different. Naturally, people will begin to adopt technology to meet their goals."
She also advocates for Nigerians to consider AR as a total cost of investment that enhances optimal output, as customers are more prone to adopt a baseline approach, where they are satisfied with running their operations minimally without incurring additional costs.
With technology improving and becoming more widely available, it is undeniable that AR will become essential for businesses to thrive in the upcoming years. Schneider is optimistic that its position as a thought leader and industry partner in the digital transformation of energy management and automation is about to gain new ground, enabling the emergence of a new landscape of energy, paradigm shifts for the industry, and a revolutionized experience.
Climate Change: Between Harriman and Kayanja Ideologies
By Jerome-Mario Chijioke Utomi
The debate on climate change is among the most presently discussed topics on the earth's surface. All these years, I have, going by the commentaries from the Western world, believed that Africa's non-commitment to the call for global action on climate change was responsible for the real and imaginary challenges confronting the continent.
Making this perceived climate change challenge look real was the recent news report that to tackle the problems, the World Bank Group has committed about $70 billion and urged governments of different nations to set up structures to engage and access the fund.
However, such a belief system recently underwent a positive transformation while listening to Professor Tosan Harriman of Bayero University, Kano, Nigeria.
Tosan, who spoke at the GbaramatuVoice Niger Delta Economic Discourse series held in Warri, Delta State, among other things, said; "the truth is this, we saw the hypocrisy of these people (Western worlds) recently when, because of the Ukraine-Russian war, they are not talking anymore about clean energy, rather, we see them go back again focusing on coal, getting out coal to drive the heat."
"Africa cannot give away its resources because Africa doesn't need the English of climate change. Our continent is blessed, our continent has resources, and our continent is galvanizing on those resources to ensure there's a global world order. Taking Africa's resources from Africa is like committing Africa to another new colonial tendency that will finally incapacitate and make it useful in the global situation of things, and that's exactly what my argument has been.
"So, quickly, therefore, let's have our mindset reconstructed about the fact that we are not a danger to Europe and America; we are not a danger to politics of climate change. The only grammar behind climate change is the economy.
"If they take from you the resources that offered you a comparative advantage, it opens them up to their economic value in the context of a global chain, in the context of a global productivity chain, it opens them up to their economic value where they now begin to sell clean energy to people like us in Africa who don't need it. It's so important we have these facts properly straightened out before we get into this other issue.
"The world has been talking about clean energy, what we call resistance against greenhouse gas emission. The kind of carbon deducted from the exploration of our crude oil, those are the carbons that we have, and that's what the world has been talking about. They needed clean energy that would help the Arctic Circle maintain its height and then help the entire ecosystem to be properly balanced along the lines of certain determination that they thought had been there from the beginning and all of that.
"In Europe and America, if you actually desire clean energy, you should not in the 21st century be talking about coal because coal is all about greenhouse gas emission. If you go to the home of the Queen, you will see them using coal, and I keep making this argument that if Norway as a nation has the level of oil we have, nobody will be talking about greenhouse gas, nobody will be talking about climate change, and I have always held the position that every nation should be allowed to grow within the context of his own resources."
He said that the best the world can do, which is an issue he raised at the Cairo 27th conference recently held, is that we should look at the conditions of African nations, what we call the dependent nations and all of that, dependent on the global world situation and all of that.
"We should look at their conditions, and then we can't take them; we can't take from them the issues that directly propel their sustenance; we can't be talking of climate change when the entire nation of Africa depends on what creates a greenhouse. The best we can do is to scientifically, now begin to look at this resource and then redesign it in such a way as to mitigate the fears that are already being expressed by these other groups fighting for climate change. Those are the issues we raised, and it's so profound that the world needs to hear us," he concluded.
Comparatively, while Professor Tosan's ideology/argument made a whole lot of sense to me, I, however, still recall how Mr Ronald Kayanja, Director of the United Nations Information Centre (UNIC), spoke on the same topic (climate change) but maintained a different view.
This was at a function on Friday, September 20, 2019, in Lagos to mark the year's International Day of Peace, which had as a theme Climate Action For Peace. Kayanja's understanding and postulations about climate change were the direct opposite of Tosan's argument.
Apart from Kayanjas' definition of climate change as changes in these weather patterns over several decades or more which make a place become warmer or receive more rain or get drier, what made the lecture crucial was the awareness of the dangers of and warning on the urgent need to address climate changes which he said have become even clearer with the release of a major report in October 2018 by the world-leading scientific body for the assessment of climate change, the Intergovernmental Panel on Climate Change(IPCC), warning that in order to avoid catastrophe, we must not reach 1.5 C and 2oC.
In a similar style, Kayanja in that presentation used an analytical method and properly framed arguments to underline how; the current conflict in North-East Nigeria is not unrelated to the changes in climate in that region over time. As well as provides a link as to how; the climate change challenge also sets the stage for the farmer and herder violence witnessed in parts of West Africa and many countries that face violent conflicts in Africa: Somalia, the Democratic Republic of the Congo, South Sudan, Sudan (Darfur), Mali and the Central Africa Republic.
He argued that local tensions over access to food and water resources could spill over into neighbouring countries as people seek to find additional resources and safety – placing more strain on the resources of those countries, which could amplify tensions. In these instances, climate change does not directly cause conflict over diminishing access to resources, but it multiplies underlying natural resource stresses, increasing the chances of a conflict.
As to what should be done to this appalling situation, the UN boss said that the UN Secretary-General had made climate action a major part of his global advocacy, calling on all member states to double their ambition to save our planet.
For me, as the debate rages, it is important to underline that Kayanja's position looks alluring in principle. But then, this piece holds the opinion that African leaders and policymakers must not allow the propositions canvassed by Tosan go with political winds.
Utomi Jerome-Mario is the Programme Coordinator (Media and Policy) at Social and Economic Justice Advocacy (SEJA), Lagos. He can be reached via jeromeutomi@yahoo.com/08032725374
Economy: Simplistic Thinking in Africa and African American Communities
By Nneka Okumazie
There is caution in African American communities not to criticise each other to avoid appearing to take the side of others against the community. This agreement, useful in a few cases, has become part of the problem of the community where there is an appearance to condone horrible things.
If the problem is to avoid sounding like others, then another channel to criticize but not sound like others should have been sought.
In the community, the killings of the same kind, even for some who have made it, sometimes over absurd things, meets mute responses or fierce firestorm from the leaders of the community.
Do not criticize has allowed all kinds of comments and behaviours to fester in the community, and it keeps getting worse, but everyone minds their business because black people come first even if it is evil.
There is a limit to protests. There is a limit to heightened sensitivity over the past. There is a limit to ignoring internal responsibility. Proclamation of emancipation is a starting point, but every other way, as a people, to ensure more strength has to be sought. Civil rights are great but there is a need for the kind of economic success of Asia to be strong and not act or be seen as a victim because victimhood is limited.
There is a limit to entitlement for the sake of it, in a time when economic concerns are a priority for all. An individual success story is already old for a people with the majority on the lower economic and social side. A charity that benefits a small number of people in a small community is negligible for people. Speaking out for the sake of it, against oppression by other races, is also limited for a successful black. Whatever feel-good story on history or origin may promote fantasy, but ensures backwardness in reality.
As more blacks, everywhere, are getting prominent and failing in some positions, the other races have been able to lob criticisms without getting racial, something that many blacks do not attempt for each other.
There are streams of simplistic thinking that are static ends for a people, and breaking out of it, as a people is important for progress.
In Africa, most people keep saying the government is the problem or corruption. But there are different countries, structures, regions, states, governments, etc. yet there is hardly a major success story comparable with some in Asia.
Asian success is different people in different sectors making progress ahead and above the government so that government gets to adopt those into policy. If everyone with some responsibility or a few in different fields pursues major progress, the government does not have the power to crush all of them. The government would have to adopt or enable some. The excellence that made those would have them draw others. The government too would promote some policies whose success or adoption would meet the advancement the people are seeking, so it would work.
But what is obvious in most African countries is that the government often has the best answer, which is often really low, so from other sectors, things are lower, so most things are worse. And whenever there is a crisis, it is even far worse, because those who could try have failed, so left to the government, everything goes down.
Government is not the problem in any African country so long they have sectors and people who hold responsibility. Simplistic thinking says it is government.
Some have also said that they should use African religions for swearing officials into the office to prevent corruption. If enacted, some people would find a way around it, so it solves nothing.
There are desperate Africans who migrate to other continents, by the sea, desert and other ways, to find survival. Their move is parallel to professionals who run away too, because the place is bad, as a belief, not because they are actually in some dire situation.
There is a comment on brain drain, but brain drain is not a problem for professionals who are replaceable. Many of them would not do better than what government would do, so leaving or staying makes little difference, so no matter the certificates or certifications, it is not a brain drain if their work had not been consistently aiming at progress.
For many, success is seen as location or position when success is time or other things not related to material or resources. The things that are needed for progress, like courage, fairness, sincerity, honour, and selfless diligence for all that is not available, makes many to point to the wrong things.
[Psalm 144:4, Man is like to vanity: his days are as a shadow that passeth away.]
Latest News on Business Post