The Need for Digital Marketing Inclusion in Varsities' Curriculum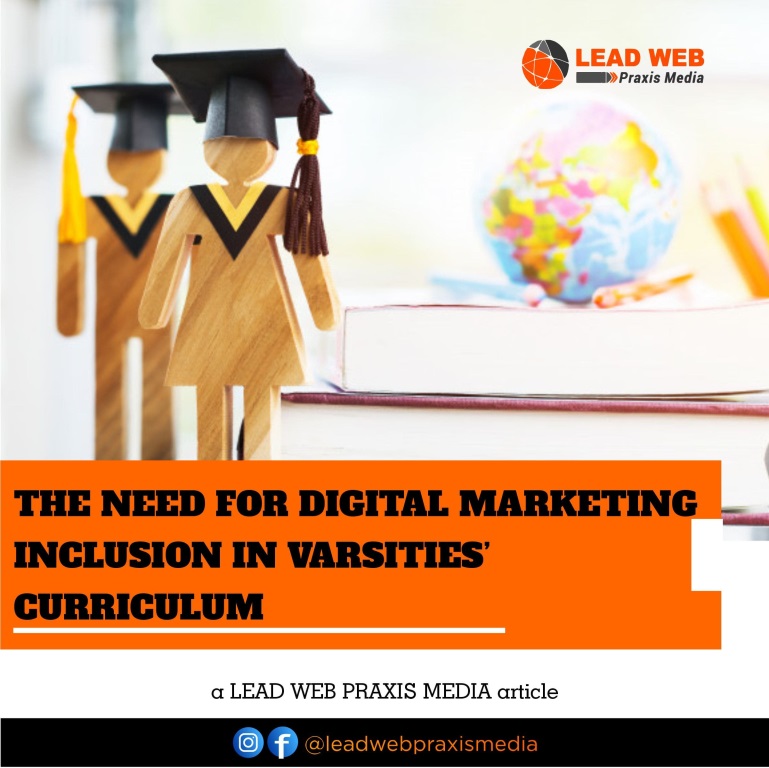 By Lead Web Praxis Media
The internet can boast of a high number of users worldwide and this is attributable to the development of technology.
This has led to the utilisation of digital marketing by a lot of businesses interested in reaching their target audience via the internet.
Simply put, digital marketing can be defined as the branch of marketing that makes use of the internet as well as the various digital technological devices for the facilitation and promotion of goods and services.
This concept is very vital especially if included in the curriculum of universities and here are the various reasons why such a move should be taken:
Fast-growing rates of digital markets
Digital marketing is experiencing a very rapid increase and statistics have revealed that this field of marketing will witness a very high number of job opportunities.
People are moving away from the analogue form of advertising and marketing and turning to more digitized options.
Introducing digital marketing as a course in the curriculum of universities across the country would be a step in the right direction. It will expose the students to an early learning experience in digital marketing and better equip them for this newly evolving field.
High profit
Digital marketing is believed to have one of the highest return on investment (ROI) in the marketing field. In a general sense, this means that a lot of companies are utilising this marketing strategy to push their products and services to their target audience.
Social media marketing as well as content marketing are best known to produce a very high ROI. Email marketing is also known to have a good conversion rate. The students would be taught the various types of digital marketing and they will also get the opportunity to choose the best digital marketing platform to use.
Active online shoppers
About 84 per cent of internet users would prefer to read reviews about certain products and services which will inform their buying decision. Google has about 3.5 billion searches carried out each year and most of these searches relate to businesses.
Most of the times, these searches are geared towards the purchase of goods and services rather than mere informational purposes about the businesses. These shoppers are always impatient with these searches and often don't go past the first 5 pages of Google or any other search engine. This is the reason why most businesses adopt Search Engine Optimisation (SEO) strategies. Students can learn more about SEO if digital marketing is introduced in the university's curriculum.
Boost in economy
This is one of the important benefits of digital marketing that cannot be overlooked. Some people are still making use of the traditional marketing mediums which includes flyers, newspaper, TV and radio adverts in trying to put their businesses out in the visibility domain.
The truth of the matter remains that these approaches have a different impact on business. If students are able to understand and learn about the various aspects of digital marketing in the university, there is a higher chance that some of the traditional approaches to marketing would be jettisoned and online marketing would be adopted which will, in turn, boost sales and the economy generally.
Versatility and digital skill gap
Once a student is able to master the top roles of a Digital Marketer, he or she will be exposed to a wider range of skills that may be related or not. It is important to note that there is a very high demand for people that possess digital marketing skills.
There are a lot of online skills which most people lack and this is often referred to as the skills gap. It is not strange to find out that certain persons that possess one skill might not be able to complete certain projects or jobs because of the fact that they don't possess certain skills too. Well, that is different from digital marketing because, with it, you can be able to up-skill your knowledge about trending technologies
Digital Marketing is very vital to the growth of every business owing to the latest trend in technological advancement. Early exposure to this area of online marketing would be the best for the growth of businesses across the country and the economy generally thereby the need for introducing digital marketing into the curriculum of universities.
We strongly suggest Digital Marketing inclusion in varsities globally.
Usman Alkali Baba and the Nigeria Police of Our Dreams
By Jerome-Mario Utomi
The first duty of a police officer is to secure his/herself-Anonymous
According to the sage, people frequently rewrite history to increase self-esteem and to clear their consciences of guilt for historical misdeeds. Historical revision can also go the other way, as historian's attempts to discredit figures from the past.
Yet, despite the validity of the claim, the latest history made by Usman Alkali Baba, who was on Tuesday, April 6, 2021, appointed as Nigeria's acting Inspector General of Police (IGP), cannot be likened to any of the above considerations.
Aside from demonstrating that ordinary calculation can be upturned by extra-ordinary personalities, Usman Alkali Baba's appointment more than anything else stands as an emblematic attestation that history in any field of endeavours is reserved for those that are interested in breaking new grounds to increase their wealth and well-being and that of their followers.
Without a doubt, the feat is currently acknowledged with torrents of applaud,
But oddly, this opinion piece, for all intents and purposes, is not congratulatory message-focused. Rather, it dispatches a message geared towards achieving the following objective; namely, reminds the new IGP of existing odds against the force that will demand new policies, reforms and strategies to correct; develop significant ground to tackling the job of building a police force of our dreams and assist Usman Alkali Baba to recognize that it takes a prolonged effort to administer a group like the Nigeria Police Force, well and change their backward habits.
In view of the above demands, the question may be asked; who is Usman Alkali Baba? How clear are his goals? Is he laced with sharp visions needed to achieve these prime objectives?
Available information in the public domain reveals that he was born on March 1, 1963, in Geidam Local Government Area of Yobe State. He enlisted into the Nigeria Police on March 15, 1988. He holds a Teachers' Grade II Certificate from Teachers College, Potiskum.
Mr Baba obtained a Bachelor of Arts degree in Political Science from the University of Maiduguri and a Masters in Public Administration (MPA) from Bayero University, Kano. Until his appointment as the acting IGP, he had held several positions in various commands of the force.
Except for peripheral reason(s), it will be hard not to describe someone with the above achievements as a hero. More particularly when one remembers that with sharp vision and clear goals, he rose but steadily from grass (a Teachers' Grade II Certificate from Teachers College) to grace (a Masters in Public Administration (MPA)).
That notwithstanding, it is important to draw the new IGP's attention to two realities. First, that the inherent challenge with the Nigeria Police Force is more of perspective. The grouse against Nigeria Police Force by Nigerians is predicated on not what the force intends to or capable of doing but what they are doing presently and whether it is in the best interest of Nigerians.
The second and very fundamental is to remind the new force helmsman that the credibility of leadership can only be established through action and not words.
As argued elsewhere, such action refers to deeds that distinguish a leader who considers his followers a foremost asset and not one who looks at them as a burden.
There is a world of difference between a leadership that is based on love and respect, and one that is based on fear. All that is needed in order to reach this goal is to show our people the right direction and nurture their potentials, for innovation, creativity, self-confidence, determination and leadership, hose who leads from the top of the pyramid ends up leading only those on top, which is not how an exclusive development exercise should be carried out.
There are more specific and worrying concerns.
Going by commentaries, Nigerians and of course the global community are particularly unhappy that Nigeria Police Force with so many outstanding personnel and hitherto, among the best across the world when it comes to providing security, combating terrorism, armed robbery, kidnapping, cybercrimes and several other insecurities, have suddenly for yet to identified reason(s), allowed the high standard the British left them to be lowered.
From the raging wave of kidnapping, banditry and terrorism resonating in the North-East to North-Central, South-West to South-South and finally to South-East geopolitical zone, where police stations/formations have been sacked or torched by hoodlums and arms and ammunition carted away and some killed, innocent Nigerians are apprehensive that if such aggression by hoodlums/bandits could be visited on different police formations, it simply means that the lives of the ordinary citizens are no longer secured.
There is another image challenge that urgently needs to be addressed in order to build a police force of our dreams.
Over the years, the Nigeria Police Force has sustained a public enlightenment campaign designed to assure Nigerians that the policeman or woman is his or her friend, but in reality, Nigerians are in disagreement with such a position.
As captured by a Nigerian-based news magazine, 'whoever have had one thing or the other to do with the police will readily tell you that a policeman or a policewoman is not a friend but also patently devilish and incorrigibly corrupts'.
Such fears cannot be described as unfounded as every threatening situation feed mistrust and lead people to withdraw into their own safety zones. Mistrust and fear weaken relationships and increases the risks of violence, creating a vicious circle that can never lead to a relationship of peace.
While this is being internalized, there is yet, another concern, this time around from a global platform that will help create the credibility of leadership.
It is a report dated Monday, October 19, 2020, published by the Chatham House, England. It among other worries noted that the federally controlled Nigeria Police Force with about 371,800 officers, is endemically corrupt, underfunded, understaffed, inadequately trained and being outpaced by the manifold internal security challenges of a country with an estimated population of more than 200 million.
The report particularly lamented that some personnel appear to operate free of accountability and has become notorious for operating in the same clandestine and violent manner as the criminal groups it was created to combat.
Restoring the confidence that the Nigerian Police Force has the capacity to protect its personnel and all Nigerians should be your utmost responsibility.
However, it is equally obvious that such will be difficult and more doubtful of success if you present yourself as all-knowing, more intelligent or good looking than other stakeholders. But any leader that applies the virtues of humility and prudence will come out powerful, secured, respected and happy.
Therefore, as a flood of congratulatory messages continue to flow into your home; two lessons need to be committed to mind. The moment portrays you as lucky.
But like every success which comes with new challenges, the appointment has thrust yet another responsibility on you- an extremely important destiny; to complete a process of rebuilding the Nigeria Police to its former/enviable position which we have spent far too long a time to do.
Secondly, you must study history, study the actions of your predecessors, to see how they conducted themselves and to discover the reasons for their victories or their defeats so that you can avoid the latter and imitate the former. If you are able to correct the above challenge; it will be your most powerful accomplishment for earning new respect and emulation and if you are not, it will equally go down the anal of history.
Jerome-Mario Utomi is the Programme Coordinator (Media and Policy), Social and Economic Justice Advocacy (SEJA), Lagos. He could be reached via jeromeutomi@yahoo.com/08032725374.
The blockchain brings new financing options to the business market. For example, Bitcoin Cash casino has adapted to only using cryptocurrency. This way, it makes it easier for their customers to deposit and withdraw in a BCH casino. Entrepreneurs have taken note of this and are looking to invest more in crypto than in fiat markets.
Latest News on Business Post