What Happened to Transparency?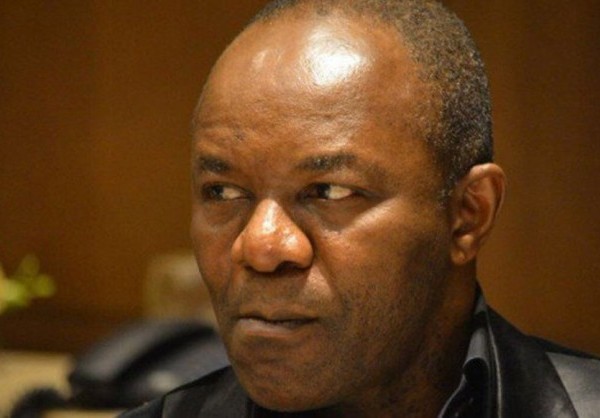 By Simon Kolawolelive
At the annual Nigerian jamboree to the Offshore Technology Conference (OTC) in Houston, Texas, Dr IbeKachikwu, the Minister of State for Petroleum Resources, told a "world press conference" on May 5, 2017 that Nigeria's refineries would soon have new investors.
He said 26 investors had indicated interest in the epileptic refineries. "By September, we will unveil the investors for the refineries," the minister said smoothly, typically. "When we came onboard, the refineries were not working but as we speak, we have sizeable investment portfolio for them to an extent that we don't know who to partner with for the investment."
Let's say I didn't go to school at all. Or let's say it was evening school that I attended. These would still be my takeaways from the minister's proclamations: one, our refineries are now in a position to attract investment; two, 26 investors have indicated interest in taking over the refineries (on a repair, operate and maintain, ROM, agreement); three, we have not taken a decision yet because there are so many suitors to choose from; and four, we will announce the favoured investors by September. Without attending Harvard Business School, I would still conclude that it appeared the process was going to be competitive and transparent.
On May 11, 2017 (six days later, right?) Mr Wale Tinubu, the CEO of Oando Plc, told the Nigerian Stock Exchange (NSE) that the group had received approval of the government to "repair, operate and maintain" the Port Harcourt Refinery together with "our partner" Agip, a subsidiary of ENI, the Italian company indicted in the Malabu/OPL 245 affair.
Tinubu said: "We plan to increase the refinery capacity from 30 percent to 100 per cent."
Great news, as far I am concerned. We need the refineries back as soon as possible; we have had enough of the endless TAMs gulping billions of Naira and spewing out virtually no products for decades.
Now this is where I need your help. The last time I checked, with the help of Google, May and September are different months. There are June, July and August in-between. With the help of Google, I also discovered that the gap between when Kachikwu spoke in Houston and when Tinubu spoke in Lagos was a whopping six days — or, to make it simpler, less than one week. There are usually four weeks in a month, and from May 5, when Kachikwu spoke, to September, there are 17 weeks, according to the all-knowing Google. With Tinubu's disclosure, should we assume that May is the new September? Or that September came early for Oando, Agip and Kachikwu?
But I think Google is overrated. There were so many questions it could not answer. For instance, I asked: "Is Oando among the 26 investors Kachikwu boasted about in Houston?" I could not make head or tail of the results. Google came up with "FOX 26 Houston KRIV". Nonsense. But I got more gibberish for other questions: did Oando and ENI send in a bid? Was it an unsolicited bid? Was it selective tendering? If it was competitive bidding, how many bids were received for Port Harcourt? How much did Oando/ENI bid? How much did others bid? How much did the bidders promise to invest? How many years will the ROM run? Are there concessions for the new operators?
I can understand why Google got stuck — that almighty search machine likes transparency. If you do not make your information public, it cannot make it public for you. The best, or should I say the worst, Google would do is to suggest answers that it thinks are related to your questions, even when there is no connection whatsoever.
If you Google most of the major concessions and major contracts awarded by this government, you will get irrelevant answers on the process. For the same reason: transparency is very scarce in these major deals. We just wake up one day and hear that one company has been awarded a job. Not a word on the process.
Don't get me wrong: I'm not saying Oando should not take over the Port Harcourt Refinery. I have devoted a significant part of my column-writing career to promoting the cause of Nigerian companies. I believe that one day, made-in-Nigeria will be enjoyed all over the world. I want Nigerian companies to fly our flag honourably. Even though I have been called names and subjected to sickening innuendos for promoting Dangote, Globacom, Oando and Innosons, among others, I am not about to repent. Americans are proud of their Apple, Microsoft and Chevron, and my dream is that our people and our companies will become global brands too.
That said, though, I am very worried about an emerging pattern in this administration. President Muhammadu Buhari campaigned on the strength of correcting the mistakes and misdeeds of the previous government, but I am seeing too much repetition for it to be coincidental. There is too much secrecy in the way many important things are done, and corruption, need we say, thrives on secrecy.
Take away competition, take away transparency, take away accountability, and you have a perfect recipe for corruption. We cannot be sealing deals under the table without revealing the details to Nigerians and then claim we are building an open society.
We just woke up one day to learn that GE had secured the concession to take over the railways. How did it happen? What are the details of the deal? Is this the best possible deal Nigeria can get? We were just watching TV one evening and learnt that the federal government had finally signed a renegotiated concession agreement with the Global Steel Holding Limited (GSHL) for Ajaokuta Steel. Up till today, we don't know the details. Ask questions and what you get as answer is: who paid you to ask? As a journalist, I'm used to the blackmail. I would have quit this job the day I joined if I had to pay attention to personal attacks.
By the way, I know a bit about the procurement options. I know of "sole sourcing", where you go to one provider only because no other provider does it — like buying a Rolls Royce from the maker. "Selective tendering" allows you to approach a few providers who meet certain criteria. There is "repeat procurement", where you return to earlier provider because of time constraints and because they did a previous job well. All these need strong justifications because you are restricting competition, which is a major element of procurement. And then there is "competitive bidding", where you throw it open to all. In all, Nigerians deserve to know the process adopted.
Get me right. I am not saying anything illegal is being done in the case of the Port Harcourt Refinery. It just lacks transparency. That's my point. And what about other moral issues? ENI again? As I write this, many Nigerians are being prosecuted or wanted by the EFCC for their involvement in the OPL 245 deal. They are being accused of taking part in an elaborate bribery scheme. But ENI, which is at the centre of it all and is being prosecuted by an Italian prosecutor for its role in the $1.3 billion affair, is cornering more deals in Nigeria without getting as much as a slap on the wrist. The impression being created is that our anti-graft war is very narrow.
I sympathise with the government over the limitations imposed by procurement rules, particularly the constraint of speed, but the process was designed for a purpose. More so, this government has been in power for nearly two years, which means a lot could still have been accomplished over the years in spite of the constraints. And, remember, there are many options that can shorten the process which the government has been using for a while now. The biggest headache, though, is that there is too much opaqueness for us to conclude that transparency is a guiding principle. The chaos over the concessioning of Port Harcourt Refinery is a very good example. Dissonance.
Checkmating The LGBT Incursion In African Politics: The Nigerian Case Study And Consequences
By Kwame lbrahim
The number of Lesbians, gays, bisexuals and transgender (LGBT) persons in Nigeria, though largely undocumented officially, has continued to rise exponentially, especially among teenagers, youths and adults.
According to several projects related to fact-finding research and spontaneous polls conducted in some institutions of higher learning and amongst clusters of young people in social media groups and platforms, this is common everywhere but more pronounced in cities of Lagos, Kano, Port Harcourt, Sokoto, Abuja, Maiduguri, Ibadan, Kaduna and Owerri.
This is even spreading all over the country at a growing rate despite the legal statutes and social responses, which have clearly red-flagged the queer preference and defined homosexuality as illegal in Nigeria and punishable by up to 14 years of prison in the conventional court system.
Nigeria is a largely conservative country, and the very Western proclivity towards openly embracing gay rights and LGBT penchants are deemed not only as anathema but also an unacceptable negation and disrespect for the very foundation on the mores and decency which its cultural, religious, traditional and secular communal existence have been built and have continued to thrive over the years.
As Nigeria evolves into a more post-modern and more globalized society, credible findings have revealed that the fundamental threat that this surge in queer attitude poses for its secularity is disturbingly manifest in the deliberate and determined effort by LGBT advocates to take over the political, legislative process in its 2023 elections.
The basic aim of such financiers is to subsequently secure sufficient representatives in its National Assembly to push for and promulgate the law legalising and legitimizing homosexuality.
In the past, such an attempt was resisted by communities in Kenya through the support of community leaders and its government, but the Nigerian situation seems different because of the present unholy silence that has greeted many aspirants for senatorial and House of Representative positions of some political parties that have well known LGBT sympathizers and practitioners as their candidates.
This is indeed a worrisome phenomenon which, if allowed to become a reality, will not only erode the very fabric of Nigeria's original existential identity but would dangerously affect the acceptable balance of decency and straight relationship, which have been the hallmarks of a majority of traditional families in Nigeria and Africa.
There is no gainsaying the fact that Nigeria society will be confronted with dire consequences if this queer LGBT advocacy gains traction in its National Assembly, especially when such a law would embolden the gays and lesbians to openly challenge and even violently rubbish any real or perceived rational and normal counter-argument against this quite uncharacteristic behaviour in its society.
Furthermore, there is no doubt whatsoever that a law legitimizing LGBT tendencies would result in uncontrolled homophobia, which will radically disrupt peaceful existence and dislocate many straight people, who will be subjected to unprovoked assaults by those gloating to endorse the new legislation on the streets, schools, bars and restaurants, churches and other places where the need to impose the law would be deemed necessary and patriotic.
This sad intent through politics by introducing and sponsoring LGBT members into the National Legislative System of Africa's most populous Nation will, of course, come at a great social, existential cost and unleash in its wake major destructive consequences to all African societies, the Nigerian nation and most developing communities of the world.
Against the backdrop of an anticipated backlash of violent and berserk orgies of unprovoked violence by members of the LGBT community, who had hitherto felt constrained, the need to sensitise the general public through the various channels of communication becomes highly recommended and inevitable, especially in recognition of the fact that this behaviour and the attendant defensive fightback, will definitely escalate if such is not checked at this 2023 election period in Nigeria.
All well-meaning Nigerians must act swiftly at this point of the electoral and voting process, where all the gains already achieved from the existing bill prohibiting and stipulating penalties for such queer practices can be reversed if they allow the pro-gay and LGBT sympathizers to dominate the National Assembly with their presence as elected Representatives as they would have a voice on the floors of the two parliaments to destroy its moral standards and religious beliefs.
The accommodation, maturity, peaceful, harmonious coexistence and decency which exist in Nigerian society would all be eroded once the legislation to legalise same-sex and LGBT relationships are achieved. A stitch in time saves nine. This is a time for community, traditional and religious leaders to speak up. This is the time for the electorate to grow in proper awareness of the consequences of making inappropriate choices.
Already, findings from credible investigations conducted to ascertain the next strategic ploy by the Queer community to accomplish the deliberate agenda of forcing legislation that would favour their cause indicate that the LGBT community in Nigeria has set its target at producing twenty House of Representative members from four states, namely: Sokoto, Kano, Rivers and Lagos, during the 2023 election.
In states where party tickets could not be secured in the two major political parties, sympathetic aspirants were sponsored with huge amounts of funding to join fresh parties with the clear intent to attract followers, which is a major catalyst for political mobilisation in a country like Nigeria.
Specifically, Kano, Lagos and Rivers states are said to have recorded huge success for this aspiration. However, the extent to which these plans work out would largely depend on the acceptance or rejection of these aspirants by the level of awareness created for the voting public, especially through their leaders.
Kwame lbrahim, PhD, is from the African Research Institute and Doctoral School of Safety & Security Services, Budapest, Hungary
Buying Naira with Naira, Rantings And Musings
By Prince Charles Dickson PhD
Under pressure we wail under pressure, under pressure black people under pressure, under pressure Nigerians under pressure. No food in we belly, no money in ah we pocket, no bed we lay we head.
The people dem are suffer, in ah ghetto, in ah city, everywhere dah me go oh, me see them, some are cry, some are die, some are weeping! Some are wailing! Everywhere dah oh eh. Under pressure we wail under pressure, under pressure everybody under pressure, Ras Kimono Under Pressure
You see the Nigerian looks upon Nigeria as a theatre and the entire population representing and manifesting the full spectrum of acts and actors. In this revelry, life is the theatre; the nation is the stage upon which we perform. The politicians and a few of us are the actors, very often mediocre. When stars appear, it is more often because a play must have a star rather than because the player is possessed of some dramatic genius. We saw it with Obasanjo, we saw it with Mr Yar'adua, and with the shoeless one, we are seeing it with the soon-to-end Mr Buhari. We falter and we muff our lines; sometimes our performance takes on an aspect of the grotesque-nobody takes this seriously because it is perceived as being the nature of the play. Our people become the audience.
I once watched with bemusement a deaf and dumb boy who caught his mom with a stranger in bed. When his father came home, the poor young boy was at a loss on how to communicate his discovery. After several futile attempts, the boy ceased trying. The father, on the other hand, patted him, walked into the bedroom and was scolding the wife, he asked her why she was sick, rolling on the bed and could not call for help from the neighbours or the family doctor.
I am not going to talk about the currency redesign brouhaha, because as good a policy as it supposedly is, again, it has exposed the gross behavioural nature of some Nigerians. The central bank, the commercial banks, the bankers, the PoS Operators and the general populace are guilty of varying degrees of culpability.
And, then the fuel palaver, the same one that once upon a time Minister of Information and Culture, Lai Mohammed, said: "This is the winter period. There is always more demand for refined products from petroleum during winter in colder countries. This is what we are experiencing now." Today, I guess it is winter in those places again. And at the black market, the usual trend, is certainly high petrol prices, unavailable and weak Naira, low minimum wage and increasing poverty.
Legislators are neither here nor there; governors' are not sure where they stand. In all the noise the product disappears. Transportation fare increases, food prices skyrocket…a nation that has a disconnect between the ruled and its rulers, like the deaf and dumb boy, his mother, the stranger and his father.
The fact is, our currency wahala, and fuel palaver are not the government's problem. What are we really subsidising? Is it the high cost of energy or unavailable petroleum products? Nigerians are tired, hungry and not in protest mode. There's no fuel scarcity but fuel criminality because leadership lacks the will.
Where are the refineries promised, all gone with the wind called Turn Around Maintenance! There is no PMS in the fuel station, but unregistered marketers/blackmarkers all have the commodity… a continued rationalisation and justification of absurdities like a commentator put it. It is even more disheartening when the intellectual effort and voice of elites are at the heart of such theatricals due to ethnoreligious cleavages birthed by economic disenfranchisement.
Our major problem is the lack of leadership manifesting itself in every facet of our human endeavours. Some of these areas may be fixable in future if we get the right people with the right policies but how do you fix the future of the mass population of our children who are not getting educated today?
The future of Nigeria is bright, and interesting but scary if we reflect on it. Teachers are illiterate; students can't go to school because schools are closed down, and alternatives are unaffordable, the change is bleak…
The fuel management chain is a lucrative cankerworm of corruption, our banking system is not exactly different, a serious government can yet tackle it, it's beyond committees and white papers. It's action; only action can stop the rot. Nigerians can, I believe we can but we don't know that we can, and doubt if we are ready.
The reason is simple…we are not just part of the problem, in some cases, we are the problem, when Sunny Okunsun sang;
Which way Nigeria, which way to go? I love my fatherland, o yeah, I want to know; Yes, I want to know. I love my fatherland, which Nigeria is heading to? Many years after independence, we still find it hard to start. How long shall we be patient still we reach the promised land? Let's save Nigeria, so Nigeria won't die. Which way Nigeria? Every little thing that goes wrong, we start to blame the government. We know everything that goes wrong, we are part of the government.
Which way Nigeria is heading to? Inefficiency and indiscipline is ruining the country now; corruption here there and everywhere, inflation is very high. We make mistakes in the oil boom, not knowing that was our doom. Some people now have everything, while some have nothing. Which way Nigeria, which way to go?
I end with this encounter, a politician was charged with profanity for calling an opponent a bastard: the politician retorted, "When I call him s.o.b I am not using profanity. I am only referring to the circumstances of his birth". What is the circumstance of the birth of Nigeria, can anything be done to bring destiny and fate to conjure up some good for us all?
The elites are having a field day, but with each fleeting moment, three facts of life beckon, the rising of the sun, the setting of the moon and truth, only time will tell.
AI Could Completely Transform Interactive Advertising
By Marcellus van der Merwe
In recent months, you have probably seen a plethora of image and text posts produced by artificial intelligence (AI) applications, with DALL-E and ChatGPT featuring as the most popular in their respective fields. For the curious-minded, you may well have already experimented with these or other AI apps. Inevitably, as is the case with any new attention-grabbing app, follows a lot of media speculation on how the application could transform a variety of jobs and industries. 
But what about interactive advertising? This is a question worth asking. The sector is, after all, poised to be worth $123.3 billion by 2030. Advertising has also been at the forefront and the driving seat of many major technological shifts that have defined the past two decades. Search and social media, in particular, owe much of their growth and profitability to advertising revenue while also forcing the industry to evolve in new and exciting directions.
AI has the potential to be similarly transformative. While many marketing companies already use AI for numerous functions, including data intelligence and analysis, it's also clear that marketing is just beginning its AI journey. In the coming years, AI could result in unprecedented evolutionary leaps forward for interactive advertising, especially in creative execution. 
Digging through the data 
With that in mind, it's worth reiterating how big a role AI already plays in marketing, with its ability to understand and analyse large amounts of data, in a condensed amount of time. Remember, to provide truly personalised experiences expected from advertisers, large amounts of data are required. However, the task of manually pulling apart data and extracting useful intelligence can be incredibly time-consuming and expensive. AI automates a lot of that heavy lifting whilst ensuring that data is kept accurate and up-to-date. 
As a result, marketers alike gain a clearer idea of which channels are able to best deliver against the spend placed on them, as well as the types of messaging working for which segments. This is highly beneficial for an industry that historically had a hard time demonstrating precise value. 
It's also worth noting that many of the platforms so successfully used by marketers are making successful use of AI. Spotify, for example, uses it to ensure its position in the market as the preferred audio streaming platform. AI analyses listener habits and builds custom playlists based on previous listening and serve them to the user on a daily basis, ensuring the music served is curated from previous preferences of audio chosen. 
The creative element
AI is already starting to go one step further. Increasingly, it plays an important role in helping marketers deliver creatively excellent, interactive experiences that meet the needs and wants of consumers.
A number of companies, for instance, are already making use of AI-powered chatbots to ensure their consumers are directed to the correct products or services. This approach recognises that marketing can play an important role in providing great customer experiences. It is also one that we can expect to see employed more frequently in the future, having been successfully applied to sectors as diverse as make-up and DIY.
But the text and image creation capabilities of applications such as ChatGPT and DALL-E could easily take those crucial steps further. The conceptualisation would still be done by humans, of course, but there is massive potential for a big shift in interactive advertising. Imagine, for example, being able to provide text, visual, and even audio-visual marketing experiences (the same AI tech used in deep fakes has legitimate uses, too) that are truly unique to every consumer who sees them.
With those abilities locked in, advertising agencies can surprise and delight customers in new and innovative ways. For example, with in-store or event activations, if consumers were able to see their own customised creative in just a few prompts, customers would feel like they've created something truly unique for their favourite brand.
Fostering individual connections
Ultimately, you have the potential to achieve a huge shift in how people perceive companies advertising to them. Whereas previously, questions may have arisen from consumers on exactly how companies know so much about them, instead now, they'd simply feel that a company actually 'gets' them as individuals. And essentially, instilling feelings of relatability and understanding is foundational to building the kind of real, meaningful, and lasting relationships that every company should strive for. 
It's a future vision on the cusp of becoming a reality. As such, it's something that all advertisers and marketers should be moving towards and striving to achieve from the get-go.
Marcellus van der Merwe is the Spotify Sales Lead at Ad Dynamo by Aleph
Latest News on Business Post