Please Forgive Evans 'Cos of Me and Our 5 Kids—Wife Begs
By Dipo Olowookere
The story of the arrested billionaire kidnapper, Mr Chikwudubem Onwuamadike, fondly called Evans last Saturday by police in Lagos is one that is refusing to fade easily.
Each day, a new twist is brought to the fore about the suspected kidnapper, who brought sorrow and tears to his victims and their families.
However, he and his family are finding it hard to withstand the heat some families went through while Evans ruled the game.
Wife of the man, Mrs Uchenna Precious Onwuamadike, has begged Nigerians to have mercy on her husband, who she described as a good man, promising that he would repent.
She spoke to Vanguard in a telephone chat from her base in Ghana.
My name is Uchenna Precious Onwuamadike, the wife of the Chikwudubem Onwuamadike who you call Evans. I am 31 years old. I got married to Evans at the age of 17 at Oraifite, Anambra State in 2004. He met me while I was coming back from lesson as a student of All Saints Secondary School, Oraifite and I was in class 6 going to take my West African Examination. After we met, I agreed to go with him because of my poor background. He told me his father married three wives when he was six years old and threw his mother out of his house. He said that one of the wives influenced his father to drive them out of his house also and they were forced to stay with outsiders.
Evans was taken to his grandmother who trained him. He told me his father accused the mother of being adulterous before driving her out of his house. Our marriage is blessed with five children. Our first issue is 12 years plus and her name us Udochukwu.
After we got married, he said I should stay with his mother in his village at Akanmiri, Umudim, Nnewi   to teach me how to be a good housewife.
I was there for three years before he took me to Lagos.   We were living at Satellite town in 2006 and after one year, he relocated us back to the village because he could not pay house rent. While in the village, he normally came to see us.
We spent three years in the village and relocated to Ghana. On our way to Ghana, we passed through Lagos and stayed at Benny Hotels in Festac where we spent two days before travelling to Ghana. He spent a month with us in Ghana before coming back to Lagos.
I was pregnant with our fourth child in 2010 when he left for Nigeria to come back in two months' time. After I gave birth, he came back four months later and was able to clear the accumulated bills we kept for him because I borrowed money from friends to clear hospital bill. When he came back, he complained bitterly that things were rough for him in Nigeria and that customs seized his goods. I was not aware that he was into kidnapping and all the criminal acts he is being associated with now.   All I know about his business is that he was into haulage, buying engine and spare parts for trucks and imports exhaust pipes. That was what he told me.
The reason he kept me in Ghana was because he said our children should get quality education. I have spent six years here and after I stopped hearing from him, I called and complained bitterly but he said I should stay for some time. I then called his friend, Okechukwu, who now lives in China. He told me that he has not been seeing him and that he spends most of his time with a girlfriend in Festac. When I called him to complain, he was angry with me and warned that I should stop listening to gossip.
He said that if I should return, I should go to his younger brother's house in Lagos until he was ready to get accommodation for us.
The brother was formerly living in Lagos but he is in Brazil now. So, when it was impossible to pay my children's school fees, I packed my bag and baggage and came back to Lagos with our children. We stayed at his brother's house at Agric, close to Trade Fair until he took us to a house in Magodo where he claimed he owed rent pending the completion of his own house there.
We have spent just one year in that house in Magodo. I have no idea of the type of business he was into but he told me that his friends overseas used to buy phones and jewelleries for him.
While in Lagos, i was idle and I pressured him to find something for me to do and he promised to do that.
Several times, I asked him to take me to his office but he said they move from place to place to offload goods in haulage business and share profits. I can't remember having any visitor in our house. It is only the agent called Sunny that helped us to pack into our house that I know.
At times, artisans come to do one repair or the other, that's all. I don't know any of his friends and if we were invited to parties, he would not allow us to attend. He told me that he has no friends and that he hates associating with people. I was always indoors because he warned me to beware of Lagos women that they are wayward. I was staying indoors and it was only when I was sick that he took me to a hospital in Ikeja. I always have BP and it makes weak. We went back to Ghana on the 6th of this month and he promised to join us in no distant time.
On the 9th, I called him to know when he would be coming and even the youngest of our children was crying, begging him to come as soon as possible and he promised to come.
In the afternoon, I called but he was not picking. I called again, there was noise in the background and the line was switched off. I then called the driver that took us to the motor pack when we were going to Ghana and he told me that there was a problem, that police came and arrested Oga and that they came with a fair complexioned lady.
When I heard all the allegations against him, I called his brother in Ghana, his mother, father and other relations but I could not get them. I then called their last born, a student at Oko Polytechnic but he said he had not spoken with him for long.
I was confused until I opened Niger news and Vanguard Websites. That was how I got the shocking news about my husband. I collapsed and later called my kids to inform them what I just read about their father. Since then, I have not eaten, I am still in shock. Our children could not believe what they were reading about their father. They are saying that he cannot do all the things they said he did. In fact, while we were in Nigeria, he had never slept outside our house.
My children were crying when they saw his bloody eyes and swollen face. Our condition was worsened when I saw my picture with him and our children on Facebook. I don't know where they got it. I have not been receiving money from him, I have never seen his money. The only thing I know is that there was a time he bought an expensive watch in Dubai and I wanted to know why he bought it when he could not open any business for me. He kept on teasing me, claiming it came from a friend. It was only when we wanted to travel to South Africa last year Christmas where we spent two years that he gave me N200,000 for the trip. I have never seen him as a rich man.
While with him, we made sure we had all we wanted to eat and that's all. I can't remember seeing any sign of affluence in him. He is not a proud man and he has been wearing one sandal and slippers for long now. He does not go for parties. In fact, I have never suspected him as a criminal. If I have been seeing any strange things, I would have suspected him. We have three cars, one Hilux, one grand Cherokee and an SUV.
The N20m they said he sent to me through transfer was given to one Hausa man to pay into an account in Ghana to be used in paying our rent and furnish the house in Ghana.   I know he banks with GTB only. Their staff used to visit us in the house. I am not aware that he has five girlfriends and I have never suspected him because he did not keep late nights.
It was shocking to hear about his girlfriends. He did not answer calls in my presence. I used to see his phones being charged but he normally switched them off. I always asked him why uses pin code to lock his phones and that he lived a secret life but he threatened to beat me if ever I touched any of his phones. I didn't even know the security pin. He would leave the house sometimes in the evenings with his phones and would come back between 8pm and 9pm. Most of the things I read about him are strange to me. As his wife, I should have seen the signs but I have not.
He has cancer and does not drink alcohol nor smoke anything.  I have never seen gun in our house. I don't know where they got those frightening guns. He has never told me he has another house at Igando.
Any time he went out, he always called to ask after the children and reassure me that he would be back soon. I am suspecting that whatever happened to him must have come from his father's second wife. I don't know what he did to him when he was young but he told the story.
He said that after their mother was driven out of the house, he was with his brothers playing outside one day when the second wife called him to pick a bucket and collect water for her. He was four years then, he picked the bucket, collected water and when he came back, she removed her dress and she was wearing only a bag made from animal skin on her waist. She brought seven small stones from the bag, gave to Evans and ordered him to pour the stones into the bucket to know if the gravel would rise (sail) on top of the water or not.
Evans said he did as she directed but the only thing the woman did was to take the bucket back and ordered him to go back and play with his brothers.
He said he told his father later but he said he was telling lies. I feel very bad because I did not know if he was doing all these or not.
Even if he was into all these, why did he not stop because of me and his children? All the time when we pray, he used to promise God that he would tell Him his story later in life. Here reads psalm 23 a lot.
Even his phone, he sets alarm for 12 noon to read psalm 23. He took part in our daily prayers in the morning, evening and night. He used to lead us in prayers. We attend Anglican Church. He has never given them money to show off. We used to give N5000 or N10,000 and the highest we have given so far was N50,000 when we baptised one of our children. I am appealing to the powers that be to spare his life (crying), as I speak now, I am kneeling down with my children, crying and begging for forgiveness. Have mercy on us. He did not know what he was doing. He did not know what came over him. I am ready to come back to Nigeria and plead on his behalf. What I am reading in the news is shocking.
Though, I have not heard that he killed anybody but all those he injured or took their money should please forgive him because me and my children. They should kindly forgive him, he will repent. God knows I will not be alive and see my husband doing bad thing and keep quiet. All his wealth should be sold off and given to his victims. Evans is a good man. He takes care of all his relations including the children of the second wife we are suspecting did this to him. He has just two houses in Ghana but I have never seen them. I saw the house on his phone.
Since I have been living with him, he has never injured anybody or beat me. He has milk of human kindness in his heart. He has not been harsh or wicked to anybody. He always advised us to be prayerful I (starts crying again) and complain bitterly any time I failed to pray. His neighbours also know him as a kind and generous man. Members of my family are worse hit by this ugly development. They said some people brought newspaper publications to show them about their in-law and they have been wondering if he actually did all that because he has been good to all of them.
I am from a very good, God-fearing family and if any of us had suspected this in him, they would have forced me out of his house for long. I am ready to come back and testify on his behalf. I will also like to see the Governor of Lagos state and explain the whole thing to him. They said he is rich but I have only N13,000 in my Diamond bank account. He does not give me money. He told me he will be paying N40, 000 into my account every month but after two months, he stopped, claiming that he was penniless.
Source: Vanguard
Court Acquits Jide Omokore of $1.6bn Fraud, Convict Two Others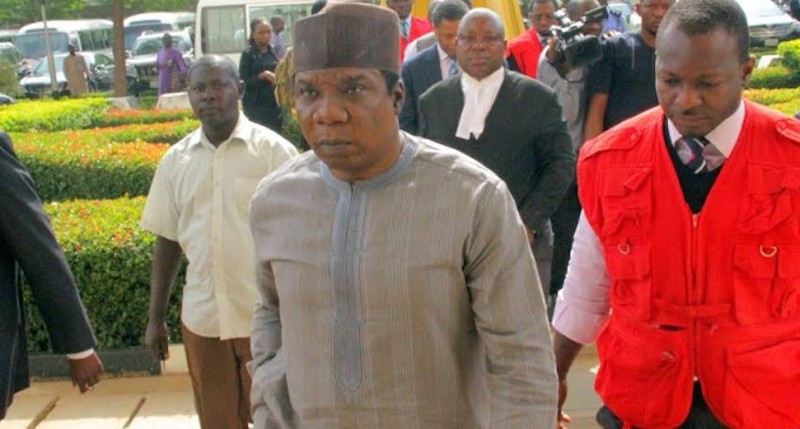 By Aduragbemi Omiyale
Mr Jide Omokore, an ally of former Minister of Petroleum, Ms Diezani Alison-Madueke, has been acquitted by Justice Nnamdi Dimgba of the Federal High Court sitting in Abuja.
Mr Omokore was accused by the Economic and Financial Crimes Commission (EFCC) of laundering funds to the tune of $1.6 billion.
However, at the ruling on Tuesday, February 7, 2023, Justice Dimgba held that the anti-money laundering organisation could not prove its case against Mr Omokore and two companies linked to him, Atlantic Energy Brass Limited and Atlantic Energy Drilling Concept Limited.
But two other persons linked to the matter, Victor Briggs and Abiye Membere, both former top officials of the Nigerian National Petroleum Corporation (NNPC), were convicted by the court today.
They were found guilty of "unethically collecting car gifts as public officials," in contravention of section 98 of the Criminal Code Act.
According to the trial judge, public officials must act at arm's length with private individuals, especially those that have business relations with their departments or agencies. They would be kept in the custody of the EFCC pending their sentencing on Wednesday.
In a statement issued after the ruling, the EFCC expressed shock over the acquittal of Mr Omokore, vowing to challenge it at the appeal court.
The agency dragged Mr Omokore and others to court, alleging that he used the Strategic Alliance Agreement signed between the NPDC and Atlantic Energy Drilling Concept Limited to swindle the NPDC and the Nigerian government of monies running into billions of dollars through the lifting of crude oil from some oil wells between March 2013 and May 2014.
The other defendants, who were senior management staff of the NNPC, were accused of conspiracy in inducing the NPDC to facilitate the lifting of crude by Mr Omokore, Atlantic Energy Brass Development Limited and Atlantic Energy Drilling Concept Limited; and receiving car gifts from Omokore, Atlantic Energy Brass Development Limited and Atlantic Energy Drilling Concept Limited.
"That you, Olajide Jones Omokore, Atlantic Energy Brass Development Ltd, Atlantic Energy Drilling Concept Ltd and Kolawole Akanni Aluko (now at large) between May 2013 and March 2014 within the jurisdiction of this court obtained by false pretence and with intent to defraud, 7,551,867 barrels of crude oil (Brass blend) valued at the sum of $823,75,189.95 from Nigerian Petroleum Development Company (NPDC), Nigerian National Petroleum Corporation (NNPC) and the Federal Government of Nigeria on the false pretence that you had funds (both local and foreign) necessary to support the Nigerian Petroleum Development Company Limited in petroleum operation for the OML 60,61, 62 and 63 and you thereby committed an offence contrary to Section 1(a) of the Advance Fee Fraud and Other Fraud Related Offences Act Cap. A6, 2010, Laws of the Federation of Nigeria and punishable under Section 1(3) of the same Act," one of the charges read.
Supreme Court Affirms Ahmad Lawan as APC Yobe North Senatorial Candidate
By Dipo Olowookere
The president of the senate, Mr Ahmad Lawan, has been affirmed as the candidate of the ruling All Progressives Congress (APC) for the Yobe North Senatorial District.
At a ruling delivered on Monday, February 6, 2023, the Supreme Court nullified the candidacy of Mr Bashir Machina.
Mr Machina and Mr Lawan had been at loggerhead over the party's ticket for the slot.
The Senate President had contested the APC presidential primary along with the eventual winner of the exercise, Mr Bola Tinubu, and was said to have pushed forward Mr Machina as a placeholder.
However, after he lost in his bid to become the presidential candidate of the party, he turned to Mr Machina, who refused to back down, stressing that it was his turn to represent the senatorial district at the National Assembly and that the Senate President never participated in the party's primary.
The number three citizen of the country had earlier accepted his fate, but his party took the matter up until today's judgement, which has restored his hopes of remaining in the upper chamber of the parliament.
Justice Centus Nweze, in the lead judgement, faulted the approach of Mr Machina in commencing the suit at the Federal High Court Damaturu division by way of originating summons and without oral evidence to prove allegations of fraud.
Boss Mustapha Not Working Against Tinubu—APC Group
By Modupe Gbadeyanka
A support group of the ruling All Progressives Congress (APC) known as the APC Mandate Defenders (AMD) has denied claims that the Secretary to the Government of the Federation (SGF), Mr Boss Mustapha, was working against the presidential candidate of the party, Mr Bola Tinubu.
In a statement signed by the National Publicity Secretary of APC Mandate Defenders, Mr Ifeanyi Emeka, the organisation said Mr Mustapha supports the candidacy of the former Governor of Lagos.
He stated that the allegations made against the SGF by another support group of the ruling party, Concerned APC Stakeholders (CAS), were false, describing Mr Mustapha as a well-respected party leader who has great respect and close relationship with Mr Tinubu right from when he was the Deputy National Chairman of the defunct Action Congress of Nigeria (ACN) for Northern Region and would not engage in any real or imaginary plot to sabotage the electoral chances of the APC and its candidate.
According to him, the SGF is preoccupied with the task of meeting the demands of the transitional period, which mostly rests on his office as a frontline secretariat for the presidency as the administration gradually winds down and does not have the time to work against Mr Tinubu.
AMD asked CAS to tell Nigerians how following due process in board appointments for federal government agencies amounts to sabotaging the electoral chances of the party and its candidate in the forthcoming presidential election.
Recall that the SGF had advised Nigerians to be wary of scammers who use his name and office to dupe people while promising them non-existing government appointments.
"Therefore, we urge Nigerians and party members across the federation to ignore the allegation against Boss Mustapha as he cannot be forced into providing appointments to people by threats of blackmails as such responsibility rests squarely on the desk of Mr President and Commander-in-Chief.
"Associating such frustration with the campaigns of the presidential candidate of our great party, Senator Bola Tinubu, by CAS is a diversionary tactic against the overall interest of our party and Nigeria as a nation," a part of the statement said.
Latest News on Business Post