SERAP Wants INEC to Publish Financial Details of Political Parties
By Adedapo Adesanya
In its latest move, the Socio-Economic Rights and Accountability Project (SERAP) has urged the Independent National Electoral Commission (INEC) to publish the reports on the accounts and balance sheets of every political party submitted to the National Assembly since 2015.
The group called on Mr Mahmood Yakubu, the Chairman of the body, to make available the request in a letter dated May 21, 2022, signed by SERAP deputy director, Mr Kolawole Oluwadare.
SERAP urged him to "urgently examine the books and records of financial transactions of political parties, and to make public the outcome of any such examination."
It also urged him to "provide details of the guidelines, and steps that INEC is taking to prevent vote-buying in the forthcoming elections in Ekiti and Osun states and 2023 general elections, and to prosecute vote buyers and other electoral offenders."
Recently, the All Progressives Congress (APC) collected N100 million for its presidential form while the opposition Peoples Democratic Party (PDP) collected N40 million for the same purpose for the 2023 elections.
The organisation also alleged that some leading political parties and politicians also spend between N250 to N14,000 to buy votes.
The organisation said: "Nigerians have the right to know about the accounts and financial transactions of their political parties, especially the major parties with a strong possibility to assume government in the future."
According to SERAP, "transparency and accountability of political parties is important to achieve greater transparency in public life, curb the influence of money in politics, promote a level playing field, and remove the risks to the independence of political actors and would-be public office holders."
SERAP also said, "It is both immoral and illegal to pay citizens to vote for a particular political party or candidate. Unpunished cases of vote buying and related electoral offences would continue to undermine good governance, the rule of law, moral values, as well as hinder citizens' participation in elections."
The letter, read in part: "When a political candidate decides to buy the support of the people rather than contest fairly for their votes, there are possibilities that such candidate will show a disregard for democratic rules and a disposition to adopt illegal means becomes inevitable.
"Vote buying and related electoral offences encourage poor governance and weaken citizens' capacity to hold their elected officials accountable for their actions.
"SERAP urges you to urgently take measures and to collaborate with appropriate anti-corruption agencies to ensure the effective prosecution of any outstanding cases of vote buying and related electoral offences allegedly committed in the context of the 2019 general elections.
"We would be grateful if the recommended measures are taken within 14 days of the receipt and/or publication of this letter. If we have not heard from you by then, SERAP shall consider appropriate legal actions to compel INEC to comply with our request in the public interest.
"The lack of transparency and accountability in political finance is seriously undermining the legitimacy and credibility of the democratic and electoral processes, and invariably contributing to denying the citizens the right to effective participation in their own government.
"The failure of political parties to comply with transparency and accountability frameworks would undermine citizens' trust in their political parties and lack of trust will inevitably destroy confidence in the system and decrease citizens' interest and participation in the democratic process.
"Elections are only one part of the democratic process, and a fair and effective electoral system must be founded in an adequate democratic infrastructure and responsibility of political leaders.
"According to our information, several political parties have for many years failed to submit their annual financial statements to INEC. Many political parties have failed to submit election expenses reports, and to disclose material contributions received from individuals and corporate bodies to the Commission.
"The Commission has also been apparently unable or unwilling to monitor, examine and publish these financial statements."
"Also, some leading political parties, politicians and other political actors reportedly paid between N250 to N14,000 to buy votes. For many years, allegations of vote buying (the payment of cash or gifts in exchange for voting) and related electoral offences have characterised elections and party primaries in the country.
"SERAP is concerned that despite several provisions of the Electoral Act (as amended), anti-corruption laws, and the country's international anti-corruption obligations, suspected perpetrators of vote buying and related electoral offences frequently escape justice for their crimes.
"However, INEC has consistently failed to exercise its powers and to provide the leadership that would promote collaboration with appropriate anti-corruption agencies to facilitate and ensure thorough, transparent and effective investigation of cases, and the arrest and prosecution of suspected perpetrators.
"Section 86(1) of the Electoral Act 2022 requires every political party to submit to INEC a detailed annual statement of assets and liabilities and analysis of its sources of funds and other assets and statement of its expenditure. Failure to comply is an offence under Section 86(2), which is punishable by imprisonment for a term of six months or a fine of N1,000,000 or both.
"Under Section 86(3)(4) INEC has the power to examine the records and audited accounts kept by any political party, and to publish the report on such examinations and audit in two national newspapers and Commission's website within 30 days of receipt of the results.
"Section 226 (1) of the Electoral Act 2022 also requires INEC to prepare and submit a report every year to the National Assembly on the accounts and balance sheet of every political party. Under Section 225(5), INEC has the power to give directions to political parties regarding their books or records of financial transactions.
"The Nigerian Constitution and international standards guarantee and protect the right of all qualified citizens to vote, in state as well as in general elections.
"The right to vote freely for the political party and candidate of one's choice is of the essence of a democratic society, and any restrictions on that right strike at the heart of representative government.
"The effective exercise of the right of qualified Nigerians to have a voice in the election of those who make and enforce the laws under which, as good citizens, they live can contribute to the enjoyment of other human rights, including to corruption-free public services, freedom of expression and digital and data rights.
"Public confidence in voting systems serves as an indispensable feature of a full and healthy democracy.
"Persistent failure to arrest and prosecute suspected perpetrators of vote buying and related electoral offences may ultimately undermine public confidence, the integrity of the country's elections, and lead to widespread disaffection with the electoral process."
CPPM Asks Buhari to Discipline HoS for Failure to Appoint Accountant General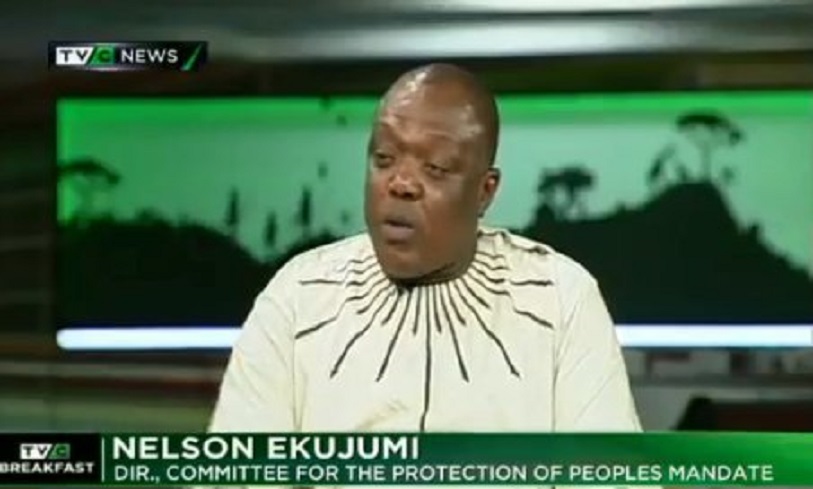 By Adedapo Adesanya
A civil society organisation, the Committee for the Protection of Peoples Mandate (CPPM), has knocked the Head of Service of the Federation (HoS), Mrs Folasade Esan, for allegedly undermining a presidential directive to commence the process of appointing a substantive Accountant General of the Federation.
The group, in a statement made available to Business Post on Sunday, described the move as "irresponsible, provocative, reckless, condemnable, unacceptable and a threat to national security."
The statement signed by Mr Nelson Ekujumi, its Executive Chairman, said, "We are aware that sequel to the presidential directive with regards to the appointment of a substantive Accountant General of the Federation, following the indefinite suspension of the former Accountant General of the Federation, Ahmed Idris, for fraud of which he is in court to answer charges as preferred by the Economic and Financial Crimes Commission (EFCC), the HoS in a memo dated June 21, 2022, announced the commencement of the process for the appointment of a substantive AGF."
The organisation acknowledged that applications were called for from qualified accountants from the mainstream civil service in the pool of Accountant General of the Federation with set criteria for eligibility and subject to security checks but "surprisingly, before the conclusion of the process in line with presidential directive and the HoS memo, Mrs Folasade Esan stalled the process for reasons which amounts to a violation of her oath of office and an affront to constituted authority."
"Shockingly, with a motive, which has an interest far and above national interest written all over it, the HoS in a memo to the President dated October 13, 2022, while acknowledging Mr President's directive conveyed via the Office of the Secretary to the Government of the Federation letter dated June 16, 2022, stated that…
"At the close of submission of applications and security clearance by appropriate agencies, a very negligible number of directors met the criteria. The number will not provide a large pool to engender a competitive process at the end of which a substantive Accountant General of the Federation could be appointed". She then went ahead to propose to Mr President the extension of the process to the first quarter of 2023 just to satisfy her personal interest and motive.
"This position of the Head of Service of the Federation is rather strange, a perversion of civil service rules and an affront to the authority of Mr President by trying to be clever-by-half. We want ask that under what provisions of the civil service rules did Mrs Folasade Esan derive the powers to single-handedly determine the number of applicants who have met set criteria and security clearance for appointment as negligible? Also, we need to ask that what number of applicants can be described as negligible according to the civil service rules of Mrs Folasade Esan?" it quipped.
The civil society organisation went further to describe the action of Mrs Esan as a contravention of the oath of her office, which amounts to an abuse of official position and public trust for personal gain far and above national interest and security, which is irresponsible and condemnable.
"Thus, we at CPPM wish to draw the attention of Mr President, who is a strong advocate for due process and the rule of law, to the actions of Mrs Folasade in trying to pervert civil service rules and undermine constituted authority and national security," it continued.
CPPM then demanded the immediate presidential rejection of Mrs Esan's request for "abortion of the process for the appointment of a substantive Accountant General of the Federation and extension to allow for her personal interest over national interest."
It also called for disciplinary proceedings against her for the perversion of civil service rules, abuse of public trust, and an affront to a constituted authority which is unacceptable and condemnable.
NDLEA Arrests Teacher for Recruiting Mules for Drug Cartel
By Adedapo Adesanya
Operatives of the National Drug Law Enforcement Agency (NDLEA), at the weekend, disrupted the activities of a major cocaine syndicate in Lagos following the arrest of a 56-year-old man, Mr Lawal Lateef Oyenuga, who was caught on a mission to deliver 400 grams of class A drug concealed in a pair of palm sandals in Jeddah, Saudi Arabia.
This led to the swift follow-up arrest of a wanted suspect, Mr Wasiu Sanni Gbolahan, popularly known as Teacher, who the authority says recruits mules for the cartel.
NDLEA operatives attached to the screening point of the Murtala Muhammed International Airport, Ikeja, Lagos had on Thursday, November 24 intercepted Mr Oyenuga with a pair of black palm sandals packed in the luggage he was going with to Jeddah, Saudi Arabia, via Addis Ababa on an Ethiopian Airways flight.
A thorough examination of the sandals revealed they were used to conceal two parcels of cocaine weighing 400 grams. This is barely a week after a 56-year-old widow and mother of four, Mrs Ajisegiri Kehinde Sidika, was arrested at the airport over her attempt to traffic 400 grams of cocaine concealed in her footwear to Makkah, Saudi Arabia, on board a Qatar Airways flight.
In his statement, Mr Oyenuga claimed he was recruited to traffic the drug by Teacher, adding that he was first given some pellets of cocaine to swallow, but when he couldn't do that, then he was given the ones concealed in the palm sandals.
He said he resorted to the criminal trade to raise money to pay an examination fee for his daughter in Senior Secondary School class 3.
The agency's database reveals Teacher has been linked to previous attempts to traffic cocaine to Saudi Arabia and Dubai, UAE.
He was earlier named as the one who recruited a BRT driver, Mr Bolajoko Muyiwa Babalola, for Lagos socialite and owner of Adekaz Hotels, Mr Ademola Afolabi Kazeem (a.k.a Alhaji Abdallah Kazeem Muhammed) to traffic drugs to Dubai. Mr Bolajoko was arrested on June 27 while taking 900 grams of cocaine to Dubai while Ademola Kazeem was nabbed on Thursday, November 10, barely 10 days after he was declared wanted by NDLEA.
A follow-up operation in the early hours of Friday, November 25, led to the arrest of the kingpin, Teacher, who specialises in recruiting mules for drug barons in Lagos and its environs at his residence located in the Ikorodu area of Lagos. The 64-year-old man is a housing and property agent with seven children and four wives, one of whom is now late.
In another follow-up operation to the seizure of 1.10kg cannabis concealed in bottles of body cream going to Dubai on September 9, the actual owner of the consignment, Mr Wordu Hopewell Chukwuemeka, who runs a boutique business in Port Harcourt, Rivers State, was arrested in the Garden City on Thursday, November 24.
Similarly, operatives attached to the NAHCO import shed of the Lagos airport on Tuesday, November 24, intercepted a consolidated cargo from Johannesburg, South Africa, via an Airpeace Airline flight.
The cargo contained different items, including cloths, cereals, baby toys, drinks, and a set of two big black speakers, which were used to conceal 25 parcels of Loud variant of cannabis, with a gross weight of 5.5kg.
In a similar vein, operatives attached to the SAHCO export shed of the airport the same Tuesday intercepted a carton of food items used to conceal 500 grams of cannabis going to Dubai, UAE, while the owner, Uzoma Kingsley, was promptly arrested.
In a related development, an attempt by an organised criminal group to traffic 131kg of Ephedrine, a dominant precursor chemical for the production of Methamphetamine, to Congo Kinshasa through the SAHCO export shed of the airport was foiled on Monday, November 21, by NDLEA operatives in conjunction with Aviation Security (AVSEC) officers of the Federal Airport Authority of Nigeria (FAAN). Two freight agents, namely Mr Nwazuru Georgewill and Mr Saheed Muritala, linked to the bid, were promptly arrested.
Meanwhile, an attempt by a suspected drug trafficker, Mr Udogwu James Johnson, facing multiple charges of drug offences, to flee the country after he jumped bail has been thwarted by NDLEA operatives at the Port Harcourt International Airport, where he was arrested on Friday, November 25.
The 51-year-old suspect was already facing trial at a Federal High Court in Lagos before he was arrested again on Saturday, April 9, in Port Harcourt for importing 5.48kg cocaine concealed in lotion plastic bottles sealed with candle wax.
He was granted bail by a Federal High Court in Port Harcourt on Wednesday, November 23, over his latest offence while the Lagos court had issued a warrant of arrest against him for jumping bail over his case in Lagos.
At the Nnamdi Azikiwe International Airport (NAIA), Abuja, the move by a Brazilian returnee, Iroegbute Ejike Francis, 46, to smuggle 4kg cocaine soaked in towels stuffed in his hand luggage into the country was foiled on Thursday, November 24, by NDLEA officers who arrested him, upon his arrival on a Qatar Airlines flight from Brazil -Doha-Abuja.
No fewer than 5,851.3 kilograms (5.8 tons) of cannabis Sativa were seized from dealers across five states in the past week, including a notorious cripple, Ibrahim Yusuf, 45, who was arrested on Monday 21st Nov. at Gasline, Ifo, Ogun state with 4kg of the psychotropic substance, while a total of 36 bags weighing 570kg of the same substance were recovered in another raid at a forest in Ogunmakin town, Obafemi Owode LGA.
In Edo, operatives on Tuesday, November 22, evacuated 141 bags of Cannabis Sativa with a gross weight of 1,884 kg (1.884 tons) stored in a warehouse in Okpe forest, Akoko Edo LGA, while on Thursday, November 24, NDLEA officers arrested Ismaila Abubakar, 50, at Okada junction, Ovia South West LGA with 22 bags of C/S weighing 216.5kg. A day after, operatives also seized 112 bags of C/S stored in Obi Camp forest, Ovia South West LGA weighing 1,512kg.
This was also followed by another seizure of 45 bags that weighed 529.5kg, while officers equally intercepted a Toyota Sienna bus with Reg. No. BDG 598 FZ (Lagos) loaded with 566.5kg cannabis going to Onitsha, Anambra State, and a suspect, Mr Sunday Mathias, 30, was arrested with the seizure.
Meanwhile, in Ondo state, NDLEA operatives stormed Oke-Ogun forest on Friday, November 25, where a Mr Onyebuchi Chime was arrested with 88kg cannabis, a gun, and some ammunition while they also recovered 149.5kg of the substance at Ipele forest. Not less than 12.42 hectares of cannabis farms were destroyed, and 195kg of processed weeds of the substance were recovered at Efon Alaye, Ekiti State, where two dealers, Mr Richard Ebong and Mr Nze Abraham, were arrested on Saturday, November 26.
In Oyo state, operatives arrested a 27-year-old Mrs Adebayo Rahmat on Thursday, November 24, at Sabo-Ilupeju, Atiba LGA, with 136.3kg cannabis, while no fewer than 84,000 pills of Tramadol tablets were recovered from a suspect, Mr Muhsin Abdullahi in Bodinga area of Sokoto state same day.
In another development, 16,000 pills of Exol-5 and D5 concealed in palm oil were seized from Lawal Rabe, 24, on Friday, November 25, at Kokami village, Danta LGA, Katsina, while a total of 54,500 tablets of Tramadol and Exol-5 were seized from the duo of Mr Basiru Muhammadu and Mr Saidu Yusuf in the same area on Saturday, November 26.
Compel Buhari to Probe Oil Theft—SERAP Begs ECOWAS Court
By Adedapo Adesanya
The Socio-Economic Rights and Accountability Project (SERAP) has taken President Muhammadu Buhari's government to the ECOWAS Court of Justice over his alleged inaction on illegal pipelines and oil theft in the country.
In a statement on Sunday, the organisation said it filed a lawsuit against the current administration over "the failure to probe the operations of illegal oil pipelines between 2001 and 2022, to name and prosecute those suspected to be involved, and to recover proceeds of crime."
SERAP Deputy Director, Mr Kolawole Oluwadare, said the suit was filed by the group, Chief Eric Dooh, (who is suing for himself as a leader of the Goi Community in Gokana Local Government Area of Rivers State, and on behalf of the Goi Community), and 15 other concerned Nigerians.
According to him, the suit followed recent reports of the discovery of at least 58 illegal oil pipelines used to steal the country's oil wealth.
"The stealing is reportedly carried out through the illicit pipeline connected to the trunk line via an abandoned pipeline and linked to a location in the high sea, where they load crude oil into vessels and sell overseas," the statement read.
In the Suit No ECW/CCJ/APP/53/22 filed last Friday before the court in Abuja, the plaintiffs are seeking: "an order directing and compelling the Buhari government to immediately probe the reports of operations of illegal pipelines and oil theft, name and prosecute suspected perpetrators."
The plaintiffs are also seeking: "an order directing and compelling the Buhari government to fully recover any proceeds of crime, and to respect, protect, and fulfil the human rights of the people of Niger Delta that have continued to suffer the effects of oil theft by non-state actors."
"The Buhari government is failing to uphold its international legal obligations to ensure that the country's oil wealth is used solely for the benefit of Nigerians and that the wealth does not end up in private pockets," the plaintiffs argued.
"Poor and socio-economically vulnerable Nigerians have continued to pay the price for the stealing of the country's oil wealth apparently by both state and non-state actors.
"Despite the country's substantial oil wealth, successive governments have largely squandered the opportunity to use the wealth to improve the lives and well-being of ordinary Nigerians.
"The illegal pipelines have been operated for many years without notice, implying a flagrant violation of international human rights obligations to ensure the proper, effective, and efficient management of the country's wealth and natural resources."
Business Post understands that no date has been fixed for the hearing of the suit.
Latest News on Business Post