Best Pre Workout Routines for Every Day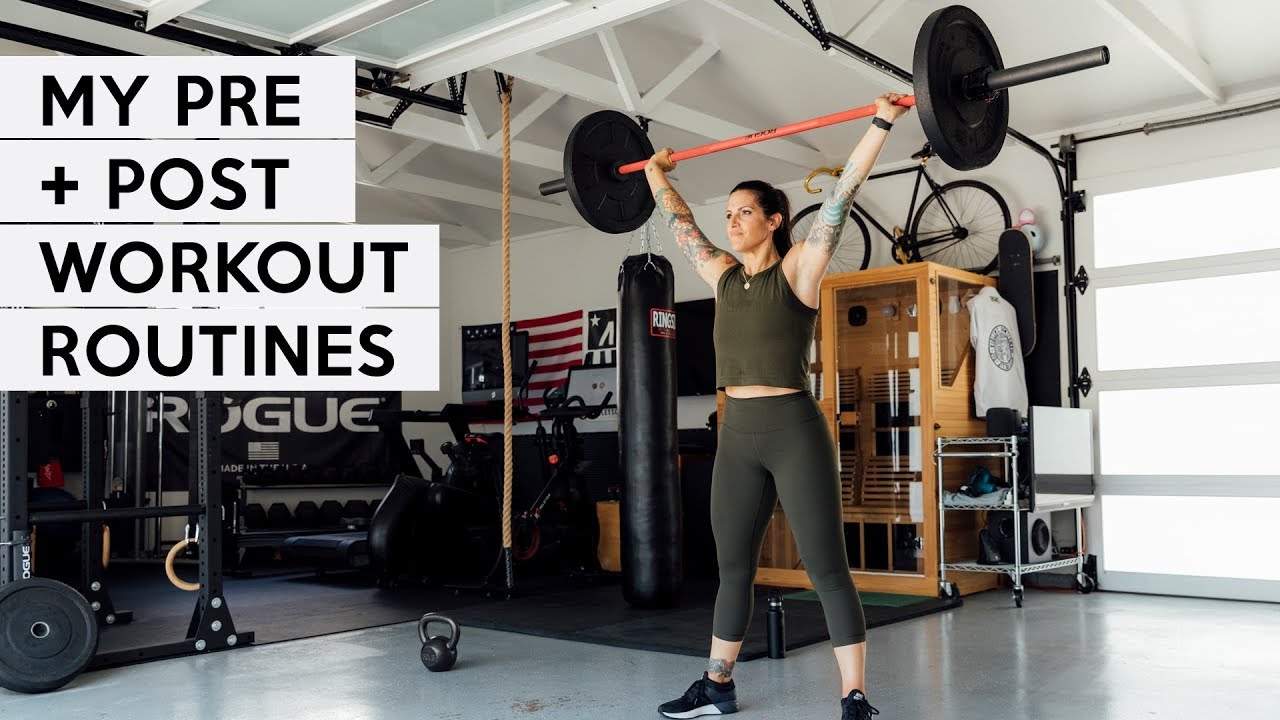 When talking about fitness routines, you may credit your weight loss and muscle development to the gym. However, the gym is only a single factor and the things you do before and after also matters.
If you know exactly what you need to do before heading into the gym and after you get home, you can tweak your routines to get the maximum effects and progress.
Experts say that the exercises are the easy part. You may lift some weights, run, jog, walk, or bench press for an hour, and this is only 4% of your 24 hours. The things that you do in the remaining 23 hours also matter. Know more about the benefits of exercise on this page here.
You may want to practice good sleeping habits, customize your nutritional needs and do rituals to ensure that you recover speedily. Some of the things that you can do to prepare and maximize your results are the following.
What to Do Before and After your Workouts
1. Get Enough Rest and Quality Sleep
Before you start anything, you need to ensure that you have appropriately rested and had a great good night's sleep. This way, you can keep your hunger hormones at their normal levels, and you have more energy throughout the day. After all, you wouldn't want to spend all of your time exercising only to undo your efforts by overeating afterwards.
It's essential to get at least 7 hours of sleep at night or 6 if the schedule is very hectic. The body should feel rested, and exercising should give you more energy. Set boundaries and avoid electronics if possible before going to bed. Good sleeping habits are important after work as the muscles will have time to recover.
2. Drink Plenty of Water
Water is very crucial to one's overall health and wellness. Proper hydration is critical in any wellness routine because sweating makes you lose water. Energy levels are also high if you practice adequate hydration. Drink water whenever necessary and avoid sugary beverages if possible.
For semantics, you may want to look at the relationship between a car and gasoline. Vehicles can't run or function without oil, and this is the same with the body that's devoid of water.
The amount of water that you need will vary with your body mass index, age, weight, and a lot of other factors. You should check your urine, and if it's light, it's a good indication that you have enough hydration.
3. Refuel with the Right Food
Snacks and other forms of nutrition can help you get ready in no time. One of these is CBD or cannabidiol that can act as your workout supplement coupled with protein shakes and vitamins.
Sweating excessively is very taxing to the body and giving it carbs and plenty of proteins can help it go back in shape. Your overall nutrition is very important because the food rebuilds the muscles, and plenty of stored glycogen can give you the fuel you need for your next day's routine.
It's also important to remember that not eating sufficiently after exercising will make you very hungry later in the day. You may feel irritable and tired, and you may likely avoid the next day's routine if this is the case. You can go easy on everything and pack a snack before going to the gym.
4. Do Dynamic Warm-ups
It's crucial never to skip your warm-ups, even if you're doing a full 10-minute bench press. Warm-ups allow your body to adjust to your routines, increase your motions' range, raise your body temperature, and prepare yourself in general. You won't likely have to experience injuries and decrease your chances of getting sore when you do adequate warm-up exercises.
When you increase the range of your movements, you'll be making the most of your routines. This is a way for your body to recruit more muscles during push-ups or doing dumbbells. Dynamic warm-ups are found on the internet, and they are the ones where you are not held in place while moving.
5. Cool Showers are a Relief
Immersion in cold water after sweating can be a relief. It's not a guarantee, though, that it can make you avoid the soreness, or you can recover quickly afterwards. However, ice baths are helpful when your body seems to be overheating. Coldwater therapy may be associated with quick recovery, and this is beneficial to you.
Besides, a cool shower can help your overheated body go back to the baselines. Many people said that they felt a lot better physically and mentally, so you may want to consider it a post-workout ritual. It's not necessary to jump in ice baths like others are doing. You just have to set a shower temperature that's comfortable to you and cool down a little bit. Know more about showering after exercises here: https://www.healthline.com/health/shower-after-workout.
6. Foam Rollers Can Help
Experts' opinions and preliminary studies have found out that foam rolling can help you recover after a vigorous exercise. You can increase your range of motion in the process as well. The foam rollers can minimize your soreness and enable you to adjust better to your new everyday routine. Increase the blood flow in your tissues while you exercise.
Many athletes and fitness enthusiasts have noticed that foam rolling feels better to their muscles afterwards. It can give you better performance for the next week because the rolling motions can reduce onset muscle soreness delay.
BOC Gases Changes Name, Logo After Acquisition by TY Danjuma
By Dipo Olowookere
One of the players in the medical industry, BOC Gases Nigeria Plc, has changed its name to Industrial and Medical Gases Nigeria Plc.
This development followed the acquisition of the company by a businessman, Mr Theophilus Yakubu Danjuma, through one of his firms, TY Holdings Limited.
Recently, the former Minister of Defence in Nigeria acquired a 60 per cent stake in BOC Gases, taking his total shareholding to 72 per cent, making him the largest shareholder in the organisation.
This made the representatives of the former owners on the board, Hendrik Mentz de Waal and Joseph Ramashala, both non-executive directors, to exist BOC Gases, while efforts were made to change the corporate name and logo.
In a statement issued on Thursday and filed to the Nigerian Exchange (NGX) Limited, BOC Gases said it "has obtained a new certificate of incorporation from the Corporate Affairs Commission (CAC)" showing the new name, Industrial and Medical Gases Nigeria Plc.
It would be recalled that 14 years ago, the company adopted the now-rested BOC Gases Nigeria Plc.
Industrial and Medical Gases Nigeria is into industrial and medical gas production, sale of medical equipment and special gases.
FG to Support Cholera-riddled Kano, Jigawa, Bauchi
By Adedapo Adesanya
The federal government has said that it is currently stepping up the technical support and guidance it is giving the states of the federation worst hit by cholera.
This was disclosed by the Director of Family Health department at the Federal Ministry of Health, Dr Salma Anas Kolo.
She disclosed that Kano, Jigawa and Bauchi are the states worst hit by cholera in the country, noting that more than 48 per cent of the cases reported in the country are from the three sub-nationals.
"Efforts are ongoing by the health ministry in collaboration with Nigeria Centre for Disease Control (NCDC), the National Primary Health Care Development Agency (NPHCDA) to continue to provide support to the states through the national response in a well-coordinated manner.
"We continue step up in providing technical support and guidance to the states that are worst affected by cholera. "At the moment we have recorded some slow progress and success in the worst affected states.
"We have conducted some trainings for health workers for early detection and prompt treatment of victims of cholera outbreak.
"Unfortunately, the outbreak is among children between the age of 5-14 years. This is closely link to lack of access to portable clean water and also poor defecation practices and poor hygiene," she said.
Dr Anas Kolo, however, said that the ministry was intensifying its collaboration with partners on the need to re-invigorate the Water Sanitation and Health (WASH) programme in the relevant sectors of the economy considering it requires multi-sectoral approach.
"It has to do with sanitation, toileting facilities available and personal hygiene. We are working closely with the ministries of water resources, information and culture and the ministry of environment who are very critical partners in this.
"We have developed a framework at the national level that require to be operationalized at the state level to adopt similar approach so that the populace, especially, in the worst affected areas can have access to clean water," she said.
The Director further explained that: "Part of the response we have undertaken is the distribution of essential response commodities at the point of need including hygiene kits for affected states, using traditional medium of information transmission in most of the worst affected states.
"Hand washing is very important in the prevention of the cholera. At any time, you are handling food, hand washing is very key with running water and soap. Where soap is not available, we encourage the use of ashes and table salt."
She further advised pregnant women in the country to attend ante natal care at the health centres nearest to them in order to access services including test HIV and Syphilis.
This, according to her, is to prevent Mother-To-Child transmission of HIV.
"This is an opportunity for us to call on all Nigerian pregnant women to attend antenatal clinic at any nearest health facility to them and get themselves tested for HIV and Syphilis.
"By doing that we can prevent the transmission of HIV from the infected mother to the unborn baby and avert the transmission of Syphilis which is also very dangerous to the unborn baby.
"It causes still-birth, miscarriages and death and brain damage leading to malformation to the unborn baby. It also affects the heart. So implications are so numerous.
"So it is cheaper and more cost effective to prevent the transmission of Syphilis from an infected mother to the child. The good news is that both are almost 100 preventable. But only if women that are pregnant avail themselves to be tested of syphilis," the health expert stated.
COVID-19: Nigeria to Start Vaccination of Children
By Ashemiriogwa Emmanuel
In a few months' time, Nigeria will commence administering vaccines to children under 12 years to protect them against the coronavirus (COVID-19).
This vaccination of children against the virus would be done in partnership with the United Nations Children's Fund (UNICEF).
The UNICEF Health Specialist and Officer in charge of Enugu Field Office, Mr Olusoji Akinleye, said during a recent media executive meeting in the state that it had taken so long for this to be implemented because of the cluttered processes involved before any drug would be administered to children.
Speaking at the event, which was in collaboration with Broadcasting Corporation of Abia State (BCA), Umuahia, on Child Rights-influenced Reporting on COVID-19, the specialist said that a lot of children had died due to the COVID-19, adding that, "In the next few months, Nigeria will start administering the vaccine on children under 12 years of age."
He said, "We recognize the partnership in promoting and highlighting the right of every child to life. The very first right that every human being is supposed to have is the right to life; we recognise that the media have always supported the effort of government and partners, including UNICEF, in promoting the right to health."
Noting the challenges faced by the health sector regarding public hesitancy, unwillingness, and misconceptions against the COVID-19 vaccines, Mr Akinleye encouraged parents to ensure that their children were protected by obeying the safety protocols that have been put in place.
In addition to this, he said, "UNICEF looks forward to more robust collaboration with the media and an expected upward trend in the promotion of health and hygiene practices by the media in Nigeria by daily communication to the public of protocols enforced by the government to prevent the spread of COVID-19."
Latest News on Business Post