LASUTH, EAPAN to Hold Webinar for Workers' Psyche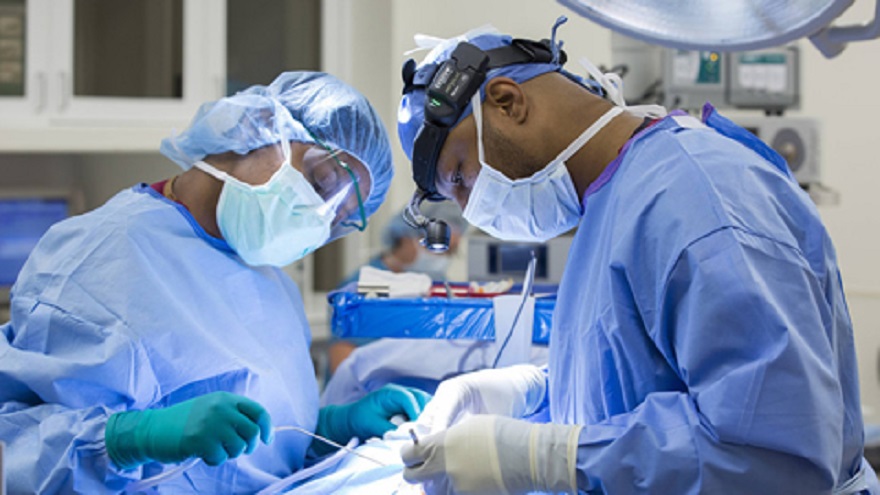 The Coronavirus pandemic, in the last few months since it hit the shores of Nigeria, has been bravely fought by the medical profession in the country. 
The bravery and resilience of health workers, most especially the frontline personnel, has put them at great risk as many have tested positive. Worse still, some have been isolated.
Majority of these isolated healthcare workers have recovered while some deaths have been recorded. Despite the limiting factors such as limited availability of Personal Protective Equipment (PPE), especially at the point when local infection rate began to soar, the health workers which include doctors, nurses, hospital attendants, pharmacists, phlebotomist amongst others still braced the odds to abide by their calling.
This bravery, however, has had its attendant toll on the psyche of a large number of health workers. Based on this premise, the management of the Lagos State University Teaching Hospital (LASUTH) in collaboration with Employee Assistance Professionals Association of Nigeria (EAPAN) decided to create awareness for a platform to address some of these afore-mentioned issues.
Tagged 'COVID-19 Psychological Support Awareness for LASUTH Staff', the project is expected to help attend to health workers who might need certain levels of psychological evaluation in order to help them cope with the anxieties and realities being faced during this pandemic.
Recently, a stakeholder's webinar was held via zoom to fully intimate all parties involved on how this process will work.
The President of EAPAN, Dr Marcel Nwaogu, left no stone unturned as he succinctly explained how the procedures would play out.
He said the resilience and strength of health workers have been greatly tested and many need a strong support system to wake up every day and still believe that they can go to the hospital to help save lives.
While explaining the modus operandi, Dr Marcel noted that the platform is rendering a 24-hour confidential call-in service for whoever needs to speak to a professional psychologist for free. Where there might be a need for further consultations for those who need secondary care, they will be referred to the Department of Behavioural Sciences in LASUTH.
The Head of Department Behavioural Sciences, LASUTH, Dr Atilola, pointed out that it is becoming a common knowledge that health workers are already in desperate need of help and that the platform is a creative way to help them bare their mind on whatever they are going through.
He pointed out that due to the familiarity among the health workers in the hospital, many may not be willing to fully share their fears but the platform will help them get adequate counsel and privacy as required. He also noted with appreciation that having workers to speak with the professionals is a form of "psychological triage (first aid) and that would greatly reduce the number of patients that would be seen physically, which means that, we would consult only with those who would need further evaluation." He promised that his department is committed to ensuring that the programme works.
The Chief Medical Director of LASUTH, Prof. Adetokunbo Fabamwo made an important note that the management of the hospital also had to go through a lot of psychological pressure, most especially being burdened by the safety of staff; worrying and hoping for a no-mortality rate among staff; taking deliberate steps to shut down clinics despite the fact that it was against all odds.
The CMD also mentioned that management has been ensuring timely provision of PPE despite the cut-throat prices and scarcity. He made note that it was a tough call trying to protect staff and at the same time creating available means to provide treatment for urgent matters.
The well-attended webinar had participants from different departments which include the clinical and non-clinical units in the hospital. Many of the participants were able to share their challenges, ranging from the anxiety of being tested and isolated due to the exposure; dealing with panic, fear and anxiety among colleagues.
Dr Femi Olugbile, an Ex Officio of EAPAN, who also moderated the webinar, was hopeful that with all hands on deck, the programme will go a long way in helping frontline health workers maintain their sanity and resilience to keep on carrying out their assignments.
The webinar which was rated as highly interactive level by the participants ended with a vote of thanks from Dr Ibrahim Mustafa, the Director of Clinical Services and Training, LASUTH.
Lagos Calls for Caution as COVID-19 Fourth Wave Ends
By Adedapo Adesanya
The Lagos State Government has announced the end of the fourth wave of the coronavirus pandemic in the state following the consistent decrease in cases over a period of time.
The state's Commissioner for Health, Professor Akin Abayomi disclosed this through his verified Twitter account @ProfAkinolaAbayomi over the weekend, while giving the state's COVID-19 update for the week ended January 20.
The state had on December 7 announced the beginning of the fourth wave as the daily infection figure from the virus spiked.
Prof. Abayomi said that there was a reduction in positivity rates of COVID-19 infection from 29.3 per cent recorded on December 21, to 1.9 per cent as of January 20.
According to him, bed capacity utilisation now stands at two per cent, and the fatality rate stands at 0.71 per cent, which indicated that the COVID-19 fourth wave has ended.
The Commissioner said that 46 new infections were confirmed on the reported date, increasing the number of COVID-19 infections in the state to 98,284.
He noted that 1,023,203 sample tests had been conducted since the inception of the pandemic in the state.
Mr Abayomi advised residents to get vaccinated and continue to adhere to non-pharmaceutical interventions to further reduce the spread of the virus.
In another interview with Channels Television, he confirmed the result saying, "We are now out of the fourth wave, we don't know what will happen next.
"But we want to be prepared and the State Governor has said that we need to hit certain targets this year, so we are going to go back to the drawing board because there's a little bit of vaccine hesitancy in Lagos.
"We really need to look at how to encourage Lagosians to accommodate taking these vaccines. We know that vaccines are effective in terms of reducing your vulnerability to severe illness from Covid.
"It doesn't so much protect you from Covid but it protects you from getting extremely unwell or even dying and that's exactly what we want in Lagos: we don't want people to get sick and die. You can catch a cold or Covid, but we want you to recover.
"In this fourth wave, most people were managed at home, because the Omicron variant didn't seem to affect the lungs as badly as the Delta variant."
NIPRD DG Calls for Local Vaccine Development
By Adedapo Adesanya
The Director-General of the National Institute of Pharmaceutical Research and Development (NIPRD), Dr Obi Adigwe, has called for the inauguration of a National Vaccine Development Technical Working Group with a working secretariat.
This, according to him, will help overcome the challenges hindering vaccine development and production in the country.
He made his position known while making a presentation at a just-concluded National COVID-19 Summit in Abuja.
The summit was put together by the Presidential Steering Committee (PSC) on COVID-19 to fashion out solutions towards ending the pandemic and building back the economy better.
The two-day summit which started with technical sessions was with the theme Pushing through the Last Mile to End the Pandemic and Build Back Better.
The objectives of the event, among others, was to review the country's COVID-19 response from February 2020 to November 2021- to identify successes, gaps, and lessons learnt; identify resources and develop strategies that will actualize the country's expressed international commitments towards ending COVID-19 by December 31, 2022; develop an accountability framework for COVID-19 response and health security in Nigeria.
Others included synthesizing the blueprint for Nigeria's pandemic recovery, reconstruction, health security, and sustainability; and articulating actionable recommendations to President Muhammadu Buhari on the governance structure, resources, and policies needed to end COVID-19 in Nigeria by December 31, 2022, and build back the health system and the economy to better respond to future health-security threats.
The NIPRD DG further called for the establishment of a Vaccine Research and Development Fund with sustainable funding strategy; mapping of human and infrastructural resources and capacities and gaps.
He also put forward that there is a need to set up a 10-year development agenda with key milestones – prioritizing capacity development strategy (human, laboratory and production); identifying and targeting diseases of national priority for vaccine R&D; strengthening linkages among key institutions and the private sector; attracting competent/skilled human resources from the diaspora and strong international cooperation, partnerships and collaboration.
Dr Adigwe, however, identified that political will coupled with the provision of a clear local vaccine development agenda and Research and Development (R&D) prioritization and coordination across efforts are key to achieving local vaccine development and production in Nigeria.
The NIPRD Director-General also revealed that limited access to finance, weak infrastructure (R&D and production), low technological capacity and weak regulatory environments are among the factors frustrating vaccine development and production in Nigeria.
He, therefore, vowed that NIPRD remained committed to continuing its statutory mandate in undertaking R&D activities that will not only improve access to health, but also contribute to the economy, and to national development.
"We have, and will continue to play a lead role in articulating the prioritization of pharmaceutical independence.
"The epidemiological nature of the diseases in Africa, together with the relevant demographic indices, means that a robust engagement with the pharmaceutical sector can provide an innovative model which can uniquely improve healthcare access whilst stimulating socio-economic development.
"Solutions for African healthcare issues must come from Africans who have the willingness and capacity to engage vigorously with relevant issues.
"NIPRD has demonstrated cognate capacity, experience and expertise to lead this intervention and remains partnership-ready to collaborate with other critical stakeholders towards the achievement of health and wealth for all," he noted.
Greece Gives One Million Doses of COVID-19 Vaccine to Nigeria
By Adedapo Adesanya
**As NCDC Confirms 102 Deaths from Lassa Fever in 2021
Greece has donated about one million doses of COVID-19 vaccine to Nigeria as the federal government moves to ensure more citizens are vaccinated against the disease.
A delegation from the European country led by its Minister of Foreign Affairs, Mr Nikolaos Dendias, announced the donation of the vaccines in Abuja on Monday.
Mr Dendias made the announcement at a meeting with the Minister of Foreign Affairs, Mr Geoffrey Onyeama, and other Nigerian government officials.
He said Nigeria and Greece have enjoyed a favourable bond over the years and that his country was even willing to expand the relationship between both nations.
The Greek minister explained that such an expansion would culminate in the signing of Memoranda of Understanding on various issues affecting both countries.
Mr Onyeama, on his part, said Nigeria has enjoyed a smooth partnership with Greece in the area of defence.
He said the present administration was willing to expand its partnership with Greece, especially in the areas of agriculture and infrastructure.
In another health-related development, the Nigeria Centre for Disease Control (NCDC) said in its latest situation report on the Lassa fever disease that a total of 102 infected people died from the disease in 2021.
"Cumulatively from week 1 to week 52, 2021, 102 deaths have been reported with a case fatality rate (CFR) of 20.0 per cent which is lower than the CFR for the same period in 2020 (20.7 per cent).
"In total for 2021, 17 states have recorded at least one confirmed case across 68 Local Government Areas."
Of all the cases confirmed last year, three states accounted for 84 per cent – Edo (42 per cent), Ondo (34 per cent), and Bauchi (eight per cent).
The predominant age group affected, according to the NCDC, is 21-30 years while the male to female ratio for confirmed cases is 1:0.9.
It, however, indicated that the number of suspected cases decreased compared to the figure reported for the same period in 2020.
Lassa virus is transmitted to man by infected multi-mammate rats and humans become infected from direct contact with the urine and faeces of the rat carrying the virus.
In a bid to further tackle the disease in the new year, the NCDC said it was conducting high burden states preparedness/response engagement meeting.
It added that the National Emergency Operations Centre alert mode has been activated for effective multisectoral and multi-disciplinary coordination, stressing that the State Public Health Emergency Operations Centre has been triggered in affected states.
"The five Lassa fever molecular laboratories in the NCDC network are working full capacity to ensure that all samples are tested, and results provided within the shortest turnaround time," the agency said.
"Confirmed cases are treated at identified treatment centres across the states. Dissemination of reviewed case management and safe burial practices guidelines. Risk communications and community engagement activities have been scaled up across states using television, radio, print, social media and other strategies," it added.
NCDC also said it has deployed rapid response teams to three states and the Federal Ministry of Environment has implemented a Lassa fever environmental response campaign in high burden states.
Lassa fever is an acute viral illness and a viral haemorrhagic fever first reported in the Lassa community in Borno State when two missionary nurses died from an unusual febrile illness.
Since then, Nigeria has continued to report cases and outbreaks and the disease is increasingly recognised to be endemic in many parts of West Africa such as Benin Republic, Ghana, Mali and the Mano River region (Sierra Leone, Liberia and Guinea).
People also contract the disease by touching soiled objects, eating contaminated food, or exposure to open cuts or sores.
Secondary transmission from person to person can also occur as a result of exposure to the virus in the blood, tissue, urine, faeces or other bodily secretions of an infected patient.
Latest News on Business Post