FG Tasks New NEITI Board on Achieving Buhari's Agenda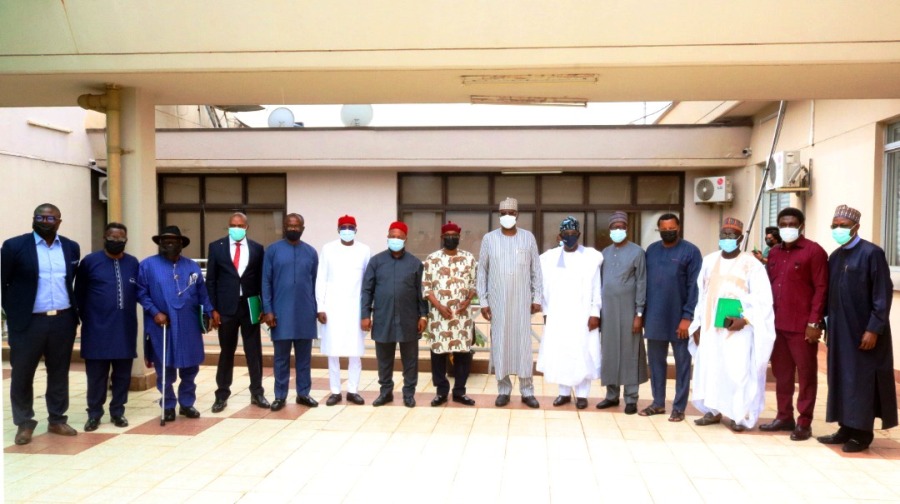 By Adedapo Adesanya
The newly inaugurated governing board of the Nigeria Extractive Industries Transparency Initiative (NEITI) has been charged by the federal government to enhance the smooth running of its administration in the area of transparency and accountability.
Mr Boss Mustapha, Secretary to the Government of the Federation (SGF), who performed the inauguration of the new NEITI board on Thursday in Abuja, congratulated the members, saying their appointment as NEITI board members were based on individual merits and track records.
"Your appointment and inauguration, which is taking place here today, is another practical demonstration of President Muhammadu Buhari's commitment to transparency and accountability in the management of our economic resources.
"And especially, given the mandate and objectives of NEITI," Mr Mustapha said.
The nation's scribe said that the present administration was passionate about the NEITI process because it served two key agendas of the administration.
He said that the extractive industry was very strategic to Nigeria's economy, hence central to the administration's economic agenda.
According to Mr Mustapha, transparency and accountability in the management of the nation's resources are equally central to the anti-corruption agenda of Nigeria.
He said it was, therefore, irrevocably committed to the implementation of NEITI in the oil, gas, and mining industries.
The SGF, therefore, tasked NEITI board members to ensure that the agency continued to preserve the virtues for the benefit of the present and for future generations of Nigeria.
"In order to achieve this, I must remind you that your assignment is non-partisan because NEITI itself is non-political and has maintained dignified neutrality all through almost two decades of existence.
"It is also necessary for me to stress that your appointment is a part-time one. You are therefore advised to conduct yourselves in accordance with this requirement," he said.
According to Mr Olusegun Adekunle, serving on the board, he assured that the board would not disappoint the president in the course of carrying out its assigned duties.
The retired permanent secretary said his appointment alongside other board members was another opportunity to serve Nigeria in another capacity.
"Let me also congratulate my colleagues on the board for this wonderful opportunity to serve our nation in a different capacity.
"I must say that the confidence reposed in us is huge but our commitment to this assignment is also strong; we shall, therefore, work as a team with focus and with integrity," Mr Adekunle said.
The board comprises:
Olusegun Adeyemi Adekunle, Esq. – Chairman (Public Administrator/Retired Federal Permanent Secretary)
Group Managing Director, (NNPC) Mele Kyari – Member (Representing National Oil Gas Company Industry)
Executive Chairman, FIRS, Muhammad Mamman Nami – Member (Extractive Industry Revenue accountability)
President, Nigeria Mining & Geosciences Society Alabo Charles – Member (Extractive Industry Professional Union)
President, PENGASSAN Comrade Festus Osifo – Member (Extractive Industries Professional Union Industries)
Mr Lorenzo Fiorillo – Member (Chairman OPTS Representative- IOCs, Oil, Gas Industry Companies)
Permanent Secretary, Ministry of Mines and Steel Development, Dr Oluwatoyin Akinlade – Member (Representative, Government Extractive Industries- Mining)
Peter Egbule – Member (National Coordinator, Publish What You Pay representative, Civil Society)
Dr Bashir Bature Gafai – Member (Geo-Political Rep: North-West Zone)
Dr Iliya Gashinbaki – Member (Geo-Political Rep: North-East Zone)
Godwin Akor Ogwuche – Member (Geo-Political Rep: North-Central Zone)
Professor Damilola Olawuyi – Member (Geo-Political Rep: South-West Zone)
Dr Nze Joe Ibeh – Member (Geo-Political Rep: South-East Zone)
Awowoh Christian – Member (Geo-Political Rep: South-South Zone)
Dr Orji Ogbonnaya Orji – Member (Executive Secretary, NEITI by virtue of Office)
Prof Ibiyemi Olatunji-Bello Emerges New LASU VC
By Adedapo Adesanya
Professor Ibiyemi Olatunji-Bello has been appointed as the ninth substantive Vice-Chancellor (VC) of the Lagos State University (LASU), putting an end to the institution's leadership crisis, which started this year.
Prior to the expiration of Mr Olarewaju Fagbohun, the institution's eighth VC, whose tenure expired on January 11, the state's premier university had been in crisis, which spurred Governor Babajide Sanwo-Olu to cancel a previous appointment procedure in response to petitions.
According to an earlier statement, "After a thorough evaluation and investigation of the various complaints, Mr Governor, in his capacity as the Visitor to the university, ordered the cancellation of the process."
A few months later, the Governor inaugurated a 13-member governing council for LASU, following the report of a special panel constituted to resolve the crisis that was holding the appointment of the varsity's 9th vice-chancellor.
Now, the appointment of Mrs Olatunji-Bello has heralded a new dawn in the state-owned university.
The new LASU VC attended the University of Ibadan (UI) from 1982 to 1985 where she bagged a BSc in Physiology.
In 1987, she was awarded MSc (Physiology) at the University of Lagos (UNILAG). In 1998, she bagged a PhD in Physiology after a six-month research training at the University of Texas Health Science Center in the US, 1994.
She rose from an assistant lecturer (1988 to 1991), lecturer II (1991 to 1996), lecturer I (1996 to 1999), and senior lecturer (1999 to 2005) to become an associate professor (2005 to 2007) at the College of Medicine in UNILAG.
The academic assumed duty as the first professor of physiology at the LASU College of Medicine in October 2007.
She also held several professional and administrative positions both at UNILAG and LASU. Until her election as the first female deputy vice-chancellor of LASU, she was the first substantive head of the Department of Physiology at LASU.
She is a member of many professional bodies and was the first female second vice president, Physiological Society of Nigeria (PSN), and the first vice president. She is also the first female to hold that position up to the year 2019.
She is married to Mr Tunji Bello, the Lagos State Commissioner for Environment and Water Resources and they have three children.
NDLEA Shifts Training for New Recruits to December
By Sodeinde Temidayo David
The National Drug Law Enforcement Agency (NDLEA) has rescheduled the date for the training of successful Narcotic Assistant (NASS) candidates to December 6 from December 3.
The Director of Media and Advocacy of the NDLEA, Mr Femi Babafemi, disclosed this in a statement issued on Monday.
According to Mr Babafemi, successful candidates (Narcotic Assistants) are to report at the Jos NDLEA Academy at Kotton Rikus, with some documents, including original and photocopy of credentials with NDLEA online application reference slip.
"Four copies of 5×7 colour photograph without a headwear (cap neither a hat), writing materials, to include biro, pencils, ruler, notebooks and file jacket," the agency stated.
Also, applicants are requested to bring their training kit and dress, including three pairs of white which should be unmarked, round neck vests and navy blue shorts without stripes.
For those who need extra dressing, the agency stated they must bring two black trousers and white long sleeve shirts, with two pairs of national dress or suit and casual wear and shoes.
This will also include two pairs of white and black socks, as well as two pairs of pure black canvas trainers. According to the institution, rubber type shoes are not acceptable.
Candidates are further required to bring kits that will prepare and make their living and rest in the training period, including two white bedsheets and pillowcases, one blanket, which must be a grey or army green colour.
Like every other programme, candidates have been told to bring some pocket money and toiletries while buckets, cutlasses and brooms.
Mr Babafemi further stated that successful candidates must observe the coronavirus protocols, and must have two black cloth facemasks.
He pointed out that candidates that fail to report to the training venue by 6:00 p.m. of the stipulated date would be disqualified.
Recall that the NDLEA had initially fixed September 25 for the training before it was postponed.
Konga Plans to Employ 500,000 Nigerians by 2025
By Adedapo Adesanya
Konga, Nigeria's leading composite e-commerce giant, is set to become one of the biggest employers of labour in Nigeria as it has unveiled plans to provide meaningful employment opportunities for over 500,000 Nigerians by 2025.
The company also noted that it will be adding another 500,000 in other African countries by the set period.
The development will see Konga not only on top of the employment charts in the private sector but will also see the company rival government and sub-national entities in terms of employment figures.
The firm expressed optimism that this move will also significantly contribute reduce unemployment in Nigeria and other Africans as it prepares for strategic African expansion.
The ambitious plan, feelers from within the e-commerce group have revealed, will go a long way in re-writing the narrative for many underemployed and unemployed youths in Nigeria.
Specifically, the management of Konga intends to channel its considerable resources in developing creative employment for hardworking and aspiring youths across Nigeria.
In addition to offering many a chance to join the Konga Group's retail revolution through its existing and new subsidiaries being unrolled across verticals; other beneficiaries will also get opportunities to become members of Konga's fast-growing affiliates which ultimately grants successful candidates life-long partnerships with the company.
The Konga Group currently provides direct and indirect employment for well over 250,000 Nigerians across its multiple entities, including its growing chain of over 35 retail stores scattered across Nigeria; the Konga Marketplace, a game-changing initiative which it pioneered in Africa; KongaPay, a Central Bank of Nigeria-licensed Fintech platform; Kxpress, an ambitious digital logistics company with huge delivery assets.
Others include Konga Travel, an award-winning IATA-certified revolutionary travel and tours company; the recently launched Konga Health, a digital health care distribution chain and the soon-to-be-launched Konga Food, among many others.
Speaking on this, Mr Nick Imudia, co-CEO, Konga Group, while chatting with new hires virtually, disclosed the motivation behind the massive job creation drive.
''We are passionate about giving as many Nigerians and Africans who are qualified and ready to work the opportunity to find meaningful expression of their talents. An example is our partnership with the Edo Stae Government which shall not only employ thousands of youths but shall enhance and facilitate activities for SMEs in the state to become global corporate citizens.
''This is because we believe, in line with the Konga mantra, that this will help them find happiness and live fuller, richer lives. But it doesn't just end with the unemployed. Our research has shown that there are quite a number of under-employed Nigerians, many of who can make a difference across board if given a chance.
''Therefore, as a strong corporate citizen and in line with the status of the Konga Group as a company built as a public trust, Management has set an ambitious target to employ over 500,000 Nigerians by the year 2025. This is no mean feat by any standards, but at Konga, we are known for never shying away from confronting challenges and surmounting them.
''We will be rolling out these creative employment opportunities soon and we are confident that it will offer many Nigerians who are determined to achieve, a useful avenue to, not only find gainful employment but also create employment and wealth for others,'' he stated.
Latest News on Business Post