Onome Adewuyi Takes Over as 56th ICAN President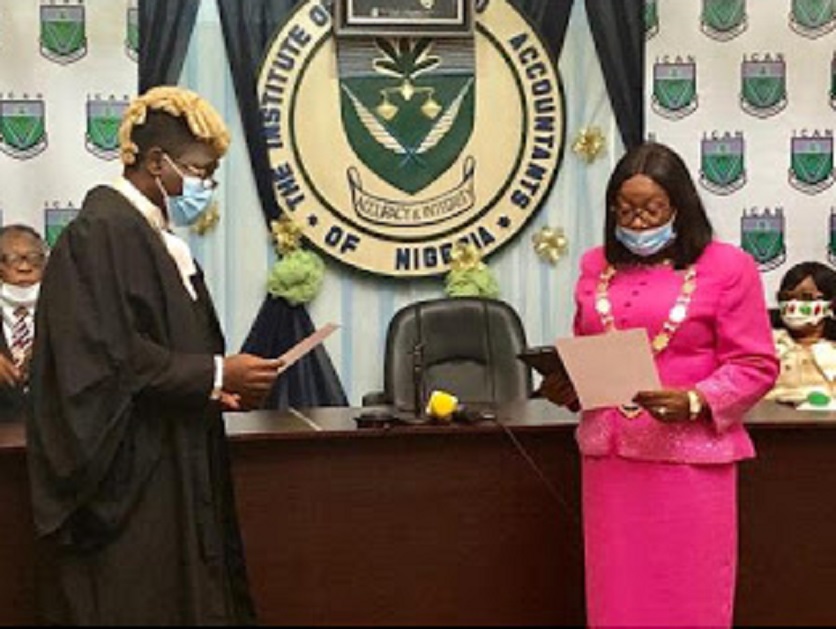 By Adedapo Adesanya
The Institute of Chartered Accountants of Nigeria (ICAN) has elected Mrs Onome Adewuyi as the 56th President in its 54 years of existence.
Her investiture took place at the institute's secretariat in Lagos, after an election was held on Tuesday, June 2.
In her acceptance speech and inaugural address, Mrs Adewuyi promised to partner with the government to redefine national values, economic priorities and resource utilisation strategies such that the mass of the citizenry can be lifted out of avoidable poverty.
According to her, ICAN would leverage its professional expertise to support players in the informal sector, whose unsung value-creating activities will define the position of the nation on the ladder of sustainable development.
She noted that poverty in the midst of plenty being experienced by Nigeria posed a serious challenge, adding that the nation is at a point in its economic development where all hands must be on deck to address the ugly situation.
"According to the 2019 World Bank Human Development Report, 53.5 percent of Nigerians live below poverty line of $1.9 a day.
"I am inclined, like many analysts, to believe that the situation is even worse considering the high rate of crime and criminality all over the country. The situation is better imagined if we take cognisance of the possible effect of COVID-19 in the near term," the new president said.
On refocusing ICAN capacity building initiatives, Mrs Adewuyi stated that this year, the institute would formalise its online training and incorporate them into the annual training brochure. She added that the Members' Education and Training would be bolstered with cut-edge virtual training programmes.
"These would run together with the established traditional model of delivering trainings. Also, the ICAN faculties would be equipped to become centres of excellence for virtual training in the seven specialist areas of Accounting," she expatiated.
Speaking further, the new ICAN President said the lesson of the COVID-19 pandemic has challenged ICAN to redefine the values it shares, the way it relates and account for its actions and inactions.
"Evidently, the proactive deployment and proficiency in the use of technology will continue to define corporate and individual success.
"This emerging paradigm has implications for how we relate and bond as professionals who share a common vision of working together to build a great nation with a sustainable economy driven by strong institutions," the ICAN boss said.
She assured that as the Institute would strive to hold leaders at all levels accountable, it would also enforce compliance to the professional code of ethics and sanction all proven cases of misdemeanor by members without fear or favour.
Mrs Onome Adewuyi graduated with a second class honours (Upper Division) in Accounting from the University of Benin in 1982 and obtained an M.Sc degree in Banking & Finance from the University of Lagos in 1993.
She is an alumnus of the Harvard Business School, Boston Massachusetts USA; the Wharton Business School of Pennsylvania, USA and the Kellogg Business School, Chicago USA.
She is also an alumnus of the International Banking Summer School, USA and the Lagos Business School.
She began her career with Texaco Nigeria Plc as the Treasury and Investment Accountant. She later joined the Nigerian Intercontinental Merchant Bank Limited where she started her banking career.
Jobrole Introduces Flexible HR Plan for SMEs
By Modupe Gbadeyanka
An outsourced human resources (HR) management solution designed to accelerate the activities of small and medium enterprises (SMEs) in the country has been introduced by a leading talent management company in Nigeria, Jobrole Consulting Limited.
This plan, called Jobrole Flexi HR, will enable small business owners to navigate common HR challenges while focusing on core business operations.
It is an integrated human resources and business solution designed to meet the administrative needs of Nigerian small businesses and help them grow from sole proprietorships to flourishing organizations with select employees and clientele lists.
Jobrole Consulting is reputed for its wide-ranging human resources solution for high business performance, and this new package further cements its status in the industry.
The Director of Strategy and New Market at Jobrole Consulting, Mr Chigbo Okeke, informed newsmen that the Jobrole Flexi HR plan was to justify that people are a strategic resource for every business.
According to him, no matter how large or small a business is, there is always a need to use effective HR strategic planning techniques to manage the company's resources and minimize human resources issues.
"We are excited to introduce Jobrole Flexi HR plan to the Nigerian SME market. This is an outsourced HR management solution that assists start-ups and other small-to-medium-sized businesses in reducing operational issues such as staff identity risks, recruitment turnaround time, hiring costs, and developing HR policies for your organization.
"These HR activities are vital business functions, strategic to the operational success of all businesses. We help our clients carry out these tasks and get them done without a hitch while they face their core business operations," he said.
Mr Okeke added that, "Nigerian small businesses must prioritize building a comprehensive human resources programme into the company's overall business strategy."
This, he said, is critical to increasing their bottom line and capable of strengthening their organization's competitive advantage.
Some Flexi HR deliverables include staff recruitment, onboarding and documentation, employee background checks, performance management, payroll management, and HR policy development.
He urged small business owners in Nigeria to take into account that the HR role is key to their operations, noting that with the changing nature of the work environment in recent years, it is now very clear that the role of HR is very significant for small and bigger businesses because the value one or a few employees add to the business's performance is quite significant and immeasurable.
Former NBS Chief Yemi Kale Joins KPMG Nigeria as Chief Economist
By Aduragbemi Omiyale
The former chief executive officer of the National Bureau of Statistics (NBS), Mr Yemi Kale, has joined a leading audit firm, KPMG Nigeria, as a partner and chief economist.
Mr Kale was also Nigeria's Statistician General of the Federation between 2011 and 2021 and was very respected for how he projected the agency as a reputable stats agency.
In a post on Thursday, KPMG said Mr Kale would lead the company's view on macroeconomics and enhance the breadth of our solutions involving economic modelling and macroeconomic analysis in private and public sector clients.
"The partners and staff of KPMG Nigeria are pleased to welcome Dr Oyeyemi Kale to our firm as he assumes the role of Partner and Chief Economist of KPMG Nigeria.
"Yemi holds a B.Sc. Honours degree in Economics (first class), Addis Ababa University, and an http://M.Sc. (Distinction) and PhD in Economics from The London School of Economics and Political Science.
"He has deep experience, gained from both the private and public sector, in macroeconomic analysis, financial, economic and investment research and fiscal and macroeconomic policy advisory.
"From 2011 to 2021, he served as the Statistician General of the Federation/Chief Executive Officer of the National Bureau of Statistics (NBS).
"As our Chief Economist, Yemi will lead the firm's view on macroeconomics and enhance the breadth of our solutions involving economic modelling & macroeconomic analysis in private and public sector clients," the announcement read.
Under his watch, the stats office released data that were favourable and unfavourable to the ruling government with fear.
UK Appoints Richard Montgomery as New High Commissioner to Nigeria
By Adedapo Adesanya
The United Kingdom Government has appointed Mr Richard Montgomery as the new British High Commissioner to Nigeria.
The UK government announced his appointment in a statement on Tuesday, and he will succeed Ms Catriona Laing, who has been the UK's representative in Nigeria since November 2018.
According to the statement, Ms Laing will be transferred to another diplomatic service appointment.
The High Commissioner is the UK government's representative in a commonwealth nation. It is the equivalent of an ambassador, and since Nigeria is a former colony of the UK, the country has a High Commissioner instead of an ambassador.
The High Commissioner is charged with the direction and work of the consulate, including political relations, trade and investment, press and cultural relations, and visa and consular services.
Mr Montgomery's past experiences include Counsellor (development) and Head of Office, Department for International Development (DFID), Abuja, from 2009-2013.
He has also held executive development roles in Zambia, Bangladesh, India, and Pakistan.
His most recent post was the UK executive director for the World Bank Group in Washington.
He has a PhD in social anthropology from the University of Cambridge, alongside other research-related qualifications from GKW Consult Mannheim and Manchester University.
Mr Montgomery is expected to begin his new role in April 2023.
Latest News on Business Post