Why We Supported Global Interns Career Workshop—TPT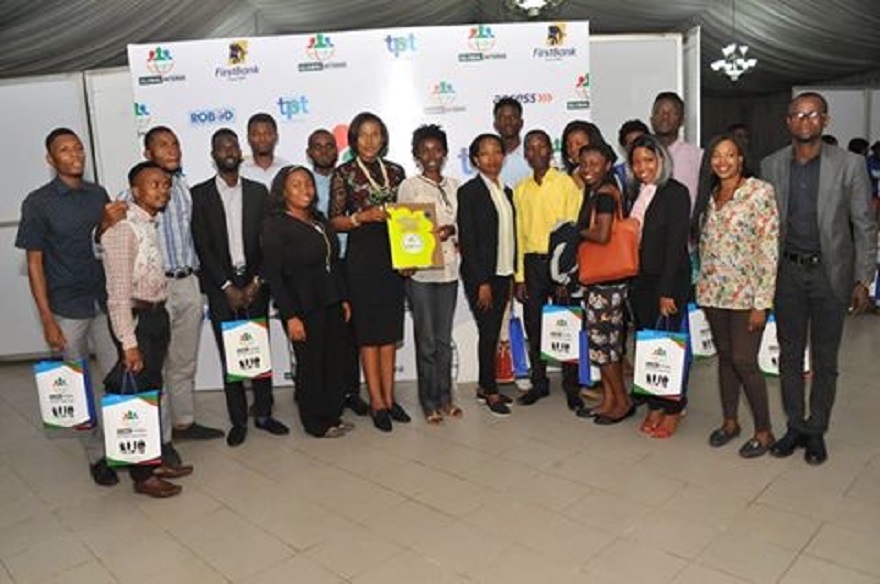 By Modupe Gbadeyanka
Chairman and Lead Strategist of TPT International Limited, Mr Adetokunbo Modupe, has explained why his firm was involved in the recently-concluded career workshop, organised by Global Interns.
According to Mrs Modupe, TPT International supported the event to upgrade participants' skills to meet the workplace expectation of today and the future.
He described this as his company's way of giving back to the society by supporting platforms that provides mentorship and inspiration to develop a better society, in addition to promoting great talents and innovations from thought processes to idea generations and implementation.
The workshop, which attracted over 100 participants from secondary schools and tertiary institutions, was held on Tuesday in Lagos and was co-sponsored by TPT International Limited, a foremost award-winning public relations firm.
"As part of our giving back to the society and helping to shape the future of the generation next, the Global Interns-powered career planning and internship opportunities workshop has been co-sponsored by TPT International Limited because we believe that the workshop provides an opportunity for us to support the shaping of a better future for our younger generations," Mr Modupe said.
The TPT boss added that the company has impacted greatly in the Public Relations industry by altering some of its practices with his innovative style, thereby remaining actively relevant in the PR space in Nigerian and beyond not only by consulting, but by giving back to the society.
Principal Adviser of Global Interns Company and Chief Facilitator of the workshop, Mrs Olufunmilayo Modupe, expressed her gratitude for the sponsorship and commended the agency for supporting causes that add values to the younger generation in shaping a better future.
"I am elated by this sponsorship from TPT International which has helped us a great deal in amplifying and championing the plight of the younger generation in the right direction.
"With TPT's support, we have been able to let Nigerians and her neighbours know the value of shaping a better future for our school kids and young adults," she said.
Speaking at the occasion, Oluwaseyi Adeoye, Chief Executive Officer of Pierrine Consulting, who is also one of the facilitators, explained that the interaction and engagement of the students is a pointer to the fact that the Career Connect Series has achieved its aim of giving the participants' the platform to ask questions and be educated on planning their career.
IGP Redeploys Frank Mba as Ogun Commissioner, Owohunwa as Lagos Commissioner
By Aduragbemi Omiyale
Former spokesman of the Nigeria Police Force (NPF), Mr Frank Mba, has been redeployed as the Commissioner of Police for Ogun State Command.
Mr Mba's successor, Mr Olumuyiwa Adejobi, confirmed this development in a statement issued on Tuesday, February 7, 2023.
He said the Inspector-General of Police (IGP), Mr Usman Alkali Baba, approved the positing of Mr Mba to Ogun State.
Also, the police chief approved the redeployment of Mr Idowu Owohunwa to Lagos Command as Commissioner, while Adebola A. Hamzat was moved to Adamawa State, with Mr Suleiman A. Yusuf and Mr Faleye Olaleye moved to Taraba State and Ebonyi State, respectively.
In addition, the IGP ordered the posting of Deputy Inspectors-General of Police (DIGs) in line with his manpower development policy of placing round pegs in round holes.
According to the statement, DIG Danmallam Mohammed has been redeployed to the Department of Finance and Administration, while Mr Matthew Akinyosola is now in the AIG Police Mobile Force.
Further, the AIG in charge of Zone 6 Calabar is Jonathan Towuru, AIG Zone 2 Lagos is Commissioner for Police, Mr Sylvester A. Alabi, while the AIG Zone 11 Osogbo is Akande Sikiru Kayode, and AIG Zone 17 Akure is Abimbola Adebola Shokoya.
The statement said Mr Baba has charged the newly posted officers to hit the ground running to ensure the mission, vision, and policy statements of his administration are effectively complied with in the areas of crime-fighting, public cooperation, and safety. He also called for support and cooperation from members of the public to enable the newly posted senior officers to perform optimally on their mandate.
Olaseni Alabede Joins MFS Africa's Global Technology Partners as New CTO
A veteran of the payments technology sector with more than 18 years of experience, Olaseni Alabede, has joined Global Technology Partners (GTP), an MFS Africa company, as chief technology officer (CTO).
Acquired by MFS Africa in June 2022, the US-based GTP is the largest processor of prepaid cards in Africa, with more than 80 banks – including UBA, Ecobank, BIA, Stanbic, Coris, NSIA and Zenith Bank – using its platform.
Prior to joining the GTP executive team, Alabede was the Vice President of Product Development in MasterCard's Instalments business.
In this New York-based role, he was responsible for the design and development of Buy-Now-Pay-later products on the Mastercard network.
His history in the payments sector, however, dates back to the beginning of his career in 2003, when he started working as a web designer at the now-defunct City Express Bank in Nigeria.
After that, he spent nearly a decade at Interswitch, growing from a project engineer to head of enterprise service management.
"We are thrilled to have Olaseni come on board as the new CTO for GTP," says GTP CEO, Christian Bwakira. "His extensive experience in both the African and international payments spaces and his clear passion for technology's ability to improve people's lives and help build better futures makes him the ideal person to drive us forward technologically."
For his part, Alabede says that he is looking forward to taking charge not just of GTP's technology stack but the entire technology initiative behind the company and driving a strategy that enhances the company's already strong positioning.
"Right now, GTP provides a quality service that customers know and love it for," he says. "But can we take that to the next level?"
The decision to join GTP, he says, was made primarily on the basis of the impact he believes the company, particularly under MFS Africa's ownership, can have. "When you think about what MFS Africa and GTP have done in the African market, that impact is significant," he says. "I want to be part of taking that further, helping more and more markets replace the need for cash by using seamless technology that integrates our various offerings."
In helping GTP achieve that impact, Alabede plans to focus on seamless customer experiences as he considers the elimination of friction in payments particularly critical.
"The more friction you remove from the consumer, the more they get out of their payments," he says.
More particularly, he believes that there will be significant innovation around bringing these technological trends together and that African companies and consumers will benefit from them.
"I think that last mile delivery of frictionless payments and experiences is really going to translate into success," he says. "As such, we can expect to see a lot of innovation and technological convergence happening in building those frictionless experiences."
Outside of work, Alabede is passionate about promoting health in underserved communities. He serves on the Board of the Arthur Ashe Institute for Urban Health, which provides health education and health equality in the Brooklyn Community and other parts of New York City.
Abiola Bawuah Emerges First Female UBA Africa CEO
By Aduragbemi Omiyale
A Ghanaian national, Mrs Abiola Bawuah, has been appointed as the first female chief executive for UBA Africa, a statement from the financial institution has said.
With her appointment, she joins the group board as an executive director, overseeing the organisation's operations across the African continent, outside Nigeria.
According to the disclosure from the lender, the appointment of Mrs Buwuah demonstrates its commitment to diversity, bringing the total number of female directors in the UBA Group Board to eight.
Prior to her appointment, Mrs Bawuah was Regional CEO of West Africa, supervising the group's operations in nine subsidiaries, including Benin, Burkina Faso, Cote d'Ivoire, Ghana, Guinea, Liberia, Mali, Senegal, and Sierra Leone. She previously held the role of the CEO of UBA Ghana.
"Abiola has contributed significantly to the growth of UBA Africa for close to a decade. She brings a wealth of experience in commercial banking and stakeholder engagement.
"It also gives me great pleasure that with her appointment, the UBA Group Board has now become a majority female board," the Group Board Chairman of UBA Plc, Mr Tony Elumelu, said.
Also, UBA Group has appointed Mr Chris Ofikulu as the Regional CEO of UBA West Africa. The appointee has over two decades of banking experience spanning corporate, commercial, and retail banking.
In addition, Mr Uzoechina Molokwu will take on the role of Deputy Managing Director (DMD) of UBA Ghana, subject to local regulatory approvals. He was previously the Executive Director for Business Development at UBA Côte d'Ivoire and has over 23 years of banking experience.
Further, Mr Ayokunle Olajubu has been asked to take charge of UBA Liberia, subject to local regulatory approvals. He currently drives compliance across African subsidiaries and comes with 30 years of banking experience in Nigeria and other African countries, including Sierra Leone, Cote D'Ivoire and the Gambia.
In the statement, UBA disclosed that Ms Theresa Henshaw has been appointed as CEO of UBA UK, subject to local regulatory approvals. She was previously the DMD, Business Development, UBA America and joined the Group as ED, Business Development at UBA UK.
Similarly, Mr Usman Isiaka, currently the CEO of UBA Sierra Leone, will be the Deputy CEO of UBA America, subject to local regulatory approvals, while Mr Adeyemi Adeleke, the former CEO of UBA UK, is now the Group Treasurer. He will be working to unlock the immense value in the Group's multi-jurisdictional balance sheet, leveraging on its presence in 24 countries within and beyond Africa.
Meanwhile, UBA has announced the retirement of Mr Samuel Oni, an independent non-executive Director, from the board following the expiration of his tenure.
He joined the UBA Group in January 2015 and served on the board of the group for eight years.
In the statement, Mr Elumelu thanked him for his commitment, leadership and extensive contributions to the UBA Group, wishing him the best in all his future endeavours.
UBA operates in 19 African countries beyond Nigeria, in addition to global operations in New York, London, Paris and the UAE. The company provides retail, commercial and institutional banking services, leading financial inclusion and implementing cutting-edge technology.
Latest News on Business Post