Funke Akindele's 'Omo Ghetto' May Break 'Wedding Party' Record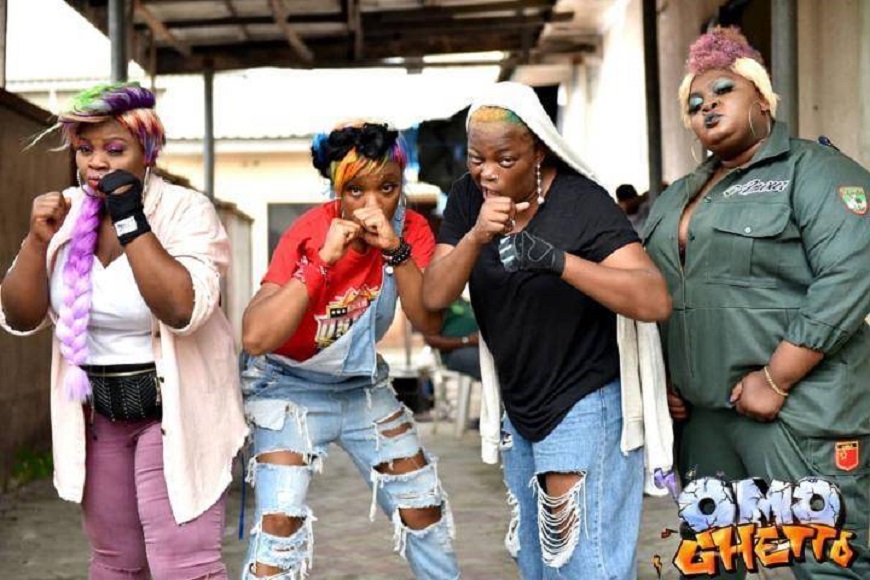 By Ahmed Rahma
A Nigerian filmmaker and director, Ms Kemi Adetiba, has tipped the recently released Omo Ghetto (The Saga) produced by a Nollywood actress, Funke Akindele, to break the record set by the Wedding Party Part 1 as the highest-grossing local movie.
Funke Akindele, a filmmaker popularly known as Jenifa, released Omo Ghetto (The Saga) at the cinemas some days ago. The movie star, who is married to a movie producer, Mr Abdulrasheed Bello, otherwise known as JJC Skillz, premiered the flick in Dubai, the United Arabs Emirates (UAE).
The movie has been getting rave reviews from pundits and Ms Adetiba believes the film will surpass the record set by the Wedding Party, produced by ELFIKE Film Collective, a partnership of four major production houses in Nigeria: EbonyLife Films, FilmOne Distribution, Inkblot Productions and Koga Studios.
In the opinion of Ms Adetiba, who directed the Wedding Party, Omo Ghetto (The Saga) has defied the COVID-19 crisis to pave its way through movie lovers.
According to her, she is "gingered" by the success of the Funke Akindele's just-concluded project in a COVID-19 year.
"[I] Just want to inform y'all that Funke Akindele is about to break the Wedding Party 1 record [that is] if she hasn't broken it already.
"If you understand how incredible this feat would be in a non-COVID year, then you'll understand even how more crazy it is in a COVID year. I'm gingered," she tweeted on Tuesday.
Wedding Party has remained the highest-grossing Nigerian film, a record which was broken in 2017 by its sequel The Wedding Party 2. The romantic comedy was premiered on September 8, 2016, at the Toronto International Film Festival in Canada and on November 26 same year at the Eko Hotel and Suites, Lagos.
Omo Ghetto (The Saga), also known as Omo Ghetto 2, is a 2020 Nigerian gangster comedy film co-directed by Funke Akindele and her husband, JJC Skillz.
This was the second film in the Omo Ghetto franchise and it is also the sequel to the 2010 trilogy film, Omo Ghetto. The film had its theatrical release coinciding with Christmas of 2020 and was opened to extremely positive reviews from critics.
Spotify to Commence Operations in Nigeria, Others
A Swedish audio streaming and media services provider, Spotify, has announced its intention to commence business operations in Nigeria, some African countries and others in the coming days.
To ensure usability in all of these new markets, the company also officially added support for 36 new languages to its platform, including Romanian, Hindi and Swahili. This means the platform now supports more than 60 languages in total.
Spotify explained that it was expanding its services to many Africam nations because these areas represent more than one billion potential new listeners.
"As part of our ongoing commitment to building a truly borderless audio ecosystem— connecting creators, listeners, and content—Spotify is embarking on a sweeping expansion that will introduce the world's most popular audio streaming subscription service available to more than a billion people in 80+ new markets around the world, and add 36 languages to our platform.
"These moves represent Spotify's broadest market expansion to date," the statement on the official website read.
With the additional countries and territories, Spotify's total footprint will cover 178 markets which the company says is its biggest concentrated market expansion to date.
According to Spotify, its full global music catalogue will be available in each of the new markets and the entire podcast catalogue will be available in the majority of them.
In each new market, "We will work with local creators and partners to expand our music offerings and deliver a Spotify experience that meets the unique needs of each market."
The full list of new markets includes Angola, Antigua and Barbuda, Armenia, Azerbaijan, Bahamas, Bangladesh, Barbados, Belize, Benin, Bhutan, Botswana, Brunei Darussalam, Burkina Faso, Burundi, Cabo Verde, Cambodia, Cameroon, Chad, Comoros, Côte d'Ivoire, Curaçao, Djibouti, Dominica, Equatorial Guinea, Eswatini, Fiji, Gabon, Gambia, Georgia, Ghana, Grenada, Guinea, Guinea-Bissau, Guyana, Haiti, Jamaica, Kenya, Kiribati, Kyrgyzstan, Lao People's Democratic Republic, Lesotho, Liberia, Macau, Madagascar, Malawi, Maldives, Mali, Marshall Islands, Mauritania, Mauritius, Micronesia, Mongolia, Mozambique and many more.
Spotify offers digital copyright restricted recorded music and podcasts including more than 70 million songs, from record labels and media companies. As a freemium service, basic features are free with advertisements and limited control, while additional features, such as offline listening and commercial-free listening, are offered via paid subscriptions.
Users can search for music based on artist, album, or genre, and can create, edit, and share playlists on the platform.