Giving Life to Needy: Celebrating an African Treasure Siju Iluyomade at 57
Her name is now synonymous to philanthropy. Not just an accolade she garnered for her exploits in supporting few individuals but assisting communities, supporting thousands, local, state and federal government at large.
For Dr Siju Iluyomade, her compassion knows no bounds, as far as it puts smiles on the less privileged faces.
This trait of hers resonated to the birth of a Non-Government Organisation (NGO), Arise Women Foundation. Not only that, Siju, as she's fondly called, is known to have nurtured charitable hopes and determination to help women efficiently thrive in life. She institutionalised the Handmaidens Women in Leadership Series (HWILS) to build intentional leaders.
In the last couple of months, weeks culminating to her 57th birthday on January 8, 2020, the delectable lawyer of 36 years' experience has assisted and supported not fewer than 40,000 households and individuals.
Needless to dwell much on what she has used one of her charitable brands, Arise Women Conference, to do in terms empowerment, human capacity building and national development at large in the last 13 years of inception. Hospitals, school buildings, computerised library, boreholes are some of the many infrastructures she has given to communities like Dafara, Kabusa in Abuja, Ondo, Imo, Kebbi and Lagos States.
It is of note that, despite Siju being the ever-supportive wife to Pastor Idowu Iluyomade of the Redeemed Christian Church of God (RCCG), City of David and Arise Women being a faith-based NGO, she has not discriminated in giving succour to the less privileged in the country regardless of their ethnic, tribal or religious affinity.
Dr Siju is on the cutting edge of women's and less privileged overall well-being and empowerment. She is passionate, purpose-driven, a catalyst for change, a vessel of transformation. She speaks up for the rights of women and believes that gone are the days of voiceless women.
Dr Siju pioneered the Handmaidens Fellowship in 1995 which has now become a popular, purpose-driven and multi-generational fellowship that meets every Wednesday from 12:30pm to 2:00pm to teach and mentor women from all walks of life. Testimonies abound of how the initiative has helped many to find their purpose in life.
The outreach has donated eight incubators to the Lagos Island Maternity as well as oxygen gauges, blood pressure machines, diapers, baby clothes, toys etc.
In addition, the organisation, in conjunction with the City of David, Charity Ball, donated a dialysis machine to the Gbagada General Hospital.
Dr Siju's intervention to the plight of Coronavirus patients and less privilege in this very challenging time came very handy at a time the government is seeking for support from corporate bodies and individuals.
Arise Women did not only donate ventilators, it distributed several medical equipment including protective suits, KN95 masks, infrared thermometers as well as foodstuffs to isolation centres in Lagos State.
In the last few weeks, Siju's Arise Pink Bucket, which consisted of food items like rice, groundnut oil, tomato paste, among others, has taken over many parts of the state. The food item serves as palliatives in this very difficult time for the less privileged in the society.
With over seven local government areas of Lagos State already benefitting from the largesse, Siju has promised to further continue the distribution of the items in other local councils of the state in commemoration of her 57th birthday.
Temple Company Seals Marketing Deal With Zee World
By Sodeinde Temidayo David
A marketing deal has been signed between the Temple Company and Zee Entertainment Enterprises Limited, owners of the Zee World TV channel.
It was gathered that Zee Entertainment picked the full-service creative agency based in Nigeria as its representative in the country and it is believed that it is to drive industry growth.
The Temple Company will interface with public sector organisations, looking to leverage its widely accepted platforms to their advantage.
According to the Indian television station, the partnership will present a unique advantage that decision-makers can leverage to better connect with Nigerians.
Speaking on the new deal, the founder of the Temple Company, Mr Idris Olorunnimbe, noted that the partnership was in line with the goal of the company to foster cross-border collaboration that will help drive growth for both Indo-Nigerian creative industries.
"We were ready for this collaboration long ago. When we launched The Temple Company, we had our job cut out to attract strategic collaborations that would impact positively on the creative economies across territories," he noted.
In his remarks, the Chief Executive Officer, Sub-Saharan African and Indian Islands, Zee Entertainment, Mr Somnath Malakar, expressed optimism about the partnership and noted that this deal will promote Zee Entertainment goal to present sectoral growth.
"We are certainly excited to partner with The Temple Company which positions us to collaboratively unlock the opportunities presenting themselves in Nigeria, the biggest and fastest-growing TV market in Africa," Mr Malakar noted.
Zee World debuted on the Nigerian television scene in February 2015 and has over the years proved to be a favourite among Nigerian families, especially the females.
This follows the latest MPS data ratings, which noted that the channel commands a viewership base of up to one-fifth of the entire Nigerian Pay-TV landscape, making it a desired platform for advertisers.
Zee World channel has been ranked as Nigeria's most-watched TV channel across all platforms.
Nigerian-born Ayobola Kekere-Ekun Shines at 2021 Absa L'Atelier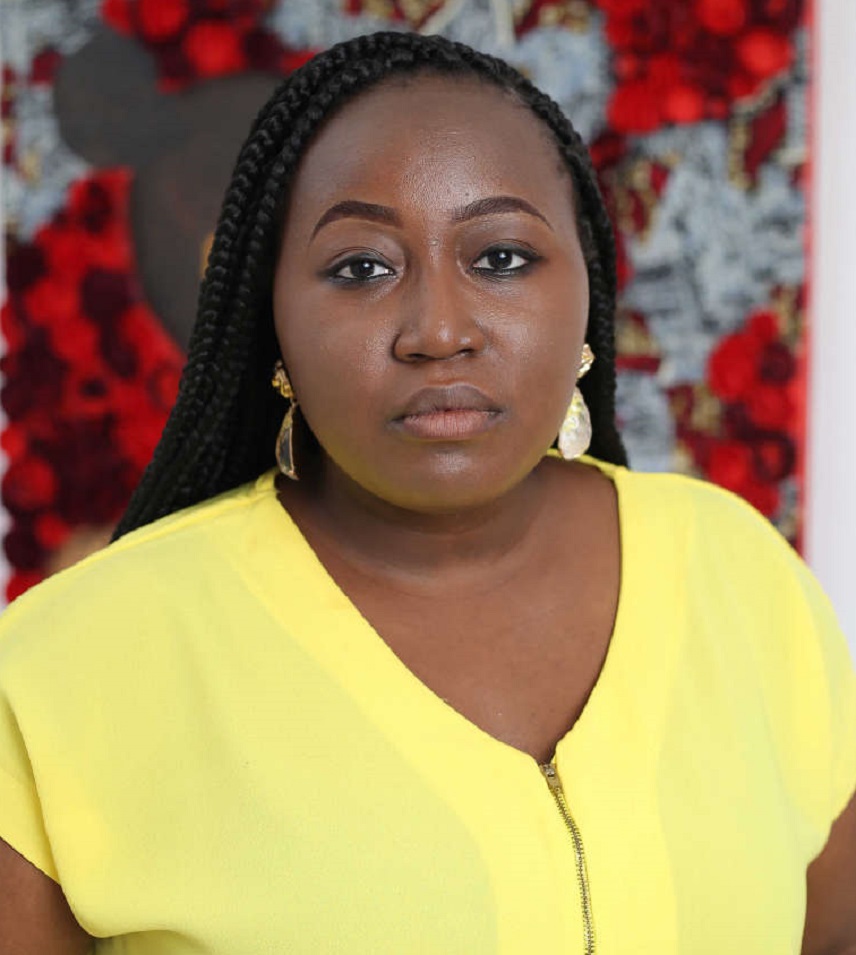 By Aduragbemi Omiyale
Nigerian-born Ayobola Kekere-Ekun has been selected as one of the winners of the prestigious 2021 Absa L'Atelier at an online event hosted on the Absa Art Hotspot.
The artist was among the finalists from Mozambique, South Africa, Uganda, Zambia, Mauritius, Seychelles, Tanzania, Botswana, Ghana, Kenya and Namibia.
She is among the one ambassador per group chosen from the three groups of African countries. The others are Adelheid von Maltitz from South Africa and Blebo Michael Jackson from Ghana, while the winner Absa L'Atelier Gerard Sekoto category was Abongile Sidzumo.
Absa, in partnership with the South African National Association for the Visual Arts (SANAVA), hosts the event to celebrate African art.
These winning artists now take on the title of Absa L'Atelier Ambassador 2021 received trophies that depict hands, symbolising the physical manifestation of creation, designed, and produced by established South African artist Roberto Vacarro, while the Gerard Sekoto trophy depicts a bull, representing prosperity and resilience.
Since its inception 35 years ago, Absa L'Atelier has showcased and continues to invest in some of Africa's finest young artists between the ages of 21 to 40.
This year, the competition established itself as the first African art competition to be hosted completely virtually; from entry, submission and adjudication of the artworks, to hosting a series of masterclasses and a mentorship programme for the 2019 Absa L'Atelier ambassadors, culminating in the online awards ceremony.
Entries were received from across Africa and judged by an independent panel of adjudicators including acclaimed artist and Director at BKhz, Banele Khoza as well as Armelle Dakouo, independent curator and artistic director at AKAA Art & Design Fair.
Criteria for selecting the Ambassador included technical execution, conceptual and thematic engagement, the freshness of artistic vision within the context of the contemporary African art landscape; as well as aesthetic appeal.
Established 17 years ago, the Gerard Sekoto award goes to a South African artist, aged between 25 and 35 years, who has continued to demonstrate integrity in the quality of their artwork.
The award is made possible by the Embassy of France in South Africa, the French Institute of South Africa (IFAS), which is the cultural arm of the Embassy, and the Alliance Française network in South Africa.
"With our partners Absa and SANAVA, we are proud to support the Gerard Sekoto award and to accompany young artists to share their work both nationally and internationally.
"We believe in this award which grants a talented young South African artist an amazing opportunity: to expand his or her horizons with a 3-month artistic residency at the Cité Internationale des Arts in Paris, and, of course, gain greater exposure as a result.
"The artists are inspired and inspire. They learn, and they teach. They explore, and exhibit, allowing people in France and in South Africa to learn more about their individual style and vision", says Aurelien Lechevallier, who is France's Ambassador to South Africa.
Though COVID-19 provided its challenges, the past two years were likewise a period of innovation and technological progression.
"The pandemic has allowed us to advance our digital art presence with the launch of the Absa Art Hotspot. This unique virtual experience platform made it possible for us to host live events such as webinars, art exhibitions, art masterclasses, and art auctions, while certain elements of our art-related sponsorships and partnerships such as this year's awards event were also migrated to the platform," says Paul Bayliss Senior Specialist Art Curator at Absa.
Hosting the competition digitally allowed for the removal of any barriers to entry as all the artist required was a smart phone or access to the internet.
"With this year's theme The Act of Art, we called our continent's fearless creators to act and to enter. This years' competition once again provided an opportunity for visual artists to respond and make their voices heard.
"We are committed to putting the basic building blocks in place to ensure that young artists from across the African continent can reimagine their futures and bring their possibility to life," says Bayliss.
SANAVA President, Dr Avitha Sooful, commended her partner, Absa, for forging ahead and continuously seeking ways to impact the African visual arts scene even during the ongoing pandemic.
"The COVID-19 pandemic derailed our plans for 2020 but through some innovative thinking, we were able to come back stronger this year and we actually have more entries than we have ever had for this competition. I commend the work that our partners, Absa, have done in making sure that African artists continue to reap the rewards of their hard work," Dr Sooful said.
"We look forward to working with this year's ambassadors and Gerard Sekoto winner and providing the next generation of young African artists with the support, recognition, and exposure they need to solidify their careers and build their brands," concluded Bayliss.
Glo Promises Dance Competition Winners N84m
By Sodeinde Temidayo David
Telecommunications solutions service provider, Globacom, has announced that it will be giving out N84 million to winners of the Glo Battle of the Year dance competition.
This was revealed by the company at a press conference on Wednesday, October 14 in Lagos. The firm, which is sponsoring the dance show, assured that the competition would redefine the entertainment industry in Nigeria.
According to the Director at Globacom's Communications, Mr Andre Beyers, the contest will offer unlimited opportunities for Nigerian youth to pursue their passion.
"In line with our commitment to promoting the Nigerian entertainment industry and youth talent development across the country, we are excited to unleash the unlimited potential of Nigerian dancers and provide the platform for them to showcase their abilities on the world stage," he noted.
Apart from the N84 million, the winners will get a chance to represent Nigeria at the international Battle of the Year contest in Germany.
The competition is scheduled to take place across six states, with intending contestants required to upload a 30-second entry video, after which the top 20 entries in each category would be selected to partake in the competition.
The Battle of the Year competition is an annual international breakdancing tourney that began in Hannover, Germany, over 20 years ago.
The regional qualifying tournaments are held worldwide and culminate in the world finals, usually held in Germany, with over 12,000 visitors across the world. It is widely regarded as the World Cup of breakdancing.
Latest News on Business Post