Applications for Apple Entrepreneur Camp Open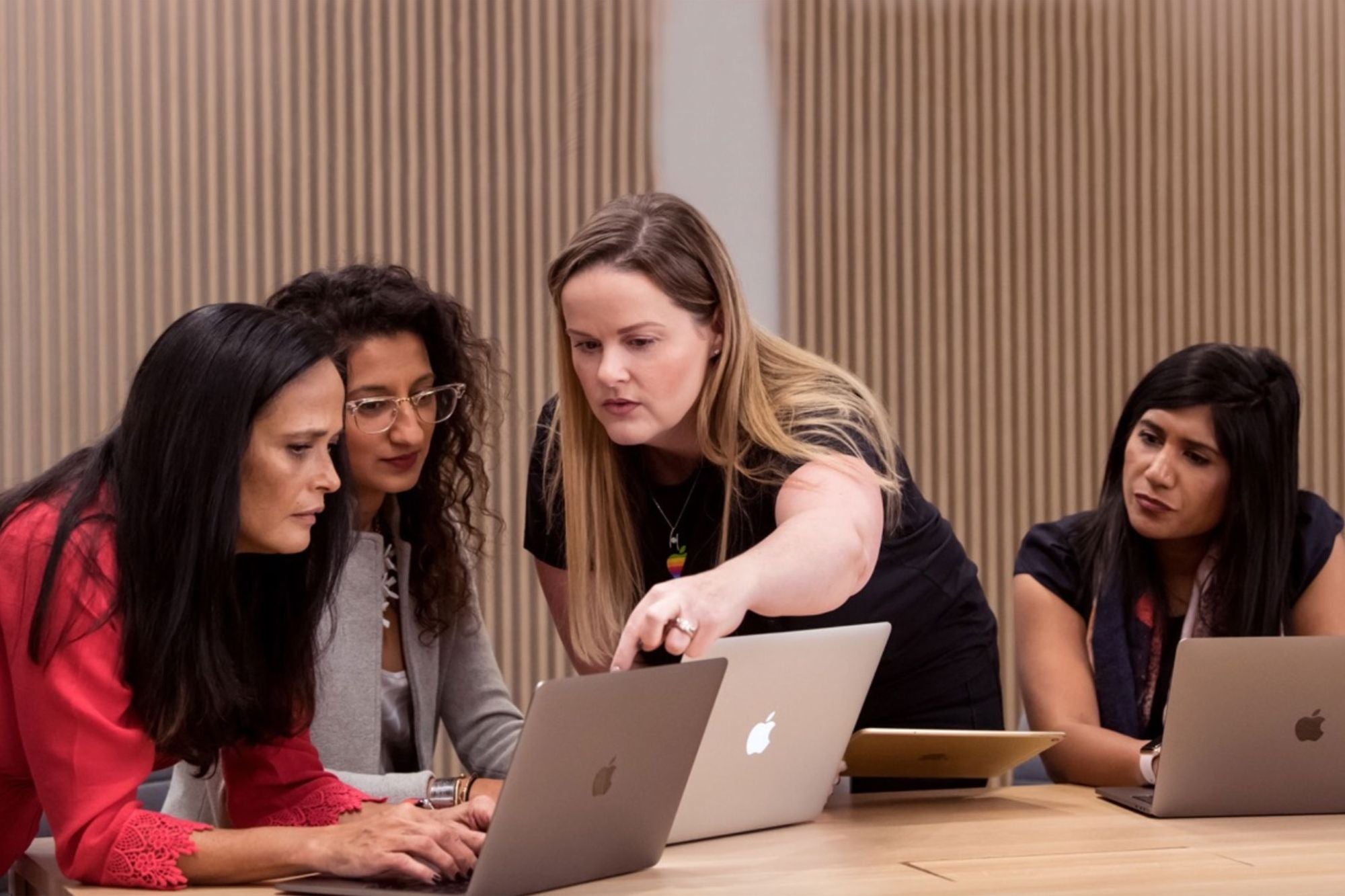 By Adedapo Adesanya
The applications for the next Apple Entrepreneur Camp for Female Founders and Developers have opened.
The Apple Entrepreneur Camp was established with the goal of supporting entrepreneurs who are underrepresented in technology as they build the next generation of cutting-edge apps, and to form a global network that encourages the pipeline and longevity of founders and developers of all backgrounds.
The heart of Apple Entrepreneur Camp is an intensive technology lab working one-on-one with Apple experts and engineers to significantly accelerate your app.
The event will see participants hear from Apple executives and leaders on a variety of topics such as the latest advances in machine learning and augmented reality.
Applicants will have the opportunity to connect as a cohort to discuss challenges specific to their community, and form relationships with their fellow attendees.
At the conclusion of the lab, they will have the opportunity to present their progress, get feedback, and chat with some of Apple's most senior leaders.
In addition, Apple Entrepreneur Camp consists of an immersive technology lab, as well as mentorship, education, and support.
Selected organisations receive the following free of charge: One-on-one code-level guidance from Apple engineers; Ongoing support from an Apple Developer representative for at least one year; One year of membership in the Apple Developer Program; and access to the Apple Entrepreneur Camp alumni network, a world-class group of inspiring and ambitious leaders.
Eligibility:
Applications are accepted from developers worldwide. To be eligible to apply:
The organisation must have:
A female founder, co-founder, or CEO;
A female developer proficient in Swift or Objective-C; and
A developed app or functional build that you can demo live.
The participants must be 18 years of age or older and proficient in English.
The female founder, co-founder, or CEO, the female developer, and additional developer or designer of any gender (if applicable) must be 18 years of age or older, proficient in English, and able to attend together for the entire duration of the program.
Benefits:
One-on-one code-level guidance from Apple experts and engineers; Ongoing support from an Apple Developer representative for at least one year;
One year of membership in the Apple Developer Program; and Access to the Apple Entrepreneur Camp alumni network, a world-class group of inspiring and ambitious leaders.
Review Criteria:
Applications will be reviewed based on:
Content of written responses to the questions in the application form; Commitment to development for Apple platforms using the latest Apple technologies; and whether the app is unique or innovative.
Application:
The application consists of four parts, which include uploads and prompts for written responses.
Organisation details. 
Tell us about your organization and provide contact information for up to three employees who would attend if your organization is selected.
Your app. 
Provide details about your app and development team. You may include a download or demo link, as well as up to three screenshots or wireframes that best illustrate the user experience.
The future. 
Describe what you plan to gain from participating in Apple Entrepreneur Camp, as well as your plans for the future.
Additional information.
Select the dates for which you'd like to apply and provide any additional comments.
Each application will be kept on file for one year.
How to Apply:
Click here to get started.
Application Deadline:
Apply by March 26, 2021.
Financial Phishing Cyberattacks Jump 79% in Nigeria
By Adedapo Adesanya
The number of financial phishing attempts in the African regions increased significantly with Nigeria recording a 79 per cent jump in the second quarter of the year.
According to Kaspersky's Financial Cyberthreats report, attacks in the financial sector are becoming increasingly corporate-oriented and shifting away from consumers as banks, payment systems, and e-commerce websites were attacked massively.
Imperfections in the transition to remote/hybrid work continue to pose a huge threat to businesses. On top of that, economic issues caused by the pandemic have further aggravated the problem. Driven by poverty and unemployment, cybercriminals have continually intensified malicious activities against customers and bank infrastructure.
Financial phishing is a deceptive way of stealing information and is gaining momentum in the region. Phishing is a type of online fraud where the scammer sends fake alerts from banks, e-pay systems and other organisations to trick consumers into sharing their financial details.
The alerts sent by the scammer can be related to loss of data, update credentials or system breakdown, which results in theft of passwords, credit card numbers, bank account details and other confidential information.
According to the Kaspersky telemetry, in Q2 of 2022, a total of 61,344 financial phishing attacks aimed at organisations were detected, an increase of 79 per cent compared to the first quarter.
Giving a breakdown, the largest share of attacks was mostly directed at e-commerce websites with 52 per cent, with payment systems hit by 42 per cent, while banks received about 6 per cent.
It was higher in Kenya, one of Africa's booming economies, as a total of 100,192 financial phishing attacks aimed at organisations were detected in Kenya, a 201 per cent increase compared to Q1.
The largest share of attacks was directed at e-commerce websites (58 per cent), with banks (21 per cent) and payment systems (also 21 per cent).
Speaking on the report, Mr Emad Haffar, Head of Technical Experts at Kaspersky, said, "A life without the Internet is strange to us. So much so that our financial life is now digital. This is the magic of digitisation. But we also need to be aware of an unprecedented wave of challenges.
"Financial threats are one such challenge which is becoming more advanced in exploiting human behaviour and will only continue to grow. Businesses trying to stay ahead of such evolving, complex cyberattacks should make fraud prevention a focal point to control fraud transactions, eventually reduce fraud risk in the future and avoid reputation damage."
Kaspersky highlighted certain recommendations to help businesses stay ahead of financial threats and phishing attacks, including companies needing to educate employees as they are considered the first line of cyber defence. This needs to be a continuous learning experience as well as teaching them about the red flags they need to keep an eye out for.
Similarly, organisations need to extend the dos and don'ts of cybersecurity to customers to protect themselves against phishing fraud.
It called on companies to capitalise on the Kaspersky Fraud Prevention solution, which proactively analyses and detects whether a customer's device is infected with malware in real time.
Organisations were also charged to rely on Kaspersky Threat Intelligence to increase visibility and feed their security operations with advanced insights.
Meta Introduces WhatsApp Call Links to Rival Zoom, Google Meet
By Adedapo Adesanya
WhatsApp is rolling out a new feature that allows users to share a direct link to a call, just as it is planning to allow up to 32 users during a call session in a move that can see the Meta-owned platform rival other platforms.
The Call Links feature will start appearing on WhatsApp this week and can be accessed through a banner at the top of the Calls tab. WhatsApp users who want to try the Call Link feature will need the latest version of the app, which can be updated through the app store.
Mr Mark Zuckerberg, CEO of Meta, while announcing the feature on Facebook, said WhatsApp users will be able to share a link to a call with "a single tap."
The ability to share a call link with up to 32 users was teased in April during the announcement of another upcoming feature, WhatsApp Communities.
The WhatsApp Call Links feature will support both audio and video calls. Mr Zuckerberg also confirmed that encrypted video calling is currently being tested for group calls with up to 32 people, which is notable, as WhatsApp currently caps video calls at eight users.
The expanded call capacity sets up WhatsApp as a competitor for Google Meet, Microsoft Teams, or Zoom. These rival offerings have a far greater caller capacity (100 for Google and Microsoft Teams and 300 for Zoom).
However, they include restrictions like call duration for free accounts and might not be the first choice for the billions of people already chatting for free on WhatsApp.
WhatsApp did not mention any restrictions on call duration, which could place it as one of the best free video calling applications for smaller teams and personal networks once the feature is widely available.
Why Digital and Tech Skills Need to be Included at all Levels of Education
Education is, without a doubt, a fundamental human right. Today, digitalisation enables us to improve education and provide equal access to all. But where do we even begin?
In a world where everything is online, and any business that isn't online is losing money, failing to teach our children digital skills for today and tomorrow will only widen our continent's skills gap. This is because more than half of today's professions demand technical abilities.
So, why is it critical for the technology industry to be involved in education at all levels?
Nurture future champions of the industry
Technology literacy and digital literacy are crucial for Africa's future. And while we are making progress with the introduction of coding in primary schools in countries like Kenya and South Africa, we still have a ways to go.
"We know that every technology business is hampered in its growth by a severe lack of talent across Africa, and it is up to us as a part of that ecosystem to help develop and nurture future champions of the industry," says Sean Riley, CEO at Ad Dynamo by Aleph.
"Unfortunately, there is still a substantial skills gap in Africa, and to solve it, we must begin at the grassroots level. We live in an increasingly digital world, so it is only logical that we begin teaching digital skills," adds Riley.
Provide more flexible pathways
According to a World Economic Forum report, 65% of today's primary school children will eventually be working in job types that do not exist yet, while the International Finance Corporation (IFC) estimates that by 2030, more than 230 million jobs in Africa will require digital skills.
"It is therefore clear that emerging economies face significant upskilling challenges, which need to be addressed throughout the educational careers of young people. Businesses and educational institutions must work together to ensure that learners are equipped to handle the ever-changing nature of work.
"The business sector, in particular, should take the lead in this regard, whether through training sessions, providing more flexible skills pathways, or through the recognition of short courses, as well as online and self-learning," says Vanashree Govender, Huawei SA spokesperson.
Technology innovation is happening so quickly that training must now be adjusted constantly, almost in real time, as new systems, applications, and devices come to market.
Conscious of the need for technology-driven upskilling, Huawei has built strong relationships with training and education institutions and established programmes such as our ICT Academies at universities and TVET colleges and our Seeds for the Future programme, which aims to develop skilled, local ICT talent.
Contextual education
"Education needs to be contextual. It should enable children to understand things around them and prepare them for real-world challenges. As technology has become ubiquitous, it is important to teach children how it impacts the world and helps them understand how it can be utilised to solve various problems," says Andrew Bourne, Regional Manager, Africa – Zoho Corp.
Prepare students for an evolving workplace
Students require more than a functional knowledge of digital and technological skills to succeed in the world. By incorporating these technologies into the normal curriculum and ongoing activities, institutions ensure that their students are more equipped for the modern workplace.
Latest News on Business Post