Telecoms Firms Rubbish Emefiele's 3 Minutes Call Tax Proposal
By Dipo Olowookere
The proposal by Governor of Central Bank of Nigeria (CBN), Mr Godwin Emefiele, that government should consider collecting tax on calls above minutes has been rejected by the Association of Telecommunications Companies of Nigeria (ATCON).
The association described the suggestion as "not only technically" wrong, "but [also] economically" faulty and "not founded on any theory."
Mr Emefiele, at the 2016 Annual Bankers' Dinner organised by the Chartered Institute of Bankers of Nigeria (CIBN), had opined that government could look in the direction of taxing calls above three minutes from consumers as a way of generating billions of Naira as revenue, which would be used to reflate the economy, which is struggling with recession.
Addressing newsmen in Lagos on Saturday, president of ATCON, Mr Olusola Teniola, noted that stakeholders in the telecommunications industry were not consulted on the issue before the pronouncement.
He said if the proposal was targeted at the poor and middle class in the society and not the rich, which the CBN Governor said make longer calls and would affect.
"Contrary to the CBN Governor's believe, it is the poor people who make more calls than the rich.
"So, the proposal is not targeted at the middle or higher class.
"I have not seen any industry where you don't want people to use your products or services more.
"We want people to be speaking longer," Mr Teniola told journalists in Lagos.
Furthermore, he said that, "In fact, you will now see that people will be cutting their calls.
"It does not make sense, not only technically but economically, to apply that kind of thinking as a tool or solution out of the present economic recession, it is not going to work."
Mr Teniola suggested that government could raise additional revenue by "introducing a negligible telecom surcharge to be entirely borne by the initiator of a call in order to protect the poor and vulnerable amongst us.
"We could structure it to only take effect after the third minute of talk.
"Some analyses have indicated that the government could earn about N100 billion per annum from this alone.
"Obviously, this surcharge will mainly be borne by middle and upper class people since I do not know many poor people who make calls for more than three minutes."
The ATCON boss urged the Senate to look into the one percent VAT increase across all sectors it proposed to it, saying, "This is a more realistic measure toward getting more revenue for the government."
NCC Orders Implementation of Harmonised Short Codes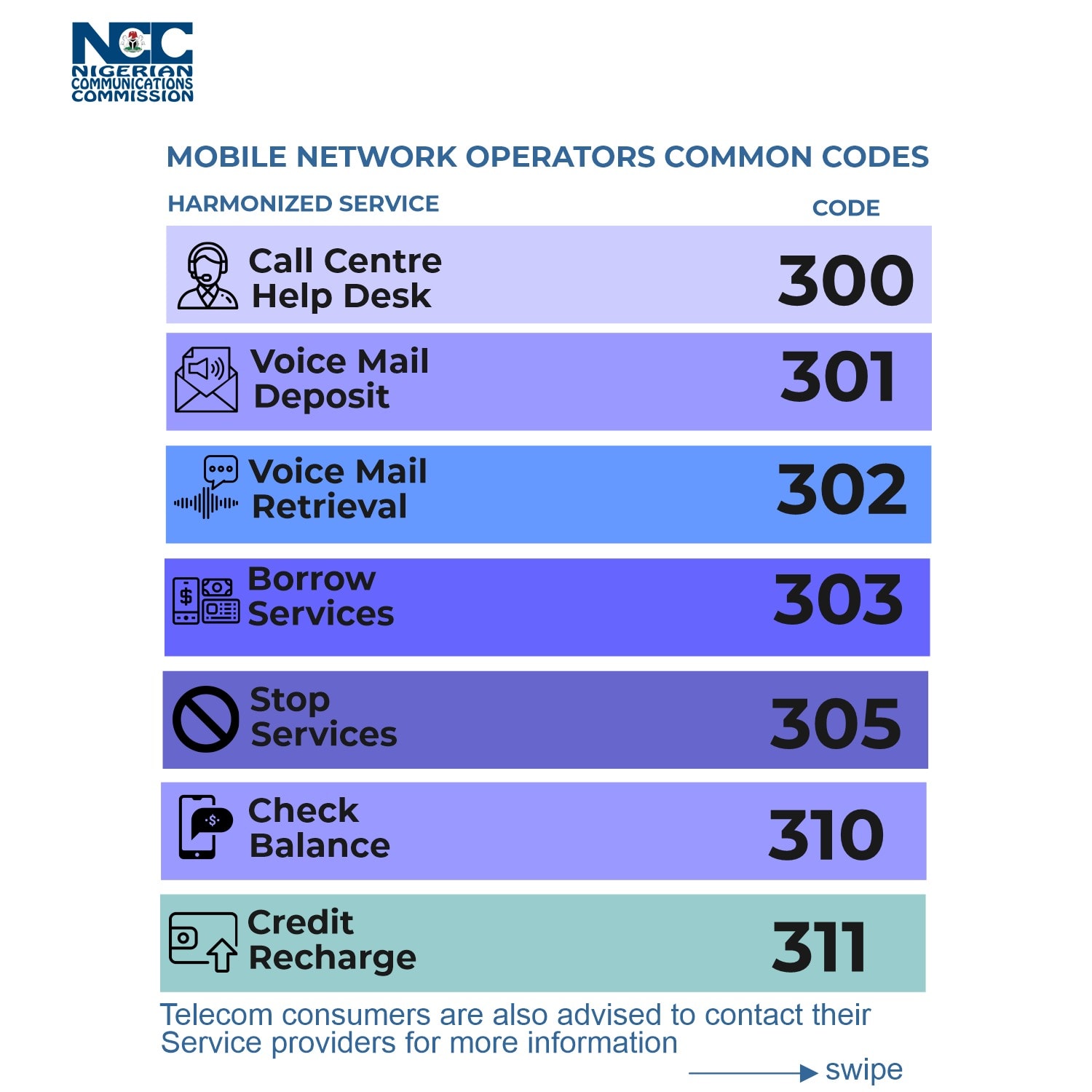 By Aduragbemi Omiyale
The Nigerian Communications Commission (NCC) has directed mobile network operators (MNOs) to commence implementation of the approved harmonised short codes (HSC) for providing certain services to telecom consumers in the country.
The Director of Public Affairs at the NCC, Mr Reuben Muoka, in a statement on Monday, said the unified short codes were approved in line with its consumer-centric approach to telecom regulation.
According to him, the use of harmonised short codes is aimed at achieving uniformity in common short codes across networks.
This means that the code for checking airtime balance is the same across all mobile networks for the same function, irrespective of the network a consumer uses.
With the new codes, telecom consumers using the over 226 million active mobile lines in the country can now use the same codes to access services across the networks.
Already, the agency has set a deadline of May 17, 2023, for all mobile networks to fully migrate from hitherto diverse short codes to harmonised codes.
The period between now and May 17, 2023, is provided by the NCC to enable telecom consumers to familiarise themselves with the new codes for various services.
Under the new harmonised short codes regime, 13 common short codes have been approved by the NCC and include 300 for Call Centre/Help Desk on all mobile networks; 301 for voice Mail Deposit; 302 for Voice Mail Retrieval; 303 for Borrow Services; 305 for STOP Service; 310 for Check Balance, and 311 for Credit Recharge.
Also, the common code for Data Plan across networks is now 312. In line with the new direction, 321 is for Share Services, while 323 is for Data Plan Balance. The code 996 is now for Verification of Subscriber Identity Module (SIM) Registration/NIN-SIM Linkage.
The code 2442 is retained for Do-Not-Disturb (DND) unsolicited messaging complaint management, while the common code, 3232, is also retained for Porting Services, otherwise called Mobile Number Portability.
The old and new harmonised short codes will run concurrently up until May 17, 2023, when all networks are expected to have fully migrated to full implementation of the new codes.
Bitfinex Lists CryptoGPT to Revolutionise Approach to AI
By Adedapo Adesanya
Cryptocurrency exchange, Bitfinex, has listed the first-of-its-kind CryptoGPT token ($GPT) in what has been touted as a revolutionised approach to artificial intelligence (AI).
The CryptoGPT, a cryptocurrency token built on an Ethereum platform, is the first-of-its-kind multi-value gas token and has the necessary demand as fuel for network transactions. It is topped up with value funnels from validator staking, cash flow from core products, and power of fee treasury which can be deployed for liquidity events like buybacks, burns, and/or expanded yield.
In a statement, the company said CryptoGPT token would revolutionise the world of AI by decentralising the data industry and giving billions of users across the world, including Africa, full control of their own AI data and freedom to monetize such data as they live their daily lives, creating a sustainable income stream.
CryptoGPT is a dedicated layer-2 blockchain built to create trillion-dollar data and power the AI revolution. The blockchain hosts apps with 2+ million active users, placing it as one of the biggest blockchains at launch. This innovation uniquely merges blockchain technology with AI and offers an ecosystem that treats data like an asset class.
The rise of artificial intelligence (AI) is bringing drastic changes in the technological fields around the world, where if implemented, it automates systems for more efficiency and performance.
From the comfort of a mobile phone and in multiple fields, AI is continuously providing high-performance and accurate system work with efficiency whilst playing an important role in helping humans work better without the help of humans. Since its inception, there is no doubt that the algorithm and success of AI is data-driven, and currently, many big tech companies and players like Meta, Google, and Amazon make billions and trillions of dollars by monetizing users' AI data.
By creating an ecosystem that incentivizes users to earn crypto tokens and avoid constant inflation, CryptoGPT lets users capitalize on their data through its versatile $GPT token.
"No matter how much CryptoGPT ultimately decentralizes data, the $GPT token is a good investment because users can amass significant quantities of it by using the ecosystem's apps and making referrals. This makes CryptoGPT the first sustainable 'to earn' ecosystem that pays users for contributing data that is then sold in the global data marketplace," the company said.
CryptoGPT, unlike most participants in the AI boom, entered the marketplace with a compelling value proposition setting itself apart.
Currently, AI is used for different purposes and in different fields like virtual assistants or chats, healthcare agriculture, security and surveillance, logistics, shopping and fashion, agriculture, and farming. The CryptoGPT has an ecosystem of millions of daily app users with over 20+ apps in these fields as well as lifestyle, music, dating, travel, and gaming.
Nigerian Fintechs Mull New Registry to Tackle Fraud
By Adedapo Adesanya
Financial technology (fintech) companies in Nigeria are reportedly working on a joint strategy that will help create a new registry to tackle fraudulent transactions within their networks.
A report from the publication revealed that three people familiar with the development said the registry had been stylised as Project Radar.
The registry, when public, would enable companies to pool details, including banking and government identity data, of individuals and groups that have attempted or made fraudulent transactions.
The report revealed that representatives of more than a dozen companies — including payments processor Flutterwave, digital banks Kuda and Branch, and savings app Cowrywise — joined a call on Monday (March 6), to come up with the move.
It was reported that the most vocal appeared to be Mr Olugbenga Agboola, the chief executive officer (CEO) of Africa's most valuable startup, Flutterwave.
This could be tied to recent happenings around the company after news broke that Flutterwave was hacked for N2.9 billion ($6.3 million) in over 60 transactions in February.
Court documents showed the company filed a suit in Lagos against 16 commercial banks to freeze over 100 accounts suspected of receiving proceeds of the reported hack.
Business Post later reported that Flutterwave denied the hack, saying it observed an unusual trend of transactions on some users' profiles, and it quickly took action.
The company said, "We want to confirm that no user lost any funds, and we take pride in the fact that our security measures were able to address the issue before any harm could be done to our users.
"Our commitment to keeping our users' financial information safe and secure is why we invest heavily in security initiatives such as periodic audits, certifications, and licenses such as the PCI-DSS & ISO 27001. These are in line with global best practices in information security management.
"We want you to continue to trust us and feel secure using Flutterwave for your business needs. Our commitment is to enable your business growth while keeping your financial information safe and secure."
Latest News on Business Post