How is Russia Straddling to Make Economic Impact in Africa
By Kestér Kenn Klomegâh
While Russia's interest in sub-Saharan Africa is nothing new, Russian authorities have realized that it's time to move back primarily to reclaim its economic footprints and to find old Soviet-era allies, but that step comes with new challenges, especially from other foreign players and the changing internal political and economic conditions in Africa.
Long before it held its first symbolic summit in October 2019, many experts indicated in several policy reports that "Russia has often failed to capitalize on the historical connection between Moscow and those African elites who had been educated in the Soviet Union and Russia."
For the past few years, Russian authorities are only demonstrating steady and strategic steps at the possibility of pushing huge investments in lucrative sectors, often rattling in hyperbolic statements on ways to strengthen bilateral relations and expand economic cooperation in a number of African countries.
That theatrical show of corporate investment and business interests has been sealed into various agreements, resulting from high-powered state delegations who frequently visited both regions. Records concretely indicated that 92 bilateral agreements were signed during the first summit; little has been achieved, and yet Russians are looking forward to new agreements in the forthcoming July gathering in St. Petersburg.
Keir Giles, an associate fellow of the Royal Institute of International Affairs (Chatham House) in London, explained to me in an email interview, precisely in April 2015, that "Russia's approach to Africa is all about making up for a lost time. The Soviet Union's intense involvement in African nations came to an abrupt halt in the early 1990s, and for a long time, Moscow simply didn't have the diplomatic and economic resources to pay attention to Africa while Russia was consumed with internal problems."
According to Giles, "that changed in the last decade, thanks to two things: the arrival of President Vladimir Putin with a new foreign policy focus, and the massive influx of cash on the back of increased oil prices, which transformed Russian state finances. Russia is interested both in economic opportunities and in rebuilding political relationships that had in some ways been on hold for over a decade."
In order to raise Russia's economic influence and profile in Africa, the Coordinating Committee on Economic Cooperation with Sub-Saharan Africa, popularly referred to as AfroCom, was created in June 2009 on the initiative of the Russian Federation Chamber of Commerce and Industry and Vnesheconombank to help promote and facilitate Russian business in Africa. Since its creation, it has had full-fledged support from the Russian Government, the Federation Council and State Duma, the Ministry of Foreign Affairs and the African diplomatic community.
At the Chamber of Commerce and Industry of the Russian Federation, Georgi Petrov, noted at AfroCom's annual executive meeting held in April 2015 that "in view of the current geopolitical situation in the world and the economic situation in Russia, Russian businesses have to look for new markets. In this regard, of particular interest is the African continent, which today is one of the fastest-growing regions in the world with annual GDP growth of 5%. In addition, opportunities for projects in Africa are opened with the accession of South Africa to the BRICS bloc." Petrov was referring to Brazil, Russia, India, China and South Africa as members of BRICS.
Reports also showed that Russia has started strengthening its economic cooperation by opening trade missions with the responsibility of providing sustainable business services and plans to facilitate import-export trade in a number of African countries. A simple calculation shows that already been more than a decade since the establishment of the Coordinating Committee on Economic Cooperation with Sub-Saharan Africa. There are also several Joint Commissions on Trade and Economic Cooperation, and of course, there are Trade and Economic councillors at nearly all of Russia's diplomatic missions in Africa.
But these Russian trade centres must necessarily embark on a "Doing Business in Africa" campaign to encourage Russian businesses to take advantage of growing trade and investment opportunities to promote trade fairs and business-to-business matchmaking in key spheres in Africa.
Maxim Matusevich, an associate professor and director of the Russian and East European Studies Program at Seton Hall University, told me in an interview that "in the past decades, there was some revival of economic ties between Africa and Russia – mostly limited to the arms trade and oil/gas exploration and extraction. Russia's presence in Africa and within African markets continues to be marginal, and I think that Russia has often failed to capitalize on the historical connection between Moscow and those African elites who had been educated in the Soviet Union."
"It is possible that the ongoing crisis in the relations between Russia and the West will stimulate Russia's leadership to look for new markets for new sources of agricultural produce. Many African nations possess abundant natural resources and have little interest in Russia's gas and oil. As it was during the Soviet times, Russia could only offer a few manufactured goods that would successfully compete with Western-made products. African nations will probably continue to acquire Russian-made arms, but otherwise, I see only a few prospects for diversification of cooperation in the near future," added Maxim Matusevich.
Foreign Minister Sergey Lavrov and the Special Presidential Representative for the Middle East and Africa, Mikhail Bogdanov, have several times paid working visits to Africa. On the other side, they have held several meetings these several years, with several high delegations from Africa. The parties have, these several years, discussed bilateral and regional issues and the improvement of diverse cooperation between Russia and Africa, including cooperation with sub-regional organizations of the continent, according to the several transcripts posted to the official website of the Foreign Ministry.
Without a doubt, Russia's strategic return to Africa has sparked academic discussions at various levels where academic researchers openly admitted that political consultations are on track, arms export has significantly increased, but other export products are extremely low. In addition, Russia's involvement in infrastructure development and industry has been invisible for the past decades on the continent.
In another interview, Themba Mhlongo, Head of Programmes at the Southern Africa Trust, thinks that Africa should not expect higher trade flows with Russia simply because Africa has not engaged Russia.
Mhlongo told me that "Russia has not been as aggressive as China in pursuing opportunities in Africa because Russia has natural resources and markets in Eastern Europe, South West Asia. Russian exports to Africa might be dominated by machinery and military equipment which serves their interest well."
Notwithstanding the above weaknesses, he suggested that Africa must engage all BRICS members equally, including Brazil and Russia, in order to build alliances and open trade opportunities, including finance and investment opportunities. Also, African countries must not seem to show preferences in their foreign policy in favour of Western Europe if they want to benefit from trade relations with Russia. They must learn to be neutral; neutrality is a pragmatic strategy!
Mhlongo suspects that Africa still holds an old view about Russia being a communist state and less technologically developed or unsophisticated than Western Europe. But Russia never colonized Africa, so there are no colonial ties between the two – Africa and Russia.
"If you look at African trade flows to Europe, they reflect colonial ties most of the time. However, modern Russia is now an important emerging market country and a member of BRICS. But Russian society is closed, and its orientation is towards Western Europe, particularly the United States (probably due to the period of bipolar global power system that existed before). Russia exports to Africa but rarely sets up businesses. The language (or culture in general) could be one of the barriers to developing trade relations with Russia," he underlined in his discussion.
He proposed that both Africa and Russia could initiate a dialogue to explore economic opportunities between them. However, there are other avenues to engage each other through the BRICS bloc or through bilateral diplomatic channels. Russia has embassies in Africa, and African countries have diplomatic representations in Russia. Africa may have to pay special attention to cultural issues, try to understand Russia in this ever-changing environment and find an entry point to engage Russia.
On her part, Alexandra Arkhangelskaya, a senior researcher at the Institute of African Studies under the Russian Academy of Sciences and a staff lecturer at the Moscow High School of Economics, told me in an interview that Russia and Africa needed each other – "Russia is a vast market not only for African minerals but for various other goods and products produced by African countries."
The signs for Russian-African relations are impressive – declarations of intentions have been made, important bilateral agreements signed – now it remains to be seen how these intentions and agreements will be implemented in practice, she pointed out in her discussions.
The revival of Russia-Africa relations should be enhanced in all fields: political, economic, trade, scientific, technological, and cultural. Obstacles to the broadening of Russian-Africa relations should be addressed. These include, in particular, the lack of knowledge in Russia about the situation in Africa and vice versa, suggested Arkhangelskaya.
"As we witness rapid deterioration of relations between Russia and the West unfold, Russia's decision to ban the import of some agricultural products from countries that have imposed sanctions against Moscow offers great opportunities for the expansion of trade of such products from Africa," the professor observed in her discussion.
Experts who have researched Russia's foreign policy in Africa at the Russian Academy of Sciences' Institute for African Studies have reiterated that Russia's exports to Africa can be possible only after the country's industrial-based experiences a more qualitative change and introduces tariff preferences for trade with African partners. As a reputable institute during the Soviet era, it has played a considerable part in developing African studies in the Russian Federation.
"The situation in Russian-African foreign trade will change for the better if Russian industry undergoes technological modernization, the state provides Russian businessmen systematic and meaningful support, and small and medium businesses receive wider access to foreign economic cooperation with Africa," according to Professor Aleksei Vasiliev, of the RAS Institute for African Studies and a full member of the Russian Academy of Sciences, and Evgeny Korendyasov, an expert at the RAS Institute for African Studies.
In one of his speeches posted to the official website, Russian Foreign Minister Sergey Lavrov noted frankly in remarks: "it is evident that the significant potential of our economic cooperation is far from being exhausted, and much remains to be done so that Russian and African partners know more about each other's capacities and needs. Creating a mechanism for providing public support to business interaction between Russian companies and the African continent is still on the agenda."
Cote d'Ivoire Launches Startup Act to Support Ecosystem
By Adedapo Adesanya
Nigeria's West African neighbour, Cote d'Ivoire, may be the latest country in the African continent to get a Startup Act as the Ivorian government unveiled the framework designed to support the country's most talented start-ups.
The journey began in 2018, and after much deliberations, in August 2021, startup ecosystem players gathered in the capital Yamoussoukro to develop a local law fostering startups in the West African country.
Two years later, the bill was approved by the Ivorian Council of Ministers, the country's top executive decision-making body.
The bill, among other things, establishes the terms of financing and support for digital startups under Ivorian law. Its special goal is to support the development and sustainability of these vulnerable enterprises' creative activity until they reach maturity in order to maximise their contribution to the transformation of the national economy and the quality of life of the people.
To give more weight and visibility to young innovative companies, Côte d'Ivoire announced a new legal framework. The Ivorian Startup Act, which is awaiting parliamentary approval, should soon bring a wind of change in the entrepreneurial ecosystem.
Speaking on this recently following a meeting with stakeholders from Tunisia, the first African country to pass a Startup Act,  Florence Tahiri Fadika, who is a technical advisor in charge of innovation and change at the country's Ministry of Communication and the Digital Economy, said, "A meeting with our Tunisian counterparts during a benchmarking study at the end of 2022 accelerated the process. Tunisia is one of the first countries in Africa to have implemented a Startup Act. Their model is inspiring because it is very operational. The benchmarking mission, organized by the NTF V project, enabled us to benefit from Tunisia's experience and to identify good practices."
Following Tunisia's model, the Ivorian Startup Act is driven by a strong political will and intends to bring concrete results.
"While waiting for the law to be officially voted by our assemblies, we are already working to make the Startup Act a tangible reality. The idea is not to copy the Tunisian legislation but to adapt it to the reality of our economy. A mapping study is underway and should enable us to precisely target the needs of our ecosystem," Fadika said.
"At the same time, we are developing construction projects for new technology parks and start-up campuses," she said. "Under the Startup Act, eligible start-ups will be able to benefit from state-of-the-art infrastructure and numerous amenities in order to succeed both regionally and internationally."
The beneficiary start-ups will be able to access new opportunities in terms of training, financing, promotion, and access to public contracts and international markets.
When it becomes a law, the country will join Tunisia (April 2018), Senegal (December 2019), and Nigeria (October 2022) as African countries with startups backing the legislation.
Africa is Against Economic Colonization—Mudenda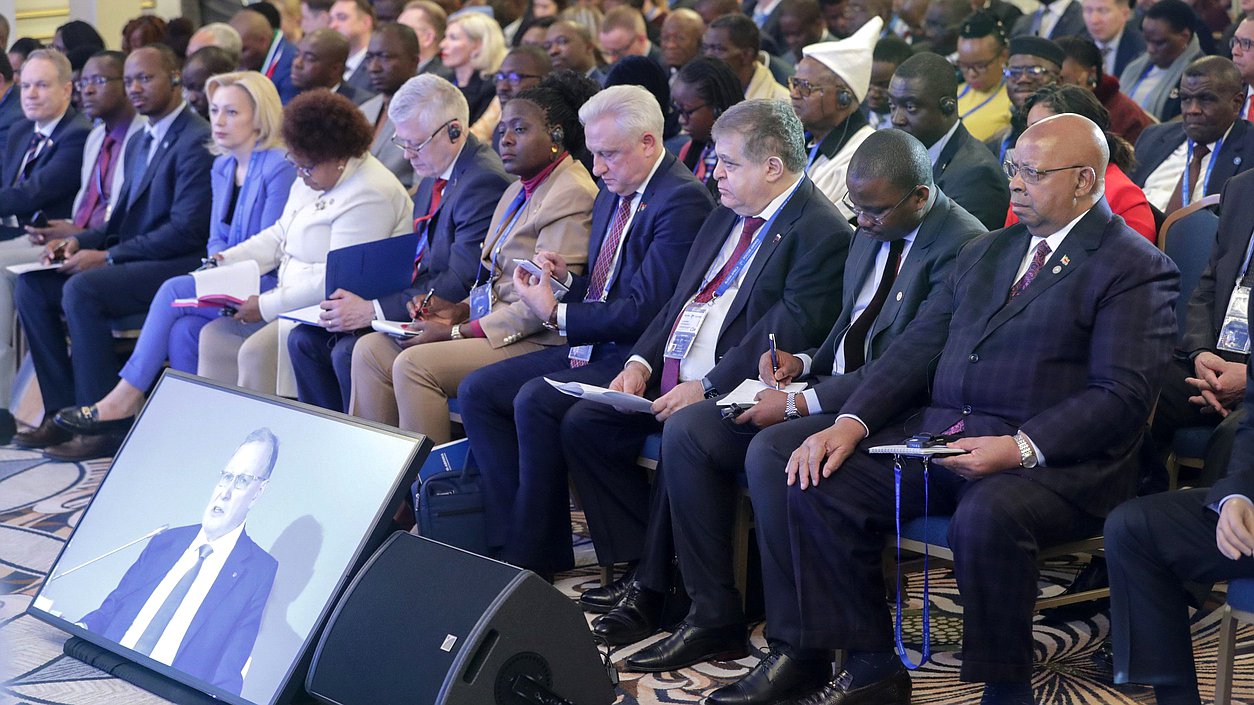 By Kestér Kenn Klomegâh
Parliamentarians from Russia and Africa discussed issues of development of economic cooperation during the first day of their conference March 19 to 20, in Moscow.
The objectives of the conference are to strengthen parliamentary cooperation with African countries in the conditions of formation of a multipolar world, to develop relations and develop common approaches to legal regulation in the economy, science and education and security.
Round table discussions on the topic "Legislative Response to Economic Challenges" was held as part of the International Parliamentary Conference Russia-Africa events.
First Deputy Chairman of the State Duma, Alexander Zhukov, stressed that Africa "is a rapidly developing region with great prospects and that Russia is currently actively working to enhance cooperation with the countries of the African continent."
"Unlike many Western countries, Russia does not have colonial experience, and the contribution of the Soviet Union to the liberation of African countries from colonial dependence is also well known to everyone," he explained.
"An important part of the cooperation should be the exchange of legislative experience with African countries in key areas," he said.
"Our mutual economic interests include investments, cooperation within production chains, cooperation in strategic infrastructure projects, energy, medicine, financial technologies, and that, of course, along with the traditional supply of grain and fertilizers," said the First Deputy Chairman of the State Duma.
Africa stands for an equal partnership
Jacob Mudenda, the Speaker of the National Assembly of the Republic of Zimbabwe, stressed that there should be a "specific approach" to provide a legislative response to economic challenges.
"Africa has resources, including those that cannot be found in other countries, even in developed ones. That is why Africa is the best investment option," he said.
"Africa is against economic colonization; Africa stands for equal partnership," said Jacob Mudenda.
Speaking about legislative issues, he said that the continent needed infrastructure and its development, such as road improvements, rail and air transport.
"If there is no infrastructure, it will be impossible to trade even with developed countries such as Russia and with Africa," said the Speaker of the National Assembly of the Republic of Zimbabwe.
He also noted the necessity to develop the energy sector for industry and sufficient water for agriculture.
Energy cooperation
The Chairman of the State Duma Committee on Energy, Pavel Zavalny, said that signing intergovernmental agreements was an important tool of political support for enhancing energy cooperation between Russia and African countries.
He emphasized that energy was one of the most promising areas of economic cooperation between Russia and African states. Economic growth and energy demand are shifting to Asia and Africa in global economic and geopolitical transformation conditions.
"One of the tools for intensifying economic cooperation is political support. Currently, there have been established economic cooperation with 14 countries of the continent at the state level, there were created high-level bilateral commissions, and signed intergovernmental agreements," stressed Zavalny.
"The development and harmonization of energy legislation can play an important role in enhancing mutually beneficial energy cooperation between Russia and African countries. And that is the work that we should do in the interests of our nations," concluded the Chairman of the State Duma Committee on Energy.
Multipolar world instead of hegemony
Jean-François Buzonni, a deputy spokesman assistant for the Union of the Congolese Nation (Congo) political party, said he was very pleased that Russia had turned its attention to the African continent, "which for many years has been under the yoke of Western countries."
"The world no longer lives under the hegemony of one country. We see the transformation processes of a multipolar world," he stressed.
"I am glad that Russia is seeking to develop equal partnership relations with the countries of the region for the common benefit," added Jean-François Buzonni.
Transition to national systems of settlement
According to Maxim Topilin, the Chairman of the Committee on Economic Policy, the sanctions and pressure that Russia is experiencing just prove that "any situation in which a country maintains its independent position can lead to the destruction of all economic ties."
"That should be a lesson to us," he added.
Topilin said that in relations between Russia and Africa, it is necessary to focus on national systems of settlement. "It is very important not to be based on those standard principles, use those currencies that we used in the framework of joint projects," he said.
Topilin is convinced that for further cooperation between Russia and Africa, it is necessary to create new international organizations. "We should think about new supranational institutions for recognition, certification, and admission to the markets of certain goods. There is a lot of work that should be done," said the Chairman of the Committee on Economic Policy.
Topilin also recalled that a draft law on Islamic banking was being prepared for the second reading, and members of the State Duma plan to adopt it during the spring session. "From the point of view of cooperation with Islamic countries, that definitely will be a very serious breakthrough in the financial strategy," he added.
More than 40 parliamentary delegations from African countries arrived at the conference, which was also attended by members of the State Duma, senators of the Federation Council, and representatives of the educational and business community. The conference was held just a few months before the second Russia-Africa summit, which is planned to be held in July 2023 in Saint Petersburg.
Russian, African Parliamentarians Stand Against United States in Africa
By Kestér Kenn Klomegâh
Russia and African parliamentarians continue forging solidarity against growing neo-colonial tendencies in Africa. The parliamentarians, far ahead of their symbolic gathering, have intensified political dialogue and support for Russia's war on neighbouring Ukraine and further expressed readiness to support Africa's economic development.
Russia has come under stringent economic sanctions from the United States and Europe due to the 'special military operation' that it began in February 2022, more than a year that has adversely affected Africa. It has also divided Africa's voting at the United Nations, with some experts arguing that such sharp divisions, in terms of voting either for or against, abstaining or keeping neutral, could influence Africa's unity in the continent.
Some policy experts still expect high symbolism at the 2023 Russia-Africa summit as official working visits have become more frequent and Africa receives greater coverage in Russian media. The experts say instead of measuring the success of the summit by African leaders' attendance, as happened in 2019, the parties give greater attention to the substance of the agenda, which is under development. Russia should try to increase its presence in Africa while avoiding direct confrontation with other non-regional and foreign players.
According to the experts, Russia's efforts, for now, are not practically showing tangible results. Russia has to open its doors more to African visitors and tourists; these could bring together anyone interested in expanding all-inclusive dialogue and anyone who is ready to help promote initiatives possibly for increasing socio-economic development between Russia and the African states and raising the well-being of their citizens.
That however, undeterred by the pressure from the United States 'to cancel Russia' in their relationship, African parliamentarians have arrived in Moscow for a two-day working gathering to methodically develop Russian-African relations in various fields. In addition, to the political dialogue, they are also focusing on economic, cultural, humanitarian and scientific cooperation.
According to the plan, Russian parliamentarians and African colleagues fixed topical issues of the international parliamentary agenda for discussions: parliamentary support of scientific and educational cooperation, a legislative response to economic challenges, indivisible security: capabilities and contributions of parliaments, and neocolonialism of the West: how to prevent the repetition of history.
On March 20, the main conference entitled "Russia-Africa in the multipolar world" at the State Duma (the Pillar Hall of the House of the Unions). More than 40 official parliamentary delegations from almost all African countries have already arrived for the conference. Representatives of the scientific, educational and expert communities from Russia and African countries, members of the State Duma, federal executive authorities, senators of the Federation Council, and chairmen of the legislative bodies of the constituent entities of the Russian Federation.
There was a bilateral meeting of the Chairman of the State Duma, Vyacheslav Volodin and the Speaker of the National Assembly of the Parliament of South Africa, Nosiviwe Mapisa-Nqakula, at the State Duma. The Speaker stressed that the Republic highly appreciated the dialogue with Russia.
Speaker Volodin noted that attempts by Washington and Brussels to isolate Africa and Russia have failed. He is convinced that the parliaments could do a lot for further development of relations on the principles of respect, non-interference in the internal affairs of other states and mutually beneficial cooperation.
He stressed that relations between Russia and the Republic of South Africa were developing with the help of cooperation between the presidents of the two states. "We have great capabilities, and we should use the parliamentary dimension to do everything to enhance our cooperation in various areas," added Volodin. He suggested preparing and signing a relevant agreement between the State Duma and the National Assembly of the Parliament of South Africa, as well as creating a high-level commission. Nosiviwe Mapisa-Nqakula supported his suggestion.
Mapisa-Nqakula thanked Vyacheslav Volodin for sending the invitation to take part in the Parliamentary Conference before adding "It is very important for us that Russia gives priority to the African continent. Many countries consider Africa as a great possibility to get African resources. But taking into account the history of our cooperation, we, like many other African countries, believe that Russia has other, more genuine interests in Africa."
"Our cooperation started decades ago. And we felt your support in the worst times for us, during apartheid. We understand that now it is a difficult time for Russia as a country. But I would like to assure you that South Africa will continue cooperation and discuss areas of cooperation that are important for us. We look forward to its start," said Nosiviwe Mapisa-Nqakula.
The speakers also discussed issues of cooperation within the framework of the BRICS, as it is South Africa's chairmanship. "For us, the cooperation between the parliaments within the BRICS framework is very important, as we can discuss issues of common interest," emphasized the Speaker of the National Assembly of the Parliament of South Africa.
"Our Conference will be an important stage in the process of preparing for the second Russia-Africa summit, which is planned to be held in Saint Petersburg this summer with the participation of the heads of state," concluded the Chairman of the State Duma.
According to reports monitored by this author, there are 17 specialized working groups that focus on various areas of cooperation between Russia and Africa. The expectation is that these working would come up with useful initiatives to be incorporated into an action plan for 2023-2026 and further cement the entire complex of relations between Russia and the African countries.
Russian President Vladimir Putin will speak at the Russia-Africa parliamentary conference on Monday, Kremlin aide Yury Ushakov told reporters. "On March 20, when the president receives the Chinese leader, he will address the 2nd parliamentary conference Russia-Africa," Ushakov, who heads the organizing committee of the summit, said, adding that the event would pave the way for the 2nd Russia-Africa summit, scheduled to take place from July 27-28 in St. Petersburg, second largest city of Russia.
Latest News on Business Post