UNGA 77 Aftermath: AfDB Priorities Climate Finance, Jobs, Food Insecurity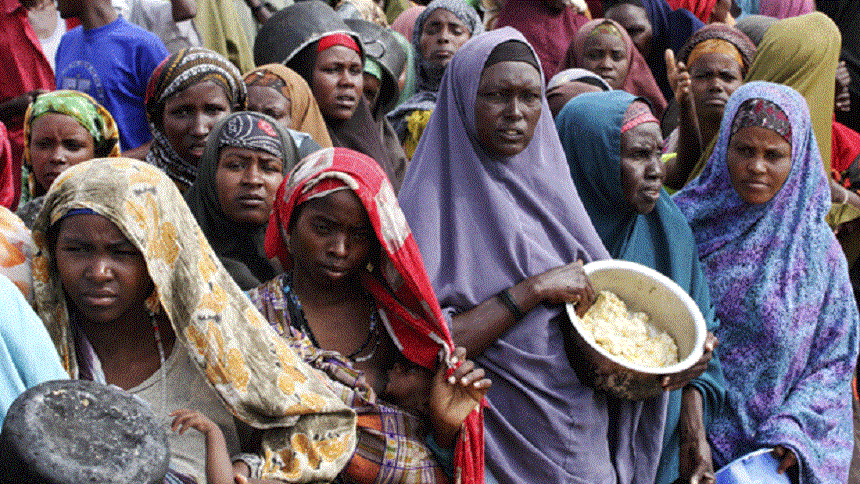 By Adedapo Adesanya
The African Development Bank (AfDB) had several productive engagements around its strategic priorities at the just concluded 77th United Nations General Assembly (UNGA) meetings in New York.
Meeting highlights included an urgent call for increased financing to mitigate the effects of climate change and food insecurity.
The Group President, Mr Akinwumi Adesina, led the bank's delegation to the meetings and played an active part in discussions leading to an international declaration to end malnutrition and stunting.
The bank's engagements reflect its strategic priorities as African countries, which it supports, struggle with the lingering impacts of the Covid-19 pandemic, as well as food and fuel price spikes arising from Russia's war in Ukraine and climate change.
Climate change was a recurring theme in many of the bank's UNGA discussions, especially the need for urgent financing for the countries most at risk from climate change.
Climate change has assumed greater urgency, with the next UN Climate Change Conference (COP27) due to be held in Sharm El-Sheik, Egypt, in less than two months. COP 27, or "the African COP," as it is being called, presents an unprecedented opportunity for a unified African voice to demand that the global community move beyond talk to concrete action on climate adaptation and mitigation financing.
Speaking at the 2nd ministerial meeting on climate and development, Mr Adesina joined US Special Presidential Envoy for Climate John Kerry and other participants in urging developed countries to deliver on the pledges they made at COP26 in Glasgow last year and under the 2015 Paris Agreement.
The bank also joined the Global Leadership Council in a new initiative to scale up clean, reliable energy and address global warming.
The  Global Leadership Council comprises global leaders, including the African Development Bank head, the Executive Secretary of the United Nations Framework Convention on Climate Change, Patricia Espinosa; United Nations Development ProgrammeAdministrator Achim Steiner; European Investment Bank. President Werner Hoyer; Norwegian Prime Minister Jonas Gahr; and the president of the Rockefeller Foundation, Dr Rajiv J. Shah, co-chair of the council.
As a first step, the Council will focus on efforts to break down barriers to just energy transitions in developing countries.
While developing countries are currently responsible for only 25 per cent of global CO2 emissions, this share could grow to 75 per cent by 2050, according to an analysis published by the Alliance. Developing countries currently receive only a fraction of financing to develop clean energy, despite representing nearly half of the world's population.
The General Assembly allowed the African Development Bank Group to demonstrate particular leadership in efforts to end hunger, nutrition, and stunting across Africa.
Under the Presidential Dialogue Group on Nutrition, inspired by the African Union's designation of 2022 as the "Year of Nutrition," the AfDB head joined African presidents to sign a landmark commitment to stop childhood stunting.
According to the Global Nutrition Report— considered the most comprehensive accounting of the state of nutrition worldwide—more than 30 per cent of children in Africa are stunted.
The Dialogue Group is an initiative of the African Development Bank's African Leaders for Nutrition platform, the Ethiopian government, and Big Win, a philanthropic organization. In addition to Ethiopia, the platform counts the leaders of the Democratic Republic of the Congo, Madagascar, Malawi, Mozambique, Niger, Senegal, Tanzania, and Uganda among its members.
The bank's African Emergency Food Production Facility featured prominently at the Global Food Security Summit. Senegal's President Macky Sall, chair of the African Union, commended the bank for its swift launch of the $1.5 billion facility to avert a looming food crisis. The program is facilitating the production of 38 million tons of food. This represents a $12 billion increase in output in just two years.
In furtherance of the AfDB Jobs for Youth in Africa program to create 25 million jobs by 2025 and related initiatives, the Bank president participated in a high-level session to discuss the Global Accelerator on Jobs and Social Protection for Just Transitions initiative.
Various leaders also addressed the session from around the world, including Mr Adesina, Malawi's President Lazarus Chakwera, Uganda's Vice President Jessica Alupo, and Egypt's Minister for Planning and Economic Development, Mr Hala El-Said.
Mr Adesina said: "We have to restructure our economies to be productive with education, infrastructure, energy and making sure we have productive sectors that can use people's skills and absorb that into the economy."
On the general assembly's side, Mr Adesina also led a bank delegation to the World Health Organization (WHO) for meetings. The two organizations agreed to work on quality health care infrastructure, vaccines, essential medicines, nutrition, and the African Pharmaceutical Technology Foundation.
Mr Adesina also held bilateral meetings with Kenya's new president, William Ruto; American billionaire and philanthropist Michael Bloomberg; former US President Bill Clinton and former US Senator Hillary Clinton.
The President also met with Anne Beathe Tvinnereim, Norway's minister for international development and the African Development Bank's governor. Ahead of the Global Citizen Festival, they discussed efforts to end hunger, and the country will be supporting the African Emergency Food Production Facility.
UNGA 77 brought together world leaders, civil society activists, private sector players, and young people from around the world for two weeks of in-person dialogue in New York City under the theme "A watershed moment: transformative solutions to interlocking challenges."
US-Africa Leaders Summit: Matters Arising and Way Forward
By Kestér Kenn Klomegâh
On the eve of the US-Africa Leaders Summit planned for December 13-15 in Washington, the Corporate Council, in partnership with the African Union and the US State Department, hosted discussions which were a combination of online and offline with some experts from the United States and Africa.
Katherine Tai, the 19th United States Trade Representative and Secretary-General Wamkele Wene from the Secretariat of the African Continental Free Trade Area (AfCFTA), Ambassador Rama Yade, Senior Director of the Africa Centre. Taking part was the Dean of the African diplomatic corps in the United States.
This discussion came on the eve of the US-Africa Leaders Summit (ALS), which will advance US-African collaboration on today's most pressing global and regional priorities. The ALS will reflect the breadth and depth of US partnerships with African governments, businesses, civil society, and citizens-partnerships based on dialogue, respect, and shared values that harness the ingenuity and creativity of American and African people.
There were various themes during the discussion against the difficult geopolitical backdrop of high global economic imbalances slowing direct investment into the continent as well as accelerating shifts in the job market.
Worth noting that the United States – Africa Leaders' Summit will be hosted by President Joe Biden, and it primarily serves as a demonstration and commitment towards the African continent and further provides the platform for new joint initiatives between the United States and Africa.
The discussion reviewed the current relations as well as possible new initiatives that boost the continent's recovery from the coronavirus pandemic, how to bolster food security effectively and to promote investment in various critical sectors, including infrastructure, health and renewable energy, among other priorities.
On the other hand, the discussion also focused on strengthening the African diaspora communities and engaging them in advancing a two-way trade and investment partnership, scaling up innovation and entrepreneurship, and driving advancements in key sectors.
The United States, together with the African diaspora, have a unique opportunity to make sure to change the narrative of trade and focus on inclusion rather than only on market access. Supporting women and youth in identifying opportunities, challenges and also barriers that confront them.
Questions such as what are the challenges that we can confront together and what are the solutions that we can present to heads of state and government to begin to change the previous years of exclusion of young people from mainstream economic activity – of small and medium enterprises from mainstream economic activity to make them partners in their implementation.
The United States understands that African Union and African leaders are looking at regional linkages very strategically and then always around inclusivity. How and what to make better with economic engagement inside and outside, to bring everyone along and not to leave people behind.
The United States already plans to take concrete action to benefit young people, including women, to benefit small medium enterprises and small cum medium enterprises in Africa, creating jobs for over 450 million. And the bulk of that 450 million jobs are young Africans.
The Corporate Council on Africa significantly undertakes tremendous support and even galvanizes the US leadership and engagement in partnership with allies and partners to shape solutions to global challenges in Africa. Its people have a critical role to play in achieving such solutions, Ambassador Tai noted in her discussion.
Nearly the discussants agreed that all would require a combination of private sector activities and governmental actions, and one key governmental framework for Africa is the African Continental Free Trade Area (AfCFTA). The free trade area promises to deepen economic integration. It creates a single market for goods and services for almost 1.3 billion people across Africa. In fact, 50 African Union members have signed the agreement, 42 members have ratified it, and 39 have deposited their instruments of ratification.
The Secretary General of AfCFTA during the summit will be able to highlight the way forward. The United States intends to fully engage with Africa as the recent Africa strategy says in a 21st-century US-Africa partnership and one aspect of that Africa is friend shoring, which is to say working with reliable partners. It is noted to work within the framework that provides integration between West Africa and East Africa and between North Africa and Southern Africa.
Within the framework of the African Union agenda, the new generation wants to build on the geopolitical partnership dimension in the regional economic communities and with African countries. The point is that there are symmetries, obviously, between the economy and industrial development trajectory and between developing and developed countries.
The African Growth and Opportunity Act offers rules and regulations relating to trade agreements, especially tariff liberalization; this is an important aspect of building sustainable economic cooperation between the two regions.
The United States and its partnering institutions (both public and private) can best work together to spearhead continuous complementary work as it relates to both business security for participating actors and investors and, including, for example, the African diaspora and beyond the industry for things like creative and cultural industries.
The speakers unanimously confirmed the summit as the highest unique platform to determine the geo-economic centres, examine thoroughly the global priorities and challenges, and concretely design the main directions of U.S.-Africa cooperation. It offers, especially in these critical times, an orientation towards the future, at least the next decade, between the African continent and the United States.
US-African Leaders Summit 2022 aims to enhance cooperation on shared global priorities. The heads of state and leaders from across the African continent will converge in Washington DC, within the context of the United States-Africa Leaders' Summit hosted by President Joseph R. Biden, President of the United States of America.
AfDB Fund Offers $8.9bn for Vulnerable African Countries
By Adedapo Adesanya
The African Development Fund (ADF) has agreed to commit a total package of $8.9 billion to its 2023 to 2025 financing cycle to help vulnerable African countries. It is the largest replenishment in the history of the fund.
ADF is the concessional window of the African Development Bank (AfDB) Group, providing grants and soft loans to the continent's low-income countries.
The $8.9 billion replenishment package includes $8.5 billion in core ADF funding and $429 million for the newly created Climate Action Window.
ADF-16 core funding represents a 14.24 per cent increase over ADF-15 of $7.4 billion. It is a strong endorsement of ADF and its impact in tackling the continent's multiple development needs, including recovery from the COVID-19 pandemic, the effects of climate change, fragility, debt, and economic vulnerabilities.
In a statement, it was disclosed that Algeria and Morocco contributed to the Fund for the first time. They joined Angola, Egypt, and South Africa on the list of contributing African countries.
This was disclosed at the fourth and final meetings of the new replenishment (ADF16) in Morocco.
President of the AfDB, Mr Akinwumi Adesina, applauded the impressive funding package saying, "I am impressed by the huge commitment and efforts of the ADF donor countries in stepping up support for Africa's low-income countries, especially at this time of great economic, climate and fiscal challenges. This is the power of global partnerships and effective multilateralism in support of Africa."
This replenishment comes as ADF celebrated its 50th anniversary since its establishment in 1972. The Fund is achieving significant impact, and in the past five years alone, it has helped to connect 15.5 million people to electricity, has given 74 million people access to improved agriculture, and 42 million people access to water and sanitation. In addition, 50 million people have gained access to improved transport. The Fund's resources are also helping to build and rehabilitate 8,700 kilometres of roads.
ADF-16 will support two strategic frameworks and operational priorities: developing sustainable, climate-resilient and quality infrastructure; and governance, capacity building and sustainable debt management in recipient countries. It will also focus on empowering women and girls as a condition for achieving inclusive and sustainable development.
The ADF-16 replenishment will deliver even more impacts over the next three years. It will help to connect 20 million people to electricity, 24 million people will benefit from improvements in agriculture, access to water and sanitation for 32 million people, and improved access to transport for 15 million people.
Commenting further, Mr Adesina said, "These are impressive development impacts. These expected impacts of the ADF will advance the Sustainable Development Goals and the Agenda 2063 of the African Union. They will allow the African Development Fund to build on its reputation as being ranked the second-best concessional financing institution in the world. We will deliver more, better, efficiently and in partnerships with bilateral and multilateral partners. We will foster a climate-smart, resilient, inclusive, and integrated Africa".
"African low-income countries are the most vulnerable and least prepared to tackle climate change," said Mr Adesina.
"The Climate Action Window and the commitment to provide 40 per cent of the core financing of the ADF 16 replenishment towards climate finance will help to build climate resilience in Africa," he added.
World Food Prices Remain Flat in November 2022
By Adedapo Adesanya
Global food prices remained virtually unchanged for the second month in November 2022, according to the latest numbers from the Food and Agriculture Organisation (FAO).
The FAO Food Price Index (FFPI) averaged 135.7 points in November 2022, virtually unchanged from October, with month-on-month decreases in the price indices for cereals, dairy and meat, nearly offsetting increases in those of vegetable oils and sugar. At this level, the index stood only marginally above (0.3 per cent) its corresponding value in November 2021.
The FAO Cereal Price Index averaged 150.4 points in November, down 1.9 points (1.3 per cent) from October but still 9.0 points (6.3 per cent) above its value a year ago. World wheat prices registered a 2.8 per cent decline during the month of November, mostly driven by the rejoining of the Russian Federation in the Black Sea Grain Initiative and the extension of the agreement, subdued import demand for supplies from the United States of America due to uncompetitive prices, and greater competition in global markets with increased shipments from the Russian Federation.
International prices of coarse grains also eased in November, down 1.0 per cent from October. Maize prices declined by 1.7 per cent month-on-month, also influenced by developments in the Black Sea Grain Initiative, while improved transport on the Mississippi River in the United States of America weighed on prices as well.
International prices of sorghum declined by 1.2 per cent in November in tandem with maize prices, while those of barley increased by 2.5 per cent. International rice prices moved up by another 2.3 per cent in November, influenced by currency appreciations against the United States dollar for some Asian suppliers and good buying interest.
The FAO Vegetable Oil Price Index averaged 154.7 points in November, up 3.4 points (2.3 per cent) after declining for seven consecutive months. The increase was driven by higher international palm and soy oil prices, more than offsetting lower rapeseed and sunflower oil quotations.
International palm oil prices rebounded in November, supported by renewed global import demand owing to competitive prices relative to those of other edible oils, as well as concerns over lower production potentials due to excessive rainfall in parts of major growing regions in Southeast Asia.
Meanwhile, world soyoil values rose slightly, chiefly underpinned by persistent, robust demand from the biodiesel sector, particularly in the United States of America. By contrast, international rapeseed and sunflower oil prices dropped in November, weighed by, respectively, expected ample global supplies and the extension of the Black Sea Grain Initiative.
The FAO Dairy Price Index averaged 137.5 points in November, down 1.7 points (1.2 per cent) from October, marking the fifth consecutive monthly decline, but remained 11.6 points (9.2 per cent) above its value a year ago.
In November, international price quotations for skim milk powders fell the most, reflecting lower import demand, as buyers were well covered for their near-term needs coupled with increased export availabilities in Europe.
Whole milk powder prices dropped substantially, principally due to lower buying interest from China, only partially compensated by higher purchases by Southeast Asian countries.
Meanwhile, world butter prices declined on weak import demand, impacted by high retail prices and market uncertainties about consumer purchases in the months ahead.
By contrast, international cheese prices increased, underpinned by a steady import demand and less buoyant export availabilities from leading producing countries in Western Europe.
The FAO Meat Price Index averaged 117.1 points in November, down 1.1 points (0.9 per cent) from October, also marking the fifth consecutive monthly decline, but remained 4.6 points (4.1 per cent) above its value a year ago.
In November, international bovine meat prices fell for the fifth month in a row, as increased export supplies from Australia added to already high supplies from Brazil, notwithstanding China's continuing strong import demand.
By contrast, world prices of all other meat types rebounded, with the price of ovine meat rising the most, driven by solid import demand, despite seasonally rising supplies from Oceania.
International poultry meat prices also recovered, reflecting tighter global export supplies amid production setbacks in many large producing countries due to intensified avian influenza outbreaks.
Meanwhile, pig meat prices rose on a surge in demand ahead of the upcoming holiday period and the impact of currency movements.
The FAO Sugar Price Index averaged 114.3 points in November, up 5.7 points (5.2 per cent) from October, marking the first increase after six consecutive monthly declines.
The November rebound was mostly related to strong buying amid prevailing tight global sugar supplies due to harvest delays in key producing countries and the announcement by India of a lower sugar export quota. Higher ethanol prices in Brazil, raising concerns over a greater use of sugarcane to produce ethanol, exerted further upward pressure on world sugar prices.
Despite the November increase, international sugar price quotations remained 5.9 points (4.9 per cent) below their levels in the same month of last year, weighed down by prospects of ample global supplies in the 2022/23 season.
Latest News on Business Post