Yiwu Int'l Commodities Fair Holds October
By Dipo Olowookere
China Yiwu International Commodities Fair, also known as 'Yiwu Fair', will hold at the Yiwu International Exhibition Center on October 21-25, 2016, the organisers of the event have confirmed.
The fair is aiming to be the number one foreign trade fair for Small and Medium Sized Enterprises (SMEs) in the Yangtze River Delta of Eastern China.
It has already become one of the largest, most influential and most effective consumer exhibitions in China, certified by Union of international Fairs (UFI).
The 21st Yiwu Fair held last year saw a turnover of RMB 17.173 billion (US$ 2.57 billion), with year-on-year growth by 0.58%. 2,529 exhibitors from more than 20 countries and regions showcased their products at the 4,500 standard booths of the Fair held at Yiwu International Exhibition Center. The event attracted 213,580 visitors, among whom 62,099 were professional buyers, an increase of 9.5% compared to the previous year.
With an exhibition area of 150,000 m2, the fair will cover 14 industries, namely hardware, mechanical and electrical machinery, electronics and electrical appliances, daily necessities, crafts, stationery and sports goods, outdoor leisure products, needle textiles, ornaments and accessories, toys, e-commerce & business services, pet products, auto & motor parts & components, and festival supplies. This year, the fair is expected to attract 200,000 visitors from more than 200 countries, including 20,000 overseas buyers.
This year, seven special exhibition zones will be set up, including "Made in Zhejiang", "2016 Zhejiang Smart Design" Excellent Works Show, the "iF International Style Awards" Show, and "One Belt & One Road" Countries' New Products Show. Meanwhile, the comprehensive international trade service platform will provide services including logistics, credit guaranty, offshore forwarder, Customs declaration certification, foreign trade agency, insurance and legal consulting, and cross-border e-commerce.
In addition, at the creative design zone specially prepared for SMEs, the most creative products and Maker projects will be displayed, helping accelerate the transformation and upgrade of China's manufacturing industry.
UNGA 77 Aftermath: AfDB Priorities Climate Finance, Jobs, Food Insecurity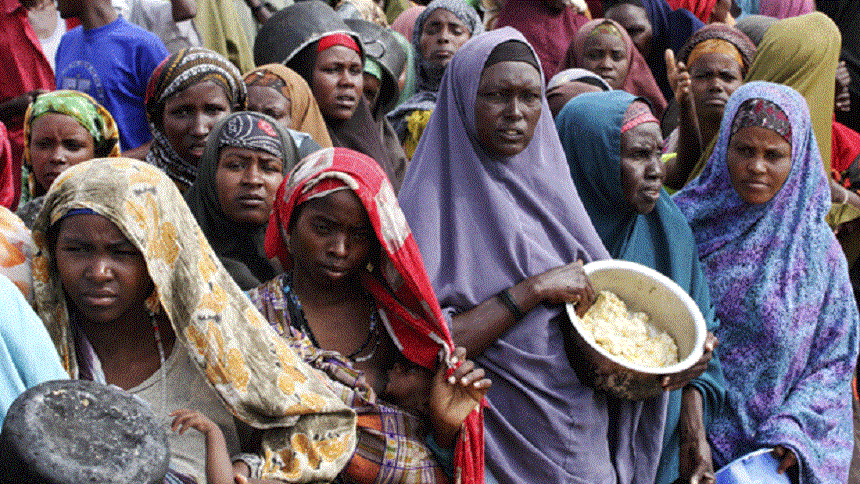 By Adedapo Adesanya
The African Development Bank (AfDB) had several productive engagements around its strategic priorities at the just concluded 77th United Nations General Assembly (UNGA) meetings in New York.
Meeting highlights included an urgent call for increased financing to mitigate the effects of climate change and food insecurity.
The Group President, Mr Akinwumi Adesina, led the bank's delegation to the meetings and played an active part in discussions leading to an international declaration to end malnutrition and stunting.
The bank's engagements reflect its strategic priorities as African countries, which it supports, struggle with the lingering impacts of the Covid-19 pandemic, as well as food and fuel price spikes arising from Russia's war in Ukraine and climate change.
Climate change was a recurring theme in many of the bank's UNGA discussions, especially the need for urgent financing for the countries most at risk from climate change.
Climate change has assumed greater urgency, with the next UN Climate Change Conference (COP27) due to be held in Sharm El-Sheik, Egypt, in less than two months. COP 27, or "the African COP," as it is being called, presents an unprecedented opportunity for a unified African voice to demand that the global community move beyond talk to concrete action on climate adaptation and mitigation financing.
Speaking at the 2nd ministerial meeting on climate and development, Mr Adesina joined US Special Presidential Envoy for Climate John Kerry and other participants in urging developed countries to deliver on the pledges they made at COP26 in Glasgow last year and under the 2015 Paris Agreement.
The bank also joined the Global Leadership Council in a new initiative to scale up clean, reliable energy and address global warming.
The  Global Leadership Council comprises global leaders, including the African Development Bank head, the Executive Secretary of the United Nations Framework Convention on Climate Change, Patricia Espinosa; United Nations Development ProgrammeAdministrator Achim Steiner; European Investment Bank. President Werner Hoyer; Norwegian Prime Minister Jonas Gahr; and the president of the Rockefeller Foundation, Dr Rajiv J. Shah, co-chair of the council.
As a first step, the Council will focus on efforts to break down barriers to just energy transitions in developing countries.
While developing countries are currently responsible for only 25 per cent of global CO2 emissions, this share could grow to 75 per cent by 2050, according to an analysis published by the Alliance. Developing countries currently receive only a fraction of financing to develop clean energy, despite representing nearly half of the world's population.
The General Assembly allowed the African Development Bank Group to demonstrate particular leadership in efforts to end hunger, nutrition, and stunting across Africa.
Under the Presidential Dialogue Group on Nutrition, inspired by the African Union's designation of 2022 as the "Year of Nutrition," the AfDB head joined African presidents to sign a landmark commitment to stop childhood stunting.
According to the Global Nutrition Report— considered the most comprehensive accounting of the state of nutrition worldwide—more than 30 per cent of children in Africa are stunted.
The Dialogue Group is an initiative of the African Development Bank's African Leaders for Nutrition platform, the Ethiopian government, and Big Win, a philanthropic organization. In addition to Ethiopia, the platform counts the leaders of the Democratic Republic of the Congo, Madagascar, Malawi, Mozambique, Niger, Senegal, Tanzania, and Uganda among its members.
The bank's African Emergency Food Production Facility featured prominently at the Global Food Security Summit. Senegal's President Macky Sall, chair of the African Union, commended the bank for its swift launch of the $1.5 billion facility to avert a looming food crisis. The program is facilitating the production of 38 million tons of food. This represents a $12 billion increase in output in just two years.
In furtherance of the AfDB Jobs for Youth in Africa program to create 25 million jobs by 2025 and related initiatives, the Bank president participated in a high-level session to discuss the Global Accelerator on Jobs and Social Protection for Just Transitions initiative.
Various leaders also addressed the session from around the world, including Mr Adesina, Malawi's President Lazarus Chakwera, Uganda's Vice President Jessica Alupo, and Egypt's Minister for Planning and Economic Development, Mr Hala El-Said.
Mr Adesina said: "We have to restructure our economies to be productive with education, infrastructure, energy and making sure we have productive sectors that can use people's skills and absorb that into the economy."
On the general assembly's side, Mr Adesina also led a bank delegation to the World Health Organization (WHO) for meetings. The two organizations agreed to work on quality health care infrastructure, vaccines, essential medicines, nutrition, and the African Pharmaceutical Technology Foundation.
Mr Adesina also held bilateral meetings with Kenya's new president, William Ruto; American billionaire and philanthropist Michael Bloomberg; former US President Bill Clinton and former US Senator Hillary Clinton.
The President also met with Anne Beathe Tvinnereim, Norway's minister for international development and the African Development Bank's governor. Ahead of the Global Citizen Festival, they discussed efforts to end hunger, and the country will be supporting the African Emergency Food Production Facility.
UNGA 77 brought together world leaders, civil society activists, private sector players, and young people from around the world for two weeks of in-person dialogue in New York City under the theme "A watershed moment: transformative solutions to interlocking challenges."
UK's Royal Mint Releases King Charles III Coins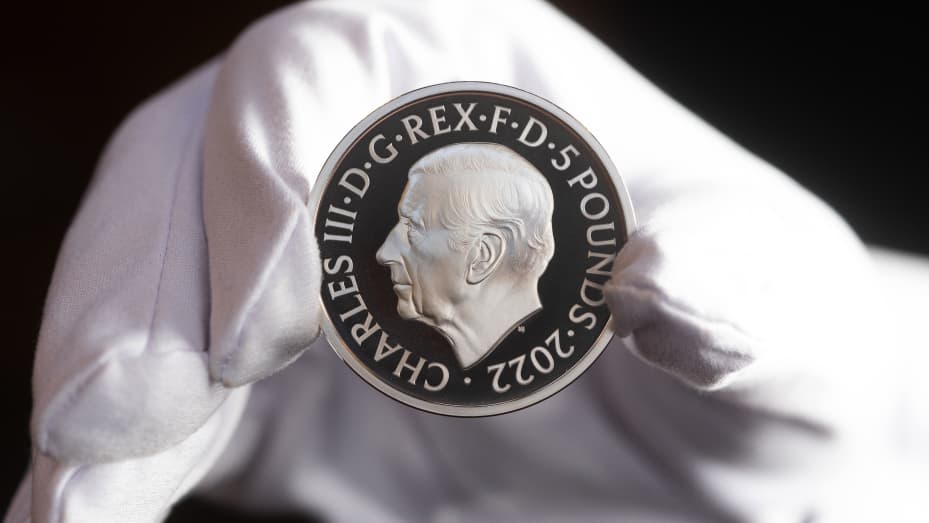 By Adedapo Adesanya
On Friday, Britain's Royal Mint unveiled King Charles III's official effigy that will appear on coins following his accession to the throne.
The effigy is the work of British sculptor, Mr Martin Jennings, and was personally approved by the new king.
The first coins bearing the king's portrait will be a special £5 coin and a 50 pence coin commemorating the life of Queen Elizabeth II.
Mr Jennings said his portrait was sculpted from a photograph of King Charles, in which he is facing left on the coin, in keeping with a tradition that sees each successive monarch switch profile.
In line with royal tradition, King Charles' portrait faces to the left, the opposite direction to his late mother.
He is not wearing a crown, which previous kings also did not, though Queen Elizabeth II did in the five coins produced during her reign.
"It is the smallest work I have created, but it is humbling to know it will be seen and held by people around the world for centuries to come," he said.
The text on the new coin says "CHARLES III • D • G • REX • F • D • 5 POUNDS • 2022," a shortening of the Latin "King Charles III, by the Grace of God, Defender of the Faith."
The existing 29 billion coins featuring the queen in circulation in the UK, as well as in Commonwealth countries, including Australia, New Zealand and Canada, will remain legal tender and be phased out naturally and over time with use.
The image of King Charles will begin to appear on coins in circulation and on commemorative pieces in the coming months, the Royal Mint said in a statement.
Two new portraits of Elizabeth will feature on the reverse of the commemorative five pound coin.
The Royal Mint has been responsible for depicting monarchs on coins for over 1,100 years since Alfred the Great.
Queen Elizabeth II died on September 8 following a record-breaking 70 years on the throne.
Mr Kevin Clancy, director of the Royal Mint Museum, said the late queen had appeared on more coins than any other British monarch.
"Over the coming years, it will become common for people to find coins bearing His Majesty and Queen Elizabeth II's effigy in their change," he said.
The Royal Mint said historically, it had been commonplace for coins featuring the effigies of different monarchs to co-circulate.
"This ensures a smooth transition, with minimal environmental impact and cost."
There are currently around 27 billion coins circulating in the UK bearing the effigy of Queen Elizabeth II.
"These will be replaced over time as they become damaged or worn and to meet demand for additional coins," the Royal Mint added.
The Royal Mint, which has made coins featuring the monarch for over 1,100 years and is Britain's oldest company, said it would be available to collectors next week and in general use before the end of the year.
King Charles ascended to the throne following the death of Queen Elizabeth II, his mother and earlier this week, the palace said the cause of death recorded on her birth certificate was "old age."
Russia Struggling to Explore Africa's Market
By Kestér Kenn Klomegâh
Building on post-Soviet relations with Africa, Russia has been struggling with strategies on how to establish economic footprints, promote investment and deepen cooperation in Africa. Despite the road map adopted at the end of the first Russia-Africa summit held in October 2019, little has been achieved since then.
In late September, the Regional Chamber of Commerce and Industry welcomed the participants to another round of conferences under the theme "Russia-Africa: Prospects for Cooperation" held in St. Petersburg. That gathering featuring a few interesting Russian enterprises was part of a series of steps to brainstorm and discuss opportunities, developments and challenges in preparing for the forthcoming Russia-Africa summit planned for July 2023.
Additionally, the goal of this St Petersburg conference event was in line with the priorities on how to engage with credible investors who can partner with the government and private sector to exploit the market. It discussed the possibilities of strengthening the partnership between Russia and Africa, as well as issues related to export/import, logistics and peculiarities of working with African partners.
Vice President of the Chamber of Commerce and Industry of the Russian Federation Vladimir Padalko welcomed the participants via video link from Moscow. In the video, Padalko emphatically stated that "preparations for the second Russia-Africa summit, scheduled for July 2023 in St. Petersburg, are in full swing, and we should come to it with concrete results in the form of agreements ready for signing."
According to him, the Coordinating Committee for Economic Cooperation with African Countries should focus on conducting business missions that would identify specific areas for conducting business cooperation with African countries. It is necessary to help Russians learn what the African market is so they are not afraid of taking investment risks in Africa.
Padalko said that the prejudices that Russians have regarding Africa should be overcome. He referred to his own experience, emphasizing that the first trip to the African continent made him change his mind significantly about the opportunities offered by cooperation with Africa. Russia is trying hard to improve its commercial relations with its African partners. In 2009, it established the Coordinating Committee for Economic Cooperation with sub-Saharan Africa to assist in promoting Russian business interests.
Senator Igor Morozov, Chairman of the Coordinating Committee for Economic Cooperation with African Countries, called for increasing the pace and level of cooperation with African countries by "bringing small and medium-sized businesses to Africa."
According to him, Russia is far behind in its activity on the African continent from countries such as the United States, Britain, China, France, India, and Turkey. These countries are developing a network of technology parks, working in the continental free trade zone, participating in the development of the infrastructure of African countries, and the construction of roads, bridges and railways.
Senator Morozov further noted that "Russian business does not have the tools to enter Africa ​​and, above all, in the field of the banking system. No other banks give guarantees to Russian businesses. According to him, African countries are interested in the supply of agricultural machinery; in this sense, the Kirov Plant in St. Petersburg may have good opportunities. And in this sense, we should take an example from our Belarusian friends."
That was not the first time analyzing the development of business and trade relations with Africa. The African market is competitive and complex, therefore, Russian business needs to work thoroughly and systematically in it in order to achieve success.  It is necessary to help interested businesses willing to navigate African realities, find a niche for their work, and learn about the conditions for entering certain markets.
According to Morozov, there is a need for a specialized investment fund to support entrepreneurs. In general, with the prospect of working with African partners for many years, more serious state support is needed and finally suggested that it is necessary to return to barter trade and concessions, which will make it possible to obtain minerals from Africa.
"We need to develop our international payment instruments – sanctions are already being imposed against the Mir system," he said. A great deal of hope is being placed on the working group for developing new mechanisms in currency regulation and international settlements led by Kremlin aide Maxim Oreshkin, "which is supposed to work out these mechanisms soon," Morozov said.
"We need to see how we will work within the framework of national currencies" and use them for settlements with African countries, he said. "We need to work in this direction, understanding that SWIFT will never again be [the main system for interbank payments] for us," Morozov, who also serves on the Federation Council's Economic Policy Committee, said.
Talks on options for settlements between Russia and African countries in the current economic circumstances are already being held, but "we shouldn't get ahead of events. African central banks are already beginning to come [to Russia]. Everyone understands that we are leaders in grain exports, leaders in sunflower oil, mineral fertilizers, and it is necessary to settle up," Morozov.
Other options for settlements could be barter and concessions. The outlook for cooperation and possible Russian projects in Africa, Morozov said Russia could offer its competencies in hydropower, electric passenger transport, automobile manufacturing, farm machinery and pharmaceuticals. Afrocom operates with the support of the Federation Council and government institutions, according to the committee's website.
Associate Professor Ksenia Tabarintseva-Romanova, Ural Federal University, Department of International Relations, acknowledges huge existing challenges and perhaps difficult conditions in the current economic cooperation between Africa and Russia. Creating African Continental Free Trade Area (AfCFTA) is the most important modern tool for Africa's economic development. This is unique for exploring and getting acquainted with the opportunities it offers for business cooperation.
She, however, maintains that successful implementation requires a sufficiently high level of economic development in the participating countries, logistical accessibility, and developed industry with the prospect of introducing new technologies. This means that in order for African Continental Free Trade Area to effectively fulfil its tasks, it is necessary to enlist the provision of sustainable investment flows from outside. These investments should be directed toward constructing industrial plants and transport corridors.
Speaking earlier in an interview discussion, Tabarintseva-Romanova pointed out that Russia already has vast experience with the African continent, which now makes it possible to make investments as efficiently as possible, both for the Russian Federation and African countries. In addition, potential African investors and exporters could also explore business collaboration and partnerships in Russia.
Local Russian media, Rossiyskaya Gazeta, also published an interview with Professor Irina Abramova, Director of the Institute of African Studies under the Russian Academy of Sciences, focusing on economic cooperation with Africa. In this interview, Abramova reiterated explicitly that Russians have to do away with negative perceptions and attitudes toward Africa. The change in attitudes has to reflect in all aspects of the relationship between Africa and Africans.
"In Russians' minds, Africa is synonymous with backwardness, poverty and hunger, which is not true. It is currently one of the most promising regions for foreign investment. It is a tiger ready to pounce. Africa today is in the same situation that China was in the 1990s. Today, China is the world's number-one economy in purchasing capacity, a strong power which largely determines global development," she explained.
"Africa is the zone where all big players overlap since its geographic location between the east and the west puts it at the peak of controversy and the big game between all players, meaning between Europe and America, on the one hand, and China, India and other countries, on the other. And if Russia poses as a superpower it will also lose its global influence without indicating its position in Africa," she said.
According to her, seven African countries, specifically Egypt, Algeria, Morocco, South Africa, Tunisia, Nigeria and Sudan, account for nearly 90% of Russia's trade. "At the same time, China is present in almost all African countries. Millions of Chinese work in Africa today. It is a good moment for Russia now because Western partners are trying to impose their values on the Africans, while China is dealing with its challenges at the expense of Africa," the expert stressed.
The middle class is expanding very fast there, already amounting to 250-300 million people, and this constitutes a huge consumer market for products and services, according to her estimation.
Professor Abramova noted that it is a very good market for Russian products. The Chinese understood that long ago and are tapping the African market, having flooded it with their products, though Russia also has opportunities as it is fairly competitive in the energy, infrastructure and agriculture sectors and exporting products such as fertilizers, trucks and aircraft supplies.
The fact that many prominent politicians and businessmen of the African continent graduated from Russian universities and speak Russian well contributes to the strengthening of the Russian-African relationship, the expert said, adding though that a new generation is about to take over in Africa, which is also the reason why Moscow should maintain the existing solid social and cultural ties.
Senator Igor Morozov and Professor Irina Abramova are members of the Kremlin's Committee assigned to coordinate and prepare for the next Russia-Africa summit in July 2023. Both Russia and Africa had problems finding a suitable African venue for the summit. The joint declaration adopted in Sochi says the summit be held every three years and the venue alternated between Russia and Africa.
Sampson Uwem-Edimo, President of the Nigerian Business Council and General Director of Trailtrans Logistic LLC, delivered a report "Nigeria as a Window to Africa" and further stressed that Russia does not have a common strategy on how to enter African markets, which exists, say, in China or France.
By removing barriers to trade in the region will create new entrepreneurial activities and spur innovations in technology. The African Continental Free Trade Area (AfCFTA) seeks to create better conditions for investment. On the other hand, Russian corporate directors most often have problems with their business in Africa. The key obstacles ranging from their inconsistencies in own approach and poor knowledge of the local political and business environment. Russians must also invest more in R&D collaborations with their African partners.
According to him, while Russians hope for brisk business, many African business leaders today are still Western mind-oriented and have various support from the United States and Europe. But the practical reality, Russia could still steadily transfer technologies for local processing of raw materials as a catalyst for Africa's development.
Uwem-Edimo noted that former colonial powers like France and Great Britain, although they left their colonies, kept control panels in their capitals. The Nigerian businessman, who spoke in Russian, introduced the conference participants to the opportunities and vast potential of the African continent, focusing on Nigeria, which makes up 18 per cent of the continent's population – 240 million people.
President of the St. Petersburg Chamber of Commerce and Industry, Vladimir Katenev, also addressed the conference participants with a greeting. The moderator was Ekaterina Lebedeva, Vice-President of the St. Petersburg Chamber of Commerce and Industry Union, who called on business community representatives to consistently work towards prioritising Africa despite the emerging challenges.
Latest News on Business Post