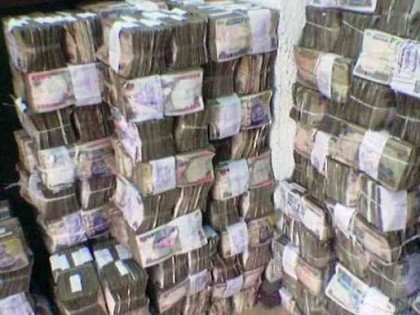 By Modupe Gbadeyanka
A total of N111.8 billion was shared in the month of October by 36 states from the Federation Account.
This was N31.8 billion less than the N143.6 billion shared in September.
According to a latest report, the revenue allocated for each state in October was less than what they got from the federation account in September.
The breakdown forms part of a report obtained by the News Agency of Nigeria (NAN) from a source at the Office of the Accountant-General of the Federation in Abuja on Sunday.
Minister of Finance, Mrs Kemi Adeosun, represented by the Permanent Secretary of the Ministry, Mr Mahmoud Isa-Dutse, at the last FAAC meeting, attributed the low revenue earnings of the month to several factors.
Mrs Adeosun attributed the decline to the loss of $45.5 million in Federation Export sales, while shut- in and shut-down of pipelines for repairs and maintenance also contributed to the drop in revenue.
The decrease in volume of dutiable imports receipts from Joint Venture Cash Call, Foreign Companies Income Tax and Value Added Tax were other reasons given.
The federation funds are usually shared in arrears, so, revenue generated in January is shared in February; thus, the revenue shared was actually generated in September and shared in October.
The key agencies that remit funds into the federation account are the Nigerian National Petroleum Corporation, the Federal Inland Revenue Service and the Nigerian Customs Service.
NAN reports that during the Federation Account Allocation Committee meeting in October, federal, states and local governments shared N455 billion as against the N516 billion that was shared in September.
The revenue distributed included the Gross Statutory revenue, Value Added Tax, exchange gain, N63.3 billion excess
In the report, it was disclosed that Abia took N2.6 billlion, Adamawa N2.5 billion, Cross River N1.4 billion, Ekiti N1.6 billion, Edo N1.9 billion, Kaduna State N3.4 billion, Kano State N4.2 billion, Lagos State N5.9 billion, Rivers N7.6 billion, and Zamfara, N2 billion.
Delta N5.6 billion, Anambra N2.8 billion, Benue N2.7 billion, Borno N3.2 billion, Ebonyi N2.4 billion, Enugu State N2.6 billion, Gombe State N2.03 billion, Nassarawa State N2.3 billion, Imo N2.3 billion and Kogi N2.7 billion.
Yobe got N2.7 billion, Taraba N2.3 billion, Sokoto State N2.9 billion, Plateau N1.7 billion, Oyo State N2.79 billion, Osun N305 million, Ondo State N3.3 billion, Ogun N1.5 billion, Niger N2.7 billion and Kebbi N2.73 billion.
Also, Katsina State got N3.2 billion, Bayelsa N6.3 billion, Bauchi State N2.3 billion, Jigawa N3.1 billion, Akwa Ibom N8.7 billion and Kwara N2.2 billion.
NAN