Introducing Squad: The Complete Payments Solution for your Business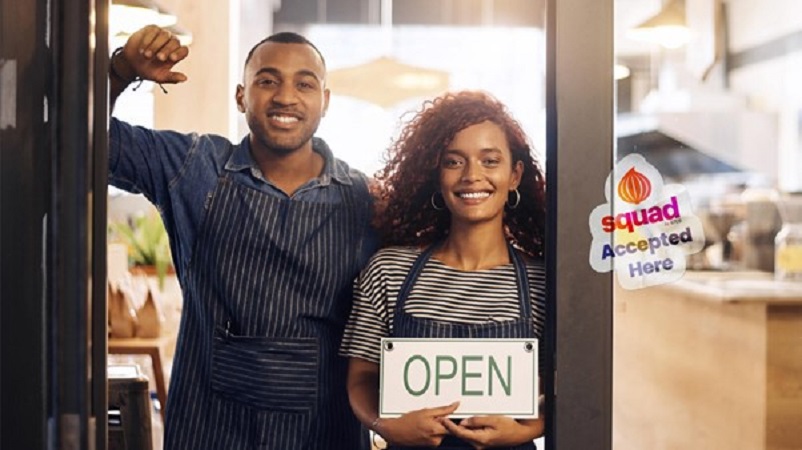 Payments: They are the core of every business. And so, in an era where digital has won over brick and mortar, it became imperative to create requisite payment solutions that can offer businesses of today speed, reliability, and convenience, so that they never miss a sale.
Meet Squad: an all-in-one payments tool to help your business grow.
Driven by our in-depth knowledge of digital payments in Africa and the collective years of expertise of our Parent Company, GTCO, in the payments landscape, we are proud to launch Squad, a framework of payment solutions to enable merchants to make and receive payments from anywhere in the world. At Squad, our vision and mission are rooted in empowering African merchants through payments — to create an Africa where every payment is digital.
What is Squad?
Squad is a complete payments solution for businesses in Africa, made to support business owners with the tools required to thrive in the digital economy. The goal is to ensure that businesses never miss a sale and grow and expand beyond their current reach.
Squad was created to transform payment processing, accounting and reconciliation, financial management and e-commerce. Think of it as an integrated suite of payment technologies that merge different facets of your business into one centralized function!
Why Squad?
Complete payments solution: With Squad, you get all the tools you need to receive, track, and manage payments for your business. From the convenience of just one dashboard, you can accumulate and reconcile all your transactions, receive instant settlements, and set up an e-commerce storefront where your products and services are visible to your customers.
Squad also offers an innovative soft POS feature called SquadPOS, which allows you to turn your mobile phone into a personal point-of-sale terminal to evolve and speed up your customers' payment experiences in-store. With this tool, you can reduce hardware costs and customer wait times with the perfect contactless payment solution through any Android device that suits your needs.
Super easy to use: With our seamless interface, you can set up quickly and start accepting payments in 15 minutes. Squad's APIs are uncomplicated to integrate into your website and are currently optimizable with WordPress, Shopify, Wix and Drupal.
Affordable, yet best-in-class: We keep fees at the minimum and are honest about our pricing. Set-up costs are free, with the fees per transaction capped at N1,500 irrespective of the value. Local transactions via payment links attract a 1% charge only, and international transactions, 3.5% — some of the lowest rates in the market today. By reducing our prices, we trust that businesses can allocate more of their finances towards other facets of their operations.
Keeps your funds secure: We are deeply committed to safeguarding the funds of our customers from malicious actors, and we achieve this through the activation layers of security measures such as KYC verification, real-time monitoring, and advanced data privacy tools.
Offers your customers a choice: With payments today, it is safe to say that one size does not fit all. Customers now have more ways to pay than ever before. With an all-in-one payment solution like Squad, your business is well-positioned to offer customers the right payment mix that suits their various needs and preferences. In so doing, you elevate your customers' payment experience and prevent them from moving to a competitor that offers flexibility.
Never miss a sale ever again: That's right! From our e-commerce storefront feature to accessible payment links, virtual accounts, USSD, and SquadPOS — every product under our suite was created to ensure that you meet your customers' payment needs at every channel — online, in-store, anytime and anywhere.
Get to know about our different products:
Ready to get started with Squad?
Say less! Visit our website at https://squadco.com/ to create a free account. Fill in your details and get started immediately. You do not need to be a registered business to sign up or receive payments.
Interested in finding out more about these products? Contact us via email — at help@squadco.com and stay glued to @OfficialSquadCo on all platforms for more information.
Appeal Court Exonerates Zenith Bank, Fines Real Integrated & Hospitality
By Dipo Olowookere

Justice Muhammed Sirajo of a court of appeal sitting in Lagos has upturned the judgement of Justice O.O. Abike-Fadipe of the Lagos State High Court against Zenith Bank Plc.
On March 8, 2022, Justice Abike-Fadipe directed Zenith Bank to pay Real Integrated & Hospitality Limited an interest of 15 per cent per annum on N872.8 million from May 17, 2011, when the advanced payment guarantees expired till judgment and thereafter at the rate of 10 per cent per annum until final liquidation.
The company and the Gombe State Universal Basic Education Board (Gombe SUBEB) had sued the lender for an alleged breach of contract after Zenith Bank, on October 7, 2011, did not allow the firm to withdraw funds from its account.
Dissatisfied with the ruling, the financial institution filed an appeal in suit number CA/LAG/CV/262/2022.
Ruling on the matter on Wednesday, the three-man panel of the appellate court unanimously upturned the judgement of the lower court on the ground that the trial court was wrong to have presumed that the bank withheld the full account statement of Real Integrated in the light of Exhibit C6 (the comprehensive Statement of Account of Real Integrated), which was tendered by the bank for a limited purpose.
The court further held that there was no need for the lower court to have invoked Section 167 (d) of the Evidence Act, 2011 against the bank and, thereafter, awarded a cost of N200,000 against Real Integrated & Hospitality Limited and in favour of Zenith Bank.
Business Post gathered that the counsels of Zenith Bank, led by Prof. Fabian Ajogwu (SAN) and Mr Sylva Ogwemoh (SAN), had challenged Justice Abike-Fadipe's decision to award N2.5 million against the bank as the cost of the action in favour of Real Integrated.
The legal team argued that the lender acted in full compliance with its contractual obligations in line with the Advanced Payment Guarantee (APG) contract and that the trial court was wrong in its judgement.
CABS Zimbabwe Secures $10m Loan to Support Growth Strategy
By Dipo Olowookere
A $10 million credit facility has been obtained by Central Africa Building Society (CABS) Zimbabwe, a member of the Old Mutual Group, from Norsad Capital.
The impact investor and private creditor provider approved the loan to the bank to support its growth strategy, as the funds would be used to offer loans to CABS Zimbabwe's export clients, particularly in the agricultural sector.
"This investment aligns with Norsad's sectoral theme of Financial Institutions as well as the impact focus on financial inclusion and sustainable livelihoods, the Investment Director at Norsad Capital and transaction lead, Ms Carol-Jean Harward, said.
"The transaction will capacitate the exporting industry by providing working capital and capital expenditure facilities to sectors in agriculture and manufacturing.
"We are excited to partner with CABS as it plays a catalytic role in unlocking opportunities to enable local farmers and SMEs to export both regionally and internationally," she added.
In his remarks, the Deputy Managing Director of CABS, Mr Cecil Ndoro, said, "Norsad's funding will help strengthen CABS' balance sheet by providing medium-term funding as well as capacitating the exporting industries by providing working capital and capital expenditure facilities, thus boosting the country's foreign currency earnings.
"As CABS, we will deploy the funds to the productive export sectors, notably agriculture, manufacturing, mining, and tourism.
"The focus will be on the generation of foreign currency, creation of employment and value chain financing for the benefit of industry players and the economy at large. The investment will promote entrepreneurship, enable growth, and improve livelihoods."
CABS is one of the top three banks in Zimbabwe and was established as a building society in 1949 before being granted approval by the Reserve Bank of Zimbabwe (RBZ) in 2011 to engage in full commercial banking operations.
The lender has 38 operational branches, over 900 agents, and the largest Point of Sales machine network of about 25,000 countrywide. This adds to its digital banking offering, which includes Mobile, Internet, and WhatsApp Banking.
The agricultural sector is key to Zimbabwe's economy for domestic production, exports, and employment; hence, Norsad's facility supports sustainable livelihoods and builds a better Africa by impacting lives.
30 Corps Members Get Unity Bank's N10m Grant
By Modupe Gbadeyanka
Thirty members of the National Youth Service Corps (NYSC) have been given a grant of N10 million after a business pitch presentation held across 10 of the 36 states of the federation.
The funding support was provided by Unity Bank Plc through its Unity Bank Entrepreneurship Development Initiative, known as Corpreneurship Challenge.
It is targeted at empowering fresh graduates and corps members on one-year compulsory national youth service. The scheme is currently in its ninth edition.
A statement from the lender disclosed that the 30 corps members were picked from Rivers, Delta, Sokoto, Edo, Abuja, Akwa-Ibom, Osun, Kano, Bayelsa, and Enugu, with each state producing three winners who took home cash grants of N500,000, N300,000 and N200,000.
For this edition, the beneficiaries focused on renewable energy, fashion, beauty, agro-processing, confectionaries, etc.
The winners emerged after their business plans were assessed by a panel looking out for business ideas that demonstrate originality, marketability, future employability potential of the product, and knowledge of the business.
Some of the winners at the Rivers State NYSC Orientation camp at Nonwa Gbam Tai included Muoneke Gift, whose business plan on renewable energy took home the grand prize of N500,000; followed by Ilesanmi Olamide's business proposal on beauty services to claim the N300,000; and Ekanem Moses Idoreyin's confectionary business proposal, which took home the N200,000.
Speaking during the finale at Rivers State NYSC Orientation Camp recently, the Group Head, Retail, E-Business, and SME Banking, Unity Bank Plc, Mr Olufunwa Akinmade, said the bank was delighted with the impressive records the Corpreneurship Challenge has pulled so far.
"When we launched the initiative in 2019, we set out to empower the next generation of entrepreneurs that will disrupt the job market by creating much-needed jobs across all sectors. Today, we have come a long way, and the Corpreneurship Challenge has lived up to its billing," he said.
Represented by Regional Manager, Port Harcourt Region, Unity Bank Plc, Mr Eto Ukpe, Mr Akinmade reiterated the lender's commitment to sustaining the initiative and mainstreaming the Corpreneurship Challenge as a reliable and impactful entrepreneurship and business empowerment and mentorship programme in the country.
"What we have today in the labour market is far from the ideal. However, it is not enough to keep complaining. We must make lemonade out of a lemon. We believe that the Corpreneurship Challenge has proved to be one of the most creative approaches to tackling the intractable crisis we have in the job market in Nigeria.
"Our goal is to expand this programme to all 36 states and sustain it for as long as possible to achieve record impact. We continue to encourage the winners to continue to learn the rudimentary lessons necessary to build a successful business.
"We emphasise that the budding entrepreneurs who take part in this initiative constantly think about the challenges they will face and put the same energy they all have displayed in preparing for this contest in their businesses as they face their post-service year ahead," he stated.
The Unity Bank Corpreneurship Challenge has gradually joined the league of some of the most impactful, youth-focused entrepreneurship development initiatives in Nigeria, empowering no fewer than 100 young entrepreneurs over the past three years.
Recently, one of the beneficiaries in Sokoto, Ms Beulah Yusuf, who emerged as second runner-up in one of the editions, successfully launched her recycling business with the grant received from the bank.
She unveiled her products, widely acclaimed for addressing environmental pollution and waste management inefficiencies, underscoring the bank's motivations to sustain the initiative.
The Corpreneurship Challenge, which has earned the bank national recognition for its impact on youth empowerment and job creation, has continued to elicit growing interest among the corps members, attracting over 2000 applicants and participation in every edition.
In partnership with the NYSC Skill Acquisition and Entrepreneurship Development (SAED), the initiative prominently features a business pitch presentation that provides the participants with the opportunity to present their business plans and stand a chance to win up to N500,000 cash in the business grant.
So far, Unity Bank has invested over N100 million in the initiative, which has now produced 118 winners since it was launched in 2019.
Latest News on Business Post