CSCS Fixes May 18 for 27th AGM in Lagos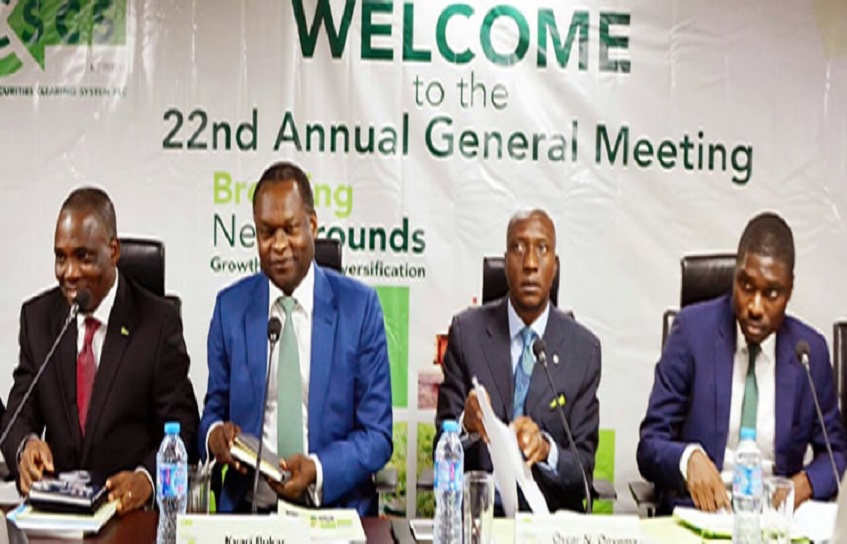 By Adedapo Adesanya 
On Tuesday, May 18, 2021, the shareholders of Central Securities Clearing Systems (CSCS) Plc gather for the company's 27th Annual General Meeting (AGM).
At the meeting scheduled to hold at the Radisson Blu Hotel on Ozumba Mbadiwe Street, Victoria Island, Lagos, at 10:00 am, the shareholders would be required to authorise the board to pay a dividend of N1.17 per share.
If approved, the bank accounts of the qualified investors would be credited on the same day, according to a notice sent to the NASD Over-the-Counter (OTC) Securities Exchange and seen by Business Post.
The qualification date for the dividend has been set for Monday, May 10, 2021, while the company will close its register on Tuesday, May 11.
In the audited financial results of the firm released recently, the group saw its profit after tax grow year-on-year by 41.4 per cent to N6.9 billion in the year 2020.
The Nigerian securities depository company improved its profit before tax by 22.3 per cent year-on-year to N7.4 billion from the N6.0 billion recorded in 2019, while the total income went up by 31.3 per cent year-on-year to N12.1 billion compared to N9.2 billion in 2019, with investment income growing by 61.4 per cent to N7.4 billion from N4.6 per cent in the preceding year.
The company also recorded an operating expense of N4.7 billion compared to N3.2 billion, this indicated a year-on-year growth of 46.0 per cent partly, reflecting investments in technology and human capital.
Return on Average Equity (ROAE) grew by 20.3 per cent compared to 15.3 per cent in 2019 while Earnings Per Share (EPS) grew to N1.39 from 98 Kobo in 2019, indicating a 41.8 per cent year-on-year growth.
The group delivered a 20.3 per cent return on average equity for the 2020 financial year, compared to 15.3 per cent in 2019.
Also, total assets grew to N41.4 billion compared to N36.6 billion as of 2019, showing that there was a 13.1 per cent year-on-year growth.
Property, Plant and Equipment (plus intangibles) grew 25.0 per cent in the year under review to N1.4 billion, reflecting continued investments in infrastructure to enhance operational efficiency and resilience.
Equally, shareholders' funds rose to N35.5 billion, up 7.9 per cent between the period under review, reflecting strong capacity for organic capital growth.
Mr Oscar Onyema, the Chairman, Board of Directors of CSCS, said of the result that, "it is exciting to report these stellar results," considering the business environment in the year under review. 
Profit Takers Drag ASI to 37,847.07 Points, Market Cap to N19.725trn
By Dipo Olowookere
The All-Share Index (ASI) of the Nigerian Exchange (NGX) Limited depreciated by 1.81 per cent or 698.23 points on Tuesday to finish at 37,847.07 points as against 38,545.30 points it ended a day earlier.
This was majorly caused by the actions of profit takers, who pounced on the market to offload some stocks that have gained in the past few trading sessions.
This also affected the market capitalisation of the stock exchange, which reduced by N364 billion to finish at N19.725 trillion compared with N20.089 trillion it ended on Monday.
Business Post reports that the market breadth closed negative yesterday with 17 price gainers and 23 price losers led by Airtel Africa, which lost 10.00 per cent to close at N678.00.
Mutual Benefits Assurance went down by 7.32 per cent to trade at 38 kobo, Cornerstone Insurance declined by 7.27 per cent to 51 kobo, Learn Africa depreciated by 648 per cent to N1.01, while Ikeja Hotel fell by 6.19 per cent to 91 kobo.
On the other side, Fidson shook off the bad performance of Monday to close as the best-performing stock by rising by 10.00 per cent to N5.06.
Vitafoam gained 9.68 per cent to trade at N13.60, Red Star Express appreciated by 9.55 per cent to N3.67, Veritas Kapital improved by 9.09 per cent to 24 kobo, while Courtville gained 5.00 per cent to quote at 21 kobo.
The most traded stock of the day was Transcorp as it sold 42.4 million shares valued at N37.2 million. Vitafoam traded 20.1 million equities worth N271.6 million, Dangote Sugar exchanged 17.6 million stocks for N312.1 million, FBN Holdings sold 12.4 million equities valued at N88.5 million, while Access Bank traded 11.5 million shares for N98.4 million.
At the close of business, investors traded a total of 218.3 million stocks worth N2.7 billion in 3,524 deals compared with the 209.2 million equities worth N1.8 billion transacted in 3,390 deals on Monday, indicating increases in the trading volume by 4.33 per cent, trading value by 54.59 per cent and the number of deals by 3.95 per cent.
In terms of the performance of the sectors yesterday, the energy and consumer goods sectors appreciated by 0.05 per cent and 002 per cent respectively, while the industrial goods, insurance and banking counters depreciated by 1.13 per cent, 0.39 per cent and 0.07 per cent apiece.
Local Currency Gains N1.67 Against Dollar at I&E
By Adedapo Adesanya
The Naira strengthened against the US Dollar at the Investors and Exporters (I&E) window of the foreign exchange market on Tuesday.
Business Post reports that during the session, the local currency appreciated by N1.67 or 0.4 per cent to close the session at N410/$1 in contrast to the previous session's N410.67/$1.
It was observed that the domestic gained this strength despite coming under a significant FX demand pressure at the market segment.
Yesterday, the I&E recorded a turnover of $169.07 million, 79.5 per cent or $74.9 million higher than the $94.17 million recorded on Monday.
At the parallel market, the value of the Naira paired with the American Dollar remained unchanged yesterday at N500/$1.
But against the Pound Sterling, the domestic depreciated by N3 at the black market to sell for N713/£1 compared with N710/£1 it traded a day earlier.
Also, the Naira lost N3 against the Euro at the unregulated segment of the market to trade at N595/€1 in contrast to N592/£1 of the earlier day.
At the interbank segment of the market, the Nigerian currency appreciated against the American currency by one kobo to quote at N410.19/$1 versus N410.20/$1 it traded on Monday.
Cryptos Languish in Bearish Territory 
Five of the seven cryptocurrencies tracked by Business Post on Tuesday were in bearish territory amid a growing crackdown on the virtual asset in China.
In the Asian country, authorities in the southwest province of Sichuan recently ordered bitcoin mining projects to close.
The State Council, China's cabinet, last month vowed to clamp down on mining and trading as part of a series of measures to control financial risks.
The world's biggest cryptocurrency, Bitcoin (BTC) has lost over 20 per cent in the last six days alone and has shed half of the value it traded in April.
Yesterday, it dropped 0.8 per cent to trade at N16,474,637.69, Ethereum (ETH) lost 14.1 per cent to sell at N901,355.08, Ripple (XRP) dipped by 6.5 per cent to trade at N305.00, Litecoin (LTC) declined by 1.1 per cent to trade at N63,800.00, while Tron (TRX) depreciated by 19.6 per cent to sell at N25.60.
But the Dash (DASH) appreciated by 4.4 per cent to trade at N70,000.00, while the US Dollar Tether (USDT) gained 0.8 per cent to sell for N516.86.
Oil Falls as OPEC+ Mulls Raising Supply
By Adedapo Adesanya
Crude oil prices settled slightly lower on Tuesday as the Organisation of the Petroleum Exporting Countries and its allies (OPEC+) discussed raising oil production.
Earlier in the day, the price of the Brent crude hit a two-year high of $75 per barrel but it later dropped to $74.85 per barrel, losing 23 cents or 0.18 per cent while the West Texas Intermediate (WTI) declined by 0.29 per cent or 58 cents to trade at $73.08 per barrel.
OPEC+ is discussing a gradual increase in oil output from August, but no decision has been taken on the exact volumes, an OPEC+ source reportedly said on Tuesday, according to Reuters.
The alliance is already returning 2.1 million barrels per day (bpd) to the market from May through July as part of a plan to unwind last year's record output curbs gradually as pandemic-hit demand recovers.
The group will have its next meeting on July 1.
Both benchmarks have risen for the past four weeks on optimism over the pace of global COVID-19 vaccinations and expected pick-up in summer travel. The rebound has pushed up spot premiums for crude in Asia and Europe to multi-month highs.
On Monday, the market reacted positively over a pause in negotiations to revive the Iran nuclear deal after Mr Ebrahim Raisi won the country's presidential election.
Although he backed talks between Iran and six world powers to revive a 2015 nuclear deal but flatly rejected meeting US President, Mr Joe Biden, even if the country removed all sanctions placed by the Donald Trump administration.
Removal of sanctions on commodities, including crude, could see an extra one million barrel flow into the market as it would be exempted from supply quotas.
Meanwhile, forecasters continue to see a higher oil price amid tighter oil supply and recovering demand which could push oil briefly to $100 per barrel in 2022.
US crude stocks were expected to have dropped for a fifth consecutive week, and this could lift prices.
The Energy Information Administration (EIA) said last week that US crude oil stockpiles dropped sharply in the week to June 11 as refineries boosted operations to their highest since January 2020, signalling a continued improvement in demand.
Latest News on Business Post