IITA Plans to Save 11m from Poverty—DG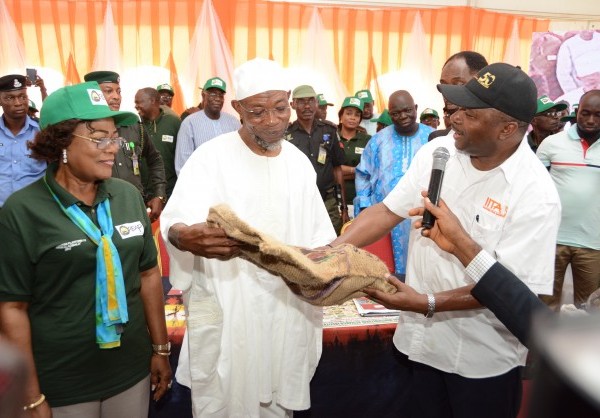 By Modupe Gbadeyanka
Director General of International Institute of Tropical Agriculture (IITA), Dr Nteranya Sanginga, has disclosed that the research body plans to lift about 11 million people out of poverty in sub-Saharan Africa by 2020 under the refreshed IITA strategy.
Dr Sanginga made this disclosure at the commissioning of the research and training farm of the institute at Ago Owu in Ayedade Local Government Area of Osun State last Thursday.
He stated that under the refreshed strategy, IITA also plans to reclaim 7.5 million hectares of degraded land and put the land into sustainable use, noting that achieving this goal entails IITA expanding its partnership scope and strengthening old partnerships.
Dr Sanginga explained that the Ago-Owu research facility would primarily conduct research on cassava, maize, yam, soybean, banana/plantain and cowpea.
"We will also be using the facility to train Nigerian youths in agribusiness," he said, adding further that, "This research facility is part of our strategy to take research closer to the people. Our plan is to make this station a one-stop shop where farmers' needs would be addressed."
The inauguration of the research farm was performed by the Osun State Governor, Mr Rauf Aregbesola, and it brings to six the number of such facilities in Nigeria with others located in Onne (Rivers State), Abuja, Mokwa (Niger state), Minjibir (Kano), and Ikenne (Ogun State).
The Ago Owu research station was set up primarily to serve as a research and training facility that will backstop the state's agricultural programs and offer training support to the youth.
It was also built to mark the 50th anniversary of IITA part of further efforts to expand its research agenda and create impact at farm level and it stands on 205.5 hectares of land donated by Mr Aregbesola in 2015.
Both parties signed an MoU and began investment on the land with the development of roads and other infrastructure.
Governor Aregbesola, in his address at the ceremony, said the research facility will advance research in Osun State with a spinoff effect on other parts of the country.
"We believe that this research facility will train and empower our youth in modern agriculture," he said.
The inauguration of the research facility also allowed researchers to make presentations on new findings from cassava weed management, breeding, banana breeding and multiplication, cassava processing, and aflasafe—a technology for controlling aflatoxins among others.
There was a presentation of improved seeds of maize, cowpea, soybean, yam, plantain seedlings, and cassava stems for onward distribution to farmers in Osun state.
IITA also gave the Governor some quantities of Purdue Improved Crop Storage (PICS) bags which provide simple, low-cost method of reducing post-harvest cowpea losses due to insects' infestations.
Director for Development and Delivery at IITA, Dr Alfred Dixon, in his remarks, said the inauguration of the research facility was a step in the right direction with the potential of bringing many benefits to the people of the state in particular, and the country in general.
He said the research facility would assist the state in accelerating its agricultural reform agenda whose particular focus is on increasing agricultural productivity and job creation.
Established in 1967, IITA is an international agricultural research institution that generates agricultural innovations to meet Africa's most pressing challenges of hunger, malnutrition, poverty, and natural resource degradation. Working with various partners across sub-Saharan Africa, IITA improves livelihoods, enhance food and nutrition security, increase employment, and preserve natural resource integrity. The Institute operates in Nigeria and 13 research stations/hubs across sub-Saharan Africa.
Unlisted Securities Market Gets 0.34% Boost Thursday
By Adedapo Adesanya
Amid an increase in trading value and volume, the NASD Over-the-Counter (OTC) Securities Exchange ended in the positive territory on Thursday, January 26, as it shot up by 0.34 per cent.
This was buoyed by the increase in the share price of Central Securities Clearing Systems (CSCS) Plc by 50 Kobo to N13.00 per unit from N12.50 per unit, and the surge in the price of FrieslandCampina Wamco Nigeria Plc by 30 Kobo to N62.48 per unit from the preceding session's N62.18 per unit.
This jerked the total value of the unlisted securities market by N3.09 billion to close at N923.76 billion versus N920.67 billion of the previous day, as the NASD Unlisted Securities Index (NSI) increased by 2.36 points to settle at 703.01 points, in contrast to the midweek's 700.66 points.
During the session, market participants executed eight deals at the bourse, 68 per cent lower than the 25 deals executed a day earlier.
However, the value of transactions increased during the session by 41.3 per cent to N4.9 million from N3.5 million, and the volume of trades jumped by 52.4 per cent to 189,670 units from the 121,494 units published on Wednesday.
At the close of business, Geo-Fluids Plc remained the most traded stock by volume on a year-to-date basis, with the sale of 61.1 million units worth N49.2 million. UBN Property Plc stood in second place with 29.7 million units valued at N21.1 million, while NASD Plc was in third place with 944,112 units valued at N13.6 million.
Also, VFD Group Plc maintained its position as the most active stock by value on a year-to-date basis, with 422,074 units sold for N103.0 million, FrieslandCampina WAMCO Group Plc was in second place with 899,657 units valued at N59.1 million, while Geo-Fluids Plc was in third place for trading 61.1 million units for N49.2 million.
Naira Crashes at Parallel Market, Gains at Official Market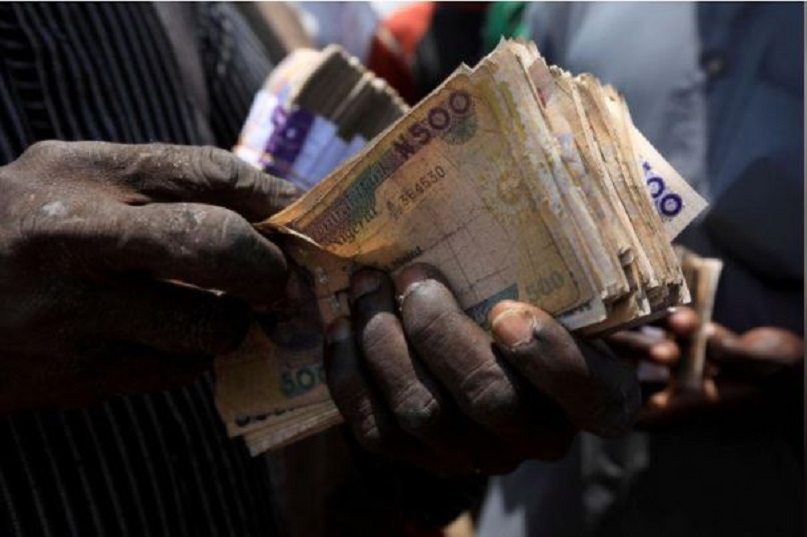 By Adedapo Adesanya
The Naira crashed against the United States Dollar at the parallel market on Thursday by N4 or 0.54 per cent to trade at N752/$1, in contrast to Wednesday's rate of N748/$1.
However, in the official market, which is the Investors and Exporters (I&E) window, the Nigerian currency appreciated against the greenback yesterday by 45 Kobo or 0.1 per cent to quote at N461.25/$1 compared with the previous day's value of N461.70/$1.
A 58.9 per cent or $64.66 million decrease in the value of forex turnover in the spot market helped the local currency close stronger during the session. Data from FMDQ Securities Exchange showed that FX trades worth $45.16 million were carried out compared with the $109.82 million executed in the previous trading day.
Also, in the Peer-2-Peer (P2P) segment of the FX market, the domestic currency gained N2 against the American Dollar to sell at N764/$1 versus Wednesday's N766/$1.
However, in the interbank segment, the Naira lost 24 Kobo against the British Pound Sterling to close at N567.21/£1 compared with the previous N567.45/£1, and depreciated by 20 Kobo against the Euro to quote at N500.73/€1, in contrast to N500.53/€1.
Meanwhile, most of the tokens monitored by Business Post in the crypto market depreciated in value at the close of transactions on Thursday, with Litecoin (LTC) shedding 1.6 per cent to trade at $87.48.
Further, Ripple (XRP) depreciated by 1.4 per cent to sell at $0.4109, Binance Coin (BNB) lost 0.4 per cent to quote at $305.07, Dogecoin (DOGE) dropped 0.2 per cent to finish at $0.0862, and Bitcoin (BTC) declined by 0.01 per cent to sell at $23,044.70.
Conversely, Cardano (ADA) appreciated yesterday by 2.8 per cent to settle at $0.3808, Ethereum (ETH) rose by 0.6 per cent to sell at $1,604.89, and Solana added a 0.02 per cent to its value to close at $24.36.
but the prices of the US Dollar Tether (USDT) and Binance USD (BUSD) remained unchanged at the close of trades at $1.00, respectively.
Stock Market Rebounds by 0.29% as GTCO, Others Enjoy Patronage
By Dipo Olowookere
A 0.29 per cent growth was recorded by the Nigerian Exchange (NGX) Limited on Thursday on the back of renewed demand for stocks after the Central Bank of Nigeria (CBN) aggressively cut down the stop rate of treasury bills on Wednesday.
The disappointment resulted in investors looking for alternative investment instruments, and equities were the next point of call.
In the previous two trading sessions, the stock market was down, but it rebounded yesterday on the back of a fresh bargain-hunting, which consequently pushed the All-Share Index (ASI) higher by 153.31 points to 52,752.96 points from 52,599.65 points, and the market capitalisation increased by N83 billion to N28.733 trillion from N28.650 trillion.
According to data from the NGX, the banking and energy sectors appreciated by 1.58 per cent each, the insurance space rose by 1.01 per cent, and the consumer goods counter grew by 0.05 per cent, while the industrial goods index depreciated by 0.01 per cent.
During the session, investors traded 139.7 million shares worth N2.0 billion in 3,549 deals compared with the 119.8 million shares valued at N2.7 billion traded in 3,552 deals, indicating an increase in the trading volume by 16.61 per cent, a decline in the trading value by 25.93 per cent, and a drop in the number of deals by 0.08 per cent.
GTCO emerged as the most traded equity yesterday with the sale of 17.8 million units, followed by Access Holdings, which transacted 15.4 million units. Fidelity Bank exchanged 11.9 million shares, Mutual Benefits sold 6.9 million equities, and Dangote Sugar traded 6.7 million stocks.
The market breadth was positive on Thursday, with 25 price gainers and seven price losers, indicating a very strong investor sentiment.
Geregu Power gained 10.00 per cent to trade at N147.40, Coronation Insurance appreciated by 9.76 per cent to 45 Kobo, Chellarams improved by 9.70 per cent to N1.81, International Energy Insurance grew by 9.43 per cent to 58 Kobo, and Tripple Gee jumped by 9.09 per cent to 96 Kobo.
On the flip side, RT Briscoe lost 9.09 per cent to settle at 30 Kobo, Royal Exchange dropped 8.24 per cent to sell at 78 Kobo, Courteville depreciated by 7.84 per cent to 47 Kobo, Linkage Assurance fell by 4.00 per cent to 48 Kobo, and Transcorp shed 0.82 per cent to N1.21.
Latest News on Business Post