Lagos Tasks Manufacturers on Production of Consumables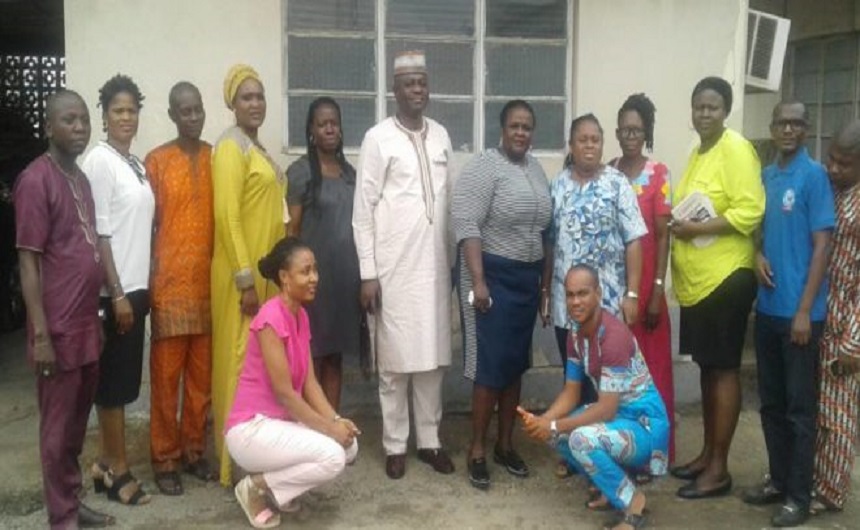 By Dipo Olowookere
The need for manufacturers of consumable products to follow standard procedures in the production process and final packaging of products has been emphasised by the Lagos State Consumer Protection Agency (LASCOPA).
General Manager of the agency, Mrs Kemi Olugbode, gave the charge during a courtesy visit to office of the Manufacturers Association of Nigeria (MAN) at Ogba, Lagos.
She urged MAN to monitor the activities of its members particularly those involved in the production of consumable products to ensure that they follow the required standard procedure, stressing that adherent to same is vital to effective consumer protection.
Mrs Olugbode emphasised that LASCOPA was created to ensure that consumers get satisfaction from goods purchased or services rendered as well as to protect consumers from all forms of hazardous products and to help them seek redress in a court of law when there is an infringement on their rights.
The General Manager disclosed that the agency was planning to have a parley with manufacturers of consumable products within the Ikeja Local Government Area, as part of efforts geared towards ensuring the safety of consumers.
According to her, the meeting is necessary to introduce LASCOPA and what it stands for to the manufacturers and draw their attention to some consumer issues observed during product monitoring and mediation sessions.
She said that the Agency also intends to get feedback and use the parley to create an avenue to foster a cordial relationship with producers of consumable products as means of ensuring consumer protection from hazardous products
Responding, the Executive Secretary, MAN Ikeja Branch, Mrs Oluchi Odimuko said that the Association is very certain about the quality of products of its members because they adhere to standards.
She said that MAN collaborates with relevant Ministries and Agencies to constantly monitor the activities of producers and ensure that internationally acceptable standards are followed in the production process.
Mrs Odimuko, however, noted that the challenge faced by the Association is with products imported or smuggled into the country and urged the management of LASCOPA to get in touch with the Customs Services of Nigeria to address such issues.
Unlisted Stocks Languish in Red Zone after 0.25% Fall Wednesday
By Adedapo Adesanya
The NASD Over-the-Counter (OTC) Securities Exchange extended its stay in the bearish zone on Wednesday, December 8 as the trio of FrieslandCampina WAMCO Nigeria Plc, NASD Plc, and Central Securities Clearing Systems (CSCS) Plc compounded its woes by 0.25 per cent.
FrieslandCampina WAMCO Nigeria Plc depreciated by N1 or 0.9 per cent at the midweek session to settle at N110.80 per share in contrast to the preceding day's value of N111.80 per share.
It was followed by NASD Plc, which closed at N27.00 per unit compared with the previous day's N27.15 per unit, indicating a decline of 15 kobo or 0.6 per cent.
On its part, CSCS Plc declined yesterday by 9 kobo or 0.5 per cent to close the session at N16.91 per share in contrast to N17 per share of the previous session.
The losses posted by these unlisted stocks chopped off N1.49 billion from the market capitalisation of the bourse during the session to close the day at N602.96 billion versus N604.45 billion it ended on Tuesday.
In the same vein, the NASD Unlisted Security Index (NSI) closed lower by 1.8 points to wrap the session at 729.82 points compared with 731.62 points of the previous session.
At the market on Wednesday, there was an increase in the volume of securities traded by investors and this was by 168.9 per cent as 1.9 million units of stocks exchanged hands compared with the earlier day's 694,849 units of securities.
In the same vein, the value of shares traded at the midweek amounted to N37.9 million, which by evaluation is 72.5 per cent higher than the N22.0 million posted on Tuesday.
All these transactions were executed in 14 deals, according to data from the exchange, 12.5 per cent lower than the 16 deals carried out at the preceding day.
Food Concepts Plc closed the day as the most active stock by volume (year-to-date) for selling 11.4 billion units for N14.4 billion, Lighthouse Financial Services Plc has traded 1.1 billion for N546.2 million, while Geo Fluids Plc has sold 1.0 billion units for N700.1 million.
Also, Food Concepts Plc finished the day as the most active stock by value (year-to-date) with a turnover of 11.4 billion units worth N14.4 billion, Nigerian Exchange (NGX) Group Plc, which is no longer on the platform maintained its second spot with 456.5 million units worth N9.2 billion, while the third spot was taken by VFD Group Plc with 10.4 million units valued at N3.5 billion.
Naira Trades Flat at I&E as Bitcoin, Ethereum Fall at Crypto Market
By Adedapo Adesanya
It was a stalemate between the Naira and the US Dollar at the Investors and Exporters (I&E) segment of the foreign exchange (forex) market on Wednesday, December 8.
This was because, at the specialised window where investors source FX for approved needs, the local currency closed against the greenback at N415.07/$1, the same value it was sold at the previous session.
This happened despite a 51.7 per cent or $76.98 million rise in the demand for forex at the market window, as data obtained by Business Post from FMDQ Securities Exchange showed that yesterday, the turnover rose to $225.99 million from the previous day's turnover of $149.01 million.
Also, the Naira recorded the same outcome at the interbank window of the forex market as the exchange rate of the domestic currency compared with its American counterpart remained unchanged at N411.74/$1 at the close of transactions at the midweek session.
However, the Nigerian Naira appreciated against the British Pound Sterling during the session by N2.68 to settle at N543.04/£1 versus Tuesday's closing rate of N545.72/£1 and against the Euro, the local currency performed badly as it lost 53 kobo to trade at N474.07/€1 compared with N463.54/€1 it closed a day earlier.
Meanwhile, the scales tilted to the bullish side on aggregate at the crypto market yesterday as six of the 10 cryptocurrencies tracked by this newspaper closed on the green side.
The highest gainer was Tron (TRX) as it appreciated by 9.1 per cent to sell for N52.50, just as Dash (DASH) rose by 6.6 per cent to sell at N85,000.00, with Ripple (XRP) appreciating by 5.9 per cent to N487.19.
In addition, Binance Coin (BNB) gained 5.3 per cent to trade at N249,686.22, Litecoin (LTC) rose by 1.5 per cent to sell at N96,110.37, while Cardano (ADA) pointed north by making a 0.9 per cent gain to quote at N815.96.
On the losers' side, Ethereum (ETH) made a 3.4 per cent slump to trade at N2,300,500.02, Bitcoin (BTC) fell by 0.9 per cent to trade at N28,330,347.37, Dogecoin (DOGE) retreated by 0.6 per cent to sell at N103.74, while the US Dollar Tether (USDT) depreciated by 0.5 per cent to sell for N571.85.
Crude Oil Prices Rise on Small US Inventory Draw
By Adedapo Adesanya
Crude oil prices continued to rise on Wednesday after the Energy Information Administration (EIA) reported an inventory draw of 0.2 million barrels for the week to December 3.
This came a day after the American Petroleum Institute surprised markets with an estimated crude oil inventory draw of over 3 million barrels that helped push prices higher.
In EIA estimates, last week's draw was in comparison with a modest decline of 900,000 barrels for the first week of December and at 432.9 million barrels, US crude oil inventories remain below the five-year seasonal average.
Consequently, the price of the Brent crude appreciated yesterday by 1.02 per cent or 77 cents to settle at $76.59 per barrel, while the West Texas Intermediate (WTI) crude gained 1.17 per cent or 85 cents to sell for $73.26 per barrel.
Prices have been on the rise since the start of the week as the initial fear that the new Omicron variant could prompt new lockdowns began to subside amid reports of mild symptoms that don't require hospitalization.
According to reports, early studies suggest two shots of the Pfizer-BioNTech shot may protect only partially against Omicron, but a third dose may improve that protection.
Market analysts also warned that some of the Omicron oil demand-related concerns might have been too pessimistic, and following some positive news related to the variant being released in recent days, oil prices recovered.
However, prices are still far below their October highs but have rebounded from below the $70 mark that they fell towards the end of November.
The outlook remains uncertain as researchers caution it is early days for Omicron and more data will become available as time passes.
Meanwhile, the market expects that supply will exceed demand by early 2022, due to rising US production and ongoing supply additions from the Middle East.
Also posing a bullish outlook was members of the Organisation of the Petroleum Exporting Countries (OPEC) raising oil prices for Asian and US buyers, and Iraq's oil minister noted that would oil reach $75 a barrel.
On the geopolitical front, tensions between Western powers and Russia over Ukraine also remained high after American President Joe Biden warned Russian President Vladimir Putin that the West would impose strong economic and other measures on Russia if it invades Ukraine.
Latest News on Business Post