Sub-Saharan Africa Could Recover by 2.1% in 2021—World Bank
By Adedapo Adesanya
The World Bank has said that Sub-Saharan Africa will reverse an economic contraction next year and could grow by 2.1 per cent as countries in the region begin to ease movement restrictions induced by the coronavirus pandemic.
It, however, noted that the impact of the coronavirus will endure for years to come as many as 40 million people could be pushed into extreme poverty, erasing five years of gains fighting poverty.
The Bretton Wood lender made the disclosure on Thursday, noting that the region's gross domestic product (GDP) is on track to shrink 3.3 per cent this year as a result of the double-edged sword of the disease and lower oil and commodities prices.
Though it noted that the fallout that rose from the pandemic could be hard to predict, it said the growth of about 2.1 per cent could follow in 2021 and 3.2 per cent in 2022.
It explained that if the outbreak is more prolonged or if there's a second wave, sub-Saharan Africa's economy may expand by only 1.2 per cent in 2021 and 2.1 per cent in 2022.
It projected that by the end of 2021, the region's real per-capita GDP may have regressed to 2007 levels.
The region will lose at least $115 million in output this year and long-term losses are expected with the level of real per-capita GDP expected to contract by 2.1 per cent and 5.1 per cent, confirming earlier forecasts that sub-Saharan Africa will suffer its first recession in a quarter of a century in 2020.
While East Africa and Southern Africa are expected to experience slower growth in 2020 compared with West and Central Africa, their economies may expand faster next year at 2.7 per cent versus 1.3 per cent in West and Central Africa.
The lender noted that oil-exporting countries have been hit hardest, with growth expected to drop by more than 4 per cent in Angola and Nigeria.
It noted that to help alleviate the effect on Africa's poorest countries, the World Bank and the International Monetary Fund (IMF) have proposed suspending debt servicing this year.
However, that would address only a fraction of total debt, and debt relief from private creditors is likely needed as well, the lender said.
Domestic Market Extends Rally by 0.07% as Investors Mop up Oil Stocks
By Dipo Olowookere
Oil stocks were the toast of investors at the Nigerian Exchange (NGX) Limited on Thursday on the back of the eventual removal of subsidy on petrol by the government on Wednesday.
On May 31, 2023, the Nigerian National Petroleum Company (NNPC) Limited signalled the end to fuel subsidy when it said petrol would be sold at N488 per litre in Lagos, N500 per litre in other southwest states, and N537 per litre in Abuja at its retail stations instead of the former subsidised rate of N185 per litre.
This development spurred traders to go after oil stocks in the equity market, which closed higher by 0.07 per cent, with the energy index as the highest advancer at the close of business with 2.27 per cent growth.
The insurance counter rose yesterday by 1.11 per cent, the banking sector appreciated by 0.95 per cent, while the consumer goods index depreciated by 0.26 per cent, with the industrial goods sector closing flat.
Consequently, the All-Share Index (ASI) increased by 38.97 points to 55,808.25 points from 55,769.28 points, while the market capitalisation jumped by N21 billion to N30.388 trillion from N30.367 trillion.
Conoil gained 9.92 per cent to close at N63.70, Sterling Bank rose by 9.76 per cent to N2.25, Eterna expanded by 9.74 per cent to N8.45, Cornerstone Insurance grew by 8.97 per cent to 85 Kobo, and Mutual Benefits went up by 8.33 per cent to 39 Kobo.
FTN Cocoa topped the decliners' table as it fell by 9.88 per cent to 73 Kobo, Champion Breweries lost 9.62 per cent to trade at N3.76, McNichols depleted by 9.21 per cent to 69 Kobo, Chams went down by 8.16 per cent to 45 Kobo, and Fidson slumped by 6.93 per cent to N9.80.
Business Post reports that, unlike the preceding trading session, investor sentiment was strong yesterday as the market breadth was positive, with 30 price gainers and 20 price losers.
The activity was left in red on Thursday as investors toned down their exposure to equities, monitoring how the government intends to address the proposed unification of the different foreign exchange (FX) market segments.
Data showed that 390.2 million shares valued at N5.7 billion were traded in 7,725 deals during the session compared with the 661.5 million shares worth N19.0 billion traded in 10,024 deals a day earlier, representing a fall in the trading volume, value, and the number of deals by 41.01 per cent, 70.00 per cent, and 22.93 per cent, respectively.
Access Holdings transacted 51.3 million equities valued at N623.8 million, UBA traded 46.1 million stocks worth N453.1 million, FTN Cocoa sold 37.3 million shares for N29.7 million, Zenith Bank exchanged 37.2 million shares valued at N1.1 billion, and GTCO traded 34.4 million equities worth N993.2 million.
Capital Market Ready to Spur Investment in Infrastructure—Yuguda
By Aduragbemi Omiyale
The Director-General of the Securities and Exchange Commission (SEC), Mr Lamido Yuguda, has assured the federal government that the capital market would ensure it attracts investment in infrastructure to stimulate the economy.
In an interview on Thursday, Mr Yuguda said the administration of President Bola Tinubu had shown the desire to jump-start the economy with his policy direction.
He said the Nigerian capital market could be a viable tool to achieve infrastructure development, as it is an organised and specialised financial market that drives capital mobilisation through domestic savings and foreign capital inflows.
According to him, the benefits of adequate infrastructure in any economy cannot be overemphasised as they help to speed up development and create wealth.
"If we can get well thought out infrastructure in this country, it will do many things. It will raise the level of economic activities in the country as a whole, and these activities will need people to be employed so they can carry out those activities.
"That means the youths and our people will get more employment, and as you get more employment, people get more disposable income and need to find outlets to spend that income. That means people can set up small.
"Industries and be able to live decent lives. Also, people will be buying the essentials of life, and the people who are in the business of producing or selling them will be in business. So, you find out that there is a chain effect," the DG stated.
The SEC chief recalled that in the past, most famous industries were sited close to rail lines to aid the transportation of heavy machinery, raw materials, and finished products to consumers.
"You can have several carriages in the train carrying various products. Today we do not have the rail lines, and we need to revive this infrastructure," he said.
The SEC DG expressed the hope that the nation's economy will bounce back and thrive with the aid of the capital market.
"I have a lot of hope in our economy. Right now, if you do the GDP ranking, Nigeria is about number 30. Still, I am very confident that if we get our infrastructure right, our ranking will improve tremendously," he said, adding that Nigeria has the population and the market right now, which means that investment in infrastructure can pay back itself in Nigeria faster than other parts of Africa because the nation has more people that can use the infrastructure.
He, therefore, urged the government at all levels to look towards the capital market for financing such investments, which he said would aid the much-needed economic development, assuring that once the infrastructure is right, the number of users will grow, boosting economic activities.
Mr Yuguda said this would all be aided by the capital market as it is an unbiased price determination machinery for the economy.
"Once we have the right infrastructure, people will travel by road. We did in the past, and I think once we have the right structures in place, we can enjoy good roads again," he added.
The SEC DG assured that the commission was committed to protecting investors and creating an enabling in the market, emphasising the SEC's unwavering resolve to build a robust capital market that is instrumental to driving economic progress in the country.
FG's Readiness to Tackle FX Constraints Gladdens NGX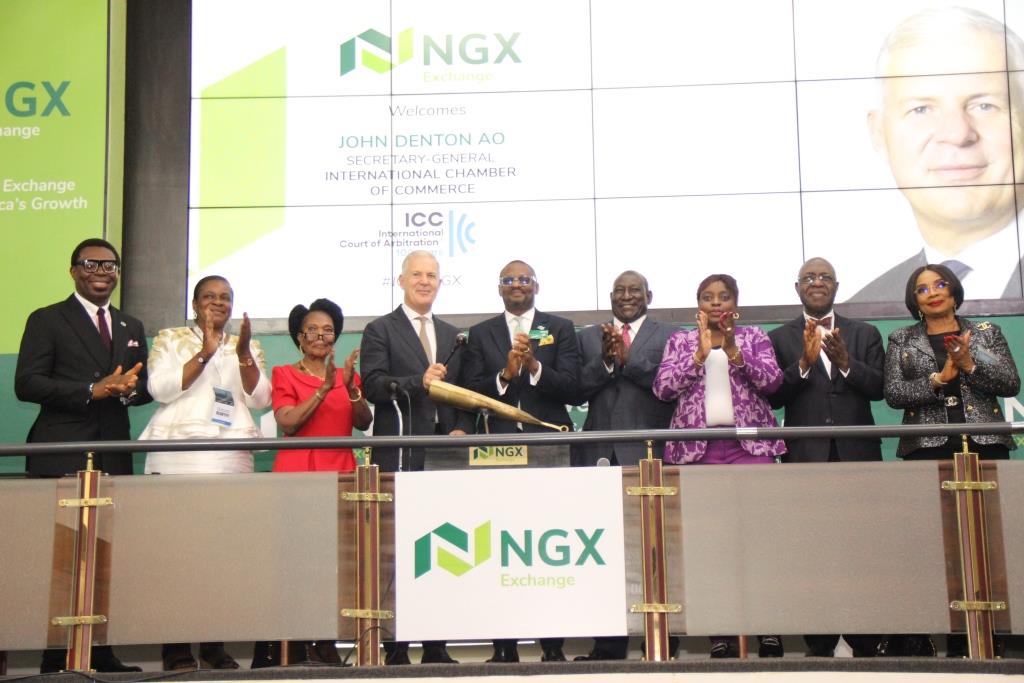 By Aduragbemi Omiyale
The Nigerian Exchange (NGX) Limited has expressed its excitement over the readiness of the federal government to address the lingering foreign exchange (FX) constraints in the country.
The chief executive of the bourse, Mr Temi Popoola, who lamented the negative impact of the forex shortage on the market, said he was optimistic that the administration of Mr Bola Tinubu would tackle the issue head-on.
During his inauguration on Monday, Mr Tinubu tasked the Central Bank of Nigeria (CBN) to adopt a single exchange rate system to restore investors' confidence in the Nigerian economy.
Speaking on Thursday in Lagos at the closing gong ceremony to commemorate the centenary anniversary of the International Court of Arbitration (ICC), Mr Popoola noted that forex limitations have continued to challenge the nation's economy.
He noted that the NGX trades between $250 million to $300 million a day, but due to the FX crisis in the country, this has continued to decline.
"We are hopeful and beginning to see that the new administration wants to tackle FX constraints. At the NGX, we will continue to appreciate our partners.
"We are truly delighted to welcome the ICC to the exchange, and at NGX, we will continue to build on partnerships just to ensure that companies will be able to come and raise capital," Mr Popoola, represented by the Divisional Head of Capital Markets at NGX, Mr Jude Chiemeka, stated.
Responding, the Secretary General of ICC, Mr John Denton, noted that the ICC, with 400 million members in 170 countries, play a critical role in ensuring appropriate advocacy with the government and global business community on effective means of enabling the private sector, provide training and capacity building to link Nigerian businesses unto the extraordinary global platform of the national chamber of commerce.
Mr Denton said one of the key aims of the ICC is to enable global trade while expressing excitement that the market sustained a bullish tilt in three consecutive trading sessions.
According to him, this bodes well, especially for investors' confidence under the new administration and is critical to keeping the market competitive and transparent.
Commending the NGX for its giant strides in innovation and technology, Mr Denton said this aligns with the ICC objectives, which is a critical part of its role in developing the private sector and enabling the private sector to operate effectively.
"We are looking at 30-40 sovereign states with serious debt and liquidity issues, and yet on a global basis, that is dismissed as something to be worried about and not something to be acted on.
"What that means is that the advanced economies are not prepared to work harder on the debt forgiveness issue, resolution issue because if these countries fall over, it will be terrible. We think this is fundamentally wrong, which is what we are working on.
"Working with a group like the NGX who understand what is required to keep the markets moving will be very helpful too," the ICC scribe said.
Latest News on Business Post