Merck Partners UNESCO, AU to Reward Researchers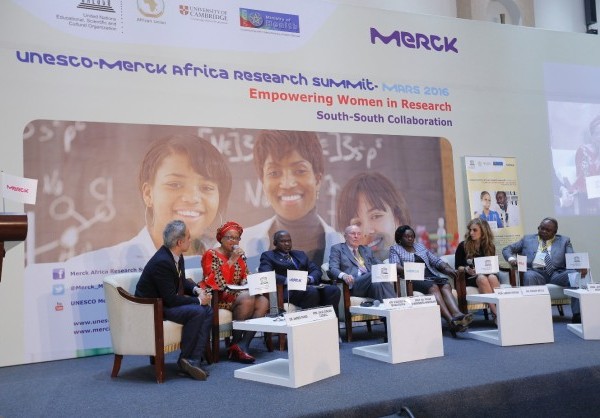 By Dipo Olowookere
Leading science and technology company, Merck, has collaborated with UNESCO, African Union, Ethiopia Ministry of Health, University of Cambridge and Institute Pasteur International to reward the 2016 UNESCO–Merck Research Award winners.
The nine winners under two categories, 'Best Young African Researchers Award' and 'Best African Women Researchers Award', were announced during the 2nd UNESCO-MARS Summit 2016 held in Addis Ababa, Ethiopia.
"We are very happy to partner with UNESCO, African Union and Ethiopia Ministry of Health to achieve the important goals of improving women health and empowering women in research, as they are still under-represented in Africa," Frank Stangenberg-Haverkamp, Chairman of the Executive Board and Family Board of E. Merck KG emphasized at the inauguration of the UNESCO-MARS 2016 Summit.
Yifru Berhane, Minister for Health in Ethiopia said, "We are very happy to partner with Merck, UNESCO and Africa Union to build research capacity in Africa with the focus on young researchers and women researchers and to define policies to enable high quality research in the continent".
"This is the first time the UNESCO-MARS is launching the 'Best African Woman Research Awards' with the aim of promoting women in STEM (Science, Technology, Engineering and Mathematics) that has seen five women researchers from across Africa being recognised for the quality of their research.
"The awards are in line with this year's UNESCO-MARS 2016 theme that supports empowering women in research and building research capacity in Francophone and Anglophone Africa to ultimately improve women health in the continent," emphasized Rasha Kelej, Chief Social Officer, Merck Healthcare.
Beatrice Nyagol from Kenya Medical Research Institute was awarded the 1st Woman Researcher Award while Rogomenoma Ouedraogo from Laboratory of Biology and Molecular Genetics University, Burkina Faso received the 2nd Woman Researcher Award. The 3rd, 4th and 5th Woman Researcher Awards were granted to Sandrine Liabagui ep Assangaboua from Gabon; Maria Nabaggala from Infectious Diseases Institute, Uganda and Martha Zewdie of Armauer Hansen Research Institute, Ethiopia respectively.
The three categories of the 'Best Young Researchers Award' were given to two female and two male researchers with the 1st Award going to Patricia Rantshabeng from University of Botswana and the 2nd Award to Constantine Asahngwa from Cameroon. The 3rd Award were given to both; Tinashe Nyazika of University of Zimbabwe and Lamin Cham from the National Aids Control Program, Gambia.
"The awardees who are final PhD students and young investigators based at African research institutes and universities were selected based on the abstracts they submitted which were very impressive and related to Infectious Diseases with the aim to improve Women Health, which is the focus of UNESCO-MARS 2016," emphasized Rasha Kelej.
UNESCO–MARS 2016 has brought together more than 200 researchers from more than 35 African countries to discuss the generation, sharing and dissemination of research data and to prepare for the road ahead in developing Africa as an international hub for research excellence and scientific innovation.
Of the 200 researchers attending the Summit, 60% are women. This is contributing to one of the main objectives of UNESCO-MARS, which is empowering women in research.
The Summit for the first time, is also addressing both Francophone and Anglophone Africa and has attracted researchers from 11 French speaking countries of Senegal, Rwanda, Gabon, Benin, Congo, Cameroon, Gambia, Burkina Faso, Morocco, Niger, Burundi. Researchers from English speaking countries are drawn from Namibia, South Africa, Ghana, Kenya, Zimbabwe, Nigeria, Sierra Leone, Zambia, Tanzania, Uganda, Malawi, Liberia, Botswana and Ethiopia. In addition, researchers from Arab speaking and Portuguese speaking countries such as Egypt, Angola and Mozambique are in attendance.
The 2nd UNESCO MARS Summit is providing a unique opportunity for Africa's young and talented scientists to share their research output and findings with the top echelon of scientists from Africa and abroad. It is also an opportunity for networking and career development. The Summit is presenting a platform where young scientists are able to discuss the enabling environment for better research among others.
"The researchers attending the two-day Summit are benefiting from diverse and rich scientific sessions that are focusing on the relation between infectious diseases and cancer in women; untreated infectious diseases and the high prevalence of infertility in Africa; and participating in discussions to identify scientific research priorities for evolving health needs to address infectious diseases such as Malaria, Schistosomiasis and Zika in relation to women health," Rasha Kelej emphasized.
The Summit theme of "Infectious Diseases and Women Health" is informed by the fact that for many infectious diseases, women are at higher risk and have a more severe course of illness than men for many reasons including biological differences, social inequities, and restrictive cultural norms. Therefore, efforts to recognize and reduce health disparities among women have particular relevance for global health," Uganda Minister of State of Health, Sarah Opendi emphasized.
Up to 15 African ministers of Health; Education; Science and Technology and Gender & Social Development participated in two ministerial high level panels at the UNESCO-MARS 2016. The ministers in discussions committed to support the building of research capacity at country and regional level, and the development and enforcement of policies to guide and promote scientific research for the benefit of Africa. They also pledged to enhance efforts to empower women in research.
The first ministerial high level panel on "Defining interventions to advance research capacity and empower women in research to improve women health in Africa," involved: Sarah Opendi, Minister of State of Health, Uganda; Idi Illiassou Mainassara, Minister of Public Health, Niger; Julia Cassell, Minister of Gender, Children and Social Development, Liberia; Jesús Engonga Ndong, Minister of Education & Science, Equatorial Guinea and Prof. Frank Stangenberg-Haverkamp, Chairman of Executive Board and Family Board of E.Merck KG.
The second ministerial panel on "Research and policy making gap in Africa – challenges and opportunities – Africa as a new international hub for research excellence and scientific innovation," included: Prof. Yifru Berhane, Minister of Health, Ethiopia; Prof. Afework Kassu Gizaw, Minister of Science and Technology, Ethiopia; Dr. João Sebastião Teta, Secretary of State, Angola; Zuliatu Cooper, Deputy Minister of Health and Sanitation, Sierra Leone and Rashid Aman, Chairman, Kenya National Commission for UNESCO.
Entries for Ecobank National Essay Competition Close Saturday
By Dipo Olowookere

The national essay competition organised by Ecobank Nigeria Limited to commemorate Children's Banking Month is gradually gaining momentum, especially as the window for the submission of entries draws closer.
According to the financial institution, all entries are expected to be filed to AllENG-ConsumerProductsTeams@ecobank.com, with the contact details of the parent/guardian on or before Saturday, May 21, 2022, at 12 noon.
Results would be sent on all entries by Wednesday, May 25 at 12 noon and winners will be celebrated and given their gifts on May 28, 2022, as part of activities to mark the International Children's Day.
The contest is for children between the ages of 13 and 16 and the topic is What will you consider as the future of banking. Participants are required to write the essay in 400 words, in font size 12 with one and a half line spacing. Winners would be given laptops, educational tabs, and several consolation prizes.
The Head of Consumer Banking at Ecobank Nigeria, Mrs Korede Demola-Adeniyi, in a statement made available to Business Post, explained that the bank initiated the competition to expose children to financial education early in life, adding that it is also part of the lender's commitment towards the Nigerian child.
According to her, "the month of May is set aside by the bank to celebrate childhood and how our children enrich our lives. We acknowledge the importance of our customers, young and old, to Ecobank's ongoing success story. The bank, whose vision is to build a world-class pan-African bank and contribute to the economic development and financial integration of Africa, sees educational development as a fulcrum for positive integration."
Mrs Demola-Adeniyi called on school proprietors, administrators, parents, and guardians to encourage their students, children, and wards to participate actively in the essay competition, stressing that beyond the prizes, the competition is also part of the process to push the frontiers of academic excellence among the young ones in society.
She stated that Ecobank has a MyFirst Account which caters for children and young ones, noting that, "This is our savings account specifically designed for children and teenagers aged between 0-16 years old."
"If you are a parent, the account allows you to save money in your child's name, which they can redeem when they are older. It is the perfect way to save for their education or kickstart a fund for future projects. It gives your child the best start in life," she added.
Stanbic IBTC Funds University Education of 100 Students
By Modupe Gbadeyanka
A total of 100 students will receive funding support for their university education in Nigeria from Stanbic IBTC Holdings Plc, a member of Standard Bank Group.
Each of the undergraduates in 33 universities across the 36 states of the federation and the FCT, will receive scholarships valued at N400,000, which would be disbursed in tranches of N100,000 across four academic years.
The beneficiaries were chosen through the scholarship scheme of the financial institution designed to provide financial aid needed to fulfil their educational needs and pursue their dreams.
The 100 Nigerian youths selected this year excelled in the University Tertiary Matriculation Examination (UTME) organised by the Joint Admissions and Matriculation Board (JAMB).
Asides from the first tranche of disbursement, subsequent disbursements would be subject to beneficiaries maintaining their enrolment in their respective universities and degree programs they were admitted into, adhering to the academic and administrative policies of the university, and the provision of a letter of good conduct issued by their respective departments.
Also, beneficiaries would be required to maintain a Cumulative Grade Point Average (CGPA) of at least a second class upper range, amongst other requirements.
Commenting on the initiative, the chief executive officer of Stanbic IBTC Holdings, Mr Demola Sogunle, stated that it was borne out of the need to empower hardworking and diligent young Nigerian undergraduates, who aspired to pursue their tertiary education in any state or federal university in Nigeria.
"We believe that everyone deserves a chance to access quality education and we believe in rewarding students who have shown remarkable academic excellence.
"This initiative will go a long way in easing the financial burdens of these undergraduates who participated in the UTME and gained admission into various Nigerian state and federal universities for the 2021-2022 academic session.
"We are pleased to announce the 100 winners of this year's scholarship scheme for undergraduates in 33 universities across the 36 states and the FCT. We wish them great success in their academic journey."
Mr Sogunle further added that education remains one of the keys to facilitating a nation's prosperity, hence the introduction of the scholarship initiative.
Stanbic IBTC remains committed to driving value-added initiatives like the university scholarship programme to contribute to the educational development of the Nigerian youth.
The scheme, which commenced in 2019, now has had almost 200 recipients. The beneficiaries were chosen across the six geo-political zones in Nigeria through fair screening processes.
Consider Plight of Students and Suspend Strike—Buhari Begs ASUU
By Modupe Gbadeyanka
The Academic Staff Union of Universities (ASUU) has been urged to consider the plight of students and suspend the ongoing strike.
Speaking at the 19th National Productivity Day in Abuja on Thursday, President Muhammadu Buhari said efforts are being made to resolve the lingering issues between the union and the federal government.
ASUU had earlier embarked upon a two-month warning to force the government to honour the agreement signed in 2009 but after nothing was done, it extended the industrial action for another three months.
At the conferment of the National Productivity Order of Merit Award (NPOM) on 48 eminent Nigerians and organisations in both the public and private sectors, for their high productivity, hard work and excellence, President Buhari disclosed that his administration recognises that the future of any nation is contingent on the standard of its educational system, promising to uplift the standard of the educational system in the country.
According to him, he earlier directed his Chief of Staff, the Ministers of Labour and Employment, Education, Finance, Budget and National Planning to immediately bring all parties to the negotiation table to again critically look at the grey areas in the demands of ASUU.
Mr Buhari expressed optimism that all the issues would be resolved, appealing to the lecturers to exercise patience. He also urged students in Nigeria's public tertiary institutions to give the government time to address the nagging issues in the nation's university system within the ambit of the resources available.
While speaking on the theme of this year's celebration, Achieving Higher Productivity through Improved Education System, the President disclosed that efforts would be made to "transform Nigeria into a competitive, strong, vibrant, productive and sustainable economy."
"Quality educational system is good not just for the national economy; it is also good for the citizens," he disclosed, emphasising that, "Ignoring the productivity dimension of education would endanger the prosperity of future generations, with widespread repercussions for poverty and social exclusion."
According to him, "It will be difficult to improve our economic performance and overall productivity, without improving our educational system."
He stated that the administration was aware of "the emergency situation in our educational system with particular reference to the dearth of qualified and dedicated teachers to enhance the quality of teaching and learning at all levels of our educational system."
Some of the awardees were the late Dr Stella Adadevoh and Mr Babatunde Lawal.
Other were recipients the National Chairman of the All Progressives Congress (APC), Mr Abdullahi Adamu; the Secretary to the Government of the Federation, Mr Boss Mustapha; immediate past Director-General of the Nigeria Centre for Disease Control (NCDC), Dr Chike Ihekweazu; Lagos State Commissioner for Health, Prof Akin Abayomi; Chairman and Founder, BUA Group, Mr Abdusamad Rabiu; Chairman of Globacom, Mr Mike Adenuga Jnr; Professor Stanley Okolo, Director General of the West African Health Organization (WAHO) and Allen Onyema, Chairman/Chief Executive Officer of Air Peace, among others.
Latest News on Business Post