Explainer: What is Nigeria's Energy Transition Plan?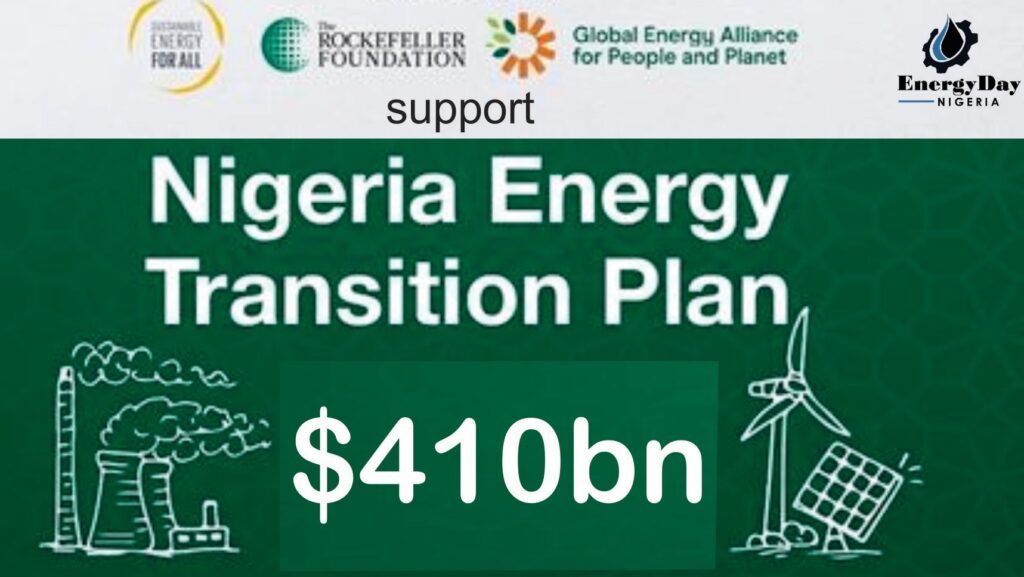 By Adedapo Adesanya
As world leaders converge on Sharm El-Sheikh, Egypt, to discuss climate change in what is regarded as the Conference of Parties 27 (COP 27) summit, one of the critical points that the Nigerian government has hammered on is the energy transition plan. What exactly is this plan, and how will the country attain it?
Understanding the Problem
In Nigeria, desertification in the north, floods in the centre, pollution and erosion on the coast, and the associated socio-economic consequences all allude to the reality and grave impacts of climate change. This is worsened by the country's rising population as it is expected to lead to the highest rise in population growth by 2050. On the back of this, it is necessary to ensure improved living conditions for millions of Nigerians, and the next couple of decades present a unique opportunity to merge these two priorities; economic development and climate action.
What has the Nigerian Government Done?
At COP26 held in Glasgow, Scotland, President Muhammadu Buhari announced Nigeria's commitment to carbon neutrality by 2060. His administration has not stopped here; the Climate Change Act 2021 was passed, and Nigeria's Energy Transition Plan (ETP) was unveiled.
Also, the ETP has been fully approved by the federal government, and an Energy Transition Implementation working group (ETWG) chaired by Vice President Yemi Osinbajo, comprising of several key ministers and supported by an Energy Transition Office (ETO) was established.
Why Energy Transition?
Africa accounts for less than 3 per cent of the world's energy-related carbon dioxide (CO2) emissions. It has the lowest emissions per capita of any region. In addition, there are still over 580 million people on the continent without reliable energy, and the demand for electricity is expected to continue to increase as populations rise, industrialization ambitions grow, and urbanization continues to fuel the need for more electricity.
Nigeria, the largest economy in Sub-Saharan Africa, is endowed with huge oil, gas, hydro, wind, and solar resources, but constraints in the power sector impact growth and industrialization. With some measures that include tapping into these, Nigeria targets being carbon neutral by 2060.
Key Insights
Nigeria's net-zero pathway will result in significant net job creation, with up to 340,000 jobs created by 2030 and up to 840,000 jobs created by 2060, driven mainly by the Power, Cooking and Transport sectors.
Nigeria's energy transition creates significant investment opportunities such as the establishment and expansion of industries related to solar energy, hydrogen, and electric vehicles.
Nigeria is Targeting Net Zero 2060 through Five Sectors
The Nigeria ETP sets out a timeline and framework for the attainment of emissions reduction across 5 key sectors: Power, Cooking, Oil and Gas, Transport and Industry. Within the scope of the ETP, about 65 per cent of Nigeria's emissions are affected.
In terms of power, Nigeria is seeking to transition away from diesel or power generators and look at the gas- and renewables-backed electrification to take up the bulk of current generation capacity. This will be reflected in sectors such as buildings, industry m, and transportation.
In transportation, Nigeria is seeking to decrease emissions by 97 per cent by encouraging the uptake of electric vehicles, while for cooking, Nigeria is aiming for speedy replacement of traditional firewood, kerosene, charcoal by Liquified Petroleum Gas, electric cookstove, and biogas in rural homes.
For Oil and Gas, it is seeking to decrease emissions by reducing flaring and fugitive emissions while supporting decarbonisation while in the industry, the country is driving decarbonisation efforts in cement and ammonia production as well as a 100 per cent shift to zero-emission fuels for heating.
Cost Implication
The additional cost of the energy transition above usual spending translates to ~$10 billion annually over the coming decades. To kickstart the implementation of the ETP, Nigeria seeks to raise an initial $10 billion support package at COP27.
However, the nation has even greater room for investment. A $23 billion investment opportunity has been identified based on current in-country programmes and projects that are directly related to the just energy transition.
Itsekiri And Ijaws' Creation of Hyper-Modern Path to Peace Via Football Tournament
By Jerome-Mario Chijioke Utomi
Benikrukru Community field, Gbaramtu kingdom, Warri South West Local Government Area, Delta State, the kickoff venue of the Ijaw/Itsekiri peace and unity football competition initiated by Chief Sheriff Mulade, Ibe-sorimawei of Gbaramatu kingdom and National Coordinator/CEO, Centre for Peace & Environmental Justice (CEPEJ), was on Wednesday, November 16, 2022, filled to capacity and moderately dotted with imposing banner conspicuously positioned with screaming but familiar inscriptions that emphasise on the importance of peace and unity to humanity.
The ambience at the venue was refreshing as merrily dressed guests strolled in. Community members of Ijaw and Itsekiri origins were relaxed in their sitting positions. They were entertained to the rhythms from the stable of Ijaw and Itsekiri traditional dancing maestros.
Their humble and friendly dispositions complimented each other and made it very easy for non-indigenes to be at ease in their presence, even as that was the maiden visit to the community.
Aside from having in attendance former Super Eagles players, Christian Obodo and Sam Sodje, among others, the event was also graced by courageous Niger Deltans, who have met resistance from their own government in the past but refused to give up in their quest to build a better Niger Delta region and Nigeria by extension.
But of all that I observed, the gathering acknowledged what has been on the mind of Nigerians.
Fundamentally, it frontally demonstrated a strong conviction that non-discrimination, justice and fairness are the foundation for peace, unity, stability and economic prosperity of any nation. From the love that existed among the two ethnic groups on that day, at that time and in that place, it was obvious that building a nation where all citizens of the country shall not be discriminated against on the basis of ethnicity, sex, language, religion, political or other opinions, birth or other status is possible.
Essentially also, from the way the two teams entered the field with a stride of confidence and fair play, the competition provided Ijaw/Itsekiri with an opportunity for introspection by the two ethnic groups on the journey so far. Some gave the 'union' kudos for the tremendous progress it has made in forging unity and peace and riding the area of hatred and hostility, while others felt that the new challenge before the two ethnic nationalities is to transform into a strong economic bloc in order to position for the challenges of the 21st century as it patterns Niger Delta region.
To assist readers in appreciating this current journey to sustainable peace by the two ethnic groups via football tournament, it is important to underline that the district of Warri in Delta State, going by reports, has been the scene of ethnic and territorial conflicts between the Itsekeri and the Ijaws since March 1997, when ethnic violence broke out between the Ijaws and the Itsekeris following a government decision to relocate the headquarters of the Warri south local government council from an Ijaw community to a community belonging to the Itsekeris.
Though the hostility was overtly arrested and brought under control, covertly, it has remained a zone where fierce war has been raging between ethnic and social forces in Nigeria over the ownership and control of oil resources. And as a direct result, a long dark shadow has been cast on efforts to improve the well-being and economic development of the region's individuals, peoples, and communities.
Without a doubt, the Ijaw/Itsekiri hostility is not only telling evidence of the numerous problems facing the people of the Niger Delta region, but largely an expose of unwillingness by the government over the years to address problems which possess the potent capability to affect the stability of Niger Delta as a region.
The above claim, in my view, becomes more telling after listening to Mulade, who spoke on the sidelines in the kick-off match, where he stated that ''The essence of this tournament is to try and reduce the hostility among us. Some years ago, we had some misunderstandings. That led to what is known as the Warri crisis. So, what we are doing is building the relationship. So, for you to join us is to support this celebration of peaceful co-existence."
Certainly, there are grains of truth in the above position. The tournament has not only brought out something different and fundamentally new that will help shape the relationship between the two ethnic groups. Rather, it has assisted in providing health and vitality of peaceful co-existence, rededicating commitment to peace, promoting unity and intensifying harmonious development of the Niger Delta region.
The facts are there and speak for it.
On Monday, November 7, 2022, it was reported that the Olu of Warri, Ogiame Atuwatse III, while playing host to Chief Mulade Sheriff and members of the Local Organising Committee (LOC) who paid him a courtesy visit in his palace, gave his endorsement and royal blessings to the peace and unity football event. The Olu applauded Chief Comrade Sheriff Mulade for initiating such a laudable programme and promised to liaise with Mr Amaju Pinnick to bring his wealth of experience in football management to support the process.
In a similar style, members of the LOC, on November 11, 2022, were received by Oboro Gbaraun II, Aketekpe, Agadagba of Gbaramatu Kingdom in his palace at Oporoza, the traditional headquarters of the kingdom.
In his response, the monarch appreciated the organizer's initiative and implored him to continue preaching and spreading the need for peaceful coexistence because peace is not negotiable. He also enlightened the LOC team on the importance of peace to attract development to Delta, particularly Warri and its environs. He encouraged the untiring contribution of the LOC towards uniting Ijaw/Itsekiri, the importance of which is crucial to harnessing the dividend of development and opportunities to our people.
While this piece celebrates the feat, there are, however, accompanying beliefs in my views that the Ijaws are a truly peaceful set of people.
The first such example is a recent statement by an Ogbe Ijoh-based political pressure group, the Independent GrassRoots Liberators (IGL), where the group, among other comments, pleaded with the Senator Ifeanyi Okowa's led Delta State Government to immediately settle the communal disputes between Ogbe-Ijoh, Ijaw ethnic nationality of Warri South-West Local Government Area of Delta state and Aladja, an Urhobo community in Udu Local Government Area of the state, adding that they want to live in unity as they have been living before. "We don't want to be killing ourselves anymore," they said.
The second has to do with the recent comment credited to Pere of Gbaramatu Kingdom, Oboro-Gbaraun II, Aketekpe, Agadagba, at his palace in Oporoza, the ancestral headquarters of Gbaramatu Kingdom while he played host to Mr Ali Muhammad Zarah, Managing Director, Nigeria Petroleum Development Company (NPDC), on Sunday, November 13, 2022.
The first-class monarch, according to media reports, said; "This is Gbaramatu Kingdom, and we are very peaceful people. If you come closer to the people, you will know the kind of people we have here. Some people can castigate our names or tarnish our image, but we are not like that. We know who we are."
Waxing philosophically, the Monarch said, "We want to say, if the children are happy, definitely the father is happy too. Recently, I told some senators that instead of staying in Abuja and speculating about what is happening in the Niger Delta region, they should take a trip to the region for an on-the-spot assessment of the situation. If they come, they will know how the people are, but staying far from them, you cannot know how they really are. So I am very happy for people like you visiting our Kingdom."
As the author of this piece, while I commend the efforts of the tournament organisers, the piece, on its part, thinks that there is a lesson government must draw from the above words of the revered traditional monarch.
Utomi Jerome-Mario is the Programme Coordinator (Media and Policy) at Social and Economic Justice Advocacy (SEJA), Lagos. He can be reached via jeromeutomi@yahoo.com/08032725374
From a very young age, girls are taught that makeup is a way to enhance their natural beauty. There are endless tutorials and tips on how to apply makeup. The reality is that most women don't wear makeup for the sake of looking good. In fact, many women wear makeup as a form of self-expression or as a way to boost their confidence. Whether you're a beginner or a pro, there are certain makeup essentials that every woman should have in her beauty arsenal. These include a good foundation, concealer, powder, blush, mascara, and lipstick.
With these products, you can create various looks, from a natural daytime look to a glamorous evening look. While some women are content with a minimal makeup routine, others enjoy experimenting with different products and looks. If you're someone who loves experimenting with makeup, then you'll need a wider range of products, including eyeshadow, eyeliner, and bronzer. No matter what your reasons for wearing makeup are, there's no denying that it can be a lot of fun. So go ahead and experiment with different products and looks to find what makes you feel your best. When you figure it out, it's a 22Bet bonus!
Makeup Updates
As the years go by, makeup changes with the trends. In the early 1900s, makeup was used to accentuate the features of the face and was seen as a way to enhance beauty. Women would use rouge on their cheeks, kohl around their eyes, and lipstick to accentuate their lips. This was seen as a way to attract a husband and was seen as being very important for a woman's social status.
However, in the 1920s, makeup became more about individuality and self-expression. Women would experiment with different colors and looks, and it was seen as a way to be creative. Women were also starting to wear more makeup in public, and it was seen as a way of empowering women.
The start of the "glamorous" look that was popular in Hollywood was in the 1930s. In the 1940s, makeup was used to create a more natural look. Women would use foundation to even out their skin tone, and they would use powder to set their makeup. They would also use rouge on their cheeks and lipstick to accentuate their lips. This was seen as a more sophisticated look, and it was also seen as being more appropriate for work and other public places.
In the 1980s, makeup was used to create a more polished look. Women would use foundation to even out their skin tone, and they would use powder to set their makeup. They would also use eyeliner and mascara to define their eyes. Today, makeup is used to create a variety of different looks. It is up to the individual to decide how they want to use makeup to express themselves.
Does Nigeria Have a Problem or a Situation?
By Prince Charles Dickson PhD
In 1845, Karl Marx jotted down some notes for The German Ideology, a book that he wrote with his close friend Friedrich Engels. Engels found these notes in 1888, five years after Marx's death, and published them under the title Theses on Feuerbach. The eleventh thesis is the most famous: 'philosophers have only interpreted the world in various ways; the point, however, is to change it'.
The most widely accepted interpretation of this thesis is that, in it, Marx urges people not only to interpret the world but also to try and change it. However, we do not believe that this captures the meaning of the sentence. What we believe that Marx is saying is that it is those who try to change the world that has a better sense of its constraints and possibilities, for they come upon what Frantz Fanon calls the 'granite block' of power, property, and privilege that prevents an easy transition from injustice to justice.
Nigeria is a very strange place. In Nigeria, we debate what is real, and imagined, what is fantasy and what is reality.
In Nigeria, we are problem-focused. We always have problems, our politicians, our leaders, the systems, our structure, our past, our present and future, our people, our democracy, and our elections. Everything has a problem. Everything and everyone is a problem.
You leave Plateau state to Bauchi to do an MRI scan because there is a problem with the problem. The prestigious and renowned University College Hospital Ibadan where it was said the Saudi royalty once upon a time came for their healthcare, currently has barely a twenty-bed ICU. See problem!
The governor of Abia has done a lot, including getting an eatery to establish an outlet in the state, the same Abia boasts of Aba, considered one of the dirtiest cities around and also one of the most industrious and neglected by the government. Solution and problem joined together!
Tell me the state and I will show where the people are drinking multidimensional pove-tea from all strata of government. Daura in Katsina hasn't produced an exceptional student in any exam, even as the president's homestead and the state continue to be plagued by insecurity.
Fake teachers from Abeokuta, the cradle of knowledge, to Jos, the land of natives and non-natives.
What are we committed to, what are we sacrificing for and to, what does Nigeria mean to us? Let's break it if that's a solution, so pedestrian and easy, I will remind us when the arm dealers are sealing and dealing with The Nupe Warlords, Anaguta freedom fighters, Fulani Miyetti and Hausa Aggrieved Warriors or Rare Igbo Union, it won't be funny.
Welcome to Nigeria, in Nigeria, we don't have problems because we are the problems, no. We don't have problems; we have situations. If your wife catches you with a neighbour's wife, you don't have a problem, you have a situation. Problems are had to solve; situations can be solved. If your girlfriend is spending more time with another guy, if you don't have money, all these are situations. Change your girlfriend or change your mindset, your work or something.
Nigeria as a whole, as a country, or nation, as a people have a situation we have gotten to that point on several occasions, we were there, and the civil war broke out, our several ethnographic-ethno religious conflicts have taken us there, the menace of herdsmen and farmers, bandits and politicians keep taking us closer to the precipice.
The powerful not only control social wealth; they also control the public policy discussion — and what counts as intellectually correct. Good ideas are never sufficient. They are not believed or enacted simply because they are right. They become the ideas of our time only when those who come to believe in their own power, which use this power to struggle through institutions and advance their ideas, wield them.
Nigeria is in a situation, will men of a good conscience and patriots stand up to be counted? There's no structure or system to build upon. Yet we must sit and talk about who we are and how we want to live, our current situation provides yet another opportunity for us to look forward, and understand where we are coming from, and take a leap with understanding what needs to be done according to each peculiarity.
I end with this story.
So, I went to a mental institution and wanted to send one person home. So I am going to ask a simple question. I asked the first person 3×3, and the fellow scratched his head, and he answered 164, I said to him, go back. Then I asked the second person the same question, and he smiled, looked up and then responded after a while Tuesday. Sorry. Wrong answer. Go back to your room
I almost gave up, until I went to the last person and asked the same question, if you can answer this question, I will let you go. He looked back at the other two who had left and smiled and said doctor, it's 9. Right, and I gave him the release papers, and he started running to the door. But before he ran away, I said I need you to tell me something; your two friends did not come up with the right answer. How did you manage it? He said it's so simple. I multiplied 164 by Tuesday, and I got 9.
Nigeria may get the right answer, but is the thinking correct? Nigeria finds answers often at the last minute, but truth be told, 'the country has been interpreted in various ways that only capture problems, without a change in thinking, we won't solve it, we must see our present circumstances as situations that can change with a different interpretation, and better thinking.
We must, as a people, want to try and change our situation despite the sense of the constraints and possibilities of the 'granite block' of power, property, and privilege that prevents an easy transition from injustice to justice. We must want to try, we must want to change, we must want to solve, and must want a new narrative. Are we in trouble or in a situation where there are solutions? Only time will tell.
Latest News on Business Post