Arowosaye Addresses Water Crisis in Oyo East Council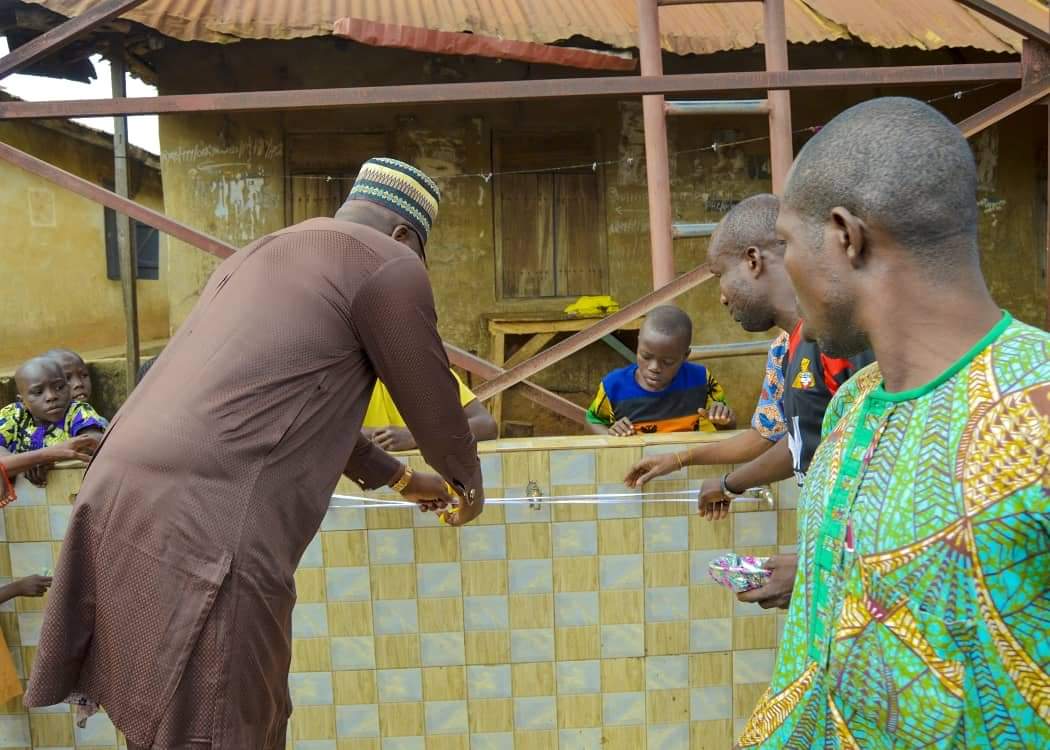 By Dipo Olowookere
As part of efforts to make the dividends of democracy available to the people, the Caretaker Chairman of the Oyo East Local Government Area of Oyo State, Mr Saheed Arowosaye, has embarked on some projects aimed to bring succour to the residents.
It was gathered that these projects, including the rehabilitation of boreholes, purchase of generators and temporary repairs of bad roads, would be situated in each ward of the council.
The council chief said the projects were selected using a bottom-top approach and were also in response to the series of requests by the various communities, expressing confidence that the execution of the projects would change the narrative about grassroots development and the responsibilities of Caretaker Chairmen in Oyo State.
According to him, over 12 motorised and hand pump boreholes have been rehabilitated in the first phase of the projects, to address the perennial water crisis in Oyo East Local Government.
"Following in the footsteps of our dear Governor and leader, Engr. Seyi Makinde, and part of our efforts to address the perennial water crisis in the local government, I flagged off the first phase of rehabilitation of the following motorised and hand pumps boreholes; motorised borehole at Ile Okun, Agboye. Ward 1; hand pumps borehole at Bara, beside the cemetery, ward 1; motorised borehole at beside Ile Baba Oba Effon House, Ogese, ward 2; hand pump borehole at Kanga junction, ward 3; motorised borehole at Alaodi, ward 3.
"Others are motorised borehole at Ile Kanga Mosque, ward 3; motorised borehole at Ilaka, ward 5; motorised borehole at Alelerin ward 8; motorised borehole at Ile Lakanla, Jabata, ward 7; motorised borehole at Central Mosque Oke Apo, ward 8; motorised borehole at Central Mosque Jabata, ward 7 and motorised borehole at Adebumi Araromi, back of maternity, ward 10."
Mr Arowosaye added that the local government also purchased brand new electricity generating sets for communities where some of the boreholes are located, to ensure availability of water even when there is a blackout.
The Oyo East Local Government boss added that the projects are conceived in response to requests by the various communities to address specific challenges and are tailored to meet the needs of each.
Obasanjo Charges Africa to Decide Its Energy Future
By Adedapo Adesanya
Former president of Nigeria, Mr Olusegun Obasanjo, has said Africa must take charge of its own energy destiny and use its rich resource assets for the benefit of its own people.
His comments come in support of the Africa Oil Week (AOW), which is necessitated as the world scrambles to find new sources of oil and gas to meet its energy needs following Russia's invasion of Ukraine.
In this context, Mr Obasanjo noted that African countries cannot be beholden to the unrealistic ideals of the Global North for an exclusively renewables-driven economy, saying this is particularly true when the developed world is itself accepting the need for hydrocarbons.
"Like the rest of the world, Africa must follow energy policies that promote socio-economic development and sustainable hydrocarbon use," he said.
The former Head of State, who ruled Africa's largest crude oil producer from 1999 to 2007 said, "Africa is the lowest producer of greenhouse-gas emissions and needs to lift nearly half-a-billion citizens out of poverty.
"Responsible management of our hydrocarbons and investment in our economies is necessary to ensure a just energy transition and sustainable growth for our people."
The European Union (EU) had previously said it intends to cut Russian-supplied oil by up to 90 per cent by the end of 2022, and the announcement has already caused global energy costs to soar.
Africa is one of the potential new sources of energy to replace this supply, with an estimated 61 billion barrels of oil equivalent being discovered in the region over the past 10 years.
Mr Obasanjo's view aligns with that of the African Petroleum Producers Organization (APPO), which also called on member countries and other global institutions to use petroleum as a catalyst for energy security, sustainable development, and economic diversification in Africa through collaboration and partnerships.
Mr Obasanjo has been a major leader of Africa's post-colonial period, having overseen Nigeria's transition to representative democracy. Since his move out of the government sphere, he has been a senior statesman, active in defining geopolitical issues – including energy.
He also helped to shape the modern Nigerian oil industry, inaugurating policy reforms that have seen the country become an energy superpower on the African continent.
"Creating an African oil industry that benefits Africa's people needs strong policy and regulation.
"During my time in government, we launched oil-and-gas policy reforms that helped to build a modern oil and gas hub. There were many learnings that we can apply across the wider region. I look forward to discussing these opportunities for Africa."
He then called for accelerated dialogue on the sustainable development of hydrocarbons, and the role of Africa as a supplier of global energy needs.
"There has been much talk at forums such as the World Economic Forum (WEF) in Davos about a just energy transition. However, we must not allow Africa to be dictated to. The discussions at AOW will be pivotal in charting a new energy course for Africa. We will decide what is best for us," he said.
Akande-Sadipe Mourns as Another Oyo APC Chieftain Dies
By Modupe Gbadeyanka
A member of the House of Representatives, Mrs Tolulope Akande-Sadipe, has expressed sorrow over the death of a chieftain of the All Progressives Congress (APC) in Oyo State, Mr Muili Ojuolape.
In a statement on Thursday, the lawmaker from the Oluyole Federal Constituency in Ibadan, the Oyo State capital, described the Oyo APC chieftain as a father who would be missed.
Mrs Akande-Sadipe, in the statement signed by her media aide, Mr Olamilekan Olusada, prayed to God to comfort the family of Mr Ojuolape and grant them the fortitude to bear the loss.
She expressed shock over the death of the party chieftain, saying, "The unthinkable happened. We received the news of the second loss in Oluyole APC. We are saddened by the exit of another committed progressive. It's difficult to bear the pain!"
"Baba Ojuolape, as I fondly called you, Baba Muili Ojuolape, you were indeed a father to me in Oluyole. As you go to your maker, I pray you to rest in perfect peace. I will surely miss you, APC Oluyole will surely miss you, and APC ward one shall surely miss you too. TASK Oluyole shall surely miss you. My sincere condolences to your immediate family. May the Almighty uphold your family to bear this loss," she added.
Mrs Akande-Sadipe stated further that, "It is natural to grief when death strikes in a well-knitted family, but we have the confidence that the sacrifices you made in your life to build the APC in your local chapter, Oluyole into a viable democratic institution, shall not be in vain.
"You have played your part and left, and your democratic credentials should always spur us to greater service."
It was gathered that Mr Ojuolape, a prominent member of the APC in the Oluyole local government area of Oyo State, died on Tuesday after a brief illness in Ibadan.
Pensioners Only Experience Few Payment Issues—PTAD
By Modupe Gbadeyanka
The Pension Transitional Arrangement Directorate (PTAD) has claimed that pensioners only witness a few payment issues, which it said should become a thing of the past very soon.
The Executive Secretary of the agency, Ms Chioma Ejikeme, while speaking at a Sensitization and Collaboration Forum, which had critical stakeholders in attendance, said efforts are being made to make the process seamless.
She explained that the event was put together to carry stakeholders along, especially security officials, so as to weed out fraud from the system.
Ms Ejikeme said PTAD was ready to collaborate with other agencies to curb pension fraud and resolve issues regarding pension payments to the pensioners under the Defined Benefit Scheme (DBS).
"The Directorate has deemed it fit and important to engage these group of stakeholders in order to continually re-strategize and come to terms with the realities of pension payments and its attendant challenges.
"The pension industry had been swamped with complaints of extortion by fraudsters and phone calls demanding for money in order to quicken computation and payment of outstanding liabilities," she said.
"It is important for agencies that like ICPC, and EFCC to really understand what we do, because of the perception of pension admiration out there as many people think PTAD keeps pensioners' funds, which is not true.
"As such, we want to make sure that our processes and the way we conduct our payments is very well known to these agencies not just them, but also the general public," she disclosed.
"Certainly, there are challenges in payment arising from the Government Integrated Financial Management Systems (GIFMIS), but the magnitude is really not significant.
"Consequently, we are here today to look at some of the minor challenges while we sit with the relevant stakeholders and look at how to address them and also get input from the financial managers of the government," Ms Ejikeme stated.
On his part, the President of the Nigeria Union of Pensioners (NUP), Mr Godwin Abumisi, lauded the efforts of PTAD in managing their pension and stated that they had never had it so good.
"Indeed the union and its teeming members will be eternally grateful to the federal government and the National Assembly for the establishment of PTAD via the Pension Reform Act of 2014 (as amended). The establishment and operations of PTAD is far better than where we are coming from," he said.
Latest News on Business Post