8 Types of Software Improving Healthcare Facilities
Technology, in all industries, is continuously evolving. This evolution is especially critical in the healthcare industry, where technological advancements often mean saving more lives and increasing the quality of life for those living with health conditions. The path is wide open for technology and quality healthcare, from surgical robots to new medications and pharmaceuticals.
However, the best tech has to offer in the healthcare industry doesn't stop at what machines can do, but how they can help human professionals do their job better. For example, administrative systems help physicians provide better care for their patients, limit misdiagnosis, and save time.
Equipping smaller clinics and facilities that have fewer resources with such technology will take time, but it's far from impossible. If you own or manage a healthcare office, you can start with software packages or cloud-based software as a service (SaaS) options that focus on efficiency and accuracy, which in effect can raise your bottom line and allow for further development. Today, some of the most common and most affordable healthcare technology includes the following software types.
EHR and EMR Software
Electronic health records (EHR) and electronic medical record (EMR) software hold your patients' records digitally and help with better file organization and retrieval. Both software types make it easier to reach a conclusive diagnosis for the patient as the healthcare provider is less likely to miss critical parts in their patient's medical record. It also makes it easier and faster for doctors to prepare for each appointment they have scheduled in one day.
The difference between the two software systems is that EHR options, such as NextGen EHR software for healthcare, hold the patient's current information, charts, and diagnosis. EMR, on the other hand, contains a patient's medical history, often from various healthcare providers.
Practice Management Software
Practice management (PM) software helps streamline your clinic's workflow and management. For example, it automates mundane background tasks. It also ensures your clinic runs smoothly by keeping track of staff schedules, approaching patient appointments, and patient cancellations. The software also reduces human error and effort, allowing your staff to be more productive and invest their time caring for your patients instead of filling spreadsheets.
Medical Billing and Accounting Software
The medical billing cycle is one of the most complex billing processes. It's also very detail-oriented, making errors rampant and expensive. Medical billing and accounting software help automate and double-check every step of your billing process to reduce the rate of human and system errors.
CRM Software for Healthcare
Customer relationship manager (CRM) software keeps tabs on your clinic's patients and their interactions with your staff, their appointment details, feedback, and complaints. Using CRM tools, you can analyze data to identify patterns in patient dissatisfaction. This information should inform your strategy for patient care improvement. The software also ensures you always have the necessary infrastructure, supplies, and human resources to welcome your patients.
Online Prescribing Software
Online prescribing software, also known as e-prescribing software, is a program that healthcare providers can use to fill patient prescriptions electronically. What makes it superior to using paper-prescriptions is the time it saves doctors from writing every prescription by hand and including the patient's personal information. It also helps reduce the rate of medication errors due to illegible handwriting or the patient losing their prescription.
Medical Diagnostic Software
Medical diagnostic software uses complex algorithms to help medical professionals diagnose patients. By inputting the patient's healthcare record, symptoms, and current medications, the software produces a likely diagnosis almost instantly. Implementing medical diagnostic software in your clinic doesn't just save you time and shorten patient appointments—more importantly, it reduces the rate of human error in misdiagnosis.
Imaging and Visualization Software with Artificial Intelligence
Imaging and virtualization software help organize large sets of data into easy to understand graphics. They save your healthcare staff time otherwise spent decoding gigabytes of data and finding correlations and patterns manually. Instead, medically-informed artificial intelligence does all the math and planning for them, providing them with a clean and accurate end-result of the data they can use in patient diagnosis and research.
This software also helps with patient communication, as it's much easier to get help a patient understand their illness, injury, or condition with the right graphics instead of relying on technical terms alone.
Virtual Health Software and Devices
More commonly known as telemedicine, virtual healthcare software and devices allow you to provide care for your patients remotely, either from the comfort of their own homes or a different healthcare facility.
With telemedicine, you can save time and resources as you won't have to welcome patients into your clinic for a full appointment, leaving examination rooms available. It also helps with better patient satisfaction, saving them the trip to your whereabouts while still providing them with adequate care.
Better Tech, Better Care
The benefits of modern technology in the healthcare industry have become indispensable. Nowadays, patients often expect online conveniences like being able to view their records and request prescription refills from a mobile app. To keep pace in this competitive, ever-evolving industry, your practise or clinic needs to lean into new technology.
Lagos to Host Conference on Biosecurity, One Health
By Sodeinde Temidayo David
The Lagos State Government has announced the plan to hold the seventh Annual African Conference on One Health and Biosecurity as part of efforts to ensure that the Africa continent braces up for the challenges posed by emerging infectious diseases and biosecurity threats.
The conference is in partnership with Global Emerging Pathogens Treatment Consortium (GET) and is scheduled to hold both virtually and physically at the Civic Centre at Lagos from Wednesday, October 27 to Friday, October 29, 2021, with the theme Universal Approach to Addressing Biosecurity Threats – Genomic Intelligence and Vaccines.
Interested participants have been advised to visit the GET website to register and attend the hybrid conference.
According to the state Commissioner for Health, Mr Akin Abayomi, the conference is seventh in the series of conferences organised by GET, in partnership with governments around West Africa and the African continent, to help develop a biosecurity road map and to increase resilience in dealing with pathogens of high consequence.
Mr Abayomi expressed the need to continually focus on the key importance of the African response in combating emerging infectious diseases.
He stated that the need for various treatment strategies and preparedness against future biosecurity threats necessitated the need for the conference.
"Lagos has teamed up once again this year with GET to organise the seventh African Conference on One Health and Biosecurity. We have a very important thematic initiative this year to address the universal approach to biosecurity threats using genomic intelligence and vaccine," the commissioner noted.
He further explained that genomic intelligence is the ability to sequence a pathogen that is causing an outbreak, adding that COVID-19 is the focus of attention for the conference.
As stated by him, genomic intelligence should be vigorous, with significant measures taken to mitigate the potency of current and future epidemics as well as keeping up with effective vaccine production.
Mr Abayomi further explained that the conference's thematic areas cover Vaccine Strategy, Genome Research, Emerging Infectious Diseases, Biosecurity and Bio-threat, Biobanking Infrastructure, Climate change and Cultural Anthropological Social and Economic Impact of Emerging Infectious Diseases.
He also advocated various treatment strategies and preparedness against future biosecurity threats as he stated the key importance of the African response in combating Emerging Infectious Diseases,
He stated that Lagos is prepared to welcome participants, policymakers, researchers, scientists and other interested persons to the conference, adding that the concept of One Health is necessary for ensuring biosecurity and all-around health.
In his remarks, the Chief Operating Officer of GET Consortium, Mr Ayodotun Bobadoye, noted that participants at the conference will include policymakers, scientists, researchers, healthcare professionals, experts in infectious disease management, professionals from one health field, development partners, community and opinion leaders amongst others from within and outside the continent.
Mr Bobadoye further noted that resolutions at the conference will help chart a positive course for strategic response against Biosecurity threats in Africa and by extension the world.
NCS Honours LASUTH for Excellence in Cardiovascular Care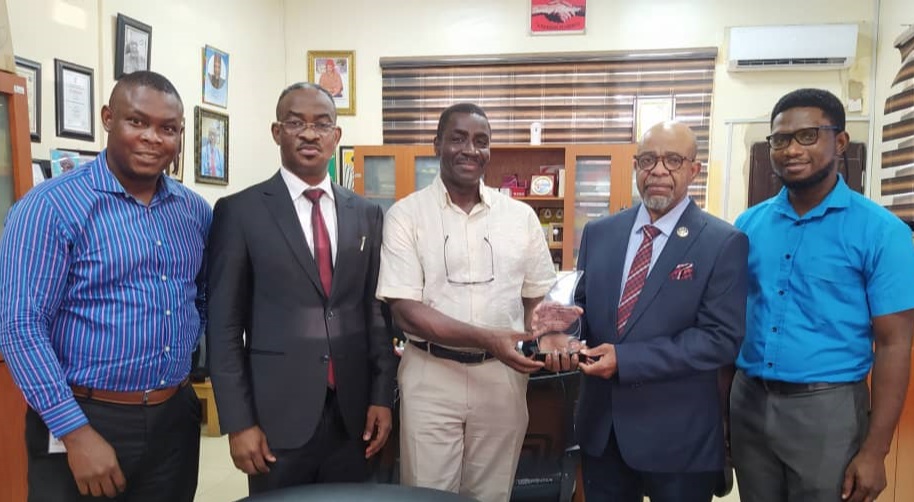 By Modupe Gbadeyanka
The Lagos State University Teaching Hospital (LASUTH) has been announced as the winner of the Excellence in Cardiovascular Care Award.
This award was given to LAUSTH on the premises the hospital is renowned for its contribution to the growth and development of cardiovascular medicine and surgery in the country.
The respected health institution grabbed this award at the 50th Annual General Meeting (AGM) and Scientific Conference of the Nigeria Cardiac Society (NCS) held in Lagos recently.
LASUTH is one of the two tertiary hospitals carrying out open-heart surgery in Nigeria. It has continued to make giant strides in improving the lives of the citizens of Lagos State and its environs.
The soon to be quaternary hospital has over the years provided high-quality healthcare to Lagosians using state-of-the-art equipment and cutting-edge technology to solve common and emerging health problems.
LASUTH heart surgeons have performed some of the most advanced procedures in the medical field. The hospital has experienced professionals who specialize in open-heart surgeries that effectively treat heart conditions while minimizing patients' recovery time and maximizing the best possible outcomes.
This made the NCS during the recently concluded Scientific Conference honour the hospital for her feats and outstanding achievement in tackling cardiovascular diseases through a consistent open-heart surgery with great success.
It was learned that these surgical feats would not have been possible without the expertise of the medical professionals at the LASUTH Cardio-Thoracic Surgery Unit (CTSU) led by Dr Bode Falase, a cardiac surgeon and ably supported by the management of the hospital, under the leadership of the Chief Medical Director, Prof. Adetokunbo Fabamwo.
In a few weeks, LASUTH will be the only government-owned hospital with a cardiac catheterization laboratory (Cathlab). This is a laboratory with special imaging equipment used for the visualization of the arteries and checking blood flow to and from the heart.
LASUTH said one of the advantages of using its facility for cardiovascular issues is that patients would be exceptionally cared for at a reduced cost while also reducing medical tourism.
FG Earmarks N711.3bn for Health Sector in 2022 Budget
By Ashemiriogwa Emmanuel
The Federal Government of Nigeria has said it is prioritising the country's health sector with the injection of N711.3 billion in the 2022 Appropriation Bill forwarded to the National Assembly.
The Minister of Finance, Budget and National Planning, Mrs Zainab Ahmed, made this disclosure while speaking at a public presentation and breakdown of the 2022 budget in Abuja on Friday.
This follows the presentation of the budget estimates of N16.39 trillion for the 2022 fiscal year titled Budget of Economic Growth and Sustainability by President Muhammadu Buhari to the parliament on Thursday.
According to the Minister, the proposed allocation of funds for the health sector will cater for its ministries, departments, and agencies, capital and recurrent, including hazard allowances for medical personnel.
She also noted that the administration has provided the sum of N54.9 million for the Gavi Immunization vaccine.
"This also includes counterpart funding for donors supported programs, and including global funding. We also provided N54.1 billion transfer to the basic health care provision funds," she added.
Speaking on other critical sectors, the Minister disclosed that, "A total of N2.4 trillion has been allocated for the defence and security sector. This is strictly for the military, police, and intelligence services as well as the paramilitary services.
"We also made provision of N1.5 trillion for infrastructure, this is representing 8.1 per cent of the budget and includes provisions for power works and housing, transport, water resources, and aviation," Mrs Ahmed disclosed.
She informed the public that 5.3 per cent of the 2022 budget has been allocated to the Social Development Sector of the country's economy with the sum of N8.6 billion.
"This amount is provided for the social investment program as well as the new national collective reduction and growth strategy program," she explained.
According to Mrs Ahmed, the national budget, given its planned allocations, is expected to further accelerate the growth of the Nigerian economy.
"We are optimistic at attaining more optimistic growth as we focus on achieving our objectives on mass job creation and lifting millions of Nigerians out for poverty.
"However, revenue currently remains our main physical challenge, and we are putting all efforts to make sure that specific revenue growth initiatives targets are met," she added.
Latest News on Business Post