8 Types of Software Improving Healthcare Facilities
Technology, in all industries, is continuously evolving. This evolution is especially critical in the healthcare industry, where technological advancements often mean saving more lives and increasing the quality of life for those living with health conditions. The path is wide open for technology and quality healthcare, from surgical robots to new medications and pharmaceuticals.
However, the best tech has to offer in the healthcare industry doesn't stop at what machines can do, but how they can help human professionals do their job better. For example, administrative systems help physicians provide better care for their patients, limit misdiagnosis, and save time.
Equipping smaller clinics and facilities that have fewer resources with such technology will take time, but it's far from impossible. If you own or manage a healthcare office, you can start with software packages or cloud-based software as a service (SaaS) options that focus on efficiency and accuracy, which in effect can raise your bottom line and allow for further development. Today, some of the most common and most affordable healthcare technology includes the following software types.
EHR and EMR Software
Electronic health records (EHR) and electronic medical record (EMR) software hold your patients' records digitally and help with better file organization and retrieval. Both software types make it easier to reach a conclusive diagnosis for the patient as the healthcare provider is less likely to miss critical parts in their patient's medical record. It also makes it easier and faster for doctors to prepare for each appointment they have scheduled in one day.
The difference between the two software systems is that EHR options, such as NextGen EHR software for healthcare, hold the patient's current information, charts, and diagnosis. EMR, on the other hand, contains a patient's medical history, often from various healthcare providers.
Practice Management Software
Practice management (PM) software helps streamline your clinic's workflow and management. For example, it automates mundane background tasks. It also ensures your clinic runs smoothly by keeping track of staff schedules, approaching patient appointments, and patient cancellations. The software also reduces human error and effort, allowing your staff to be more productive and invest their time caring for your patients instead of filling spreadsheets.
Medical Billing and Accounting Software
The medical billing cycle is one of the most complex billing processes. It's also very detail-oriented, making errors rampant and expensive. Medical billing and accounting software help automate and double-check every step of your billing process to reduce the rate of human and system errors.
CRM Software for Healthcare
Customer relationship manager (CRM) software keeps tabs on your clinic's patients and their interactions with your staff, their appointment details, feedback, and complaints. Using CRM tools, you can analyze data to identify patterns in patient dissatisfaction. This information should inform your strategy for patient care improvement. The software also ensures you always have the necessary infrastructure, supplies, and human resources to welcome your patients.
Online Prescribing Software
Online prescribing software, also known as e-prescribing software, is a program that healthcare providers can use to fill patient prescriptions electronically. What makes it superior to using paper-prescriptions is the time it saves doctors from writing every prescription by hand and including the patient's personal information. It also helps reduce the rate of medication errors due to illegible handwriting or the patient losing their prescription.
Medical Diagnostic Software
Medical diagnostic software uses complex algorithms to help medical professionals diagnose patients. By inputting the patient's healthcare record, symptoms, and current medications, the software produces a likely diagnosis almost instantly. Implementing medical diagnostic software in your clinic doesn't just save you time and shorten patient appointments—more importantly, it reduces the rate of human error in misdiagnosis.
Imaging and Visualization Software with Artificial Intelligence
Imaging and virtualization software help organize large sets of data into easy to understand graphics. They save your healthcare staff time otherwise spent decoding gigabytes of data and finding correlations and patterns manually. Instead, medically-informed artificial intelligence does all the math and planning for them, providing them with a clean and accurate end-result of the data they can use in patient diagnosis and research.
This software also helps with patient communication, as it's much easier to get help a patient understand their illness, injury, or condition with the right graphics instead of relying on technical terms alone.
Virtual Health Software and Devices
More commonly known as telemedicine, virtual healthcare software and devices allow you to provide care for your patients remotely, either from the comfort of their own homes or a different healthcare facility.
With telemedicine, you can save time and resources as you won't have to welcome patients into your clinic for a full appointment, leaving examination rooms available. It also helps with better patient satisfaction, saving them the trip to your whereabouts while still providing them with adequate care.
Better Tech, Better Care
The benefits of modern technology in the healthcare industry have become indispensable. Nowadays, patients often expect online conveniences like being able to view their records and request prescription refills from a mobile app. To keep pace in this competitive, ever-evolving industry, your practise or clinic needs to lean into new technology.
Kwara, Three Others to Receive ASR N10bn Health Intervention Fund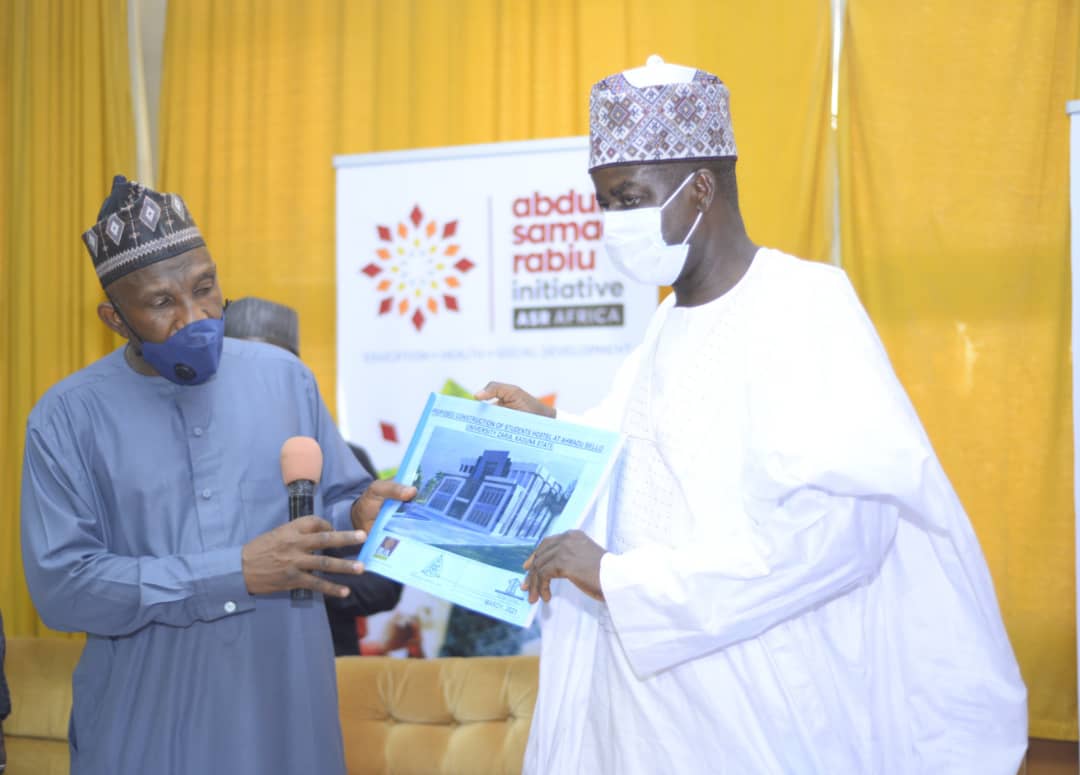 By Adedapo Adesanya
Four states in Nigeria – Kwara, Edo, Ogun and Sokoto have been selected as recipient states for the Abdul Samad Rabiu Africa Initiative (ASR Africa) N10 billion health intervention programmes for 2021.
This was disclosed by the Managing Director of the ASR Africa, Mr Ubon Udoh, in a statement in Ilorin, the capital of Kwara state on Tuesday, June 22.
He explained that the health intervention fund is a continuation of the initiative's $100 million Africa Fund for social development within Nigeria and the African continent, which has identified and commenced implementation of development needs in healthcare, education and social development within the country and beyond.
"In addition to this and based on our subnational healthcare needs assessment, ASR Africa has now decided to commit N2.5 billion each to four states within Nigeria — Ogun, Kwara, Sokoto and Edo States.
"This expanded grant will be dedicated towards healthcare interventions from maternal and child health to health infrastructure, capacity development, amongst others.
"We will develop mutual accountability frameworks with the state implementation teams after which 50 per cent of the grant will be disbursed immediately to commence implementation of the projects earmarked. The remaining 50 per cent will be released in line with agreed delivery milestones," Mr Udoh said.
Established this year, the Abdul Samad Rabiu Africa Initiative seeks to support sustainable development initiatives in the health, education, and social development within Nigeria and the rest of Africa, every year, the statement added.
Speaking on the selection of his administred state for the initiative, Governor AbdulRahman AbdulRazaq of Kwara State commended the ASR Africa Initiative for including the State of Harmony in the intervention, saying it would help to consolidate the administration's investments and achievements in the health sector.
The Governor said; "We sincerely thank AbdulSamad Rabiu for this huge humanitarian gesture which is a continuation of his supports for the state over the years.
"The government, for the record, remains immensely grateful for the support it received from Alhaji Abdul Samad and the BUA Group in the teeth of the COVID-19 pandemic last year, and looks forward to enduring relationship with the conglomerate," the Governor said.
Alpha Mead to Launch Modular Healthcare Facility in Lagos
By Modupe Gbadeyanka
A state-of-the-art Modular Healthcare Facility (MHF) will on Wednesday, June 23, 2021, be launched at the Gbagada General Hospital, Gbagada, Lagos.
The facility was put in place by Alpha Mead Healthcare Management Services, a subsidiary of the Alpha Mead Group, to accelerate access to quality healthcare for all Nigerians.
Explaining further, the Group Managing Director of Alpha Mead Group, Mr Femi Akintunde, "The MHF is a customised, mobility-enhanced, prefabricated portacabin with detachable modules equipped with state-of-the-art clinical and diagnostic equipment that is designed to take quality healthcare services to the doorstep of all Nigerians."
He further disclosed that after a successful pilot of the company's foray into healthcare at Gbagada General Hospital, and Lagos University Teaching (LUTH), the need to make quality healthcare accessible to more Nigeria became even more pressing.
"So, we went back to the drawing board. We noted that some of the issues slowing down the government and private sector programmes in making healthcare accessible for all are; how long it takes to set up a healthcare facility, inadequate amount of healthcare workers, lack of the required equipment and sometimes; even the terrain or location where these healthcare facilities will be constructed," Mr Akintunde informed newsmen at a parley on Wednesday, June 16.
"To address these issues, we came up with the Modular Healthcare Facility (MHF). The whole idea of the MHF is to aggressively drive the penetration of healthcare facilities in Nigeria by reducing the construction timeline of a healthcare facility to less than 30 days – saving the time lost to design, construction, equipment installation and commissioning of regular brick and mortar healthcare facilities, which sometimes run into years," the engineer further said.
He noted that to address the issue of inadequate medical practitioners, particularly doctors in the rural areas or crisis zones, the MHF was designed to leverage technology to connect patients with medical doctors anywhere through its telemedicine facilities.
According to him, the MHF provides the right healthcare equipment that meets the minimum standard for each class of the healthcare segment – primary, secondary and tertiary and reduces the dependency of the healthcare facility on public utility by running on efficient and clean utility systems such as solar power, bio-digester sewage system, etc.
In his presentation, Mr Kunle Omidiora, Managing Director, Alpha Mead Healthcare & Management Services (AMHS), the subsidiary of Alpha Mead promoting the MHF said the product is coming to bridge the widening gap in access to quality healthcare in Nigeria.
"From whatever lens one chooses to view the challenges with the healthcare sector in Nigeria today; whether financial, personnel, equipment, systems or technologies; the biggest challenge with Nigeria's healthcare sector is that of access to quality healthcare," he said.
"This challenge is costing our nation a great deal. For example, a USAID report noted that Nigeria shoulders up to 10% of the global disease burden.
"The report noted further that this situation is caused by lack of access to quality healthcare facilities and workers, particularly in the rural areas," Mr Omidiora stated.
He further noted that the challenge can be further put in context when squared against 2019 data from Nigeria Health Facility Register (NHFR).
"According to the report, Nigeria has 40,345 registered hospitals and clinics to serve the 201 million population. This simply implies that one healthcare facility is responsible for an estimated five million Nigerians", Mr Omidiora explained.
"The problem is even more compounded with data from WHO report revealing that only a quarter of Nigeria's primary healthcare facilities have more than 25% of the minimum equipment package. One, therefore, does not need to wonder why Nigeria loses over 1 billion dollars to medical tourism, has one of the world highest infant mortality rates, and why prevalence of medical errors in Nigeria is on the rise".
He explained that this huge gap is what the MHF intends to bridge; noting that the MHF is equipped with Radiology Information System, Picture Archiving Communication System (RISPACS), Enterprise Electronic Medical Records (EMR) and Telehealth infrastructure for real-time reporting of investigation and remote consultation.
NAFDAC to Register Chemical Manufacturers
By Adedapo Adesanya
The National Agency for Food and Drug Administration and Control (NAFDAC) is set to register and certify premises of chemical manufacturers in order to boost the nation's economy.
This was disclosed by the agency through its media consultant, Mr Olusayo Akintola.
He disclosed that the Director-General of NAFDAC, Mrs Mojisola Adeyeye, stressed the importance of having details of chemical manufacturers in the country at a virtual stakeholders' meeting with the chemical makers.
According to him, it was also agreed with manufacturers of chemical products in Nigeria to explore the international market with chemical products to enhance the nation's foreign exchange earnings.
Mrs Adeyeye said that the product would also serve as a potent catalyst for industrial growth, adding that the current focus of the NAFDAC management was to ensure the agency's regulatory activities were in line with international best practices.
She said that the aim of the stakeholders meeting was to sensitise, enlighten and create awareness on the current trends in the regulation of the manufacture of chemicals with emphasis on the need to be listed as a chemical manufacturer in Nigeria.
The NAFDAC boss noted that the chemical evaluation and research directorate has the mandate to ensure that only the right quality chemicals are manufactured, imported, exported, distributed, sold and used in Nigeria.
Mrs Adeyeye also disclosed that the directorate has put in place effective regulations and guidelines for sound chemical management in Nigeria.
She said that this was achieved by ensuring proper utilisation of chemicals in a manner that reduces risk to health and the environment.
Mrs Adeyeye said the agency also advocates the use of chemicals that are less harmful and hazardous, adding that a portal has been created by the agency for registration of chemical products for strict adherence to international best practices.
She further said that chemical products manufactured in Nigeria would enjoy wider acceptability and high competitiveness with the NAFDAC registration identity.
According to her, penetrating the international market will bring growth to the industry, and more Nigerians will secure employment opportunities sequel to the expected expansion in the operations of the manufacturers.
''Chemicals no doubt play a pivotal role in the economic development of any country, Nigeria as an economy in transition has many needs of chemicals for her numerous industries.
"Some of these chemicals are now manufactured in the country and this creates an environment of heightened concern that NAFDAC is expected to play a leading role in strengthening chemical safety and security.
"The NAFDAC Act empowers the agency to undertake appropriate investigations into production premises and raw materials for food, drugs, cosmetics, medical devices, bottled water and chemicals.
"The Act also empowered the agency to establish relevant quality assurance systems, including certificates of the production sites and of the regulated products," she said.
Mrs Adeyeye said that the law also compels all handlers of chemicals to adhere strictly to all the stipulated guidelines for sound chemical management in order to safeguard the health and protect the environment.
According to her, this underscores the reason the agency communicate any change in regulations to stakeholders.
She disclosed that listing of chemical manufacturers was initiated to address the existing gap in the regulation of the manufacture of chemicals in Nigeria, adding that manufacturers required to be listed as a chemical manufacturer.
Mrs Adeyeye said that those involved in the manufacture of speciality chemicals, laboratory chemicals, industrial chemicals, inks, paints, adhesives, wood preservatives, polishers, cleaning chemicals, agrochemicals, biocides, fertilizers and others also need to be listed.
She noted that the use of chemicals has increased geometrically in the past years in Nigeria resulting in an increase in local manufacturing capabilities.
Mrs Adeyeye said that the increase in production has led to the growth in the chemical industry in Nigeria and that the safe and secured management of chemical in the manufacturing sector was an issue that requires a collaborative effort between the regulators and the industries.
On his part, Mr Pieter De-Konnick, a Belgian, who is the Managing Director of Brenntag Chemical Nigeria Limited, producers of liquid caustic Soda, commended NAFDAC for the initiatives.
According to Mr De-Konnick, NAFDAC's involvement in regulating the chemical manufacturing sector will bring it to the limelight and reposition Nigeria chemical industry for economic growth.
"This is my eighth year in Nigeria; this is the best thing that has happened to me in this industry, the NAFDAC is wonderful in its drive to regulate this industry," he said.
The Chief Executive Officer of Unikem Industries Limited, producers of Ethanol from cassava, Mr Uzor Kalu and Mr Paul Audu, Managing Director of Roychem Industries Limited, said that the hitherto bottlenecks in procuring NAFDAC Import Permit have disappeared.
They both noted that since Adeyeye became NAFDAC boss, import permit and removal certificates were often done easily and have a plan to activate the year.
The introduction of an online platform via an electronic process by the Adeyeye-led administration had made application and processing of the vital import documents completed in the last quarter of every year, while manufacturers already have the documentation done in readiness for the new year.
Latest News on Business Post