Climate-related Health Emergencies Rising in Africa—WHO
By Adedapo Adesanya
The World Health Organisation (WHO) has raised an alarm about the rising climate-related health emergencies in Africa, noting that urgent steps must be taken to address the issue.
In its analysis, the global health body said climate-linked emergencies account for more than half of public health events recorded in the region over the past two decades.
The analysis found that out of the 2,121 public health events recorded in the African region between 2001 and 2021, 56 per cent were climate-related.
It was disclosed that Africa is witnessing an increase in climate-linked emergencies, with 25 per cent more climate-related events recorded between 2011 and 2021 compared with the previous decade.
This is one of the focuses of World Health Day (marked every year on April 7) and the global health regulator has themed this year's event Our Planet. Our Health.
It also used the opportunity to call on governments to, among other recommendations, prioritize human well-being in all key decisions, stop new fossil fuel explorations and subsidies, tax polluters and implement WHO air quality guidelines.
According to Dr Matshidiso Moeti, WHO Regional Director for Africa, "Climate change is one of the greatest threats to humanity. The entire foundation of good health is in jeopardy with increasingly severe climatic events.
"In Africa, frequent floods, water- and vector-borne diseases are deepening health crises. Although the continent contributes the least to global warming, it bears the full consequences."
WHO Analysis Findings
The WHO analysis found that water-borne diseases accounted for 40 per cent of the climate-related health emergencies over the past two decades.
In Africa, diarrhoeal diseases are the third leading cause of disease and death in under 5 children. A significant proportion of these deaths is preventable through safe drinking water, adequate sanitation and hygiene.
The analysis also showed that vector-borne diseases, notably yellow fever, accounted for 28 per cent of the climate-related health emergencies, while zoonotic diseases, specifically Congo-Crimean haemorrhagic fever, were the third most prevalent. Congo-Crimean haemorrhagic fever is a viral disease transmitted to people from ticks and livestock and has an outbreak fatality rate of up to 40 per cent
Natural disasters have also spiked dramatically since 2010, with 70 per cent of all-natural disasters occurring between 2017 and 2021. Floods were the most frequent event, accounting for 33 per cent of all the reported natural disasters.
It also found that Africa is also grappling with other significant health impacts linked to climatic shocks, including malnutrition and hunger due to adverse weather on agricultural production, long-term health, and development challenges in children, as well as other infectious diseases such as malaria.
In Africa, climate change is likely to expand the range of malaria high-risk zones, according to a report by the Netherlands-based Global Centre on Adaptation. Even though malaria mortality has decreased from 840 000 deaths in 2000 to 602 000 deaths in 2020, the disease remains a major health challenge on the continent.
Health Insurance for all Nigerians by 2030 Now Realistic—NHIA
By Adedapo Adesanya
The National Health Insurance Authority (NHIA) has commended President Muhammadu Buhari for signing into law the NHIA Act, saying health insurance for all Nigerians by 2030 is now more realisable.
The NHIS Deputy General Manager, Mr Emmanuel Ononokpono, in a statement said, "For over two decades, industry professionals had sustained the call for an amendment to the health insurance law, being a major impediment to the attainment of Universal Health Coverage (UHC).
"By this development, efforts to tackle the high incidence of poverty caused by out-of-pocket expenses for health care, through health insurance for all categories of Nigerians by 2030, is now more realisable than ever before."
Mr Ononokpono also said that the management was also grateful to the Senate and the House of Representatives for their roles in the lead up to the enactment of the law.
He acknowledged the roles played by different stakeholders in the course of the legislative work on the law.
According to him, the Act establishes and empowers the NHIA to ensure the provision of health insurance for all Nigerians through a mandatory mechanism, in collaboration with state health insurance agencies.
He said that sections 25 and 26 of the Act established the Vulnerable Group Fund (VGF), indicating the various sources from which funding would be drawn.
Mr Ononokpono said that the legislation strengthened the NHIA to discharge a wide range of regulatory and promotion functions, to ultimately ensure that every Nigerian received access to quality and affordable health care.
He said that the legislation Mr Buhari assented to did not make provision for a telecommunications tax as a source of funding in the law, contrary to reports in some national media.
Mr Ononokpono also urged stakeholders and industry players, including the media to wait for a formal unveiling of the document.
President Buhari signed the National Health Insurance Authority Bill 2021 last week.
The newly signed law by the President repeals the National Health Insurance Scheme Act 2004.
Under the previous Act, states were required to pay a 50 per cent counterpart fund to access the total fund for the Basic Healthcare Provision Fund (BHCPF).
Explainer: What is Monkeypox Virus?
By Adedapo Adesanya
In a world where the coronavirus is still around, attention may shift to the Monkeypox virus – which has been found in Australia, the United States, and some top countries in Europe.
What is the Monkeypox Virus?
According to a World Health Organisation (WHO) research, the Monkeypox virus is a virus that is transmitted to humans from animals. The first case was discovered back in a small child back in 1970 in the Democratic Republic of the Congo.
It is a rare disease caused by the monkeypox virus, part of the same family as smallpox, though typically less severe. The incubation period of the newly spreading Monkeypox virus ranges from 6 to 13 days. However, it might be from 5 to 21 days.
Symptoms
Symptoms such as fever, intense headache, lymphadenopathy, back pain, myalgia (muscle aches), and an intense asthenia (lack of energy) usually appear in the patients who test positive for the Monkeypox virus. On the other hand, skin eruption usually starts within 1-3 days of the appearance of fever. The rash appears mostly on the face and extremities rather than on the chest.
History in Nigeria
There have since been sporadic cases reported across 10 African countries, including Nigeria, which in 2017 experienced the largest documented outbreak, with 172 suspected and 61 confirmed cases. In terms of age, 75 per cent of those affected were males aged 21 to 40 years old.
Cases outside of Africa have historically been less common and typically linked to international travel or imported animals.
How Can One Catch Monkeypox?
Monkeypox spreads when someone comes into close contact with another person, animal or material infected with the virus. The virus can enter the body through broken skin, the respiratory tract or through the eyes, nose and mouth. Human to human transmission most commonly occurs through respiratory droplets, though usually requires prolonged face-to-face contact.
Animal to human transmission meanwhile may occur via a bite or scratch but the disease is not generally considered a sexually transmitted disease, though it can be passed on during sex.
Available Treatment
There are currently no proven, safe treatments for monkeypox, though most cases are mild. In the past, researchers said that vaccination against smallpox with the vaccinia vaccine was proved through several observational studies to be about 85 per cent effective in preventing the Monkeypox virus.
A newer vaccinia-based vaccine was approved for the prevention of smallpox and monkeypox in 2019 and is also not yet widely available in the public sector. Countries including the United Kingdom and Spain are now offering the vaccine to those who have been exposed to infections to help reduce symptoms and limit the spread.
Can it Kill?
Monkeypox cases can occasionally be more severe, with some deaths having been reported in West Africa. However, health authorities stress that we are not on the brink of a serious outbreak and the risks to the general public remain very low.
What are Health Regulators Saying?
WHO says it continues to closely monitor as the situation is evolving rapidly. It is supporting member states with surveillance, preparedness, and outbreak response activities for monkeypox in affected countries.
Health authorities in the United Kingdom, the United States, and Canada urged people who experience new rashes or are concerned about monkeypox to contact their healthcare provider.
WHO also clarified that does it not recommend any restrictions for travel based on available information at this time.
Malaria: Nova Diamond Launches Give A Net Campaign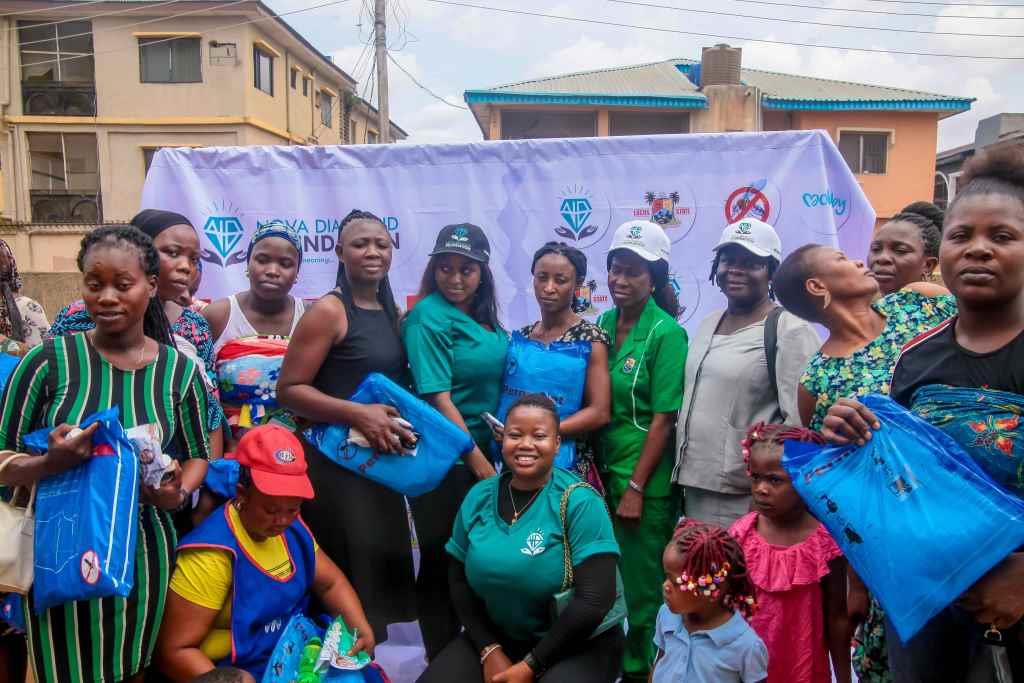 By Adedapo Adesanya
In commemoration of World Malaria Day for the year 2022, Nova Diamond Foundation has launched a campaign called Give a Net, ave Lives.
The Give a Net campaign is targeted to protect the most vulnerable in society, including pregnant women and children under the age of 5 because of the increased death rate, according to WHO 2021 Malaria report.
WHO described malaria as the 3rd highest killer non-communicable disease as the disease kills four in every five malaria cases in Nigeria. Malaria is the number one endemic in the country, which also has the highest number of malaria-related deaths.
To address this issue and reduce malaria-related deaths, Nova Diamond Foundation has partnered with the Lagos State Ministry of Health to educate residents on the danger posed by malaria.
The organisation also worked in partnership with Mobaby Care to walk the streets of Lagos, starting with Agboyi LCDA under Kosofe LGA, Mascara Primary Health Centre and Alapere Primary Health Centre, Ketu. These health facilities were visited between Monday, April 25 and Wednesday, April 27, 2022.
During the visits, pregnant mothers and children were given some malaria prevention incentives like Insecticides Treated Nets (ITNS) and mosquito repellant creams from Mobaby Care.
The executive director of Nova Diamond Foundation, Mrs Oluwafikayo Ooju, sensitised the participants on how to protect their unborn children, toddlers and themselves from malaria by ensuring that they always sleep under an insecticide-treated net.
She also lectured them on keeping their environment clean from stagnant water, ensuring children are well covered up and use of repellant to the exposed parts of the body.
In addition, she educated them on how to identify the symptoms of malaria as well as the need to visit the primary health centres for proper diagnosis and treatment immediately after they notice any symptoms.
In her remarks, the Medical Officer in charge of Agboyi LCDA, Dr Mariam Oshodi, commended the effort of the foundation and also advised the beneficiaries to use all the incentives distributed to them.
The team intends to visit other primary health centres across Lagos state and hopes to reach at least 1,000 pregnant mothers and 1000 children aged 0-5.
Latest News on Business Post