Doctors Highlight Causes of Complicated Pregnancies, Deliveries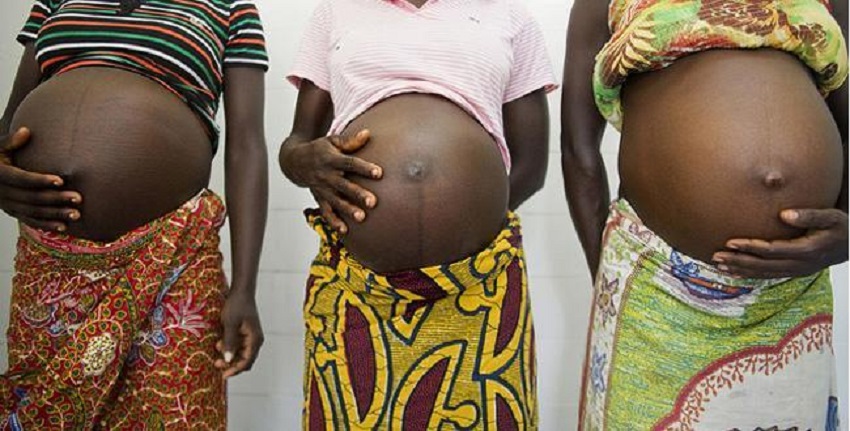 By Modupe Gbadeyanka
Over the past 10 years, Médecins Sans Frontières (MSF), known in English as Doctors Without Borders, has assisted more than 54,000 deliveries, most of them complicated, in Jahun General Hospital, Jigawa state.
To reduce maternal and neonatal mortality, the international medical organisation provides emergency obstetrics and neonatal care in collaboration with the Jigawa State Ministry of Health.
To commemorate the 10-year anniversary of this collaboration, a Forum on Maternal Health was held on November 13 and 14, 2018 in Dutse and Jahun. Doctors and experts from the field of maternal health and officials from the Ministry of Health are expected at the Forum to discuss successes and challenges related to maternal and neonatal mortality particularly in Jigawa State and in Nigeria in general.
"Over the last years, the number of women admitted at the maternity of Jahun General Hospital has increased to reach an average of 1000 per month, says Katja Lorenz, MSF Head of Mission in Nigeria. Complicated pregnancies and deliveries account for over 70 percent of these cases. However, a lot of women arrive at the hospital only very late, when medical care would be of limited benefit."
Hypertensive disorders, anaemia and haemorrhages are the main causes for complicated pregnancies and deliveries seen in Jahun General Hospital. MSF and the Jigawa State Ministry of Health treat complications in pregnancies by providing free obstetric care for mothers and children.
To prevent complications, it is crucial to raise awareness about the importance of consulting a health facility in the early stages of pregnancy, of attending regular antenatal consultations and seeking medical attention as soon as there are warning signs.
"People should know how important it is to seek professional medical care in case of complications during pregnancy and labour, notes Katja Lorenz. It must be emphasized that most complications can be prevented and maternal mortality can be decreased by avoiding delays in getting medical care."
According to the World Health Organization, more than 800 women have died in every 100,000 live births in Nigeria in 2015. And more than 12,000 new cases of fistula are recorded every year, according to the Survive Fistula Foundation. In Jahun, MSF provides surgery to repair obstetric fistula – a consequence of prolonged, obstructed labour – and offers physiotherapy and psychosocial support. On average, 22 such surgeries are performed each month. This comprehensive package of services alleviates suffering from a debilitating and stigmatising condition and also allows women to resume a normal life.
More generally, maternal health care needs commitment at each level: from the community level by involving traditional birth attendants and in primary healthcare centres to the hospital level for complications in pregnancies. This joint and coordinated effort is the necessary way forward to reducing the number of deaths of mothers and newborn babies.
Bauchi Gets 1.5 million Vaccines for Cholera
By Adedapo Adesanya
The Bauchi State government has received 1.5 million doses of vaccines from the World Health Organisation (WHO) to fight a cholera outbreak in the state.
This was disclosed by Mr Rilwanu Mohammed, the Executive Chairman, State Primary Health Care Development Agency (SPHCDA), at the kick-off of the vaccination exercise in Bauchi on Saturday.
Mr Mohammed said the WHO donated the 1.5 million doses of vaccine to support the state's response to the cholera outbreak.
"Bauchi is among the 18 states with a high risk of a cholera outbreak, hence the donation to be vaccinated to those at the prone areas," he said.
He noted that some wards in Dass and Toro Local Government Areas that were prone would also receive the vaccine, noting that the 1.5 million doses of the vaccine would be divided into two phases in the local government areas.
He thanked the global health body for its continued support to the agency through the government in addressing health challenges such as the ongoing cholera outbreak.
On his part, the WHO representative, Mr Goni Ngala, said the outbreak was affecting people of different age groups including children under the age of five.
"In its continued efforts to support the cholera response and in particular, the management of cases, the World Health Organisation Country Office donated the vaccine to support prevention," he said.
Also speaking, Mr Nura Jumba, the District Head of Bauchi, emphasised the importance of implementing measures to solve the water, sanitation and hygiene challenges in the affected areas.
Mr Jumba urged the government to be committed to improving garbage collection and desludging of latrines.
"Provision of clean water free of charge to the affected communities including community education and mobilisation will be helpful," he said.
GE Healthcare Donates VScan Ultrasound Equipment to AMCH
By Aduragbemi Omiyale
Seven modern mobile ultrasound systems have been donated by GE Healthcare West Africa to the Abiye Maternal and Child (AMCH) International Foundation.
AMCH is a non-governmental organisation that aims to provide up-to-date evidence-based life-saving knowledge and skill to frontline health workers in communities across Nigeria. Its mission is to help contribute to health system strengthening and quality improvement for maternal and newborn care.
The items were given to the organisation at its office in Maryland, Lagos to help increase access to quality maternal and child medical services especially in rural areas in the state.
At the presentation, the founder of AMCH, Prof. Elizabeth Disu, expressed her gratitude to GE West Africa for donating the medical equipment to the group and promised that it would be used to improve medical services rendered to pregnant women especially in the rural areas in Lagos State and Nigeria in general.
She said AMCH had collaborated with other partners to execute several training programs such as Essential Care for the Newborn which comprises Helping Babies Breathe, Essential Newborn Care, Essential Care for Every Baby and Essential Care for Small Babies, Newborn Resuscitation Training (NRT), to mention a few.
According to the AMCH founder, the organization recently partnered with Rotary Club International, California, USA to train health workers in Epe and Ibeju-Lekki communities in Lagos State on Essential Newborn Care Course (ENCC). The ultrasound system donated by GE would enable them to add obstetric care trainings in these rural communities.
In her remarks, the patron of AMCH, Mrs Aba Sagoe, said, "We appreciate this and we believe this will improve quality of care. We assure you that you are going to see positive results very soon. Thank you, GE." she added.
The representative of the Federal Ministry of Health Head of Newborn, Family Health Department, Dr John Ovuoraye, in his address, commended GE for their contributions to the development of the health sector in Nigeria and for donating the equipment to AMCH, a reputable NGO whose commitment to maternal and child health is widely recognised.
"On behalf of Federal Ministry of Health, I wish to thank GE for the company's commitment to improving access to medical services in various communities in Nigeria.
"We have had collaborative trainings with AMCH and its founder, Prof. Elizabeth Disu, a pillar and a worthy person in the health sector, especially on maternal and childcare services.
"The equipment that I am seeing here will help in no small measure to improve quality services to pregnant women in Nigeria.
"The machine is technologically driven, simple, handy and mobile. It works amazingly well with a soft touch, gives accurate analysis, and has durable battery life. Once again, I want to thank GE for this donation," he said.
Prof. Adeniyi Adewumi, the director of training at AMCH and a consultant at Lagos State University Teaching Hospital, Ikeja opined that the ultrasound equipment would help monitor the number of babies a pregnant woman is carrying, baby's position and growth of pregnancy amongst many other factors associated with improved quality care.
In his goodwill message, the Permanent Secretary, Primary Health Care Board (PHCB), Lagos State, Dr Ibrahim Mustafa, also expressed gratitude to the donor and said that ultrasound equipment would help achieve focus on antenatal with its special features for obstetrics examination and quantification and could not have come at a better time than this.
The GE team was led by Mr Abdulrahman Alabi, Manager, Ultra Sound, GE West Africa, accompanied by Mr Gospel Johnson, Clinical Application Specialist, GE West Africa, and Mrs Modupe Shittu, Lead, Life Care Solution Business, West Africa.
Mr Alabi said, GE did background research on NGOs and found AMCH worthy to receive the donation of ultrasound equipment to help improve quality services in maternal and child care access of many pregnant women in Nigeria.
Other dignitaries present at the acceptance ceremony were Mrs Ekhaiyeme Taiwo, Clinical Volunteer (AMCH), Retired Chief Matron Mrs Oluwatoyin Odukoya, and Miss Funmilola Oremakinde, an administrative officer with AMCH.
Monkeypox: NCDC Urges Nigerians Not to Panic
By Adedapo Adesanya
The Nigeria Centre for Disease Control (NCDC) has called on Nigerians to be alert but should not panic as the country registered 59 suspected cases of Monkeypox with 15 confirmed.
This call was made by its Director-General, Dr Chikwe Ihekweazu, on Tuesday in Abuja.
The NCDC chief was reacting to the Dallas, Texas resident from the United States who recently returned from Nigeria and tested positive for the disease.
It was reported that it was the first confirmed case of the virus in the US since 2003, with health officials saying that the public should not be concerned.
Laboratory tests confirmed that the patient was infected with a strain of the virus mainly seen in West Africa, which included Nigeria.
"While rare, this case is not a reason for alarm and we do not expect any threat to the general public," Dallas County Judge, Mr Clay Jenkins, said in a statement by Dallas County's health department.
With passengers wearing masks on the flight and in the airport, the health department said that the risk of spreading monkeypox via respiratory droplets to others on the planes and in the airports was low.
Dr Ihekweazu said that just as the agency responded to other epidemic-prone diseases in the country, an outbreak would be declared when there was a large cluster of monkeypox cases that constituted an emergency.
"The federal government was notified of the situation in Texas through the International Health Regulations (IHR), which reported a case of monkeypox disease diagnosed in a patient who had recently visited Nigeria.
"Since the re-emergence of monkeypox in the country in September 2017, the agency has continued to receive reports and responses to sporadic cases of the disease from states across the country.
"We have been working closely with state health ministries to strengthen monkeypox disease surveillance and response in the country.
"We work with Enhanced Monkeypox Surveillance Project where we have been training health workers across states to rapidly detect and manage cases.
"Our initial focus is on the states with the highest number of cases – Delta, Bayelsa, Rivers and Lagos.
"We will continue working with all states to strengthen monkeypox prevention, detection and control in Nigeria," he said.
He urged Nigerians to continue adhering to precautions that protected them from monkeypox and other infectious diseases.
"If you feel ill or have a sudden rash, please visit a hospital for diagnosis and management," he advised.
Monkeypox, which is in the same family of viruses as smallpox, is a rare but potentially deadly viral infection that begins with flu-like symptoms and progresses to a rash on the face and body.
It tends to last two to four weeks. People who do not have symptoms are not capable of transmitting the virus.
Monkeypox infections of that strain are fatal in about one in 100 people, affecting those with weakened immune systems more strongly.
Latest News on Business Post