FG Suspends Emirates Airline Flights
By Ahmed Rahma
The federal government of Nigeria has temporarily banned Emirates Airline from operating over its continued refusal to fly passengers out of the country without a pre-boarding rapid diagnostic test (RDT's).
Speaking during its weekly briefing on Monday, the chairman of the Presidential Task Force on COVID-19 (PTF), Mr Boss Mustapha, said the ban will be effective from Wednesday, March 17.
"KLM will resume outbound flights from Lagos on March 15, 2021, without RDTs while a letter has been written to Emirates Airlines to suspend flights with effect from midnight Wednesday, March 17, 2021," he said.
Mr Mustapha, however, said discussions are ongoing to resolve the matter amicably.
Emirates and KLM had in the past few weeks flown passengers into Nigeria but refused to fly passengers out because of its new guidelines introduced as part of measures to curb the spread of the COVID-19 virus.
Speaking at the briefing, the Minister of Aviation, Mr Hadi Sirika, said, "Regarding KLM and Emirates airlines, at the time that we resumed flight, these two airlines made demands that there would be polymerase chain reaction (PCR) test for passengers within 72 hours of their flight and there will also be antigens rapid test at the airport and also a PCR test on arrival in their countries."
The Minister argued that this is devoid of any scientific basis because the virus itself will incubate at least within or after 72 hours.
In this light, it sounds incorrect for passengers to take a PCR test within 72 hours and take a rapid test before the flight and seven hours later, take another test, "you are likely to show negative and the reasons at the time was that the PCR results are being faked," the minister said.
The Minister said KLM has accepted to bring passengers in and out on the conditions agreed upon which is to have a PCR test within 72 hours.
"Emirate didn't accept the position and so, we have asked that Emirates be banned from operations from midnight Wednesday," he said.
Sustaining Nigeria's Transport Sector Using Technology
An efficient transportation sector facilitates exchanges that result in the improvements of lives and economies globally. Every day, transport stakeholders develop new ways that support the sustainability of this sector. This stems from the knowledge that the movement of humans, goods and services remains a fundamental part of a country's economy, and extensively, global economic growth.
In the third-quarter economic performance report for 2021 released by the Nigeria Bureau of Statistics (NBS), the growth in the non-oil sector cannot be overlooked, with the transportation sector also making significant leaps in the quarter, making it one of the fastest-growing sectors in Nigeria in Q3 2021.
The modes of transportation that made these impressive contributions to the economy were rail transport and pipeline (59.93 per cent), air transport (33.31 per cent), road transport (21.11 per cent), and water transport (16.30 per cent). For a country with over 200 million people, the need for a robust means of transportation cannot be overemphasized.
And this guides the federal government's decision to put initiatives in place to close the gap in the transportation sector through a multi-modal transport system. Although these initiatives are yet to be unveiled, the Lagos State Government has embarked on its own ambitious multi-modal transport system in a bid to upgrade the state to smart city status.
According to the state government, there is fund available to complete the various projects, including the creation of rail lines for intracity trips and other works that will put the proper infrastructure in place for an efficient transport system in the state. To further drive this conversation on the importance of building a sustainable transport system in the metropolis, the Lagos Transport Fest, held on December 13, 2021, drawing stakeholders from both the public and private sector to discuss the way forward in improving Nigeria's transport system.
The event focused on every aspect of transportation including road, rail, logistics, and ports, noting the importance of a cross-sector partnership to develop the transport sector. In the outline of the event's agenda, one element made a repeated appearance: technology.
This highlights the fact that technology can bring about changes in the operations of businesses within the rail, maritime, aviation, and road modes of transportation. Technology has continued to prove itself a force to reckon with, evident in the unprecedented changes it has produced across sectors, and the transport sector in Nigeria is not any different.
These perceived and observed changes have led to a steady rise in its utilization, as digitization of processes in various economic quarters has become not just widely accepted but even encouraged. Speaking along these lines was one of the event's sponsors, Interswitch, Africa's leading digital payment company, who noted the effect of innovation on the country's transport sector would increase accessibility to safe payment methods and the attendant ease for commuters.
The need for digitization in the transportation business became notable during the heat of the pandemic, as innovators devised new ways to conduct their businesses without the need for physical contact between individuals. This was especially observed in the logistics sector which saw more companies adopting technological solutions while minimizing physical contact.
In developed countries, other solutions such as robotics, drones, the Internet of Things (IoT) and Artificial Intelligence (AI) swiftly became a replacement for humans to reduce human contact and by extension, the spread of the virus.
Transportation and the AfCFTA
It would almost be remiss if there was no mention of Intra-African trade through the Africa Continental Free Trade Agreement (AfCFTA), which is expected to facilitate stronger trading relations between countries on the African continent. With this in view, experts have highlighted the deficits in the transportation sector that could hinder Nigeria – Africa's current leading economy – from accessing its full potential, relegating it behind other smaller African nations with better systems in place.
However, giving reassurances of the country's readiness to participate in this monumental intra-continental trade, the Minister of Transportation, Rotimi Amaechi, said, at a 2-day conference, that the federal government had taken seriously the business of transportation.
He noted that "The transportation sector is the most critical in implementing trade facilitation, enhancing regional integration is key to every other AfCFTA protocol. Hence, the Nigerian government has embarked on huge transport infrastructure investment across the country to ensure efficiency in the transportation sector."
He also highlighted the importance of digitization in the sector as one of the major elements that require a sturdy infrastructure for successful intra-continental trading. The minister noted that his ministry was dedicated to improving digital services in the transport system through the automation of services.
In the same vein, analysts are projecting a boost in free trade in Africa through digitization. With about 36 countries ratified onto the AfCFTA, it is estimated that over 1 billion consumers on the African continent, with a growing Gross Domestic Product (GDP) of $3.4 trillion will be integrated.
However, the ever-fluctuating, dollar-reliant exchange rate system on the continent remains a challenge to trade within the continent. To address this, the African Export-Import Bank (Afreximbank), in collaboration with the West African Monetary Institute (WAMI), developed the Pan-African Payment and Settlement System (PAPSS) to facilitate cross-border payment between traders in Africa, which would involve participating central banks.
Interswitch, through some of its brands, has continued to enhance cross border payments – Quickteller, a borderless digital payment solution service and Verve card, a payment card issued in 8 African countries with acceptance in over 22 countries on the continent. These services and products are aiding payment between African traders, removing transaction barriers.
To take full advantage of this untapped market, countries would need to develop better transport infrastructure and systems and fortify payment systems to lessen the stress that comes with it, which will help to properly connect markets across the continent and achieve the overarching goal of a prosperous continent.
Enormous opportunities abound in the transport sector, but to tap into these there is the need for a concerted effort from stakeholders in both the public and private sectors to ensure that consumers have seamless experiences while moving goods, services, people and payments across borders.
New High-Speed Trains to Boost Lagos Urban Transportation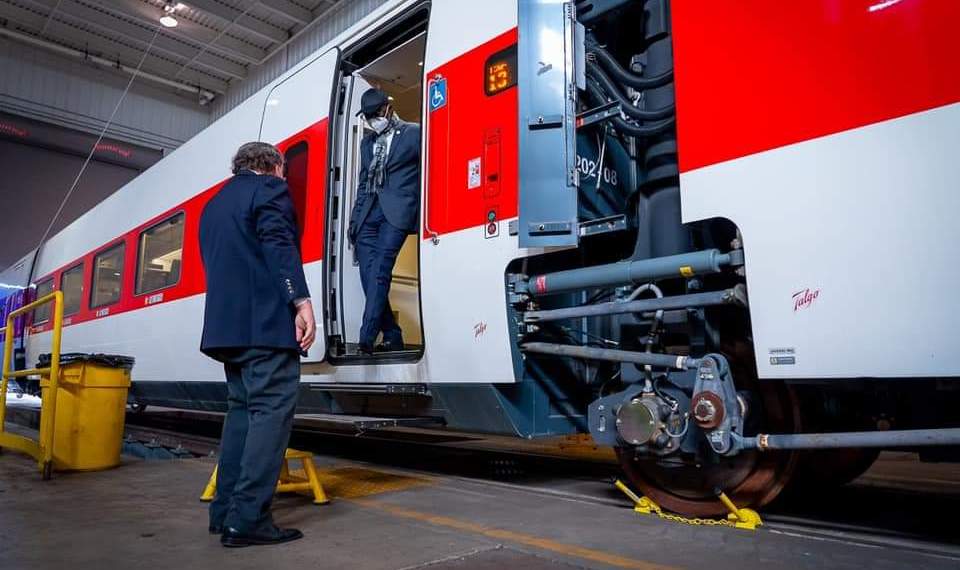 By Adedapo Adesanya
The Lagos State government has said the two newly acquired high-speed trains for its Red Line rail project will improve the state's goal of achieving urban transportation as it will improve traffic management and transportation.
This was as Governor Babajide Sanwo-Olu completed the acquisition deal of the two sets of 10 cars Talgo 330 kilometre per hour trains on Tuesday at an event held inside the Milwaukee facilities of Spanish train manufacturer, Talgo Incorporated, in the United States.
Mr Gboyega Akosile, who is the Chief Press Secretary to Governor Babajide Sanwo-Olu, in a disclosure revealed that the trains will be heading to Lagos for the Red Line – a 37km track rail project which will have 11 stations and will be the first operational metro system in West Africa when completed.
"A train is not something you can just go on the shelf and pick up," the Governor was quoted as saying at the event.
"We are very lucky to get brand new trains. We have seen our beautiful white and red trains. Coincidentally, the rail line is called Red Line and you can see they have given us the colour. We are just going to brand it and put up our seal there.
"We hope that this (purchase of the trains) will be the beginning of a mutually beneficial business relationship. Providing a source of livelihood for our citizens is all about providing jobs for our people and that is what we are doing. It is about ensuring that we can build our economy; people can move from one location to another, and businesses can grow.
"Part of what we have done in the last two and half years is to have what we call Integrated Urban Mass transportation system, where we will be using road infrastructure, waterway infrastructure, and rail infrastructure so that we can move over 20 million Lagosians within and around the city," he added.
Governor Sanwo-Olu gave an assurance that the first phase of the Red Line would begin by the last quarter of 2022 or the first quarter of 2023, with a capacity of 500,000 passengers daily.
Global Tourism Rises 4% as 2021 Records 415 million Arrivals
By Adedapo Adesanya
Global tourism experienced a 4 per cent upturn in 2021, recording 415 million arrivals compared with 400 million arrivals achieved in 2020.
This was disclosed by the United Nations World Tourism Organisation (UNWTO), which noted that although the number in 2021 was impressive, it proved to be another challenging year as arrivals were still 72 per cent down on pre-pandemic levels.
This follows on from 2020, the worst year on record for tourism when international arrivals decreased by 73 per cent.
The first 2022 issue of the UNWTO World Tourism Barometer indicates that rising rates of vaccination, combined with easing of travel restrictions due to increased cross-border coordination and protocols, have all helped release pent up demand.
International tourism rebounded moderately during the second half of 2021, with international arrivals down 62 per cent in both the third and fourth quarters compared to pre-pandemic levels.
According to limited data, international arrivals in December were 65 per cent below 2019 levels as the full impact of the Omicron variant and surge in COVID-19 cases is yet to be seen.
The pace of recovery remains slow and uneven across world regions due to varying degrees of mobility restrictions, vaccination rates and traveller confidence.
Europe and the Americas recorded the strongest results in 2021 compared to 2020 (+19 per cent and +17 per cent respectively), but still both 63 per cent below pre-pandemic levels.
By subregion, the Caribbean saw the best performance (+63 per cent above 2020, though 37 per cent below 2019), with some destinations coming close to, or exceeding pre-pandemic levels.
Southern Mediterranean Europe (+57 per cent) and Central America (+54 per cent) also enjoyed a significant rebound but remain 54 per cent and 56 per cent down on 2019 levels respectively.
North America (+17 per cent) and Central Eastern Europe (+18 per cent) also climbed above 2020 levels.
Meanwhile, Africa saw a 12 per cent increase in arrivals in 2021 compared to 2020, though this is still 74 per cent below 2019.
In the Middle East, arrivals declined 24 per cent compared to 2020 and 79 per cent over 2019.
In Asia and the Pacific, arrivals were still 65 per cent below 2020 levels and 94 per cent when compared to pre-pandemic values as many destinations remained closed to non-essential travel.
The economic contribution of tourism in 2021 (measured in tourism direct gross domestic product) is estimated at $1.9 trillion, above the $1.6 trillion in 2020, but still well below the pre-pandemic value of $3.5 trillion.
Export revenues from international tourism could exceed $700 billion in 2021, a small improvement over 2020 due to higher spending per trip, but less than half the US$1.7 trillion recorded in 2019.
According to the latest UNWTO Panel of Experts, most tourism professionals (61 per cent) see better prospects for 2022. A majority of experts (64 per cent) now expect international arrivals to return to 2019 levels only in 2024 or later, up from 45 per cent in the September survey.
The UNWTO Confidence Index shows a slight decline in January-April 2022. A rapid and more widespread vaccination roll-out, followed by a major lifting of travel restrictions, and more coordination and clearer information on travel protocols, are the main factors identified by experts for the effective recovery of international tourism. UNWTO scenarios indicate that international tourist arrivals could grow by 30 per cent to 78 per cent as compared to 2021. However, this is still 50 per cent to 63 per cent below pre-pandemic levels.
The recent rise in COVID-19 cases and the Omicron variant are set to disrupt the recovery and affect confidence through early 2022 as some countries reintroduce travel bans and restrictions for certain markets.
At the same time, the vaccination roll-out remains uneven and many destinations still have their borders completely closed, mostly in Asia and the Pacific.
A challenging economic environment could put additional pressure on the effective recovery of international tourism, with the surge in oil prices, increase in inflation, a potential rise in interest rates, high debt volumes and the continued disruption in supply chains.
However, the ongoing tourism recovery in many markets, mostly in Europe and the Americas, coupled with the widespread vaccination rollout and a major coordinated lifting of travel restrictions, could help to restore consumer confidence and accelerate the recovery of international tourism in 2022.
While international tourism bounces back, domestic tourism continues to drive recovery of the sector in an increasing number of destinations, particularly those with large domestic markets.
According to experts, domestic tourism and travel close to home, as well as open-air activities, nature-based products and rural tourism are among the major travel trends that will continue shaping tourism in 2022.
Latest News on Business Post