Three Securities Trigger 2.3% Growth on NASD Trading Platform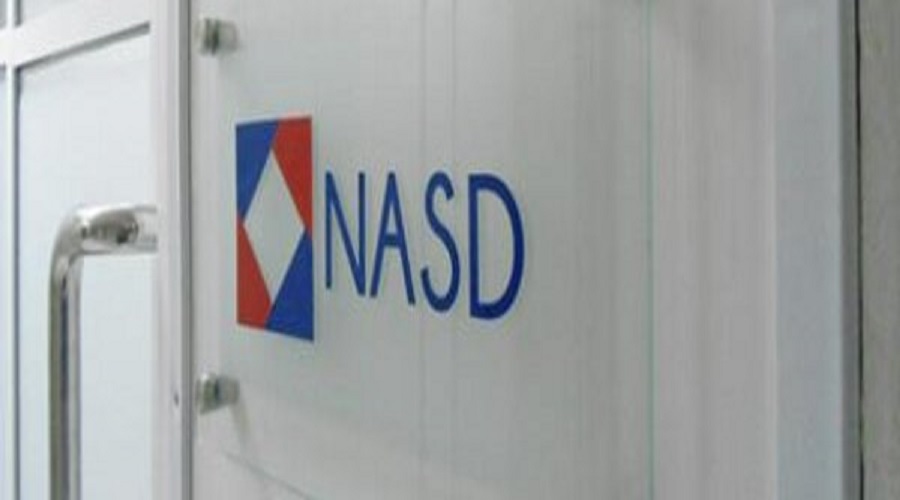 By Adedapo Adesanya
The NASD Over-the-Counter (OTC) Securities Exchange opened the new week on a positive note after it recorded a 2.25 per cent growth, triggered by three securities.
Central Securities Clearing Systems (CSCS) Plc, Niger Delta Exploration and Production (NDEP) Plc, and UBN Property Plc were the three stocks responsible for the growth witnessed yesterday at the NASD trading platform.
NDEP Plc was the day's highest gainer as it gained N19.50 or 8.9 per cent to close at N300 per share compared with the previous N280.50 per share.
On its part, CSCS Plc appreciated by N1.65 or 6.5 per cent to sell for N18.64 per unit in contrast to the previous N16.99 per unit, while UBN Property Plc gained 2 kobo or 1.7 per cent to close at N1.20 per unit versus the previous N1.18 per unit.
The gains printed by the three shares overpowered the 31 kobo or 1.8 per cent loss posted by the Nigeria Exchange (NGX) Group Plc, which finished at N17.75 per share in contrast to the previous N18.06 per share.
At the close of transactions, the NASD Unlisted Security Index (NSI) increased by 16.74 points to 761.13 points from 744.39 points, while the market capitalisation rose by N11.9 billion to N541.02 billion from N529.12 billion.
On the activity chart, there was an 83.3 per cent increase in the volume of shares transacted by investors yesterday to 2.5 million units from the 1.5 million units reported last Friday.
Also, the value of securities exchanged by market participants rose by 286.3 per cent to N96.9 million from the preceding session's N25.1 million.
In the same vein, the number of deals executed by investors appreciated by 69.6 per cent to 41 deals from 23 deals of the previous trading day.
These deals were carried on six firms with the NGX Group accounting for 28 deals, FrieslandCampina WAMCO Nigeria Plc accounting for 4 deals, NDEP Plc recorded 3 deals. CSCS Plc recorded 2 deals, while 11 Plc and UBN Property Plc recorded one deal each.
Geo Fluids Plc remained as the most traded stock by volume (year-to-date) for trading 1.0 billion units of its shares for N700.1 million. NGX Group trailed with 318.6 million units valued at N7.0 billion, while Swap Technologies & Telecomms Plc has exchanged 46.6 million units for N41.0 million.
However, the most traded stock by value (year-to-date) remained NGX Group with 316.6 million units worth N7.0 billion, followed by NDEP Plc with 3.2 million units worth N969.3 million, while Friesland has transacted 7.1 million units for N893.1 million.
NASD OTC Securities Exchange Opens Week 0.81% Lower
By Adedapo Adesanya
The NASD Over-the-Counter (OTC) Securities Exchange opened the week in the negative territory following a 0.81 per cent drop on Monday, June 27.
At the session, the bourse, which admits unlisted securities, recorded a poor outcome following losses reported by three companies — FrieslandCampina WAMCO Nigeria Plc, Central Securities Clearing System (CSCS) Plc, and Food Concepts Plc.
FrieslandCampina WAMCO Nigeria Plc saw its equity drop N2.96 or 3.09 per cent to N98.76 per unit from N95.80 per unit, CSCS Plc lost 42 Kobo or 2.84 per cent to close the day at N14.38 per share as against N14.80 per share of the preceding session, while Food Concepts Plc went down by 5 Kobo or 5.00 per cent to 95 Kobo per unit from N1.00 per unit.
As a result, the NASD Unlisted Securities Index (NSI) dropped 6.21 points to settle at 762.06 points versus last Friday's 768.27 points as the market capitalisation went south by N8.18 billion to N1.003 trillion from N1.011 trillion.
At the market yesterday, there was a jump in the units of securities exchanged by investors to 647,785 units from 323,519 units, implying a 100.5 per cent increase.
The value of securities traded amounted to N5.6 million, 37.6 per cent lower than the N8.9 million achieved at the previous trading day, while the number of trades depreciated by 27.27 per cent to eight deals from 11 deals.
AG Mortgage Bank Plc finished the trading session as the busiest stock by volume on a year-to-date basis with the sale of 2.3 billion units worth N1.2 billion, CSCS Plc also retained the second spot with the sale of 674.3 million units valued at N14.1 billion, while Food Concepts Plc was in third place for trading 146.5 million units valued at N127.2 million.
When the coin is flipped to the other side, CSCS Plc maintained its position as the most active stock by value on a year-to-date basis with a turnover of 674.3 million units valued at N14.1 billion, VFD Group Plc was in second place with 10.9 million units worth N3.2 billion, while FrieslandCampina WAMCO Nigeria Plc retained the third place with the sale of 9.7 million units valued at N1.2 billion.
Naira Now N617/$ at Peer-to-Peer, N605/$1 at Parallel Market
By Adedapo Adesanya
The Naira appreciated by N1 or 0.16 per cent against the United States Dollar at the Peer-to-Peer (P2P) window of the foreign exchange (FX) market on Monday to close at N624/$1 compared with last Friday's N618/$1.
At the parallel market, according to data harvested by Business Post from the various traders of forex on the streets of Lagos, the Nigerian currency was exchanged against its American counterpart at N605/$1.
At the interbank market, the local currency appreciated against the Pound Sterling by 20 kobo to trade at N509.82/£1 versus the preceding session's N510.02/£1 but against the Euro, it lost N1.89 to sell for N439.49/€1 compared with last session's value of N437.60/€1.
Also, at the Investors and Exporters (I&E) segment, which is the official market, the Naira recorded a 0.21 per cent or 88 kobo loss against the American Dollar as it was sold at N421/$1 in contrast to last Friday's N420.12/$1.
The domestic currency was weakened despite a $10.02 million or 6.1 per cent slide in the turnover for the trading day as forex worth $152.96 million exchanged hands compared with the $162.98 million recorded in the preceding session.
Meanwhile, the cryptocurrency market saw the value of TerraClassicUSD (USTC) rising by 33.0 per cent yesterday to $0.0191 as other digital coins monitored by this newspaper struggled for life.
Dogecoin (DOGE) depreciated by 7.2 per cent to trade at $0.0695, Solana (SOL) recorded a 6.4 per cent slide to sell at $37.38, Ripple (XRP) went down by 6.0 per cent to trade at $0.3429, while Litecoin (LTC) followed with a 5.9 per cent depreciation to quote at $54.41.
Further, Cardano (ADA) slumped by 3.8 per cent to settle at $0.4798, Ethereum (ETH) suffered a 3.6 per cent loss to trade at $1,174.74, Bitcoin (BTC) recorded a 2.3 per cent retreat to sell at $20,642.92, Binance Coin (BNB) declined by 1.7 per cent to finish at $232.0, while the US Dollar Tether (USDT) moderated by 0.05 per cent to sell for $0.999.
Crude Oil Rises as G7 Nations Move to Sanction Russian Energy 
By Adedapo Adesanya
Crude oil traded higher on Monday as investors waited for any moves against Russian energy exports that might come out of a meeting of leaders of the Group of Seven (G7) nations in Germany.
The seven wealthy nations – the US, Canada, Italy, France, Germany, the United Kingdom, and Japan – on Monday vowed to stand with Ukraine "for as long as it takes", promising to tighten the squeeze on Russia's finances with new sanctions that include a proposal to cap the price of Russian oil.
Imposing the oil price cap aims to hit Russian President Vladimir Putin's finances to the war in Ukraine while actually lowering energy prices.
This development caused the price of Brent crude to rise by $1.23 or 1.07 per cent to $116.32 per barrel and jerked the United States West Texas Intermediate crude up by $1.24 or 1.13 per cent to $110.79 per barrel.
Yesterday, the US said the dual objectives of G7 leaders have been to take direct aim at Mr Putin's revenues, particularly through energy, but also to minimize the spillovers and the impact on the G7 economies and the rest of the world.
Western sanctions have hit Russia's economy hard and the new measures are aimed at further depriving the country of oil revenues.
It was also revealed that G7 countries would work with others – including India – to limit the revenues that Mr Putin can continue to generate.
Analysts point out that this may not work since two of the world's largest importers (which are not G7 members), China and India, have become Russia's biggest customers.
In an unprecedented turn of event, the world's most-watched oil data report on inventories from the US will not be released.
The US Energy Information Administration (EIA) will not release any further data, the agency said in an update on the heavily anticipated inventory figures that were due to be released last Wednesday.
The data was not published last week after the EIA discovered "a voltage irregularity, which caused hardware failures on two of our main processing servers."
This failure prevented the EIA from processing and releasing multiple reports last week—including its highly sought-after Weekly Petroleum Status Report, which publishes the US crude oil inventory data, among others.
Last week, the oil industry had to rely on inventory figures from the American Petroleum Institute (API) which surveys the same companies and uses the same form to collect the data but gets different outcomes based on different models.
Also, recession fears seem to have taken the backseat amid pressing supply worries.
Members of the Organisation of the Petroleum Exporting Countries and their allies including Russia, known as OPEC+, will probably stick to a plan for accelerated oil output increases in August when they meet on Thursday, June 30.
The producer group also trimmed its projected 2022 oil market surplus to 1 million barrels per day, down from 1.4 million barrels per day previously.
OPEC member Libya said on Monday it might have to halt exports in the Gulf of Sirte area within 72 hours amid unrest that has restricted production.
Adding to the supply woes, former OPEC member, Ecuador also said it could suspend oil production completely within 48 hours amid anti-government protests in which at least six people have reportedly died.
Latest News on Business Post