ASR Africa Initiative Donates N1bn to Ahmadu Bello University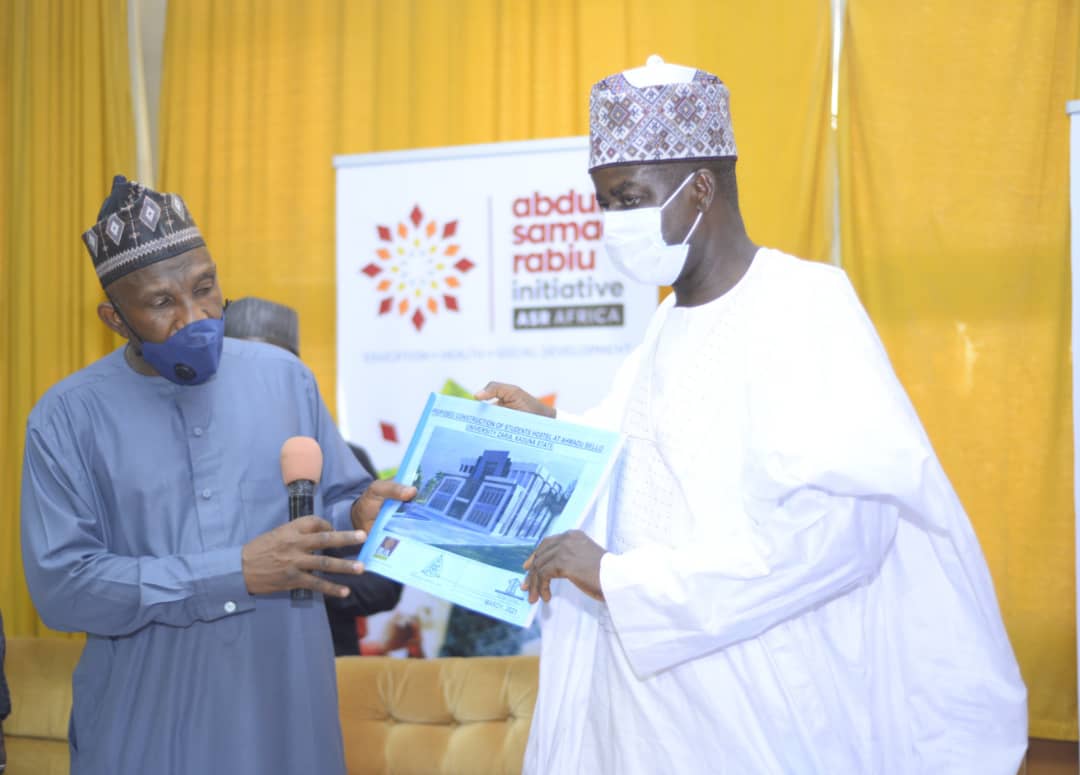 By Ahmed Rahma
The sum of N1 billion has been donated to the Ahmadu Bello University, Zaria, Kaduna State, by the Abdul Samad Rabiu (ASR) Africa Initiative.
The ASR Africa Initiative was floated by a Nigerian industrialist and philanthropist, Mr Abdul Samad Rabiu, who is the Chairman of BUA Group, the parent company of BUA Cement Plc and others.
The N1 billion disbursed to the school is part of the yearly $100 million ASR Africa Fund for Social Development and Renewal.
Recently, the ASR Africa Initiative for Education, Health and Social Development in Africa was launched and some schools were named as beneficiaries of the first cohort of the N1 billion intervention grant.
The institutions are the University of Nigeria, Nsukka; University of Maiduguri; University of Ilorin; University of Ibadan, and the University of Benin.
Speaking at the ceremony in Zaria, Mr Rabiu, who was represented by Dr Aliyu Idi Hong, commended the Vice-Chancellor for promptly identifying the projects that needed intervention.
He said, "In view of this and starting immediately, we intend to be on the ground to commence the project. We are hoping the other five universities can also quickly identify such projects with our team to fast-track the project initiation."
"It is our belief at the ASR Africa Initiative that this support will go a long way in bridging the infrastructure deficit in education within Nigeria and other African Countries in our cohort. We are excited about the endless possibilities that lie ahead of Africa and because The Time for Nigeria and Africa is now, and business development is nothing without citizens' development."
"On behalf of the ASR Africa Initiative, we look forward to commencing the work to build for the benefit of Africa's children and her future". Mr Rabiu added.
Nexford University Raises $10.8m for Education Accessibility
By Adedapo Adesanya
Nexford University, an online learning platform that offers next-generation learning experiences, has secured a $10.8 million Series A fund.
The funding round was led by Dubai-based VC Global Ventures and other investors including Future Africa's new thematic fund (focused on education), angel investors, family offices and unnamed VCs from the United States, the United Kingdom, France, Dubai, Switzerland, Qatar, Nigeria, Egypt, and Saudi Arabia.
The latest round brings the total funds raised by the company to $15.3 million, following a $4.5 million seed funding gotten in 2019.
The online school offers undergraduate degrees in business administration; 360° marketing; Artificial Intelligence & automation; building a tech startup; business analytics; business in emerging markets; digital transformation; e-commerce; and product management.
Its graduate degrees are business administration, advanced AI, e-commerce, hyperconnectivity, sustainability, and world business. Students study at their own pace once they get admitted into the school
The tuition structure is different from traditional universities. Its accredited degrees cost between $3,000 to $4,000 paid in monthly instalments.
In Nigeria, for instance, an MBA costs about $160 a month, while a bachelor's degree costs $80 a month. The faster a learner graduates, the less they pay.
Nexford University has learners from 70 countries, with Nigeria being its biggest market. The school also has blue-chip partnerships with Microsoft, LinkedIn Learning, and IBM to provide access to tools, courses, and programs to improve the learning experience.
Speaking on the development, Mr Fadl Al Tarzi, CEO of Nexford University, "In 2021, it is not acceptable for less than 10 per cent of the world population to have a college degree, or for student debt in the US to be over $1.6 trillion. Now, with additional funding, we can invest in the technology and teams required to address these challenges."
Adding his input, Mr Iyin Aboyeji, Future Africa's founder and general partner, called the company a game-changer for higher education in Africa because it focused on the future of learning.
"During the pandemic, while many universities in Nigeria were shut down due to labour disputes, Nexford was already delivering an innovative and affordable new model of online higher education designed for a skills-based economy," Mr Aboyeji said.
On his part, Mr Noor Sweid, general partner at Global Ventures said, "We are thrilled to partner with Fadl and the Nexford team on their journey toward expanding access to universal quality higher education in emerging markets."
Launched in 2019 by Mr Fadl Al Tarzi, Nexford University is filling affordability and relevance gaps by providing access to quality and affordable education.
Nexford University is a Washington-based, tech-enabled institution that leverages machine learning and Artificial Intelligence to create a data and skills-driven curriculum.
The university was founded on the beliefs that a lack of education is the root cause of most world challenges and that people should be able to access economic opportunities irrespective of physical location.
Baptist Girls Academy Wins CIIN Quiz Competition
By Adedapo Adesanya
The Baptist Girls Academy defeated four other schools to clinch the 2021 edition of the Secondary Schools Quiz Competition organised by the Chartered Insurance Institute of Nigeria (CIIN).
The second position was taken by Reagan Memorial while International School Lagos, came third, with Baptist Academy and Gideon International School taking the fourth fifth positions respectively.
Speaking on the competition, the President/Chairman of CIIN, Mr Muftau Oyegunle, said the quiz competition was borne out of the organisation's desire to enlighten and introduce young minds to the amazing world of insurance.
He explained that the initiative is also aimed at promoting the significance of underwriting in humans' daily lives, community development, poverty elimination, economic advancement and world peace.
"Insurance ensures that we have adequate safety nets against the misfortunes of life by providing compensation for its customers that enable them to survive the adversities of life.
"Hence, insurance provides us with a means of protecting ourselves and our families from unexpected but possible financial losses while also enhancing the capacity to build wealth," Mr Oyegunle said.
He charged the students to consider insurance as a choice of career as the industry could do with the brightest minds the country has to offer.
"This competition is designed to create awareness amongst you, the young adults, who we consider the future of our industry, about the importance of insurance as a service and the career opportunities it offers to students like you.
"It is my belief that whatever you have learnt in preparation for the competition shall impact your lives positively. Similarly, the knowledge and information you receive here today would assist you in your carrier choice," he said.
The insurance expert expressed hope that the students would maximize the opportunities which the competition provides and make insurance their course of first choice when going into the university.
He submitted that the competition was not all about winning but also about having fun while learning more about the sector.
Entries Open for QuickLearning Mathematics Contest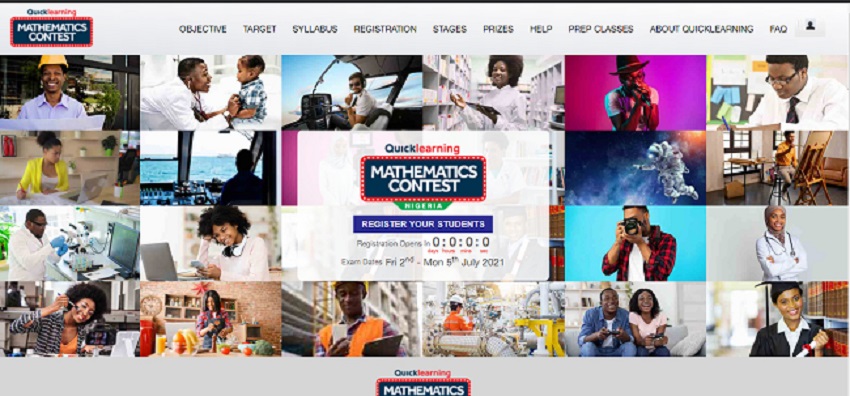 By Modupe Gbadeyanka
Students who want to test their Mathematics prowess can begin to register for the QuickLearning Mathematics Contest (QLMC) Nigeria.
The organisers said intending participants have till Sunday, July 4, 2021, to enter the competition and entry into the competition is absolutely free with over N3 million cash prizes will be won.
QLMC Nigeria is open to JSS3 students attending full-time secondary education in both public and private schools in Nigeria and registration for the competition, which are in two stages: Stage One is the Qualifying Online Examination and Stage Two the TV Quiz Show, is going online at www.mathematics.quicklearning.africa
It was disclosed that for the 2020/21 maiden season of QLMC Nigeria, each school is allowed to register a minimum of five or a maximum of 20 of their best JSS3 math students, irrespective of their gender, religion, or state of origin, to write the online qualifying examination. This is to expose as many students as possible to computer-based testing methods at an early stage in life.
The qualifying examination will be on the QuickCBT platform which the students can write from anywhere, such as their schools, homes, or café using their laptops or smartphones thereby providing flexibility.
The idea is to encourage good participation without exposing the students to various hazards such as travel, logistics and health risks.
From the large number of students that are expected to write the qualifying examination, only the best 54 based on scores earned will be selected for the next stage – TV Quiz show for the ultimate prize (students and teachers) and bragging rights of 'The Quicklearning Mathematics Champion, Nigeria'.
The contest, which is mainly for critical thinking math geniuses in secondary schools in Nigeria, is being packaged by JustMedia, Africa's foremost developer of educational quizzes.
The organisers noted that there is a need to close the gap between the critical thinking ability of average African students and their peers across the globe.
QLMC Nigeria is a school-based mathematics competition for secondary school students across Nigeria specifically designed to identify, reward outstanding students and help highlight the benefits of critical thinking to solve everyday challenges.
It was disclosed that to assist the participants, all JSS3 students, including the duly registered students for the exam, will be offered free prep classes (weekend online classes manned by reputable math tutors) to help them prepare for the highly competitive qualifying exams with the support of the National Examination Council (NECO).
The free prep classes will be delivered on the Quicklearning platform, a secure e-learning platform for curriculum-based after-school studies, exam coaching and vocational studies.
The Quicklearning App is designed to deliver safe, high quality, online real-time, user-friendly, affordable and accessible interfaces between students and tutors.
Quicklearning offers unique features such as a secure teaching platform for students, a pool of verified competent tutors, a wide range of school subjects/curriculum, hobbies, periodic evaluation/aptitude tests with over 350,000 past questions – objective, theory and answers of major examinations, homework assistance and scholarships for outstanding students.
Latest News on Business Post