Economic Diversification and Nigeria's Feeble Attempts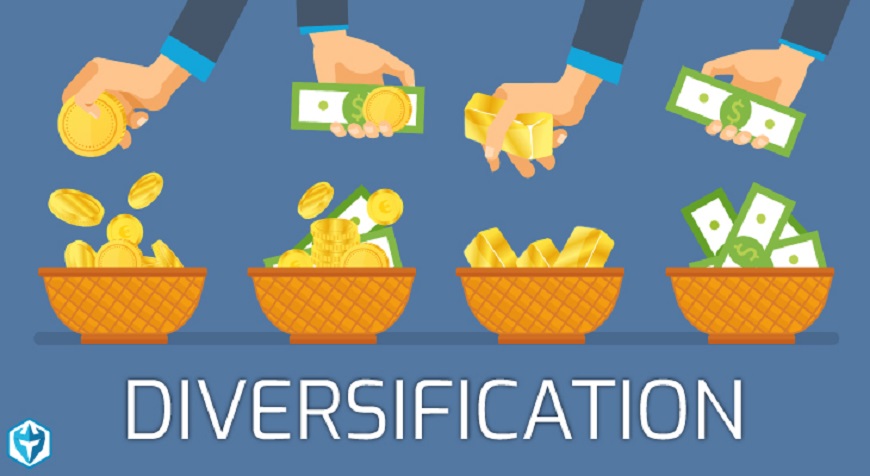 By Jerome-Mario Utomi
It is no longer news that across the globe, there exists persistent call on nations, regions and continents to shift toward a more varied structure of domestic production and trade as it is not only a strategy to encourage positive economic growth and development but with a view to increasing productivity, creating jobs and providing the base for sustained poverty-reducing growth.
What has however caused concern is the paltry number of nations and leaders particularly in Africa as a continent that has keyed into such relentless calls.
Adding fillip to the above worry/claim is the well quoted World Bank Group report which among other observations noted that economic diversification remains a challenge for most developing countries and is arguably greatest for countries with the lowest incomes as well as for those whose economies are small, landlocked and/or dominated by primary commodity dependence.
It submitted that for such countries, economic diversification is inextricably linked with the structural transformation of their economies and the achievement of higher levels of productivity resulting from the movement of economic resources within and between economic sectors.
Take Africa as an example, aside its inability to diversify which has made it aid receiving continent, continually look up to continents such as; Asia, Europe and America for aid after almost 60 years of independence, the failure, in my view, explains why Africa as a continent despite being the second most-populated continent in the world (1.2 billion people), represents only 1.4% of the world Manufacturing Value added in the first quarter of 2020.
Also, the effect of the continent failure to diversify is signposted in the painful reality that out of about 54 countries that made up the continent, only South Africa qualified as a member of BRICS, an acronym coined for an association of five major emerging national economies: Brazil, Russia, India, China and South Africa.
While the piece laments this challenge, it is relevant to the present discourse to underline that this tragedy is well-rooted in, and has spread its wings in Nigeria as a country.
To illustrate this claim, as part of the transformation agenda, reports have it that former President Goodluck Ebele Jonathan through his Coordinating Minister, Dr Ngozi Okonjo Iwuala, now Director-General, World Trade Organization (WTO) emphasized the need for the diversification of the economy to promote inclusive growth and job creation.
The administration aimed at achieving the objective through investment in agriculture, housing and construction, manufacturing, aviation, power, roads, rail solid minerals and the information and communication technology (ICT) sectors by both government and the private sector. These sectors the report added would gradually transform the economy and create jobs in the process as well as move the economy in the right direction.
Sadly but expected, the ideas and pontifications, like those of his predecessors, ended not just in the frames but as a mere declaration of intent.
Nevertheless, before getting into the nitty-gritty of economic decays in the present government particularly its long history of inabilities to come up with, and implement a well-foresighted plan or execute a shift toward a more varied structure of domestic production and trade, let's cast a glance at January 2020 policy comment by one of the well-respected newspaper in Nigeria.
Specifically, while lamenting (then) that Nigeria is a country that services its debt with 50% of its annual revenue, the report noted that the country would be facing another round of fiscal headwinds this year (2920) with the mix of $83 billion debt; rising recurrent expenditure; increased cost of debt servicing; sustained fall in revenue; and about $22 billion debt plan waiting for legislative approval.
It added that it may be worse if the anticipated shocks from the global economy, like Brexit, the United States-China trade war and the interest rate policy of the Federal Reserve Bank go awry. The nation's debt stock, currently at $83billion, comes with a huge debt service provision in excess of N2.1 trillion in 2019 but is set to rise in 2020.
This challenge stems from the country's revenue crisis, which has remained unabating in the last five years, while the borrowings have persisted, an indication that the economy has been primed for recurring tough outcomes, the report concluded.
Unfortunately, because no one acted on those warnings, the next paragraph lays bare the consequence of such failure and failure by the Federal Government.
Recently, a report noted that the Federal Government made a total of N3.25tn in 2020, and out of which spent a total of N2.34tn on debt servicing within the year. This means that 72 per cent of the government's revenue was spent on debt servicing.
It also puts the government's debt servicing to revenue ratio at 72 per cent. According to the report, a review of the budget performance of the 2020 Appropriation Act In 2019 shows that the Federal Government made total revenue of N3.86tn. Within the year, debt servicing gulped N2.11tn.
This puts the Federal Government's debt servicing to revenue ratio in 2019 at 54.66 per cent. This means that between 2019 and 2020, the Federal Government's debt servicing to revenue ratio jumped from 54.66 per cent to 72 per cent. The report concluded
Indeed, the question may be asked why the country's revenue crisis remained unabated in the last six years.
Within the context, the answer lies in the fundamental recognition that there is a country reputed for crude oil dependence and laced with a leadership system devoid of accountability, transparency and accuracy.
The truth is that considering the slow-growing economy but scary unemployment levels in the country, the current administration in my opinion will continue to find itself faced with difficulty accelerating the economic life cycle of the nation until they contemplate industrialization, or productive collaboration with private organizations that have surplus capital to create employment.
Another alternative recourse will probably be to move part of the job creation functions and infrastructural provision/development to the state and local government authorities via restructuring/structural interventions. While the first option (industrialization) may offer a considerable solution, the second and third options (restructuring/productive collaboration with private organizations) have more potential reward in political and socio-economic terms as well as come with reduced risk.
To achieve such a feat, power (electricity) and other infrastructure roads need to be addressed. Notably, not doing any of this, or continuing on the low growth of the economy will amplify the painful consequence of strategic mistakes made by previous administrations that failed to invest during the period of rapid economic growth.
The very key, both the state and Federal must invest in agriculture and increase its capacity in ways that will bring about an essential element of productivity policy and require a double focus on improving the quality of governance, strengthening government capacity to resolve coordination failures and facilitate information collection, as well as improving the design of interventions along the line of robustness to weak information, implementation capacity, and political-economic issues.
We must not fail to remember that 'in the 1960s and immediately before the oil boom of the 1970s, agriculture contributed 60% to Nigeria's Gross Domestic Product (GDP), 70% to export, and 95% to food needs'.
Above all, our leaders must internalize the fact that revenue diversification from what development experts are saying will provide options for the nation to reduce financial risks and increase national economic stability: As a decline in particular revenue source might be offset by an increase in other revenue sources.
Jerome-Mario Utomi is the Programme Coordinator (Media and Public Policy), Social and Economic Justice Advocacy (SEJA), Lagos. He could be reached via jeromeutomi@yahoo.com/08032725374.
Capitalism World War, Interest Rates, Big Bang and Evolution
By Nneka Okumazie
If capitalism doesn't end the world or cause a major ruinous world war, it would be in the adjusted form from its current machinated march.
The purity of capitalism – in how it should run states is already adrift, with most of what capitalism is, far different from what it should be.
There are places in the world where the price is for the sake of pricey-ness, not quality, not scarcity, but price as an agent.
There are other places where consumption is everything, no production, low regulations, but total consumption.
There are all kinds of shifts per monetary policies, interest rates, etc. that don't fit and result in nothing.
Though some countries care about life than others, most countries have rough roles and wide hazards that counter what it actually means to care.
Health loss, expensive care, retirement panic, etc. continue to expose how inadequate parts of capitalism are.
Nothing can touch capitalism because it is the best, OK.
But how is the best economic system so fragile and super delicate that it is incompatible with an unpredictable and miscellanea world of a different era?
Capitalism at certain scales work. But with the larger world, there should be at least ten thousand types of demand, supply, price, competition, currency, etc.
The usual few options that have to be uniform – across nations – are the most lethal contraption ever created.
Capitalism is the real superpower. Those who disregard intelligent design should know that the missing piece pre-big bang is capitalism.
Capitalism embarrassed religion [organized or not]. Capitalism turned most entertainment into poison. Capitalism laid waste to the theory of evolution – survival and reproduction. There are ways people seek capital that what survives is the capital, not them. There are people who prioritize capitalism, making their reproduction of low quality or deficient in what should make them the fittest.
Capitalism mostly took away meaning from life and made itself the purpose of life. There are people of means who think capitalism is to their advantage, but life would not be different if it never existed.
Technology serves capitalism. Wars are its minion. Capitalism is often what is rescued in disasters, plagues or great shortages, directly and people – indirectly.
Those who keep talking about millions of years before now, or millions of years after should rather think per decennium, because with crashes and crunches, since capitalism cannot accommodate present scale, it may go off with all or almost – in total devastation beyond the lists of potential threats.
Capitalism compliance has become the key behaviour of most or all – in most situations.
Capitalism is not the key to real survival, but who cares, its works, we go.
Capitalism ever while environment, health, anything whatsoever can perish.
That lifeless paper that humanity has made greater than itself that has torn friends, family, community, nations, etc. apart, may hold the end of the human race.
[Psalm 115:4, Their idols are silver and gold, the work of men's hands.]
Making Money as a Short-Term Investor
By FBNQuest
If you are looking to invest some money that you intend to use in the not-so-distant future, then you face the challenge of the delicate balance between making a decent return on your investment and ensuring that you can get all of it back when you need it.
In seeking a place to invest or save your cash for the short term, your priority should be for you to get your money back at a particular time. This is crucial because you often need to have the money in a specific time to meet obligations such as a down payment on a house, wedding expenses, your children's tuition, or to meet your budget for a scheduled vacation.
On the other hand, while you want to keep your money safe, you also want a decent return on your savings. It is unlikely that you will earn as much in a short-term investment as you would in a long-term financial instrument.
Long term investments usually offer greater returns, but their prices are more volatile than short-term investments. While the company stock price may rise multiple folds over several years, it could decline during the next few months. You may also face the challenge of finding a buyer for the long-term asset that you have purchased.
Short-term investments, however, are often highly liquid, allowing you to cash out quickly should the need arise.
But because short term investments often present lower returns than longer-term investments, some people do not bother to invest at all. You are better off investing it in an interest-earning instrument.
You should also avoid taking excessive risk in a search for higher returns. Unusually high yielding instruments present unacceptable and greater risk. In some cases, such instruments are disguised as Ponzi schemes or similar arrangements.
Suitable short-term investments are typically characterized by stability in value, liquidity and low transaction costs. These features mean that your money will be safe and accessible when you need to use it, which is a significant reason to have a short-term investment. If you are investing money for three (3) years or less, a few principles will help you.
Set reasonable expectations because short-term investments typically have lower potential returns than long-term investments.
Focus more on the safety of your investment than the return.
A little extra return may not be worth the additional risk.
Consider the FBNQuest Money Market Fund offered by FBNQuest Asset Management. It is a pool of money collected from many investors to invest in securities like treasury bills, commercial papers, banker's acceptances and certificates of deposits. It is well suited for and adaptable to any investor type.
The Fund offers attractive returns, safety and liquidity to short term investors. You are better off using the power of a collective investment scheme like this to access higher returns for your investment than what you could earn if you made the same investment by yourself.
Why Promote Your App with Video Content?
By Kenneth Horsfall
Creating an app is not something you just wake up one morning and begin to do, it takes you and your team at least months to go from just having a beautiful idea to creating the new app.
Along the way, you probably invested a lot of time, expert software development, graphic design, and expensive focus groups to finally bring your beautiful idea to life.
But there's a problem: people won't just download it! Why?
To effectively promote your app on digital platforms, you need to put as much work into your marketing strategy as you did when creating the app. The fact is that people have a lot of options to choose from, so why should they choose you?  That's why you need to think of a plan to get them hyped about your app.
Fortunately, you don't have to reinvent the wheel! By making videos part of your marketing tool, you can ease your way into promoting your app. But as the best video companies know, there are important details to be clear about creating a video marketing plan.
When should you use a video? What production decisions come with that? How should your video look? These are some of the questions we'll go through to help you raise awareness about your app.
But first, why video content?  They are a lot of other ways to promote an app why should I think of video first.
Videos can boost your app marketing campaign like no other type of content marketing can do. But before going over the critical decisions involved in producing great videos, let's first compare the two leading app stores.
How do Videos work on Google Play and the App Store?
If you've created a multiplatform app, you should have videos ready for both Google Play and the App Store. But the issue is more complex than reusing the same content, as each store has its own unique rules regarding videos.
Previews for the App Store need to be pre-approved by Apple's team, which has very defined requirements on the types of videos they accept. Some of the most important include:
 Videos must be between 15 and 30 seconds.
 The footage should be taken primarily from the app and cannot show people, hands, or any other type of real-life footage.
 Each video is device-specific: it must be produced for a specific iPhone or iPad screen size.
Why in the case of the Google play store, Google Play doesn't require prior approval, and its guidelines are more versatile, with almost no limitations. But for many apps, this freedom results in low-quality homemade videos, which you certainly don't want for your brand.
For that matter, we have these recommendations for you on what to post on Google Play:
When proper, show real people using the app—seeing how a human hand uses the smartphone is easier to follow than random images.
Optimize your video with subtitles or even a professional voiceover if your video demands it, so you can make your message crystal clear to your audience.
Different Types of Videos You Can Use to Promote Your App
By doing quick research on the platform you want to promote your app, you will notice different types of videos that developers use for promotion. There's simply not a one-size-fits-all style, but there's a wide catalogue of videos you can choose from to entice your audience, present your app's features, or even showcase a positive review.
So, let's go over some of the most popular types of videos to see which one will best fit your purposes.
Explainer Videos
We've stressed that you need to distinguish your product from the competition. Many times, it could be hard to convey with a promo video how your solution stands out: in the viewers' eyes, yours is just another option with nothing particularly special.
With animated explainer videos, on the other hand, you can approach your audiences from a quite different angle. This class of videos focuses not on your app's looks as such, but on a story. By using colourful animation and engaging characters, you can pose a problem for your viewers, and then explain how your solution can help them improve their lives.
Explainer videos are perfect for productivity and business apps, for which there are generally plenty of indistinguishable options in the Store. By focusing on what your app does best, you'll get an emotional response from users that could lead them to choose your solution above the rest.
Customer Testimonial Videos
You wouldn't think that many people (including myself) are hesitant about downloading apps. It's understandable since apps take up space on our smartphones and, well, we might end up not using them at all!
To feel comfortable about the app they will download, users sometimes need social proof. Luckily, video testimonials can provide just this. These videos feature satisfied customers or experts giving their first-hand take on your product and its features, and how it's helped simplify their lives.
By showcasing other people who review your app, testimonial videos are the best way to improve your brand image. They give users the validation they need to know that your app is the one they're looking for and that makes you stand out from your competition.
Preview Videos
When most of us think about mobile app videos, the first images that come to mind are the brief teasers we usually find in social media ads. Previews are the gold standard of app videos because they give viewers the chance to see how the program exactly looks and works.
Of course, in theory, screenshots can work just as well. But there is something to be said about being able to appreciate in advance how we can use the product and whether it really aligns with our expectations and tastes.
Preview videos pair well with any type of app. However, they are particularly valuable for entertainment and gaming apps, as users want to concretely see the basic functionalities and/or stories.
Pro Tips and Tricks
Once you choose the right type of video that best suits your app, you need to know that there are certain production principles that apply to all videos in general.
Producing videos is complex, as the process involves important technical and creative aspects. But there's no mystery about it!
To simplify the issue, we'll go into three of the most relevant aspects to keep in mind.
Make Your Video Short, It's Very Important
With so much information and distractions available online, you have limited time to connect with your viewers. It's no surprise that after just a few seconds, viewing rates start to drop significantly.
That's the reason why most mobile app videos tend to be really, really short—about 10 to 30 seconds, 2 minutes maximum. With so little time, you want to keep your video simple and fast-paced, bringing attention to what's truly interesting about your product.
Easier said than done, right? It's challenging to keep your video that short, so you want to focus on your app's main highlights. Figure out which features make your product a distinctive and attractive choice and convey that idea to your viewers.
Take Your Video Through Social Channels
Although we've been focusing on the app's profile page, we can't downplay the crucial importance of social media. App ads are a constant presence on platforms like YouTube and Instagram because marketers know that that's where the most important conversations are taking place.
In terms of visibility, launching a thorough social media campaign is a must. But there are other advantages that come with having videos on your social accounts.
Facebook, for example, is particularly useful to run your ads, as the platform offers analytical tools to gather key data about your ads' performance and how users behave with them. Take advantage of these tools to assess the strengths and weaknesses of your videos and make informed decisions on the
Include Relevant CTAs
Whether you're uploading your video on social media or your app's profile, you want to give viewers one last little push to motivate them to download the app. Now, you don't necessarily have to be too promotional to do this.
By simply adding CTAs (Call to Action) in your video, you can inform users about the next best step to take. To get started, use clear, short phrases like "Sign Up" and "Learn More" to lead audiences to your app's page. But if you want them to "Upgrade" or "Go Premium," you can also use these CTAs.
Lastly, in social media videos, remember to always add the platforms where the app is available and can be downloaded by the audience, this is very important.
Takeaways
As videos have the unique quality of being entertaining, informative, and easy to consume at the same time, they are a powerful tool to add to your marketing campaign efforts.
Embed them on your app's listing page to show users what to expect from your product. Focus mainly on the features that make your app solution distinctive, so that users take notice of your app's virtues. Finally, take your videos to where your audience is to spread the word and continue the buzz. Thanks for your time.
My name is Kenneth Horsfall and I'm the creative director and founder of K.S. Kennysoft Studios Production Ltd fondly called Kennysoft STUDIOs. Kennysoft STUDIOs is a Nigerian Video and Animation Production Studio. And also, the founder and lead instructor at Kennysoft Film Academy. I can be reached via director@kennysoftstudio.com
Latest News on Business Post