Reps at 2: Read Full Speech of Yakubu Dogara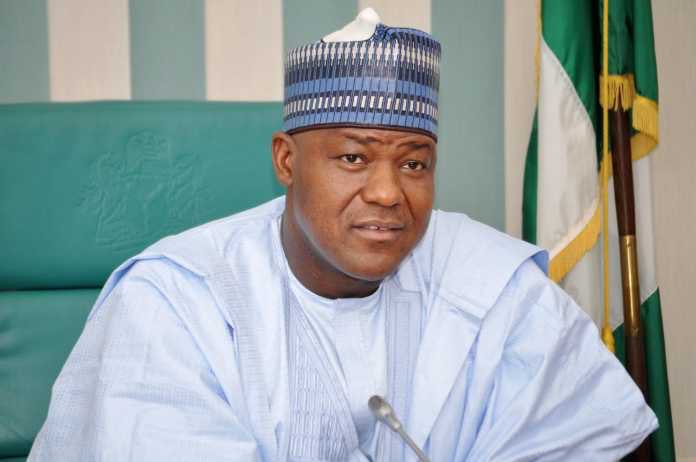 ADDRESS BY HON. SPEAKER, HOUSE OF REPRESENTATIVES OF THE FEDERAL REPUBLIC OF NIGERIA, RT. HON. YAKUBU DOGARA, ON THE OCCASION OF THE SECOND YEAR ANNIVERSARY OF THE 8TH HOUSE OF REPRESENTATIVES ON 9TH JUNE, 2017.
Protocols:
Permit me to welcome all of us to this very important event marking the 2nd year anniversary of the 8th House of Representatives. It is indeed a rare privilege to preside over this House on such a momentous occasion attended by many of our predecessors who made this institution what it is: a House of the Nigerian people.
We have chosen to mark this day, not because we are in the mood for celebrations. No. We are marking this day even when the nation is struggling to exit from the excruciating economic recession and anguish being faced by our people.
Our intention therefore is to simply appraise ourselves, to find out at mid-term, how far we have kept faith with our constituents and Nigerians in the contract or social charter we entered into at the inception of the 8th House of Representatives via our LEGISLATIVE AGENDA. We wish to be availed an honest assessment of the achievements and failures we have recorded so far, as a deliberate effort that may lead to deepening our democracy and its tools with which to approach with the needed confidence, the next two years left of our mandate.
It is important to ask ourselves some hard questions. Have we always placed the interest of our Constituents and Nigerians first in all our endeavours? Have we always placed national interest above self, regional and other interests? Are we patriotic or partisan? Have we used our legislative authority to expose corruption, inefficiency and waste in government activities? Have we made laws for the peace, order, and good government of Nigeria? Have we shown fidelity to the Fundamental Objectives and Directive Principles of State Policy enshrined in Chapter two of the Constitution?
The answer to above posers is the criteria and yardstick to assess who we are. Are we leaders or mere politicians? The difference is that while politicians are just interested in the next election, leaders are cultural architects because they create the environment by which others can grow and flourish.
On my part, I will answer the above posers with qualifications. Yes, we have done reasonably well in most of the indices indicated. But there is a very large room to do even more. I answer these questions, fully conscious of the fact that self-appraisal is inherently problematic and is prone to bias. The appraisal of the general public and our peers will be more objective. Let me therefore save myself from the dishonour of marking our own script and submit to the judgement of those given the task of appraising our performance today.
However, I must hasten to add that for our appraisal not to miss the mark, it must take into account our promise to bring change to and render nugatory the old narratives about our Parliament. We must never discount the fact that it is not what you change from but what you change to that brings true transformation. Change is about what you embrace not what you abandon. Objective assessment is often difficult in an environment such as ours where we want those in government to live the way we want but we want to be free to live anyhow.
Hon colleagues and distinguished guests, before I hand over this issue to others, I would crave your indulgence to make few comments and observations on our scorecard. In terms of the core mandate of law-making, we have remained a bastion of legislative activism. Indeed members of the 8th House of Representatives are in keen competition with one another in fashioning out legislative solutions to myriad of problems facing the nation. That is why in all facets of law-making, we can comfortably and conveniently assert that we have broken all records.
Statistics bear this out. The total number of Bills introduced so far are 1064 out of which Executive Bills are 50, Senate Bills transmitted to the House – 21 and Private Members Bills – 993. A total of 126 Bills have been passed by the House and the others are at various stages in the legislative mill. 27 Bills have received Presidential assent and a lot more are in the pipeline. Each of the achievements highlighted above is unsurpassed by any previous Assembly. The sheer volume of these Bills attests to the vibrancy of the House in its attempt to legislate on key areas of our national life at a very trying time in our history.
Public Petitions received in the last two years are over 500 in number and the Committee on Public Petitions conducts Public Hearings on these petitions almost every week to ensure citizen access to the legislature.
Whereas it is immediately difficult to measure the impact of these Bills, a thorough examination of them shows the interest of the House in getting the economy out of the current recession that has affected both large and small businesses as well as families across Nigeria.
On issue of Budget, we kept our promise to Nigerians at the beginning of the legislative session to ensure transparent deliberation and passage of the 2017 Appropriations Bill which will be signed into law early next week. We have also carried out significant Budget Reforms. For the first time in the history of Nigeria, a Public Hearing was conducted in the National Assembly to get the input of Nigerians in the budgetary process. Further reforms introduced include the details of the Appropriation Act being available to all members before passage in plenary; the requirement that members of each Committee should sign the Report of their Committees before being sent to the Committee on Appropriations. All these novel measures are unprecedented in the history of our Parliament. These proactive measures ensured that the House's debate and consideration of the 2017 budget proposal presented by the President was evidence based and geared towards galvanizing the economy for greater growth.
In addition to these, the House has considered and passed several Bills designed to stimulate economic growth and promote competition. These include: The Bill for an Act establishing Federal Competition and Consumer Protection Commission, etc. This legislation has the potential to engender innovation and efficient allocation of resources, eliminate barriers to entry and restrictive trade practices in our market. It will have a hugely positive impact on the quality of goods and services and their prices in the interest of the Nigerian consumer. Several Bills and Resolutions aimed at improving ease of doing business in Nigeria have been passed and more are in the works.
Realising that underemployment is as grave a problem as unemployment, we in the House have introduced a Bill on new minimum wage Bill to promote the welfare and well-being of Nigerian Workers especially in light of changing economic realities. For us it is unacceptable that the average Nigerian worker is shut out from the promise of democracy, which is: "life, liberty and the pursuit of happiness". Our democracy must be made to work for all Nigerians including our workers who must have the tools with which to pursue happiness while in active service or in retirement.
One other challenge that the country has had to grapple with is corruption. Our legislative response has been by way of legislation and Resolutions. Many Bills in this respect have been passed, and many are still in the mill. Some motions have led to the series of investigative Hearings that are ongoing. Besides we have injected oversight emphasis in that direction.
This 8th House of Representatives introduced Sectoral Debates. The idea is to get Ministers to share their vision and how they intend to achieve them so that Parliament can hold them accountable to goals they themselves have set. The first phase of the debate on diversification of the Nigerian economy has been concluded. The other phases are scheduled in the next Session.
I must mention this to our collective credit, that the cohesion in the House is one of the major achievements of the 8th House. Without this, all else would have fallen apart as valuable hours of legislative business would have been dissipated on the management of internal squabbles. This we achieved by always placing patriotism above partisanship which is key to the unremitting exemplary maturity that is seen on the floor, week in week out. It was Albert Einstein who said, "life is like riding a bicycle. To keep your balance, you must keep moving". Dear colleagues patriotism is and will always be what keeps us moving and balanced. Permit me to commend and deeply appreciate you all as we look forward to even greater cohesion in the years ahead.
This self-appraisal cannot be complete without mentioning areas for further improvement. The timely submission of Reports by various Committees require improvement in the next legislative Session. To this end, we would ensure that timelines for legislative measures referred to Committees are strictly enforced. We need to also ensure that Ad-Hoc Committees do not constitute themselves into permanent or Standing Committees.
Furthermore, we need to do a better job of coordinating the activities of various Committees to ensure synergy and avoid overlapping of activities and functions.
On this note, it is my singular pleasure to once again welcome us all to this Special Session, and to specially thank my Honourable colleagues for your support, solidarity, patience, understanding, comradeship, hard work and harmony exhibited in the last two years in spite of many daunting challenges. Having said this, it is now time for me, to surrender the floor to our eminent assessors for their appraisal.
Thank you all, God bless you and bless the Federal Republic of Nigeria.
LASEMA Battles to Curtail Fire Outbreak at Balogun Market
By Modupe Gbadeyanka
The Lagos State Emergency Management Agency (LASEMA) has said it was working tirelessly with other agencies to put out the fire at 3/5 Gbajumo Street, Balogun, Lagos Island.
In a statement issued on Thursday, the organisation said it received a distress call from concerned persons in the wee hours of today over the unfortunate incident.
It was gathered that a 5-storey building at the Balogun Market was gutted by fire, destroying properties worth millions of Naira.
Giving an update on the situation, LASEMA said the joint teams, which rushed to the scene of the inferno, were having a constraint preventing the fire trucks from having direct access to the source of the fire, which are the shops constructed on the road blocking all routes.
"The agency received a distress call around 12:30 am today, Thursday, January 26, 2023, regarding a fire outbreak at No 3/5 Gbagumo street Balogun market, Lagos Island, which prompted the immediate activation of the Emergency Response Team to the scene of the incident.
"Consequent upon arrival at the scene of the incident, information gathered revealed that some shops (rubber shoes and clothes are stored) on the first floor of a 5-storey building was gutted by fire. However, the cause of the fire could not be ascertained.
"Fortunately, there is no loss of life or casualty involved in the incident.
"Collaborative efforts to put out the fire are ongoing by the agency's Response Team and its fire unit, alongside Lagos State Fire and Rescue Service, Federal Fire Service, Police Force, CBD, LASAMBUS, LNSC and NEMA.
"However, the joint teams have a constraint which is preventing the fire trucks from having direct access to the source of the fire, which are the shops constructed on the road blocking all routes.
"Efforts are still ongoing to prevent the spread of the fire to nearby buildings. Operations are also still ongoing," the statement said.
Tinubu Never Blamed Buhari for Fuel Scarcity, Others—Onanuga
By Modupe Gbadeyanka
The Director of Media and Publicity of the All Progressives Congress (APC) Presidential Campaign Council (PCC), Mr Bayo Onanuga, has said the party's presidential candidate, Mr Bola Tinubu, did not blame President Muhammadu Buhari for the current challenges in the country.
On Wednesday, during his campaign in Abeokuta, Ogun State, Mr Tinubu accused some powerful persons were behind the current scarcity of petrol in Nigeria, as well as the scarcity of the new Naira notes.
President Buhari is the Minister of Petroleum Resources, and fuel scarcity has remained for months under his watch. He also approved the redesigning of the Naira when Mr Godwin Emefiele, the governor of the Central Bank of Nigeria (CBN), brought the proposal to him.
But while speaking yesterday, Mr Tinubu said, "We will use our PVCs to take over government from them. If they like, let them create a fuel crisis; even if they say there is no fuel, we will trek to vote.
"They are full of mischief, they could say there is no fuel. They have been scheming to create a fuel crisis but forget about it. Relax, I, Asiwaju, have told you that the issue of fuel supply will be permanently addressed," he said at the campaign rally.
"Whoever wants to eat the honey embedded in a mountain won't worry about the axe. Is that not so? And if you want to eat palm kernel, you would bring a stone and use it to break it; then the kernel will come out. It's not easy to…
"Let them increase the price of fuel, let them continue to hoard fuel, only them know where they have hoarded fuel, they hoarded money, they hoarded naira; we will go and vote, and we will win even if they changed the ink on Naira notes. Whatever their plans, it will come to nought," he added.
His comments generated mixed reactions, with some commentators saying he was indirectly indicting Mr Buhari for the crisis facing the country.
But Mr Onanuga rebuffed this, saying the opposition Peoples Democratic Party (PDP) was plotting to "create a wedge between our presidential candidate and President Muhammadu Buhari."
According to him, the former Governor of Lagos State was only empathising "with the Nigerian people facing the dual crises of fuel and new Naira notes scarcity."
"For the records, Asiwaju Tinubu, during the APC campaign rally at Abeokuta on Wednesday, in his statement, did not mention, blame or accuse President Muhammadu Buhari for the current challenges in the country.
"Asiwaju Tinubu was only adverting the government's attention to the sabotage being carried out by some Fifth Columnists in the system, possibly working in cahoots with the PDP.
"The CBN officials, including Governor Godwin Emefiele, have said many times that enough new Naira notes have been supplied to the banks, yet our people complain that they have not been able to get the new notes.
"In recent days, many ATMs are either not working, or when working, they are dispensing the old notes, just a few days to the  January 31 deadline.
"Similarly, Asiwaju Tinubu is aware of the salutary efforts by President Buhari to end the fuel queues by chairing a 14-man panel. Yet the queues and agony continue.
"For a presidential candidate, who cares about the suffering of our people, he has a duty to warn the government that its efforts to make life better for Nigerians are being sabotaged on several fronts.
"Our presidential candidate only re-echoed what is well known and acknowledged, even by President Buhari himself, at different fora: That there are Fifth Columnists in and outside of government who often throw spanners in the works against good intentions and programmes of the government.
"How does an advisory genuinely made by Asiwaju Tinubu to protect and create goodwill for the government of his party become an attack? It can only be so in the jaundiced view of the PDP," a part of the statement issued on Thursday said.
DLM Capital Sponsors Employee's Philanthropic Projects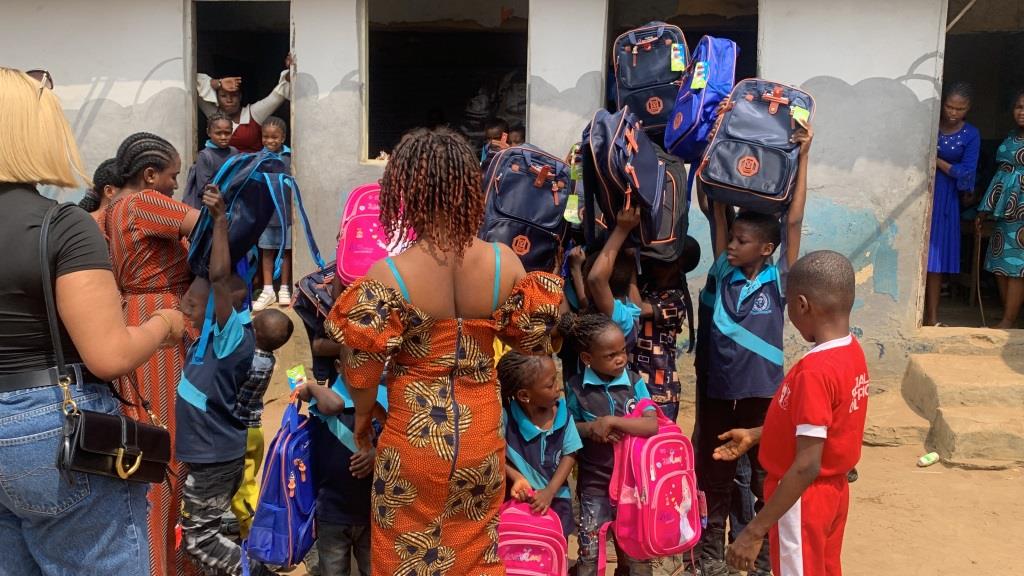 DLM Capital Group, a development investment bank, partnered with the Shile Akinjo Charity Foundation (SACF) on two of its charity initiatives: "Love Feast on the Street" and "Back-to-School Project."
Shile Akinjo, a corporate finance associate at DLM, started SACF in 2022 to support low-income families and the less privileged to fight poverty, receive decent health care, and achieve a basic education.
The "Love Feast on the Street" was held on the 17th of December 2022 to celebrate Christmas with over 400 kids at Makoko Slum, Yaba, Lagos. The day's highlights include face painting, a dance competition, popcorn, food, drinks, and the gifting of party packs to the kids.
The "Back-to-School Project" was held on the 20th of January 2023 at The Light School and Boanerges School at Akesan, Alimosho, local government. All the pupils in basic 1–5 were given school supplies such as school bags, socks, notebooks, pencils, biros, erasers, rulers, crayons, water bottles, and snacks.
Shile Akinjo commented on the initiative, stating, "Happiness is as essential as food if a child is to develop into normal manhood or womanhood." Being able to put smiles on these kids' faces is fulfilling, and we will continue to carry out initiatives that support these goals. I am grateful to Mr. Sonnie Ayere and DLM Capital Group for their full commitment to these projects. I feel lucky to work for a company that supports and encourages its employees to do good things for the community.
In a statement highlighting DLM's sponsorship of the projects, Chinwendu Ohakpougwu, Head of Corporate Communications, said: "At DLM, we are committed to impacting human lives. The management of DLM will continue to support good causes that promote the welfare of others."
Latest News on Business Post