Malaria: Nova Diamond Launches Give A Net Campaign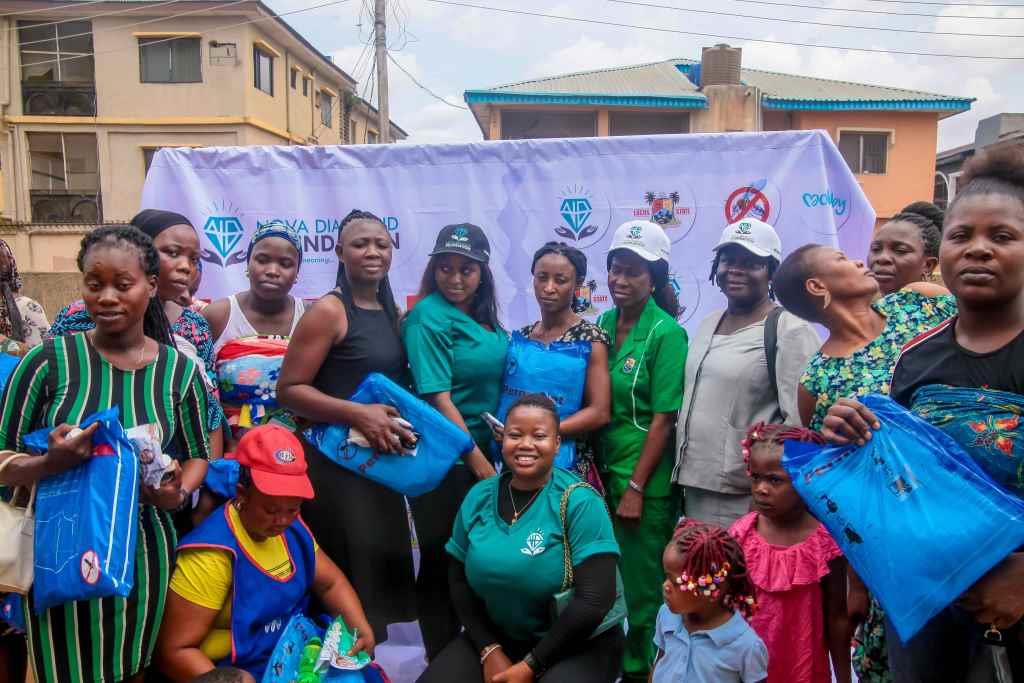 By Adedapo Adesanya
In commemoration of World Malaria Day for the year 2022, Nova Diamond Foundation has launched a campaign called Give a Net, ave Lives.
The Give a Net campaign is targeted to protect the most vulnerable in society, including pregnant women and children under the age of 5 because of the increased death rate, according to WHO 2021 Malaria report.
WHO described malaria as the 3rd highest killer non-communicable disease as the disease kills four in every five malaria cases in Nigeria. Malaria is the number one endemic in the country, which also has the highest number of malaria-related deaths.
To address this issue and reduce malaria-related deaths, Nova Diamond Foundation has partnered with the Lagos State Ministry of Health to educate residents on the danger posed by malaria.
The organisation also worked in partnership with Mobaby Care to walk the streets of Lagos, starting with Agboyi LCDA under Kosofe LGA, Mascara Primary Health Centre and Alapere Primary Health Centre, Ketu. These health facilities were visited between Monday, April 25 and Wednesday, April 27, 2022.
During the visits, pregnant mothers and children were given some malaria prevention incentives like Insecticides Treated Nets (ITNS) and mosquito repellant creams from Mobaby Care.
The executive director of Nova Diamond Foundation, Mrs Oluwafikayo Ooju, sensitised the participants on how to protect their unborn children, toddlers and themselves from malaria by ensuring that they always sleep under an insecticide-treated net.
She also lectured them on keeping their environment clean from stagnant water, ensuring children are well covered up and use of repellant to the exposed parts of the body.
In addition, she educated them on how to identify the symptoms of malaria as well as the need to visit the primary health centres for proper diagnosis and treatment immediately after they notice any symptoms.
In her remarks, the Medical Officer in charge of Agboyi LCDA, Dr Mariam Oshodi, commended the effort of the foundation and also advised the beneficiaries to use all the incentives distributed to them.
The team intends to visit other primary health centres across Lagos state and hopes to reach at least 1,000 pregnant mothers and 1000 children aged 0-5.
Pharmaceutical Company Introduces Affordable Blood Tonic for Nigerians
By Aduragbemi Omiyale
The harsh economy in Nigeria caused by high prices of items amid low purchasing power has made it difficult for Nigerians to afford the basic needs of life, especially drugs to replenish their body system.
As a result, the rate of suicide triggered by depression and others has increased. Also, the number of people falling sick in the country has skyrocketed.
But things may soon change for the better as a pharmaceutical firm, Sterling Biopharma Limited, has introduced a new product called Fejeron Blood Tonic into the Nigerian market to support the country's about 66.8 per cent economically active population.
Fejeron Blood Tonic contains iron, Vitamin B12 and folic acid, all essential components that help to facilitate adequate blood supply and replenishment to the body with vital vitamins while enabling a strong immune system.
"Fejeron Blood Tonic is the latest proof of our commitment to this mission. Despite its premium quality, Fejeron, at the moment, is one of the most affordable blood tonics you will find in the Nigerian pharma market, and this is deliberate. All Nigerians should be able to take care of themselves," the chief operating officer of Sterling Biopharma, Mr Adebayo Adepoju, said at the unveiling of the product in Lagos on Thursday, September 15.
He said the drug was formulated due to the nature of stress and fatigue that Nigerians encounter daily, which requires that their physical and mental well-being is well supported to function at its best.
"At Sterling Biopharma, we believe that everyone deserves to be able to buy simple prescription drugs without breaking the bank. This is why from the moment we entered the Nigerian market. With our wide range of products, we have made our intentions clear, and that is to make quality pharmaceutical products affordable for all Nigerians," he stated.
Since its market introduction, Fejeron has quickly become one of the well-sought-after new brands in the pharmaceutical category. The Product Manager, Olumide Ogunremi, linked the warm embrace of the product to its quality and appeal to the needs of Nigerians.
"The quick acceptance of Fejeron Blood Tonic in Nigeria is not surprising. The enthusiasm to try out the product and the return purchases across the biggest pharmaceutical markets in Nigeria validate the quality of the product and timeliness of its emergence."
On what makes Fejeron Blood Tonic unique, Mr Ogunremi promised that both the young and old would love the taste of Fejeron, adding that extra effort has also been put into ensuring that the product has fewer chances of causing common side effects like metallic after-taste, staining of the teeth; constipation, diarrhoea, nausea and others.
Agusto Foresees More Foreign Investments in Nigeria's Healthcare System
By Adedapo Adesanya
Global research firm, Agusto & Co, has forecast that an increased foreign interest will drive growth in Nigeria's healthcare system, especially through the acquisition and establishment of health facilities in the medium term.
Agusto said in a report that these foreign investments would help the country bridge the healthcare infrastructure deficit estimated at $82 million.
According to data, Nigeria is largely underfunded in terms of its health system and, as a result, is faced with a significant infrastructure gap.
The industry is currently challenged by outbound medical tourism, deteriorating medical infrastructure, low government budget allocation, and poor compensation for public healthcare workers, all of which have prompted many skilled medical practitioners to relocate overseas in search of better employment opportunities.
In addition, brain drain is also contributing to this as approximately 2,000 doctors leave the country each year, and at least 266 Nigerian doctors were licensed in the United Kingdom between June and July 2022, according to the National Medical Association (NMA).
Nigeria has also not been playing its part, with the health sector receiving only about 4 per cent (N546.98 billion) and 5 per cent (N724.6 billion) of the total budgetary allocation in Nigeria's 2021 and 2022 budgets. This undershoots the 15 per cent expected by the World Health Organisation (WHO) and African  Union (AU).
Agusto noted that the emergence of COVID-19 in 2020 saw an increase in diagnostic facilities and, albeit insufficiently, an increase in public investments in the health sector with efforts from the Central Bank of Nigeria (CBN).
Despite this, there remains more to be done, especially with the country's large population facing a high burden of communicable and non-communicable diseases, resulting in many people constantly seeking treatment.
Foreign investors have found the Nigerian healthcare system to be an attractive investment opportunity, and in 2021, the healthcare industry attracted around $2.3 million in foreign direct investments (FDI).
For instance, in February 2021, Evercare Group, through its emerging market health fund, established Evercare Hospital Lekki, a 165-bed multispecialty tertiary care facility.
Agusto predicts that the industry's contribution to gross domestic product (GDP) will reach N480.6 billion by 2022 from N470.5 billion, based on the country's high birth rate and the spread of communicable diseases as well as other common ailments such as malaria and respiratory tract infection.
It also expects that a lower rate of outbound medical tourism, as a result of the naira's continued depreciation, will boost the industry's contribution to GDP in the medium term.
Delta-9 THC: A Guide to its Effects
Delta-9 THC has been the most studied cannabinoid. THC has been proven to have pain-relieving and anti-nausea properties. However, research on its neuroprotective and depression-fighting qualities is still ongoing.
INDUCES EUPHORIA
Many generations of cannabis users have embraced the plant's mood-enhancing properties, Delta-9 THC. Intoxication with cannabis is unlike any other substance, as it absorbs the mind and body into feelings of joy, relaxation and delight. These euphoric feelings can have a lasting impact on our system. A 2016 study about aggression and cannabis consumption revealed that cannabis decreased aggressive feelings, while alcohol increased them.
ANTINAUSEA PROPERTIES
The well-documented anti-nausea properties of Delta-9 THC are well documented. This was one the first medical benefits that were identified in cannabis. It was established in the 1970s, and 80s. Since 1984, high-thc cannabis strains were prescribed to patients with cancer. It was originally used to treat radiotherapy-induced nausea. Patients today still benefit from THC. The only FDA-approved THC medication is those that treat nausea in patients with cancer.
STIMULATE
The munchies, or an increased hunger feeling after cannabis consumption, is one of the most common side effects. This can be beneficial for people with low appetite. In 2018, a study found that THC increases appetite hormones, including ghrelin (and leptin), and does not affect insulin levels. This is a positive sign for obesity and eating disorders.
ADDICTION TREATMENT
Although it may seem counterproductive to swap a beer for a preroll, THC can help decrease alcoholism and other drug addictions. Legalizing THC does not only reduce alcohol sales but THC intake increases an individual's chances of success in treatment for opioid addiction. A 2017 study of animals showed that cannabis administration reduced heroin consumption.
NEUROPROTECTIVE PROPERTIES
Delta-9 THC, like other cannabinoids works with the endocannabinoid systems to promote homeostasis. This cannabinoid acts in neuronal cultures of the brain, as an antioxidant. It also encourages neurogenesis (creating more neurons). Delta-9 THC is able to reduce muscle spasms for patients with multiple sclerosis, and slow down the nervous system degradation for patients with Parkinson's. This is a significant development for patients with neurodegenerative conditions such as Parkinson's disease.
ANTIDEPRESSANT
A 2020 study showed that almost all 1,819 patients experienced temporary relief from depressive symptoms following cannabis consumption. The authors point out that other studies have shown that cannabis consumption can cause depression. However, this is dependent on the individual and may vary from person to person. If it works for your situation, you can use mother nature's resources.
Delta-9 THC – How Do You Get it?
THC, like all cannabinoids comes from cannabigerolic (CBGa), which is the "mother" cannabinoids. From CBGa, the compound undergoes an enzymatic reaction called cannabidiolic acid synthase (CBDAS) to become THCa or tetrahydrocannabinolic acid. The heat process of decarboxylation causes THCa to break down to form Delta-9 THC.
Can Delta-9 get you high?
Yes, Delta-9, the most prominent cannabinoid responsible intoxicating and psychoactive effects of cannabis, will make you feel "high".
What Does Delta-9 Do in the body?
Delta-9 THC is absorbed into your lungs through the gastrointestinal tract. It then enters the bloodstream via your bloodstream. Depending on how the drink was taken, it may interact with your Endocannabinoid System to create intoxicating "high".
The Endocannabinoid System
The receptors of the endocannabinoid systems are located throughout the body. They help maintain homeostasis by improving biological functions. The ECS is essential for our health.
CB1 receptors are the primary receptors of the ECS. CB2 is the secondary. The brain, nervous system, liver and spinal cord are the main locations of CB1 receptors. CB1 can bind with both the natural cannabinoids and Delta-9 THC.
The delta 9 products that carried at Pure CBD Now come from the same top-rated, reputable brands that you've become familiar with over the years.
Latest News on Business Post