AFRIMA Expands Award Categories for 2021 Edition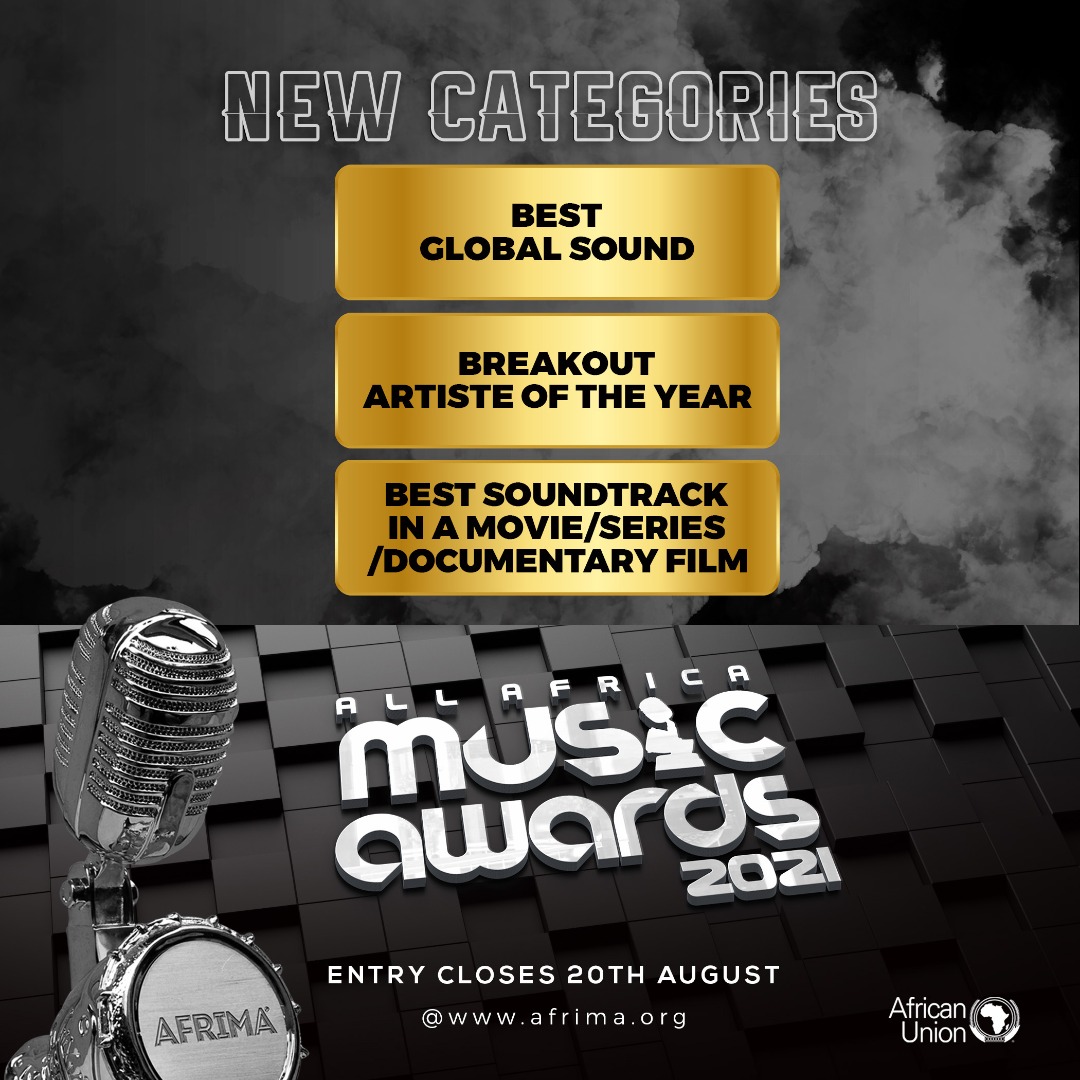 By Ashemiriogwa Emmanuel
Three new categories have been added to the existing 37 award categories of the All African Music Awards (AFRIMA) for the 2021 edition as the submission of entries is set to close on Friday, August 20, 2021.
Approved by the International Committee of AFRIMA and The AFRIMA International Jury, the three new categories include Best Soundtrack in a movie/series/documentary film, Best Global Sound, and Breakout Artiste of the Year.
The added award titles were selected to recognize, reward and celebrate music works in all aspects, including their application in the movie industry.
Announcing the development, Mrs Hadja Kobele, member of the AFRIMA International Jury, explained that the creation of these new honour titles was to capture talented productions across the increasing facet of music.
In her words, "The scope of the music industry is becoming increasingly broad, with multiple expressions of music and complex production techniques becoming more popular, and it is AFRIMA's mandate to support the music industry in Africa, thus, the need to recognize and reward some of these talented productions."
She further explained what each of the three awards stands for and the attributes to which candidates will be nominated under such categories.
"The category for "Best Soundtrack in a movie/series/Documentary" is awarded to the best substantial body of music in the form of dramatic underscoring written specifically for the film by the submitting composer. Some pre-existing music is allowed, though, but a contending film must include a minimum of original music.
"While "Best Global Sound" will be awarded to the artists who primarily are not African, but whose songs have received widespread recognition in Africa and around the world.  "Breakout Artiste of the Year" is awarded to a new artist whose songs have received widespread recognition within their career span," Mrs Kobele said.
According to the AFRIMA 2021 Calendar, entries for the 2021 edition will close on August 20, and a pre-screening process, where submitted entries will go through screening, would be done from August 21 to 28, 2021.
Afterwards, the International Jury of AFRIMA comprising a 13-man panel of experienced African music experts and practitioners will carry out the adjudication process from August 29 to September 6.
AFRIMA awards celebrate excellence in musical artistry in Africa and the Diaspora. It now features 40 categories across the five regions of Africa and the music genre, with a reward of 23.9-carat gold AFRIMA plated trophy.
Spotify Unveils Ad Studio in Nigeria, Jamaica, Others
By Modupe Gbadeyanka
A self-serve ad platform of Spotify known as Ad Studio has been launched in Nigeria, Jamaica, Nigeria, Ghana, Kenya, Tanzania and Uganda.
The Ad Studio is a tool on the Spotify platform that allows artists, brands and businesses to easily run audio and video ads. Advertisers can create a campaign within minutes, and the platform provides flexibility and control to set up and manage campaigns in real time.
A statement from the organisation disclosed that the innovative advertising medium was designed to entertainers build a custom audio ad for free right in Ad Studio, in as little as 24 hours.
"Reaching audiences with Spotify Ad Studio is efficient and easy," said Christopher Li, Director of Digital Planning & Products APAC at Live Nation and Spotify Ad Studio user. "You can decide to target listeners by genre preferences, interests, and context, etc. It only takes us a few minutes to create a campaign, and the free voiceover service saves a lot of effort, too."
Before now, Spotify had launched Ad Studio in other markets, including America and Europe, and looks forward to the impact this will have in emerging markets like Sub-Saharan Africa, where audio streaming is on the rise.
In order to advertise with this tool, advertisers need to spend a minimum of N100,000. Ad Studio provides advertisers with free audio creation tools including background music mixing, voiceover talent, audience targeting and real-time reporting.
As the world leader in audio streaming, Spotify brings music and podcasts to nearly 365 million users in 184 markets, across hundreds of devices. This is where young people are — and where young people go, marketers follow. 71% of Spotify Free listeners are under 35 and the median age of podcast listeners is 27.
In Nigeria alone, over 100 million citizens are active internet users. Of this number, 57.9 per cent use music apps — up from 54 per cent last year.
The median age in this market is 18, meaning that the majority of smartphone users are Gen-Z. Similar to Ghana and Kenya, the Gen-Z market is increasing, and many young people are streaming audio.
The launch of Ad Studio is another way Spotify is leading the way in audio innovation globally, and providing advertisers with the opportunity to grow their audiences in these emerging markets.
Take Baba Suwe's Death as Act of God—Sanwo-Olu
By Aduragbemi Omiyale
Governor Babajide Sanwo-Olu of Lagos State has described the death of popular Nigerian comic actor, Mr Babatunde Omidina, otherwise known as Baba Suwe, as painful.
In a statement issued on Tuesday by his Chief Press Secretary (CPS), Mr Gboyega Akosile, the Governor also said the demise of the movie star was a great loss to his family, Nollywood and the country as a whole, especially his fans and lovers.
He urged the deceased family, friends, associates and the movie practitioners to take Baba Suwe's death in good faith and as an act of God.
In his heartfelt condolences to the Omidina family and the Nigerian entertainment industry on the passage of the renowned actor, the Governor said, "The late Babatunde Omidina, popularly known as Baba Suwe was a bundle of talent, who used his God-given gift to advance the course of mankind."
"As an actor, he put smiles on the faces of many people through his comic roles in different movies and television drama series," he added.
"No doubt the death of a loved one is usually painful because it is irreparable but we must always take solace in God, especially if the deceased had lived a fulfilled life, just like the late Babatunde Omidina, who was a celebrated actor during his lifetime.
"Baba Suwe's death had left a vacuum that would take some time to be filled in the entertainment industry. I pray that God will grant the late Babatunde Omidina eternal rest and grant the family, colleagues and associates the fortitude to bear the irreparable loss," Mr Sanwo-Olu further said.
Baba Suwe died on Monday at age 63. He nursed diabetes before his demise.
Veteran Comic Yoruba Actor Baba Suwe Dies
By Dipo Olowookere
A veteran comic actor in the Yoruba movie industry, Babatunde Omidina, otherwise known as Baba Suwe, is dead.
A close associate of the popular role-interpreter, Modupe Johnson, another veteran in the industry fondly known as Fali Werepe, confirmed the death of her colleague on Monday.
She posted on her social media platform that Baba Suwe, who married one of her close friends, Monsurat Omidina, popularly known as Omoladun Kenkelewu, breathed his last.
In 2009, Baba Suwe lost his actress wife, Omoladun, to the cold hands of death and two years later, he was apprehended by officials of the National Drug Law Enforcement Agency (NDLEA) at the Murtala Mohammed Airport, Lagos on the suspicion that he ingested cocaine wraps.
He later got a judgement in court against the agency, which was ordered to pay him N25 million as compensation.
A few years ago, the comic actor was down with sickness and funds were raised for his treatment abroad. Since then, he has not been too prominent on the television screen.
Before his demise, Baba Suwe acted and produced several movies.
Latest News on Business Post